We all know by now that Instagram Stories are the perfect marketing tool to sell your brand story in a faster, more creative way.
Today we're sharing 4 Apps that'll help you create unique Stories that your audience will love!
MADE
https://apps.apple.com/app/apple-store/id1440299596
Collages are all the rage at the moment and if you fancy getting a little creative with them, Made is for you. They offer a range of free and paid templates that you can add both images and video to.
You can filter your images (and adjust their intensity) and add text, then get creative wit the background! Their colour picker allows you to change it to any colour you like, or you can choose from preselected block colours, gradients or patterns.
You then save the Story to your camera roll or share it directly to Instagram.

HYPE TYPE
https://apps.apple.com/us/app/hype-type-animated-text-videos/id1152687277
Sick of static images and ready to add some movement to your Stories? Hype Type is a great App to dip your toes in the waters of animated text graphics.
At the tap of a button, you can either enter your text or if you're having a mind blank, the App will pre-populate random quotes. There's a good range of free animated test types to play with that come with a range of preselected colour palettes.
Once you're done, you can add music then resize the image for IG Stories, posts, or YouTube.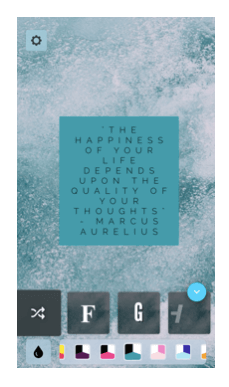 IMPRESSO
https://apps.apple.com/us/app/impresso-video-story-creator/id1330592794
If videos are your jam, you'll love Impresso. Their 100+ free and paid templates are grouped by category and size, making it easier to narrow down the perfect one.
If your brand colours are nailed down, you can add the hex code to customise the background. If not, choose from one of their custom colour palettes. If you prefer a background image, import your own or choose a stock image from Unsplash, Pexels and Pixabay, which are built into the App.
The ability to add animations as well as music from your library gives you the ability to create truly unique content. You can resize your video for any type of Instagram, Facebook or LinkedIn post, as well as Twitter and Youtube, making creating waterfall content a breeze.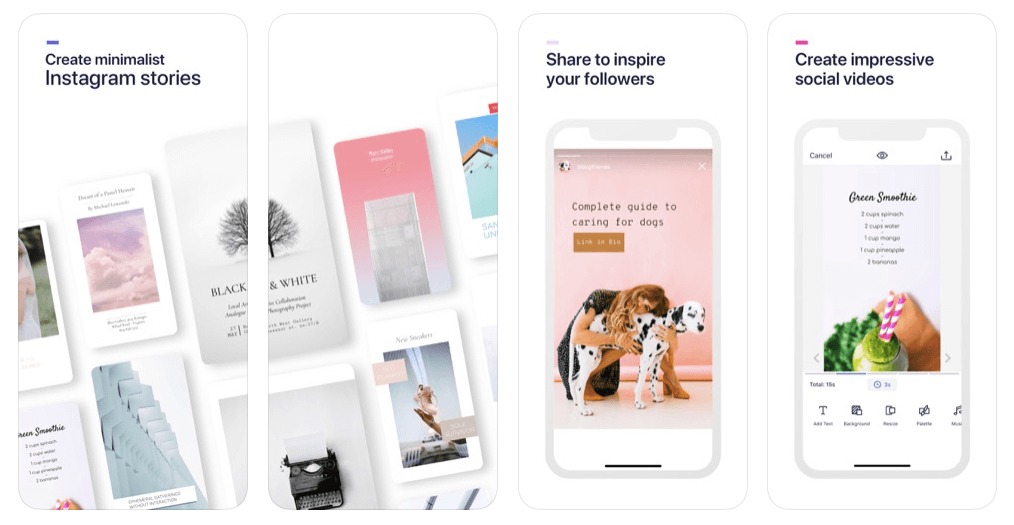 PLANN
If you prefer to stick to one App to create, edit and schedule your posts, we've got you covered (duh)!
Right from Plann Desktop you can upload an image, choose from one of our 60+ professional filters and adjust the intensity to suit.
You can then play with the contrast, clarity, gamma, whites, blacks, temperature (and so much more!). Top it off by adjusting the focus and adding text, stickers, brushes or borders that you can scale to your desired size (hello, beautiful white space!).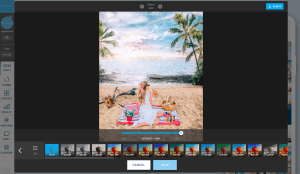 ANALYSING YOUR RESULTS
Now that you've created a bunch of cool Stories, it's time to check your social media analytics to see which is performing best!
Load 'em up and schedule them in Plann Desktop, then once they've been live on Instagram for 24 hours their analytics will magically appear!
To view them, simply tap the Results tab. You'll be able to see the number of views and the completion rate for each image. We also show the impressions, completion rate, average reach and average reach rate of all Stories posted for the week, month, 3 months or lifetime of your account. Hi5!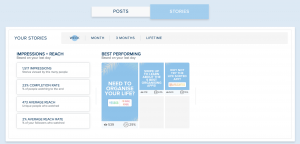 If you haven't already, download Desktop now and see how easy it is to upload, schedule and review your Stories analytics!