It's no secret that Instagram Stories should be an important part of any social media strategy. But how can you be sure whether your Instagram Stories are working as well as they could be?
To get the most out of the hours you spend curating story content, you need to understand Instagram stories analytics. Knowing what metrics matter and why can help you focus your efforts and score you a one-way ticket to social media stardom. 
You ask, and Plann answers! This is our guide to Instagram Story analytics and how you can use them to achieve Insta-greatness.
Instagram Stories 101: Everything you need to know
Before you start tracking and measuring Instagram Story performance, let's make sure you know the basics of Instagram Story posting.
What are Instagram Stories?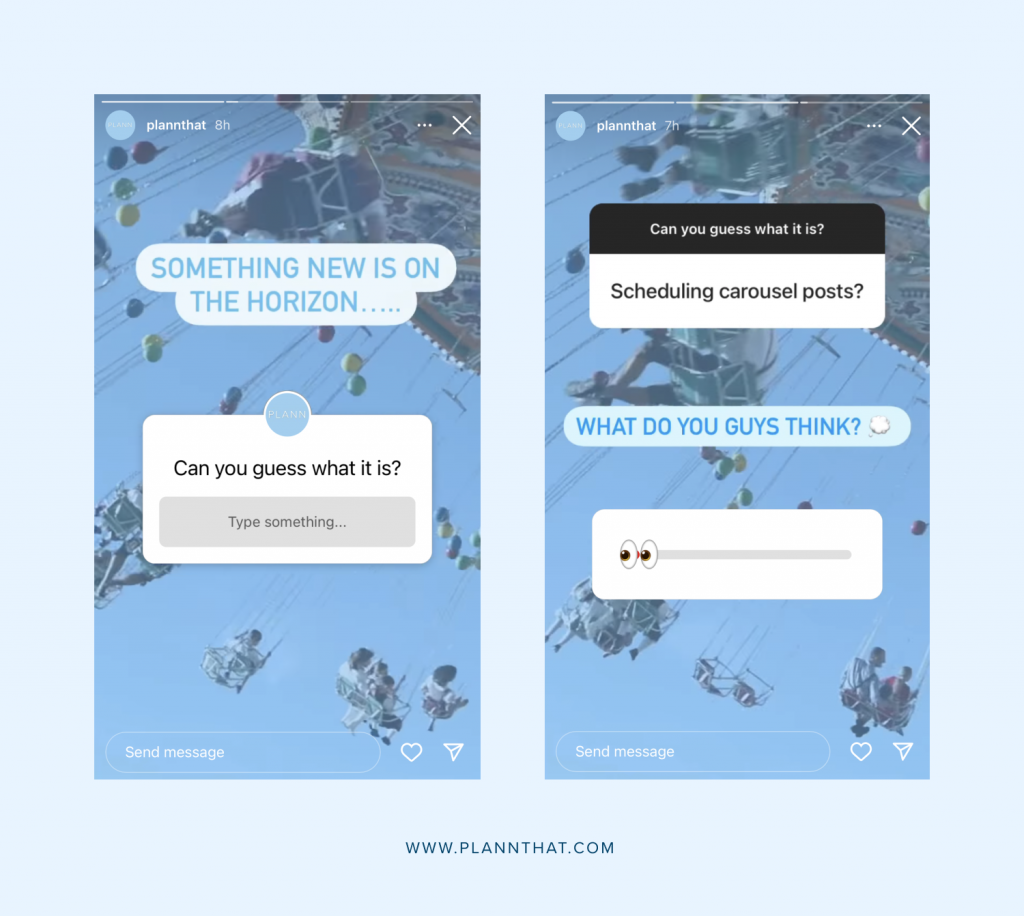 Instagram Stories are the perfect place to engage your audience and even communicate directly with your customers. 
Stories consist of a vertical photo or video and disappear after 24 hours unless you save them to your highlights. Don't worry, you can access old stories in your archive and create highlights whenever you like.
Instagram Stories are completely separate from your main grid. While it's a good idea to keep branding consistent, it's okay to share imperfect content to Stories. Using Stories, you can share informal content that offers a glimpse behind the scenes of your brand. 
What kinds of Instagram Stories can you share?
Instagram Stories are a place for all kinds of content, from static images to GIFs and even bite-sized videos.
You might share day-in-the-life posts that show your followers how you work. You might use stories to announce an exciting new brand launch or event. 
You can also use stories to interact directly with your followers. Add questions, quizzes, and polls as stickers, as these tools are great for engagement and work as clear calls to action. Plus, they can help you with some extra market research to get to know your customers better.
Where can you find Instagram Stories analytics?
To access Instagram Story analytics, you'll need a business or creator account. You can update your account type in Instagram settings. 
Find your story metrics by visiting your account home page. Click the 'Insights' button below your bio.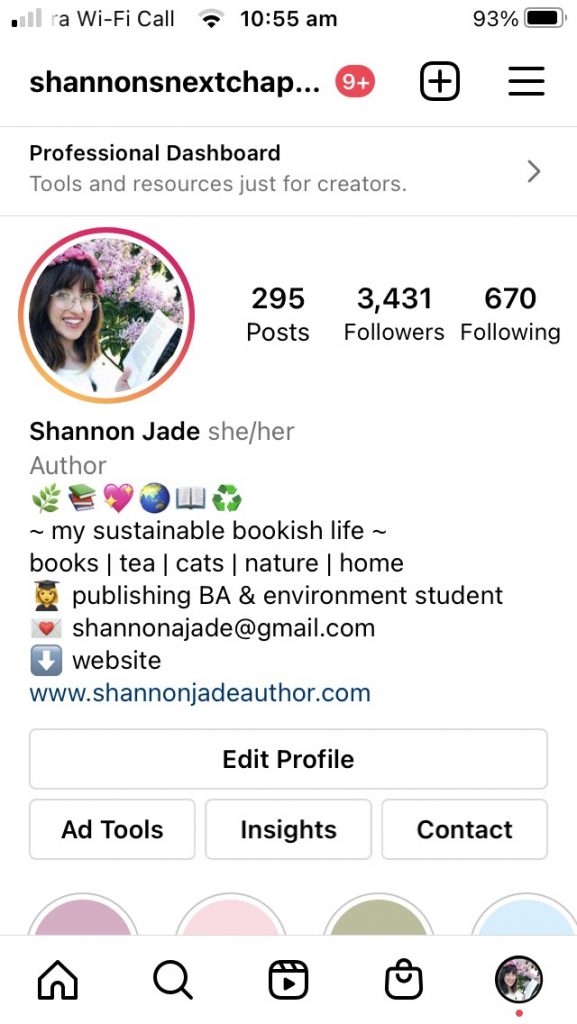 Alternatively, navigate to the three lines at the top-right of your screen, and choose 'Insights' from the dropdown menu.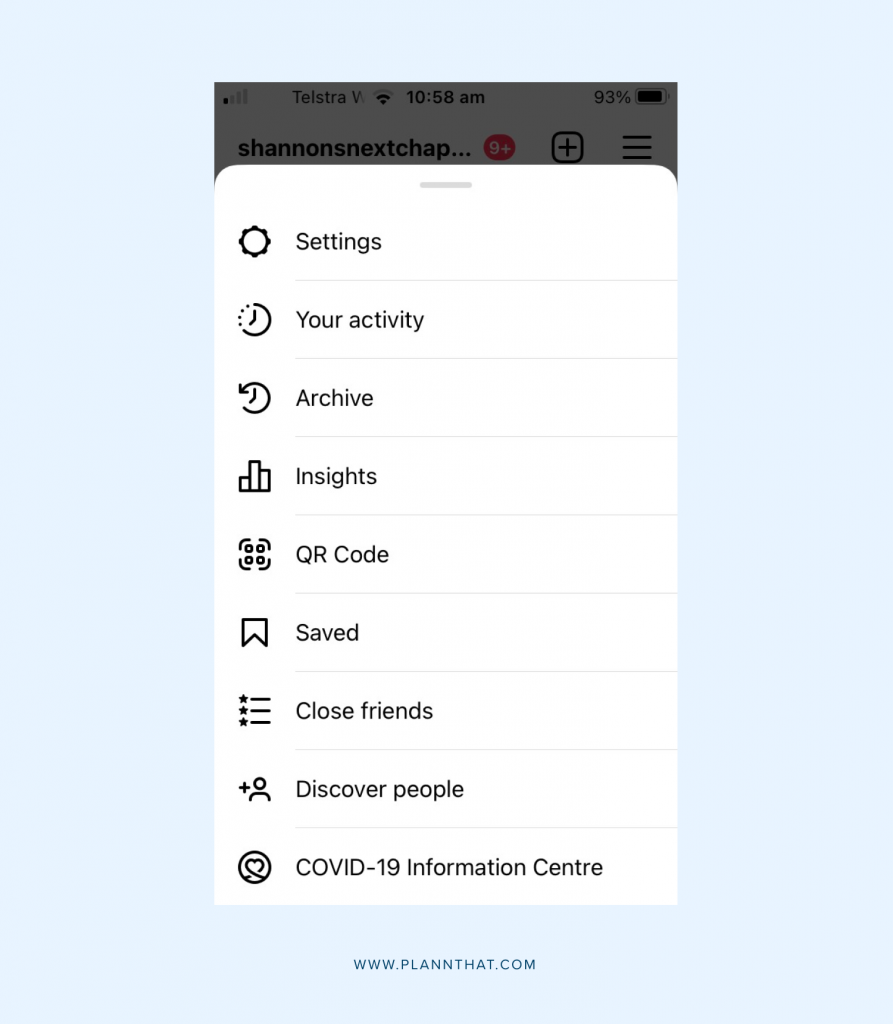 At first glance, your account insights will take you to an overview screen, set by default to analyse account performance over the past 7 days.

You want to focus on story analytics, so scroll down the page until you reach the stories section. Click there to get started.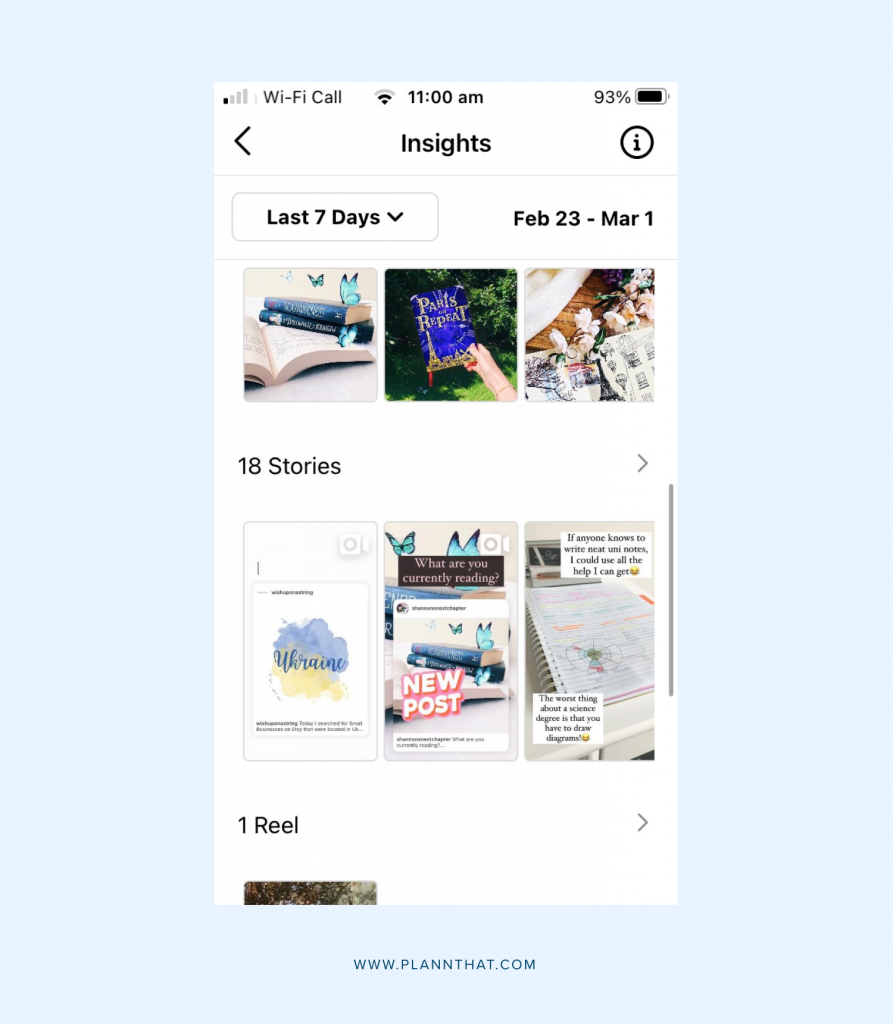 What Instagram Story insights can you track? 
There are many Instagram Story analytics you can keep tabs on. You can choose which area to focus on using the dropdown menu at the top left of your screen. 
Here are a few of the most important metrics you need to be reviewing on a regular basis. 
Story impressions
Your story impressions measure the total number of views each Instagram Story receives. This calculates how many times your post has been seen in total. It includes every view, even if the same Instagram user views your story several times.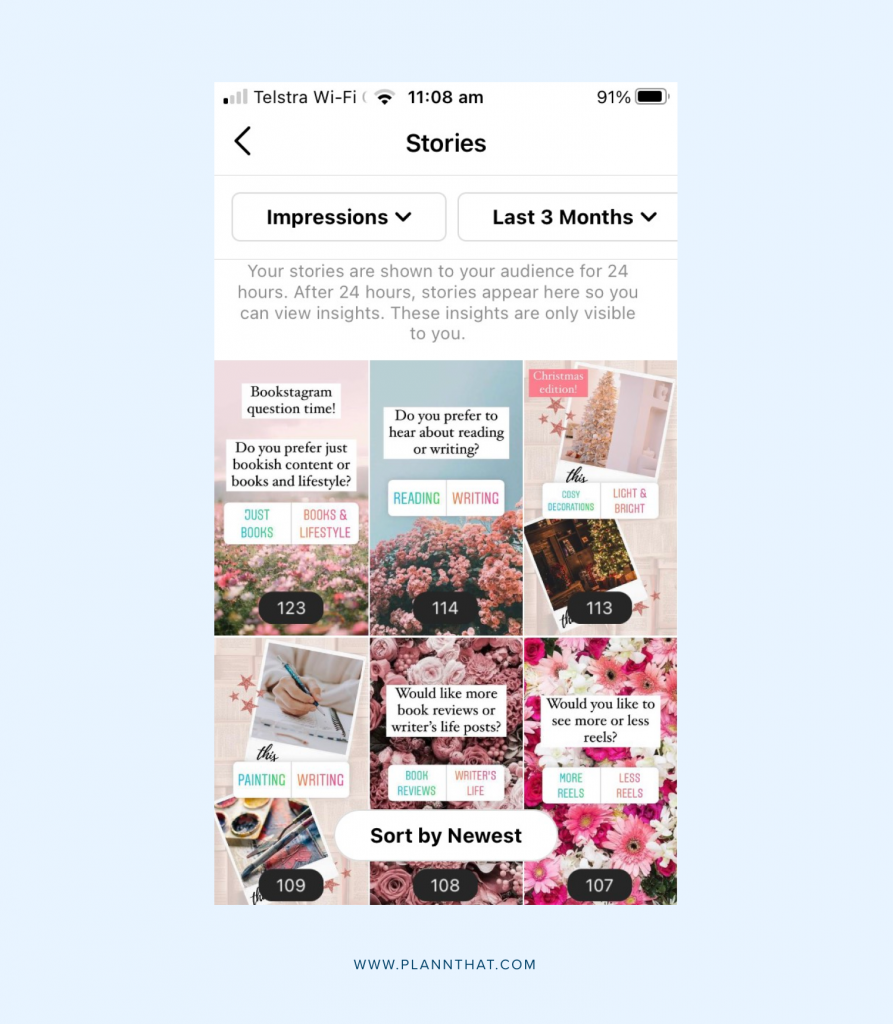 Story reach
Often confused with impressions, Instagram Story reach has one important difference. This metric details how many times your story has been viewed by unique Instagram users. That means it focuses only on new viewers and doesn't count repeat visits.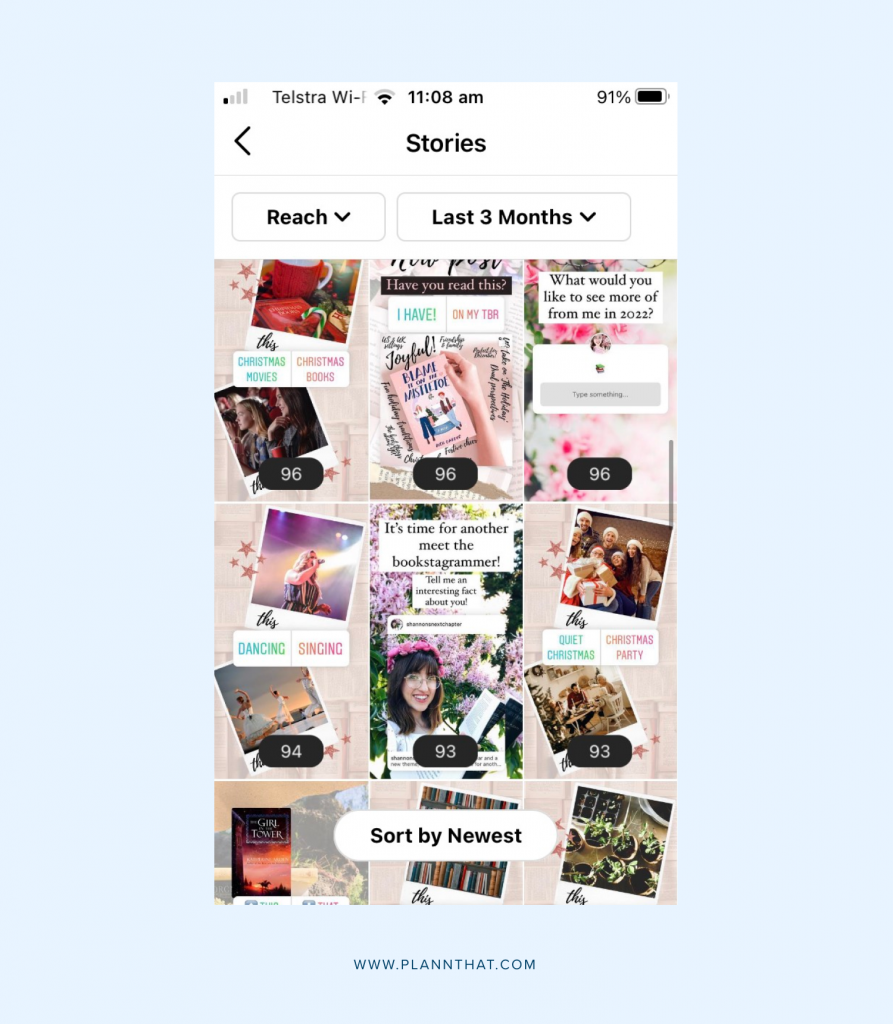 Story replies
This one speaks for itself! This Instagram metric refers to the amount of replies (via direct message) each of your stories has received. If you posted a story that prompted an influx of DM questions, these stats will show up here.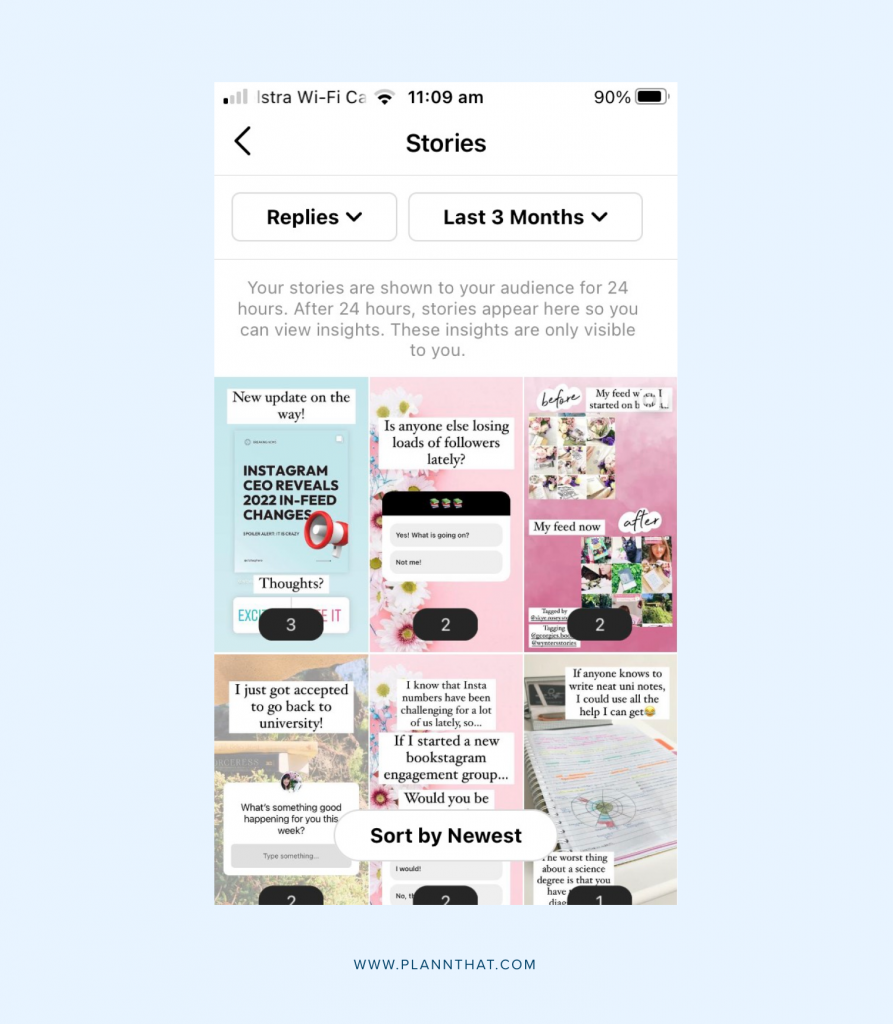 Profile visits
Profile visits stats allow you to see how many people have navigated from your story to visit your Instagram grid. This metric is often overlooked, but it is an important one. Profile visits mean your stories are interesting enough that Instagram users want to know more. 
Follows
Along the same lines is the story follow calculator. This metric shows you how many new users have found and followed your account as a direct result of your Instagram story. This is a good metric to watch if your brand is currently focusing on generating leads.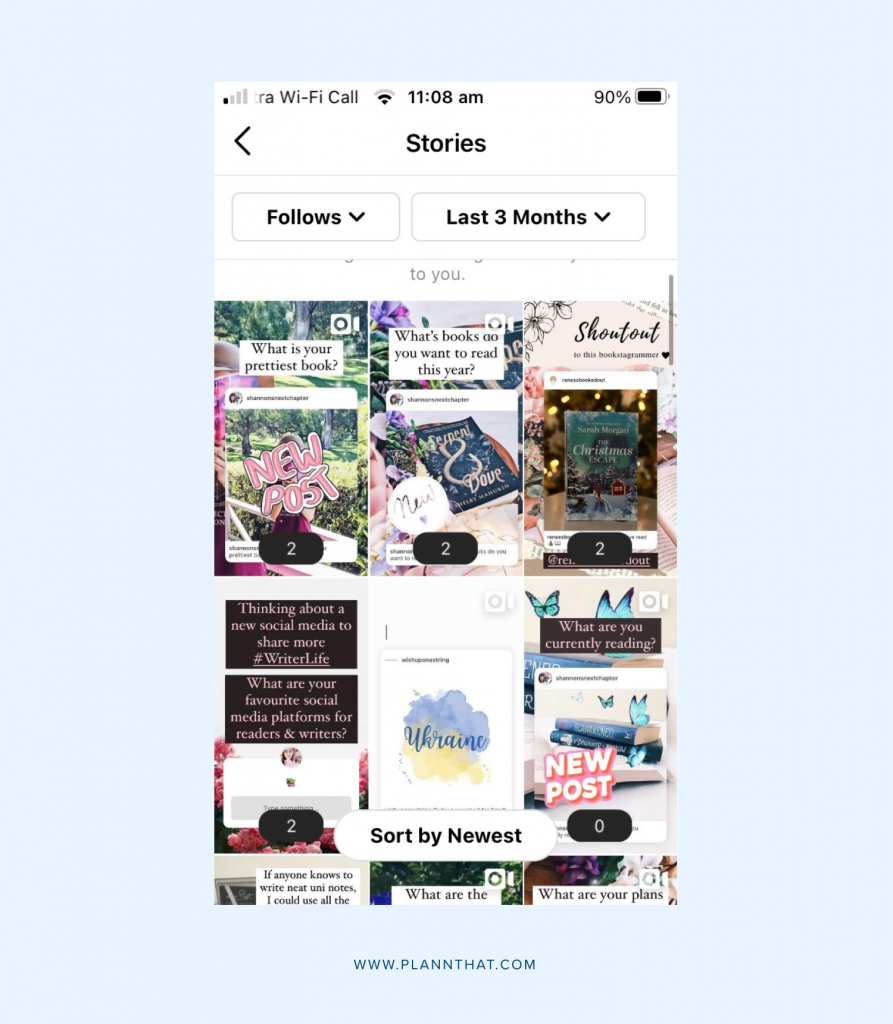 Taps forward, back as well as exits and swipe aways
Taps forward and back allow you to see how many Instagram users have navigated forward or backward in your stories, either to view more of your content or to find the next user's posts. These metrics can help you map out audience interest in your content.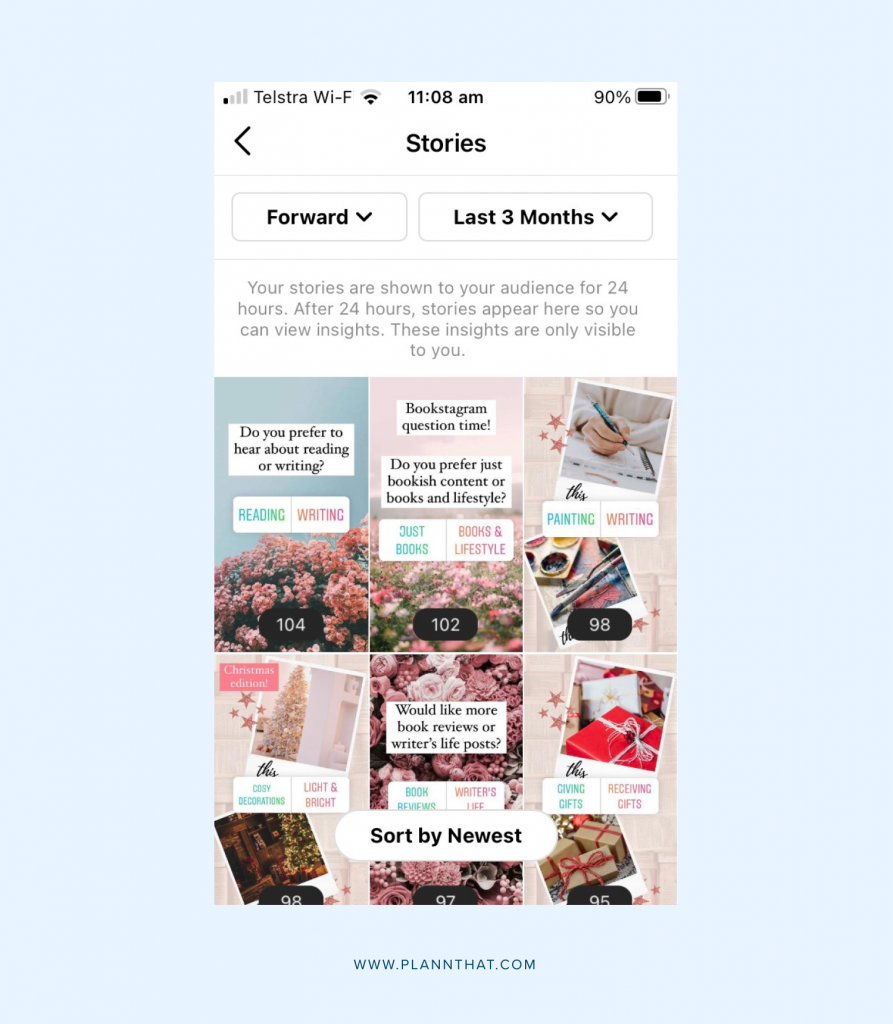 Other story stats
Other story stats include story shares, link clicks, email button taps, and overall story interactions. These metrics are great places for you to see how users are engaging with your story content. You can also find out how story stickers (questions, polls, and quizzes) are performing. 
Why is measuring story performance so important?
Measuring Instagram Story analytics is an important part of defining your social media strategy. By understanding your account metrics, you can identify well-performing content and plan for future story success!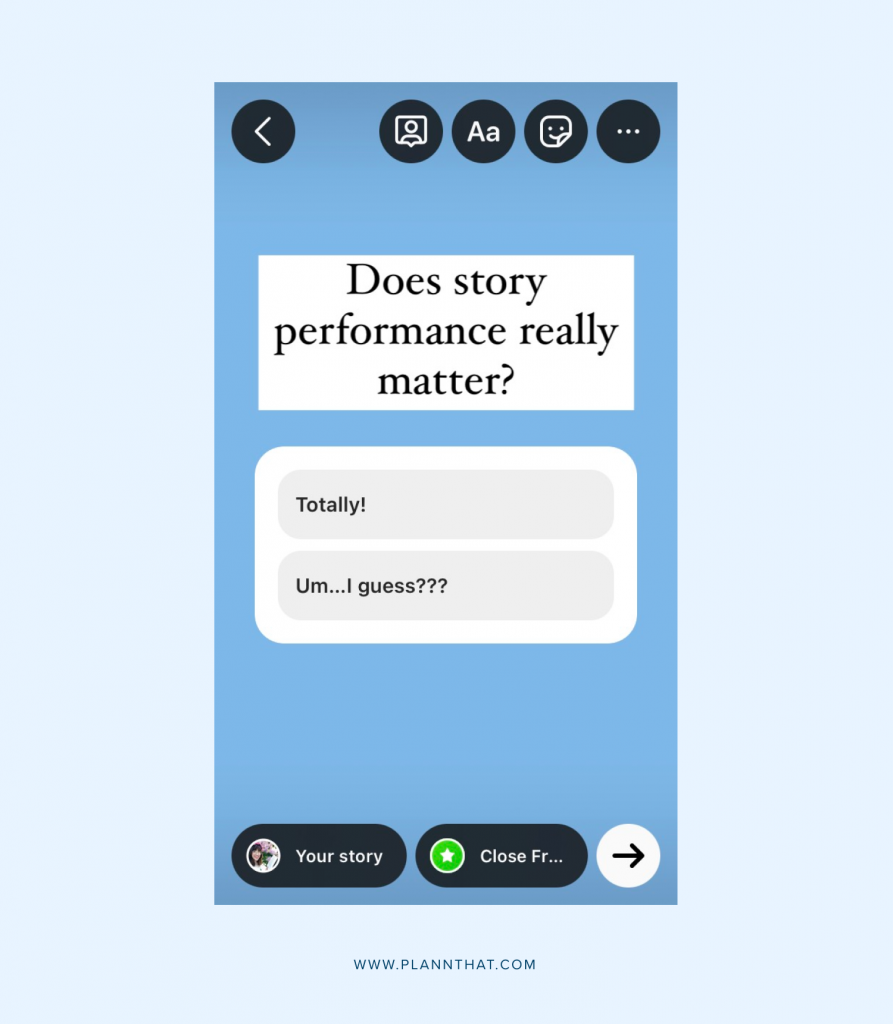 When you understand Instagram stories and how they perform, you can make your audience a much more central part of your marketing strategy. 
By keeping clear track of your Instagram story insights, you can see what's working, what isn't, and what you can do better moving forward. This allows you to grow your account and pivot your social media strategy month-on-month.
How can you improve your Instagram Story strategy?
There are many ways to improve your story strategy. Like we always say, one of the secrets is the plan ahead! 
Map out your Instagram Story content calendar ahead of time, including space to share product launches, important messages, and day-to-day content. Plan to post to Instagram Stories at least once every day. 
While it's fine to be less formal in your stories than on the grid, it's still best to stay true to your brand voice and identity. Try to use a consistent tone of voice and incorporate your brand colors when you can. 
Plus, use your Instagram Story analytic to guide your approach.All good content strategies start with some trial and error, so don't be afraid to try new things. Find out what works for your account and audience, and use your results to inform future story posts!  
Ready to revolutionize your Instagram Stories game?
Looking for an all-in-one solution that simplifies your social media management? Plann has got you covered. 
With our groundbreaking Auto Post feature for Instagram Stories, you can effortlessly schedule and publish captivating content, engage with your audience in real time, and keep your brand top of mind. 
Take your Instagram presence to the next level with Plann and unlock the full potential of your Stories.
Go on, and redeem your 7-day free trial of Plann Plus. If you don't like it, keep using Plann for free!
ur entire Instagram Stories strategy from post idea to publishing with ease.