Are you ready for one of the biggest Instagram announcements we've seen this year? Strap in: the Instagram experience is radically changing once again!
In massive news from Adam Mosseri (Head of Instagram), we've just learnt that Instagram is now moving to one video content format and streamlining its video experience. From today, all videos uploaded to Instagram will be shared as Reels. 
That's right: all new videos under 15 minutes long will now be published as Reels on Instagram. 
Ready to learn more about this exciting new update? Let's dive in!
Instagram Reels video merge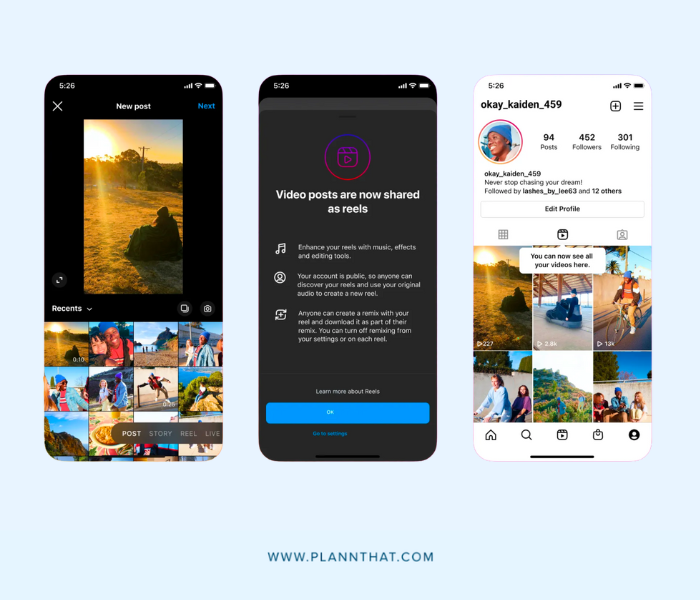 That's right, Reels are now the dominant video format on Instagram. From today, all users will receive a pop-up explaining that video posts will be shared as Reels, thereby streamlining the video experience on Instagram.
There are a couple of exceptions to this Instagram Reels video merger:
First up, all existing non-Reels videos will remain as standard videos on Instagram

Plus, any videos that are longer than 15 minutes won't be published as Reels 
As Adam explains, "the doesn't mean that every video has to be a dancing video or a lip-syncing video. But it means when you create a video on Instagram, you'll have access to all of those Reels tools."
Plus, you'll notice a few changes on your Instagram profile. Rather than having two tabs for video (one for Reels and one for videos), you'll be moving to a consolidated Reels tab. 
This is an exciting move to help more users discover your content on Instagram. The key is to make sure your profile is switched to public so that other users can Remix your Reel (and bolster your chances of your content appearing in the Discover feed).
Reels Templates
Next up, Instagram is expanding its templates feature across Reels. While the feature was first trialed with a handful of content creators earlier this year, the feature is being rolled out to users worldwide. 
"If you go to the Reels tab and tap on the camera, at the bottom you'll have a templates option, which will show you a bunch of different Reels ideas – because sometimes we just need a little bit of inspiration," explains Adam. 
The aim of Reels templates is to make it easier for brands and creators to produce original content while using a proven format or structure from another user. 
Remix Improvements 
While most of these updates are geared towards video content, this next change incorporates static photo content. Instagram has just launched the ability to make a Reels Remix from a photo. 
Plus, there is a stack of extra features and improvements to the Remix format, including picture-in-picture formats, green screen functionality as well as top-bottom displays (right than just left and right). 
Best of all, you can now add a video at the end of your Remix video to give you even more creative scope on Instagram. 
Dual Camera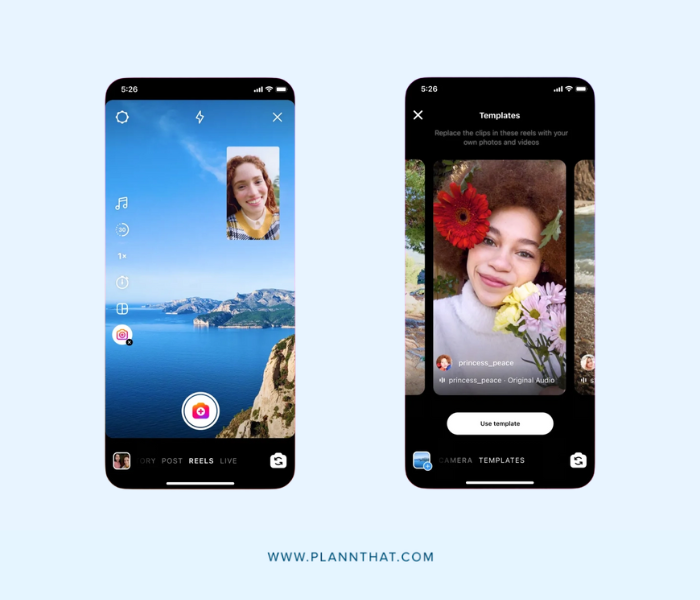 To help you take advantage of all the cameras that are on your phone, Instagram has just launched an exciting new Dual Camera feature. 
This means that you can use both your back and front camera to film content simultaneously for an even more dynamic and immersive experience. This is a perfect tool to capture engaging reaction videos to inspire and connect with your audience!
How to schedule and auto-post your Instagram Reels with Plann
With Reels now the only video format on Instagram, there's never been a better time to plan ahead and get your Reels scheduled in one go.
In exciting news, you can now schedule AND auto-post your Reels with Plann! Stay goodbye to push notifications or posting content after work hours. Now, you can batch your content creation and scheduling and watch everything go live on auto-pilot. 
To schedule and auto-post your Reels on Instagram, simply:
Step 1: Upload your content to Plann's desktop workspace.

Step 2: Select your posting format as Reels. 

Step 3: Add a custom cover image to keep your grid consistent. 

Step 4: Craft your caption, add your hashtags and set your location tag.

Step 5: Schedule your Reel to auto-post!
Are you ready to level up your social media presence in 2022? 
Now you've scored the latest insights about what's happening in the world of Instagram Reels, it's time to test out these latest features, put your best product forward and reach an eager and ready audience. And what better way to do that than with your ultimate all-in-one social media suite, Plann!
Ready to expand your reach and create Instagram Reels like a pro with Plann? Go on, and redeem your 7-day free trial of Plann Plus. If you don't like it, keep using Plann for free!