You've heard us bang on about the benefits of Instagram Reels for months. This bite-sized content format gives you the ability to reach hundreds if not thousands of new users on Instagram using the power of video content.
But one of the biggest complaints we hear from business owners and creators is this: it can be super time-consuming to plan, film and edit Reels on a regular basis.
To speed up your content creation process and get your pumping out Reels like a pro, we're thrilled to share a brand new feature direct from Instagram HQ: Reels Templates! That's right, Instagram has dropped its newest feature, giving users the ability to swipe the structure of their favourite creator's Reels and use it as a template for their next video.
Let's run you through everything you need to know about this groundbreaking new feature!
What are Instagram Reels Templates?
As the name suggests, Instagram Reels Templates are a new feature that allows users to copy the same Reels formats from existing videos.
With one tap, you can score a ready-to-use Reels Template complete with time stamps to guide your own content creation. In usual fashion, Instagram has taken inspiration from TikTok's Templates (which allows users to repurpose an existing template from another TikTok user).
How to use Instagram Reels Templates
The good news? Instagram Reels Templates are super easy to use and can cut down the time it takes to bring a Reel to life. The days when you had to edit your videos on 5 different external editing platforms are now over!
Ready to use Instagram Reels Templates? Follow along with our step-by-step guide:
Step 1. Find a video you want to repurpose on Instagram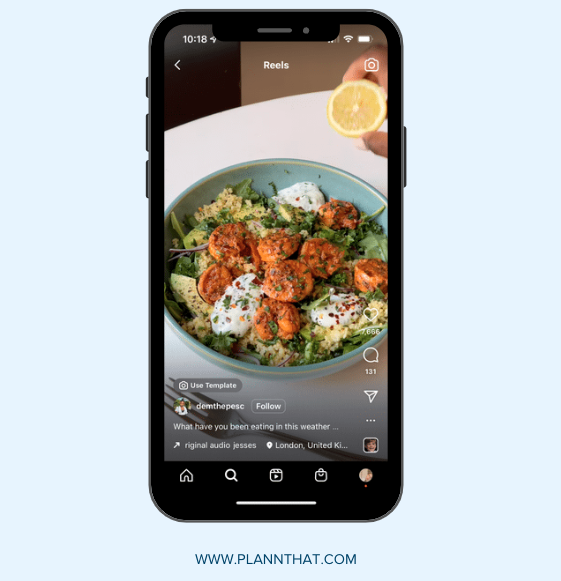 Naturally the first step is to figure out what Instagram Reel you want to recreate.
All you have to do is scroll through the Reels tab or browse your explore page and find a video template you like.
Step 2. Select 'Use as Template'
From there you'll be able to hit an icon on the bottom left corner labelled 'Use Template.'
If you can't find it, don't worry! You can tap the three-dot menu on the bottom right-hand side and click 'Use as Template.'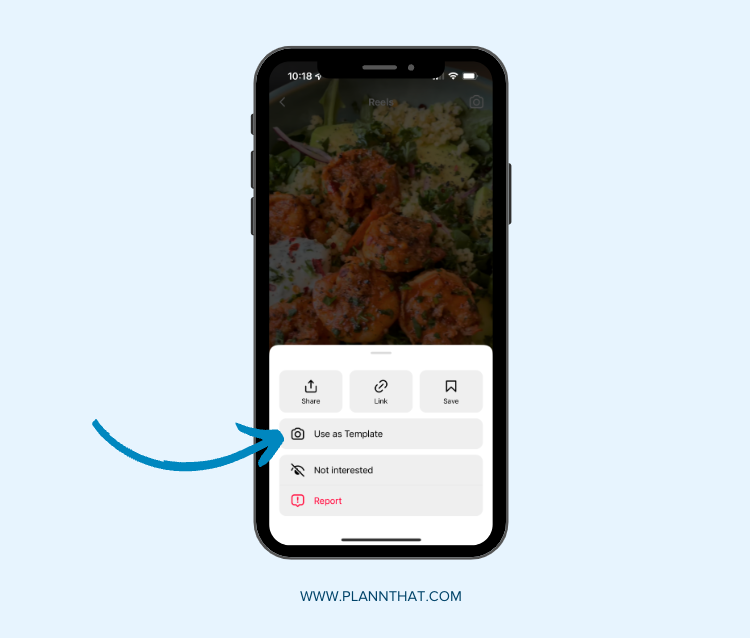 Plann Tip: If you've updated your app and still don't find it, don't worry. Not all Reels videos are available to use as Templates (but most are) so just keep on scrolling until you find one that you love.
It's also worth noting that any TikTok videos that have been reposted to Instagram Reels aren't compatible with Reels templates.
Step 3. Get creating
From here, you'll be taken into Reels creation mode, where you simply have to record or add videos from your camera roll into the templated clip slots.
Each of these placeholders already has time stamps set, usually to match the piece of audio from the original clip.
Step 4. Finalize your content and hit publish
Not that your videos are uploaded, your trending audio is set and your Reel is edited, it's time to get publishing.
All you've got to do is add in your clips, add your caption and hit publish. Talk about the easiest way to create Reels! Reels templates are perfect for those videos like the 'around the world' trend that syncs up 20 photos and videos to audio tracks. Rather than spending hours timing your videos to the music, templates make it so easy to replicate trending Reels formats in no time at all.
What are the benefits of Instagram Reels Templates?
As you can imagine, there are a bunch of benefits to Instagram Reels Templates. Whether you're a creator, entrepreneur or business owner, there are plenty of ways to harness Reels Templates to make your life easier.
Here are three reasons why you should be using Instagram Reels Templates to level up your social media game.
Speed up your content creation workflow: with a plug-and-play format to follow, you can save stacks of time trying to film and edit your Reels to go from planning to publishing in record time.
Harness trending Reels formats: ditch creative block for good and repurpose some of the most popular Reels formats using this handy Template feature.
Boost your visibility on Instagram: the more Reels you create, the greater your chance of showing up in the Discover feed (and the more eyeballs you'll get on your brand and content!).
If you've started creating your Instagram Reels using the new templates feature and have a backlog of content, you can also wave goodbye to manual posting and auto-publish your Reels using Plann.
That's right, our game-changing auto-post feature makes push notifications and manual posting a thing of the past. Simply upload your Reel to your Plann workspace, select the auto-publish option and your content will go live on auto-pilot.
Level up your social media presence in 2023 with Plann
Now you've scored the latest insights about what's happening in social media, it's time to put your knowledge into action. And what better way to do that than with your ultimate all-in-one social media suite, Plann!
Ready to expand your reach on social media with Plann? Plan, schedule, and auto-post your Reels. Go on, redeem your 7-day free trial of Plann Plus. If you don't like it, keep using Plann for free!