Our love affair with Instagram Reels is only getting stronger! You've heard us banging on about the power of Reels for years, and with good reason. 
Not only are Instagram Reels a super effective way to get your business in front of thousands of new users, but these videos drive 67% more engagements than standard Instagram videos. 
In HUGE news, we're thrilled to announce that you can now schedule and auto-post Instagram Reels with Plann. 
This is a massive leap forward for content creators, brands and business owners. With auto-posting Reels on Plann, you can say goodbye to manual posting, pesky notifications and an inconsistent Reels strategy. 
To help your brand succeed with Reels, we're sharing why you should be adding Reels to your Instagram strategy, the benefits of auto-posting Reels and a beginner-friendly guide to scheduling your first Reel with Plann. 
What are you waiting for? Let's get started!
Why does your brand need to be creating Instagram Reel?
Before we dive into all the juicy details about auto-posting Reels with Plann, let's take a step back. If you're daunted by the idea of filming videos, don't think you've got the time to create video content or feel like a total beginner when it comes to video editing, here's what you need to know. 
In 2022, Reels are non-negotiable for every brand and business's Instagram strategy. Why? Well, the Instagram platform is shifting towards an immersive, video-focused experience.
While static images and long-form videos still have a place in your content mix, Reels need to be at the forefront of your approach on Instagram. 
Here are five reasons why you need to be prioritizing Reels on Instagram: 
Skyrocket your reach

: Reels now have their own tab within the Instagram app, meaning trending and relevant Reels are being shown to audiences across the globe. By creating these bite-sized videos, you can boost the chances of your brand being seen by potential customers.



Tap into social SEO:

by using descriptive SEO keywords in your captions, your Reels have a higher chance of showing up in the search results of new followers. Sharing content that showcases your products or areas of expertise (and pairing these Reels with SEO-friendly captions) will help you quickly gain the attention of your target audience. 

Grab (and hold) your audience's attention

: Reels are by far the most engaging content format on Instagram. By harnessing popular formats, trending audio and a clear call-to-action, you can drive meaningful engagement from your Reels.



Showcase your brand personality:

as a fun, dynamic content format, Reels are the perfect way to let loose and give your audience a relatable insight into your brand.

Boost your brand's visibility through the Discover feed: as we've mentioned, Reels are one of the best ways to score a spot on the Discover feed. By regularly producing new, engaging Reels, you can get your content in front of new, relevant audiences.
P.s. are you running into one of the most common roadblocks stopping businesses from creating Instagram Reels? We've got you covered with the expert tips and tricks to help you overcome these Reels roadblocks and get you creating content like a pro!
What are the benefits of scheduling Instagram Reels? 
Now you're pumped and ready to start producing Reels, you're probably wondering what's the deal with scheduling and auto-posting Reels. 
 As you can probably tell, we're huge fans of scheduling content ahead of time. By proactively mapping out your post ideas, batch-creating your images and captions and scheduling everything in one go, you'll speed up your content creation process.
The same goes for creating and scheduling Reels! It can take a bit of time to come up with great Reels ideas and film all the content you need to bring your videos to life. With a stack of brilliant Reels to share, what's the point in only posting one at a time?
Here's why your business or brand should jump on Reels auto-posting with Plann:
Save time:

writing all your captions, selecting all your hashtags and creating your cover images in one go is much more efficient than doing this process time and time again. By scheduling your Reels in one batch, you'll cut down the time it takes to create and share your Reels. Simple set aside an hour or so once a month to get 30+ days of Reels sorted!



Skip manual posting

: push notifications are a thing of the past with Reels auto-posting. If you're managing multiple accounts or brands on Instagram, auto-posting is a game changer! This means you'll never have to post content outside business hours, so you can enjoy your life offline distraction-free.



Post consistently: manual posting has made it hard for many creators and brands to show up consistently with Reels. But with auto-posting, you can set and forget with your Reels strategy and optimize your time. It's all about working smarter, not harder!
Visually plan your grid

: Plann'rs, we know you love our visual feed planning features! With Reels auto-posting, you can visualize everything on your feed before it goes live to keep your grid looking its best.
A step-by-step guide to how to schedule Reels with Plann
Now, the bit you've been waiting for: a complete guide to scheduling and auto-posting Reels with Plann. Follow along to get your first Reel scheduled and posted with Plann!
Step 1: Upload your content to Plann's desktop workspace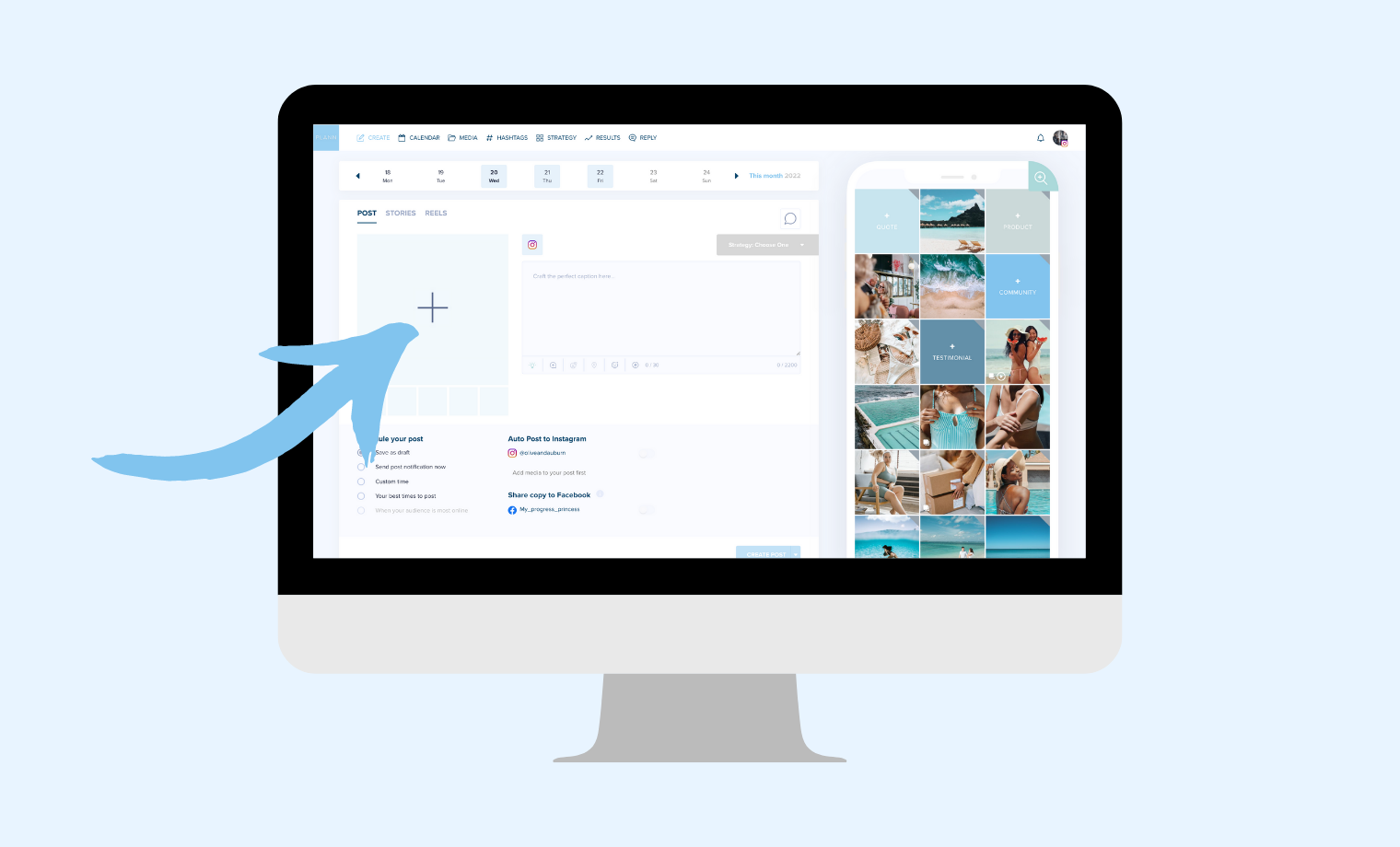 Login to your Plann account on your desktop and navigate to the Create page. From here, simply click the + icon to upload your edited Reel video. 
Hot tip: We always recommend editing your Reel directly within the Instagram app. This gives you full access to Instagram's in-app editing features, from filters to trending tracks and more!
Step 2: Select your posting format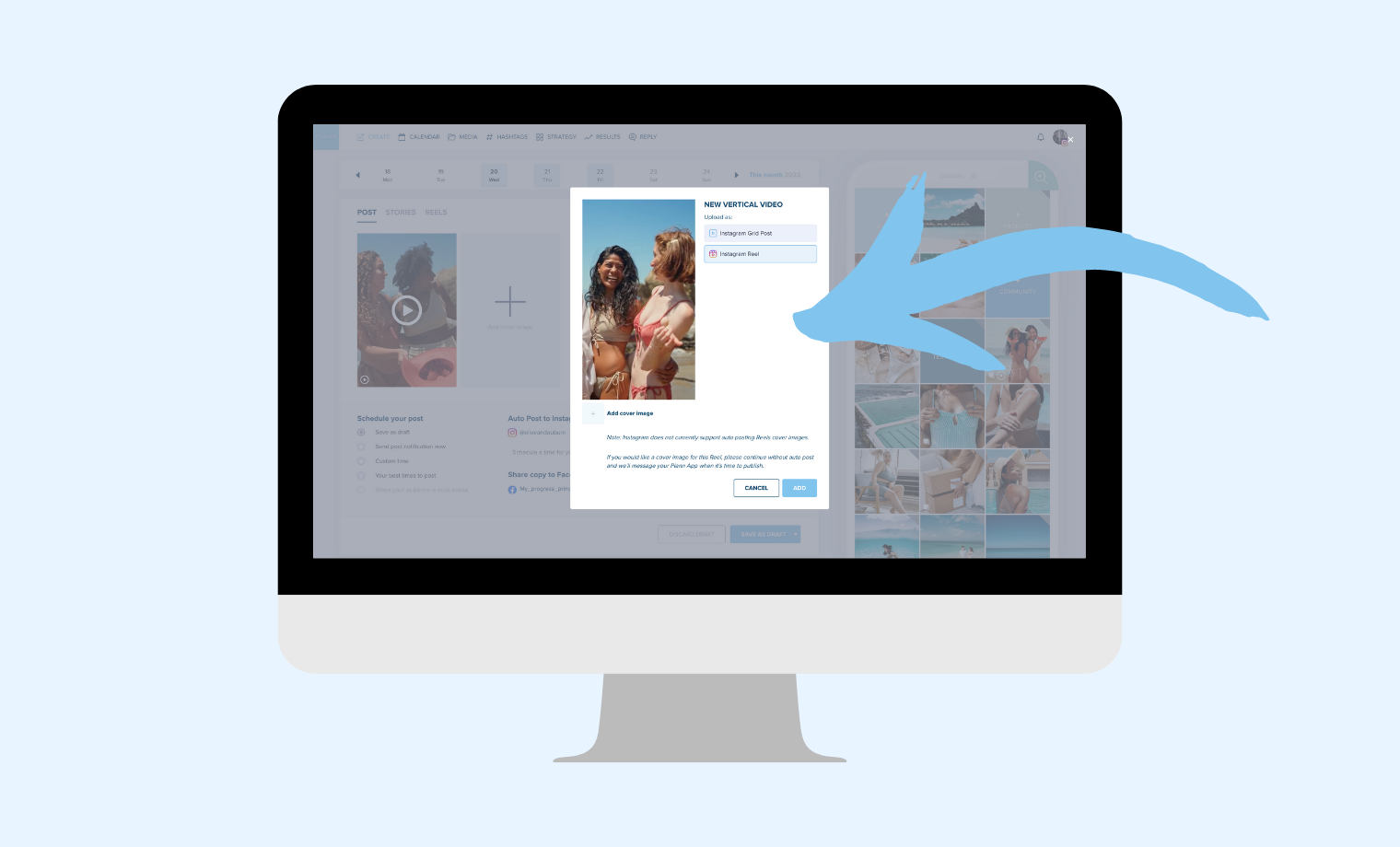 You'll then be served a prompt that will ask you whether you'd like to publish this video as a grid post or a Reel. Select Reel.
Step 3: Add a cover image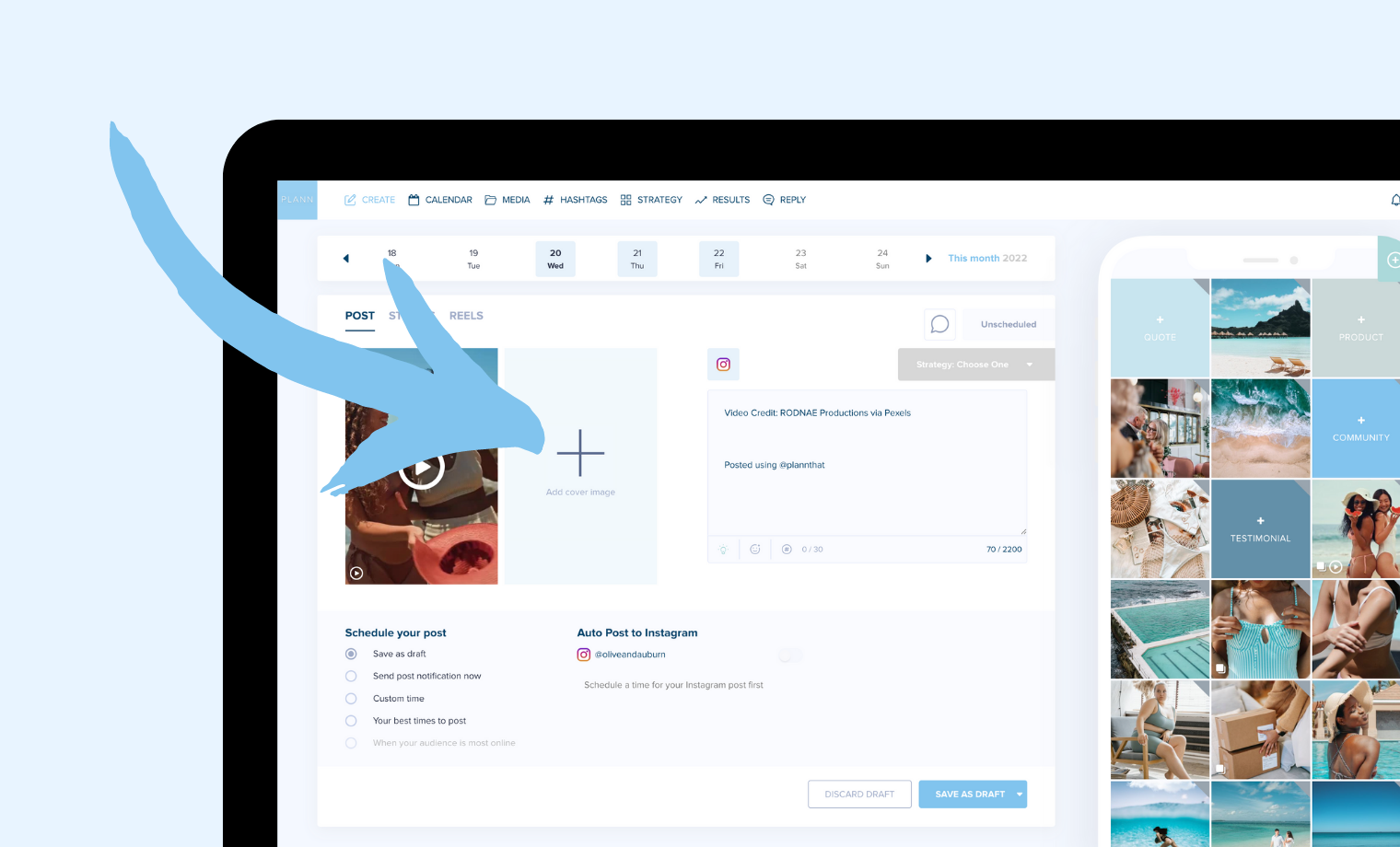 Tap Add a cover image to upload your own customized Reels cover photo. You can easily create this in Canva through Plann or import your own bespoke photo.
Step 4: Craft your caption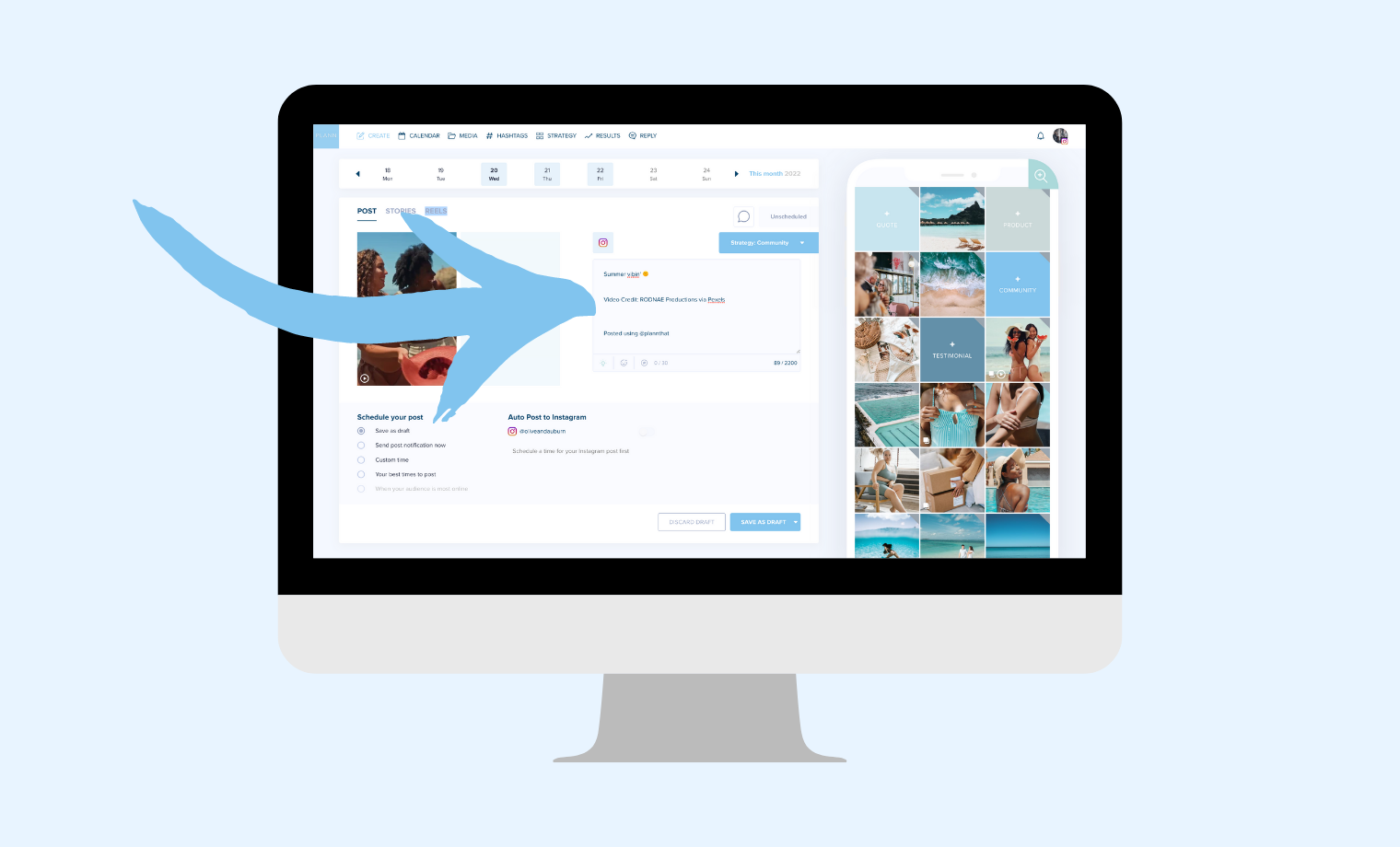 Now, you can easily craft a compelling caption using Plann's caption prompts or write your own from scratch.
Step 5: Add hashtags and location tags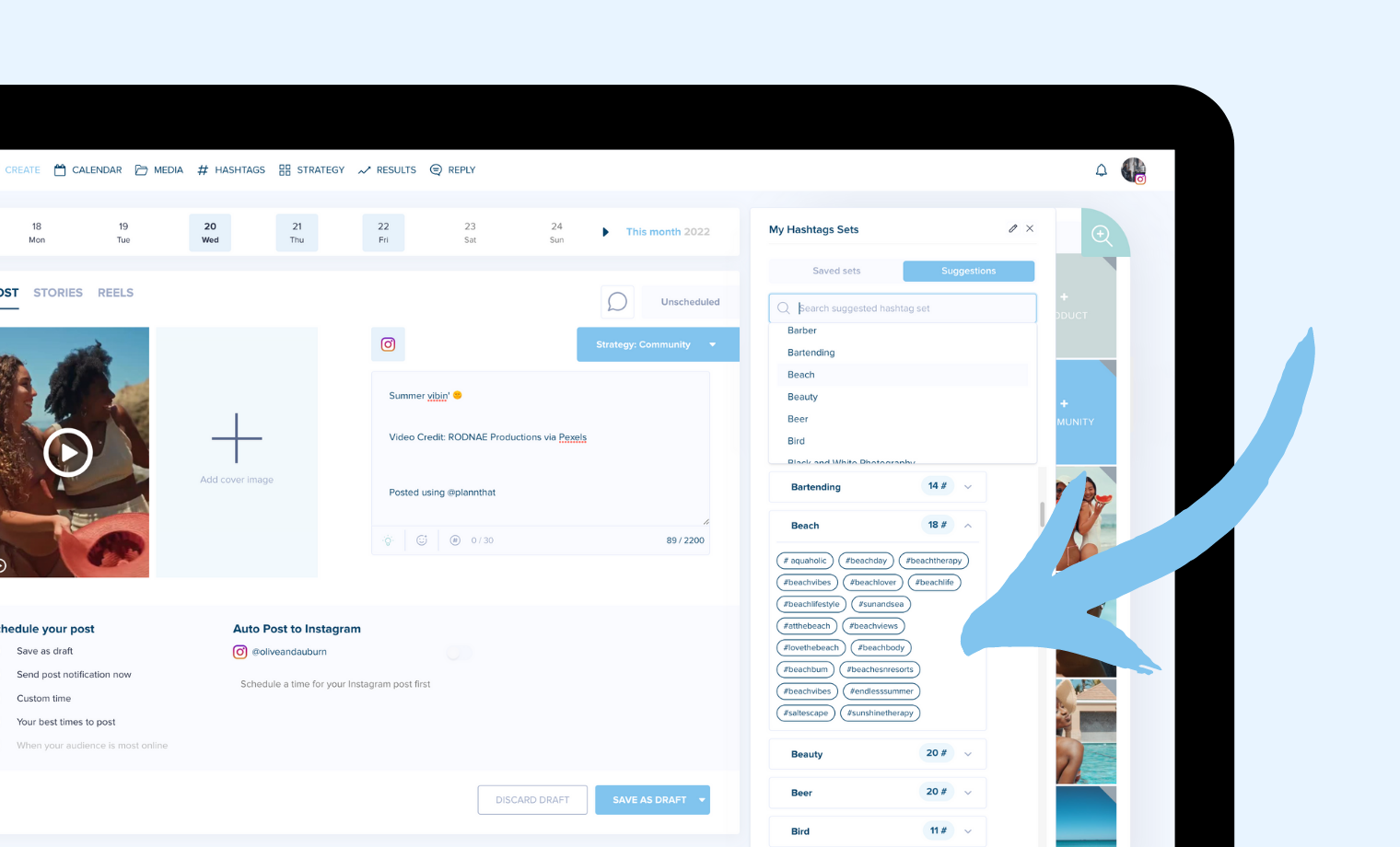 Select a set of strategic hashtags from Plann's pre-set hashtag sets or create your own. Plus, you can search and add a location tag to your Reel too.
Step 6: Schedule your Reel to auto-post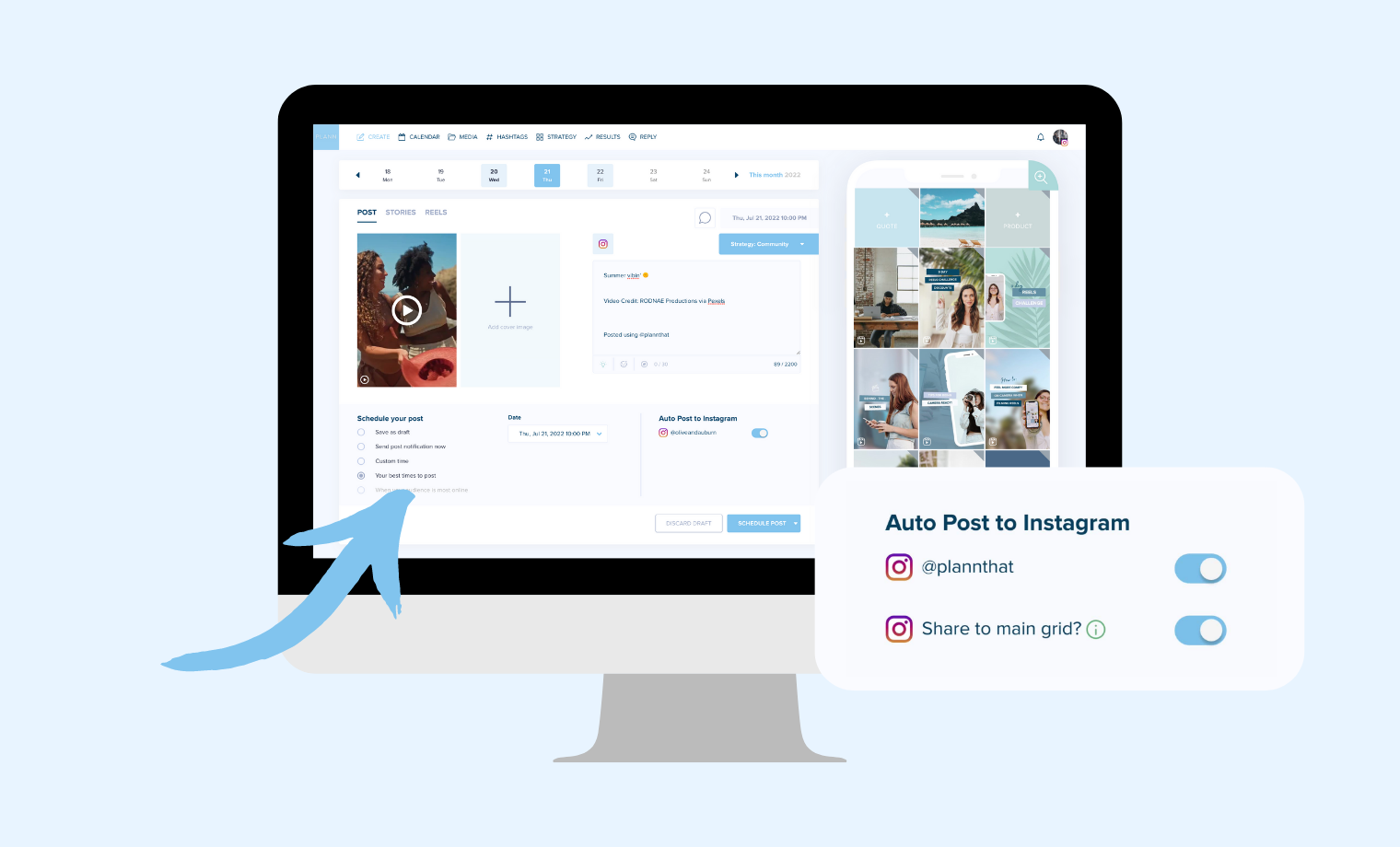 Now, you're ready to roll! Simply toggle on the auto-post feature and schedule your Reel at a custom time, your best times to post or even when your audience is most likely to be online. 
And that's it! You've just scheduled your first Reel to auto-post with Plann!
Streamline your social media marketing with Plann
Along with auto-posting Reels, Plann offers stacks of tailored features to help brands and content creators succeed on social media. 
Ready to expand your reach on social media with Plann? Go on, and redeem your 7-day free trial of Plann Plus. If you don't like it, keep using Plann for free!