The top reason your Instagram Reels ideas aren't getting traction?
You're missing behind-the-scenes content that attracts users and builds a loyal following.
When you add BTS content to your Instagram feed, it leads to more sales. How?
People buy from people. You're building the know, like, and trust factor.
Your behind-the-scenes footage humanizes your brand, makes you relatable, and helps you build a genuine relationship with your target audience who want to see you succeed.
That's one part of the recipe to help you build an army of loyal fans.
…But what should you post on Instagram Reels?
After helping thousands of creators and business owners grow their online communities (including our own!), we've cracked the social media strategy code.
Below, you'll find five creative Instagram Reels ideas for your business that'll help you master BTS content and level up your marketing strategy.
1. Drum Up Anticipation With Sneak Peek Instagram Reels
You know what drives people nuts? FOMO.
The fear of missing out is one of the most powerful feelings you can leverage to create an engaging Instagram Reel.
Sneak peek videos are one of the best ways to do this.
Not only are you instantly triggering feelings of wanting your next product or service, but you're drumming up anticipation to a fever pitch.
View this post on Instagram
View this post on Instagram
Think about the last movie trailer that got you excited.
It didn't give you the entire plot. It didn't spoil the twist. It only gives you enough to create intrigue.
You're on the edge of your seat, itching to know what happens next.
If you're a Swiftie, you'll know this feeling All TooWell.
For her Midnights album release, Taylor Swift dropped a teaser video for her upcoming music videos. It sent the fandom into a frenzy, and the Instagram Reel quickly hit 51 million views.
View this post on Instagram
While you may not have the same audience size as Taylor, you can tap into the same emotions she evokes when creating your sneak peek video.
The secret?
Create Instagram Reels that give the viewer 80% of the plot but leave out the most important 20%. That's what will build excitement, get your followers invested and set you up for an epic final reveal.
2. Create Before-And-After IG Reels
13 Going on 30, She's All That, The Princess Diaries.
What do these three movies all have in common?
Makeover montages.
It's a teen rom-com staple that gets you in the feels every single time.
Why?
There is something super gratifying in watching a glow-up, and you can harness that feel-good emotion to create Reels for your business.
This type of BTS content is gold for services-based businesses like hair stylists, makeup artists, and aesthetic dentists. It shows your audience the quality of work they can expect from your brand.
If your business doesn't fit into these categories, you can still use before-and-after videos to create winning Reels.
Here are some ideas to inspire you:
• Show the before and after of decorating your at-home office.
• Make a reveal for your new branding.
• Create Instagram Reels for the beginning and end of your project.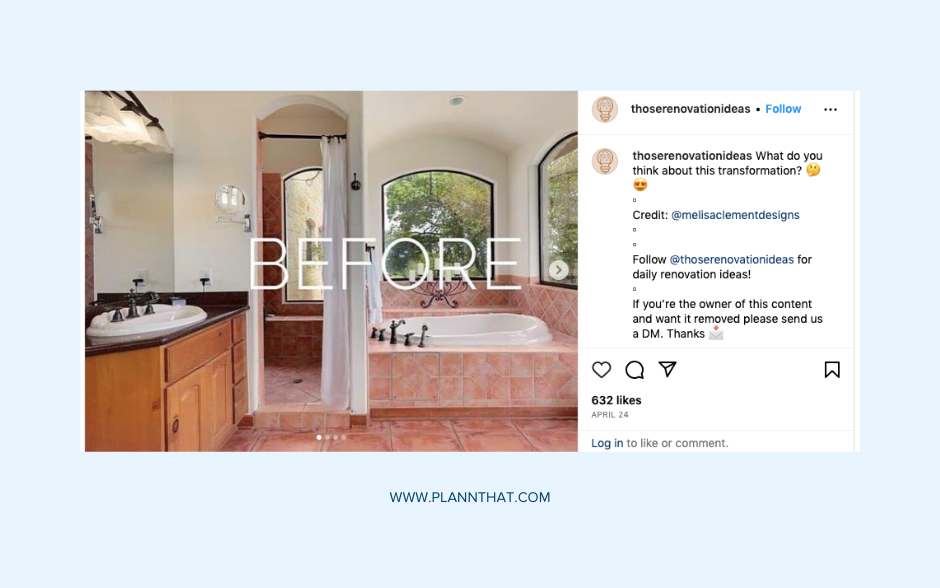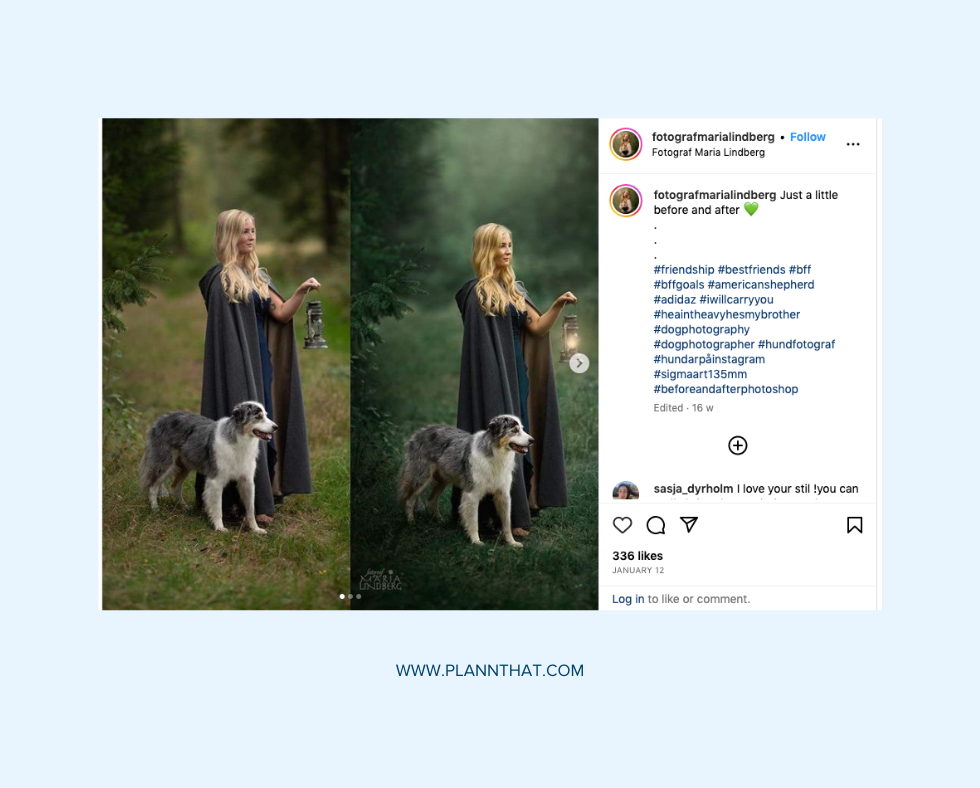 3. Talk About Your Brand's Origin Story
What makes a superhero or villain compelling?
The origin story.
In most cases, the "Big Badie" is usually the most interesting character.
They're multifaceted (insert Shrek's iconic "Orgres are like onions" monologue). There's intrigue around what happened to make them want to take up a life of destruction.
Luckily, you don't need a devious plan to make your brand memorable and develop a cult following.
You only need to leverage Instagram Reels to create a compelling brand story.
Here are some tips to get you started:
• Focus on your "Big Why": Why does your brand exist? What problem are you trying to solve? What are your brand values?
• Your Product: How does it fit into your "Big Why" and overall brand mission? What makes your product different?
• Your Audience: How does your product or service and "Big Why" relate to your audience's pain points?
Once you have the answers to those questions, combine the basic elements of story structure to create your own Reels.
1. Status Quo: This is the way things are and always have been.
2. Conflict: The conflict disrupts the status quo and forces you to find a solution to the problem.
3. Resolution: Your product or service is how you solved the conflict.
Let's breakdown an example:
Tala is a sustainable activewear brand that delivers on performance, fit, quality and style without a hefty price tag.
1. Status Quo: Activewear brands produce new clothing items that customers add to their collections to keep up with trends.
2. Conflict: These fast fashion activewear clothes end up in landfills each year. Clothing waste is at an all-time high, it harms the environment, and items are made in unethical working environments.
3. Resolution: Tala creates high-quality activewear from ethical suppliers, using sustainable fabrics at an affordable price point.
View this post on Instagram
4. Create "Day In The Life" Mini Vlogs
People buy from people they know, like and trust.
One of the best ways to create that bond with your audience is through mini vlogs.
These short-form videos are less time intensive than longer videos on YouTube but come with the same benefits.
By giving your followers a glimpse into your daily life, people feel they know you personally. It creates a connection to your brand, and users will keep coming back to your videos to see what you're doing.
It's another way for you to share your brand personality and show (not tell) your audience why you're passionate about your business.
How do you film day-in-life video content and turn it into an engaging Reel?
• Grab a tripod, set up a time-lapse on your phone and press record.
• Film B-roll footage (additional clips that aren't the main action which you can reuse for other Reels).
• Shoot from different perspectives to tell a story from multiple angles.
• Use the voiceover feature on Reels or add a trending audio track with text overlay.
5. Create a "Meet The Team" Reels Series
Your business is more than a logo, a catchy tagline or binge-worthy content.
What makes your brand great is your team.
If your followers have no idea who does what in your business, pull out your smartphone and start filming Reel content for your "Meet The Team" series.
Each week, introduce a team member and ask the person to answer questions like:
• What do you love about working here?
• What's your favourite part about this job?
• What tips do you have for someone wanting to get a job in your position?
You could even take it a step further and put your spin on Vogue's iconic "73-questions" series.
It's an opportunity to have some fun, express your brand's core values and create a deeper connection with your Instagram audience.
View this post on Instagram
Start Creating Instagram Reels for Business With Plann
Turn your Instagram Reels idea into a post and create a content calendar.
With Plann, that whole creative process is on easy mode.
Quickly repurpose your social media posts in seconds. It's the best way to stay consistent, save time on content creation and gain visibility on multiple platforms.
You can make tweaks for each social network, change the captions, use different hashtags, update your ratios, and schedule at the same time or space each post out.
That's it!
Plann will do the rest while you focus on running your business.
Sound good? Sign up for a 7-day free trial of Plann Pro and score the all-in-one social media suite you need to grow your brand. Harness a drag-and-drop visual planner, leverage thousands of high-performing hashtags, and so much more.