Instagram is shaking up the game once again. Today, Adam Mosseri (Head of Instagram) jumped into our feeds with an exciting series of updates geared toward creators. 
By now, it should come as no surprise that Instagram is pivoting to a creator-first platform. In the past few months, we've seen Instagram launch Creator Marketplace, NFTs and even the ability for creators to pin content to the top of their profile. 
As Adam shares, "we want Instagram to be the best place online for creators to make a living."
In order to help creators earn sustainable, predictable income, the platform is doubling down on its newly launched Subscription features.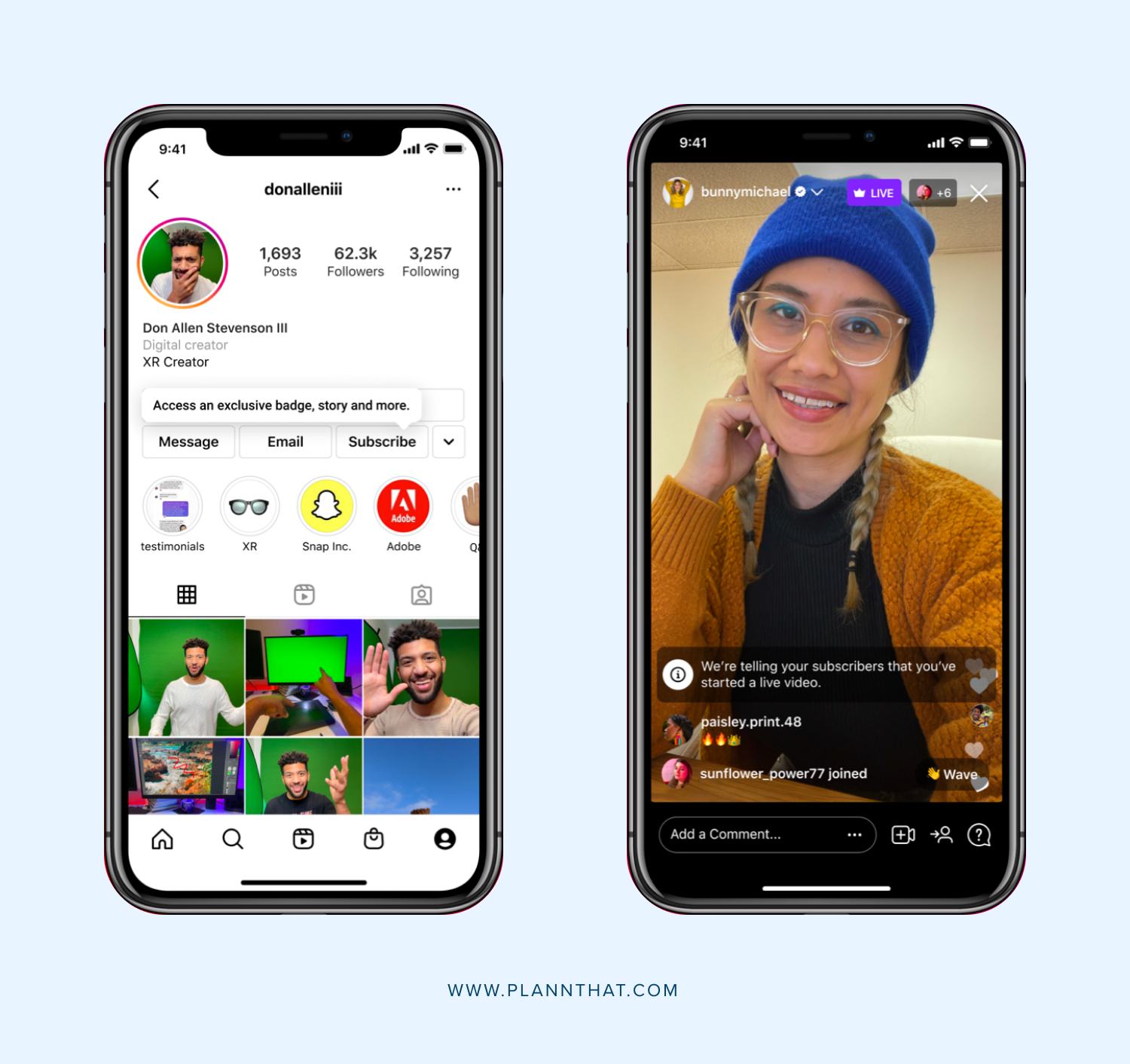 "Back in January, we announced our first subscription alpha. We were really excited about it, despite it being relatively limited in its features. It allowed creators to post Stories just to their subscribers, to go live just to their subscribers and we also supported subscriber badges," reveals Adam.
"Since then, we've expanded to tens of thousands of creators here in the US. Today, we're announcing a bunch of new features based on the feedback that we've gotten from those creators."
Wondering what Instagram is doing to support creators? Here is a stack of exciting new subscriber features you need to know about.
Three new subscriber features coming to Instagram
To help creators continue to earn money from the platform, Instagram is expanding its Subscription features. Earlier this year, Instagram launched the Subscriptions business model as a way for fans to show ongoing support to their favorite creators.
At the time, Subscriptions were pretty limited in their scope and range of features. Originally, creators could only share exclusive content such as Subscriber Lives, Subscriber Stories and Subscriber Badges. 
But after chatting with thousands of creators, the Instagram team knew that there was more content placements and formats they could offer to subscribers. Today, we've learned there are three big changes coming to subscriptions on Instagram:

Subscriber Chat:

now creators are going to be able to DM with up to 30 of their subscribers at a time.

Subscriber Reels and Posts

: rather than being limited to Lives and Stories, creators can now share exclusive content across all video and photo placements, including Reels.

Subscriber Home Feed:

plus, subscribers will now be able to navigate to an exclusive 'subscriber only' feed on their creator's profile. 
"We know that creators want to interact directly with their fans in meaningful ways, and we think that DMs are a great way to do so," shares Adam.
The expansion of subscription content to include Reels is an exciting and much-requested feature from the creator community. "The next is the most requested feature that I've personally gotten from creators in the program, which is support for posts, not just Stories," tells Adam.
"So whether it's Reels or photos, you're going to be able to post photos and videos just to your subscribers. Your subscribers will be able to find a subscriber home on your profile where they can see all their exclusive content."
But this is far from the last we'll hear about subscriber features on Instagram. In fact, Adam has already hinted there are more features and updates to come for creators on Instagram.
"This is just one step on a much longer path to provide creators everywhere with a whole range of tools to be able to make a living online."
Are you ready to level up your social media presence in 2022? 
Now you've scored the latest insights about what's happening in the world of Pinterest. It's time to test out these latest features, put your best product forward and reach an eager and ready audience. And what better way to do that than with your ultimate all-in-one social media suite, Plann!
Ready to expand your reach on social media with Plann? Go on, and redeem your 7-day free trial of Plann Plus. If you don't like it, keep using Plann for free!