NFTs (a.k.a Non-fungible tokens) are becoming a big part of the way creators make money on social media. While sponsored posts and brand partnerships will always exist, more creators are turning to blockchain and cryptocurrency to boost their earnings online.
That's why many creators are thrilled to hear that Instagram is now supporting NFTs on the platform. The move comes as Meta CEO Mark Zuckerberg announces NFTs will also be coming to Facebook and other Meta apps, while Twitter and YouTube begin to embrace web3 technologies, too.
So, what does this latest change mean for content creators and NFT collectors? Here's what you need to know.
NFTs are now on Instagram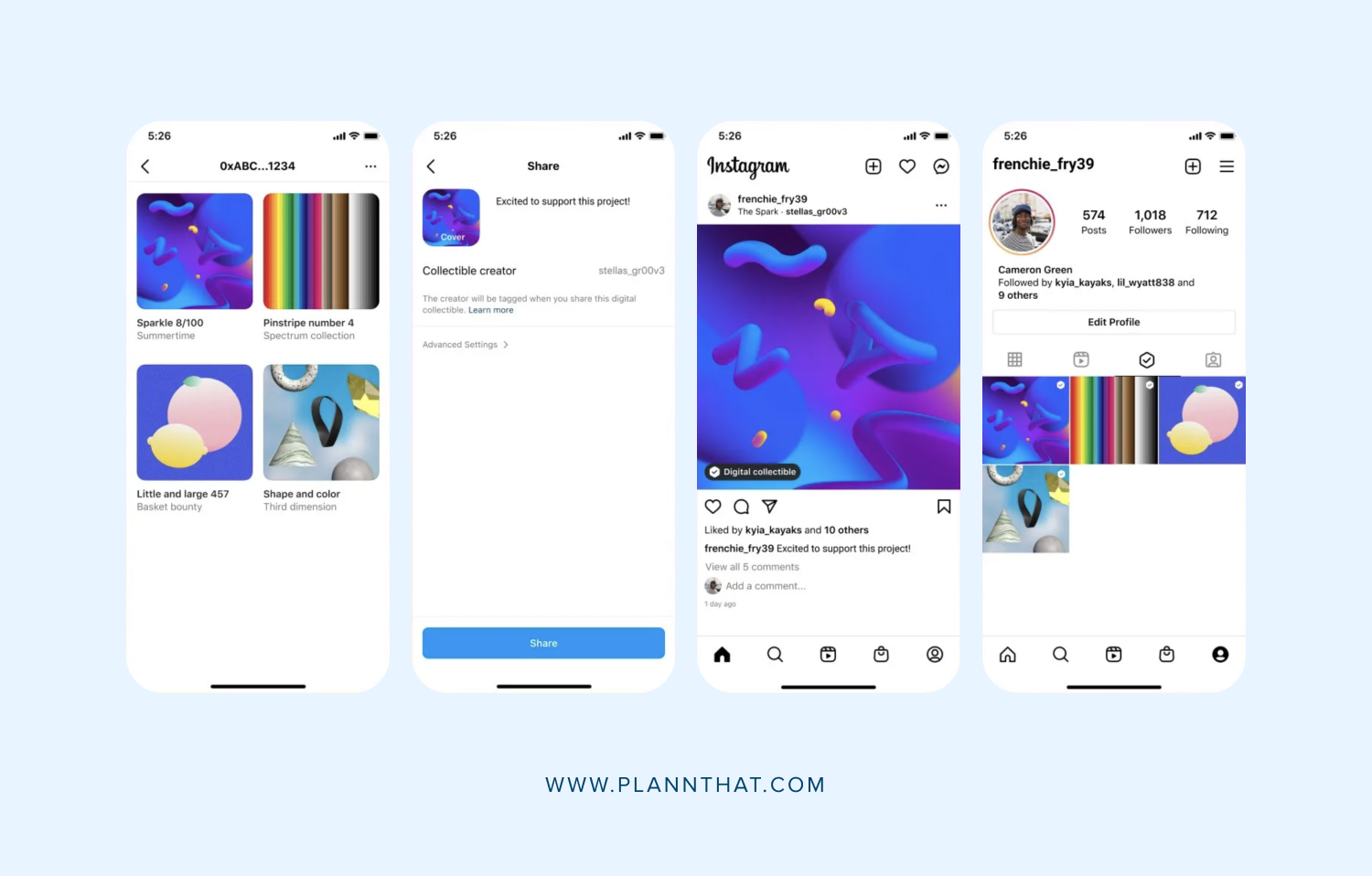 In a recent announcement by Head of Instagram Adam Mosseri, we've learnt that Instagram is going to be rolling out a test of NFTs for a select number of US-based creators.
Adam notes that creators are important to the Instagram experience and that Instagram wants to find new ways to enable creators to earn money doing what they love. So, this test of NFTs on Instagram will include no fees for posting or sharing these digital collectables on the platform.
At this stage, we know that a select number of blockchains for showcasing NFTs on Instagram will be Ethereum and Polygon (with Flow and Solana support coming soon). Plus, the launch will allow a number of third-party wallets to be used, including Rainbow, MetaMask, and Trust Wallet (with Coinbase, Dapper and Phantom said to be launching soon).
Here's what we know: Instagram will allow creators to share NFTs that they're either created or bought, in the Feed, in Stories or in messaging.
What does this change mean for NFT creators and collectors?
Right now, NFTs are very much in the testing phase on Instagram.
Only a few creators in the US have access to the feature. So far, here are the creators we know are included in this trial: @adambombsquad, @bluethegreat, @bossbeautiesnft, @c.syresmith, @cynthiaerivo, @garyvee, @jenstark, @justmaiko, @maliha_z_art, @misshattan, @nopattern, @oseanworld, @paigebueckers, @phiawilson, @swopes and @yungjake.
Instagram has launched this feature in an intentionally small pilot mode to ensure they can build out more functionality over time, with direct feedback from NFT creators.
As Adam shares, "NFTs and Web3 more broadly are all about distributing trust and distributing power, but Instagram is fundamentally a centralized platform, so there's a tension there."
"One of the reasons why we're starting small is we want to make sure that we can learn from the community. We want to make sure that we work out how we embrace those tendons of distributed trust and distributed power, despite the fact that we are a centralized platform."
With so much still unknown about how NFTs are going to work on Instagram, it appears that this test will play a major role in determining how these collectibles are used on the platform.
What's next for NFTs on Instagram?
Instagram believes they are in a unique position to make "web3 technologies accessible to a much broader range of people," shares Adam.
They see NFTs are not only interesting to creators of this NFT art, but also to collectors. So, this is said to be just the start of Instagram's investment in new ways to better support the creator economy.
So stay tuned: this is just the start of NFTs on social media platforms.
Level up your social media presence in 2022 with Plann
Now you've scored the latest insights about what's happening in social media, it's time to put your knowledge into action. And what better way to do that than with your ultimate all-in-one social media suite, Plann!
Ready to expand your reach on social media with Plann? Go on, redeem your 7-day free trial of Plann Plus. If you don't like it, keep using Plann for free!