The team from Instagram is at it again with another string of exciting new updates. Adam Mosseri had hit our feeds with a series of announcements, once again targeted toward creators and brands.
As Adam explains, "over time, we want to provide a whole suite of ways for creators to make money. Today, we're announcing a range of new features around the creator marketplace, improvements to Reels, NFT expansion and extending the period where we don't take any fees from creators."
Today, we've learnt that Instagram is launching a Creator Marketplace. It's set to be a new destination within the app that allows brands and creators to connect and form partnerships. These latest changes follow a series of creator-related updates, including the ability to pin content to the top of your profile and the launch of NFTs on Instagram.
We've said it before, and we'll say it again: the future of Instagram looks to be geared specifically towards content creators. The platform wants to help creators earn a living and give brands new ways to tap into the creator economy.
So, how will the launch of the Creator Marketplace impact your business's social media marketing strategy? Here's what you need to know.
Instagram's Creator Marketplace is here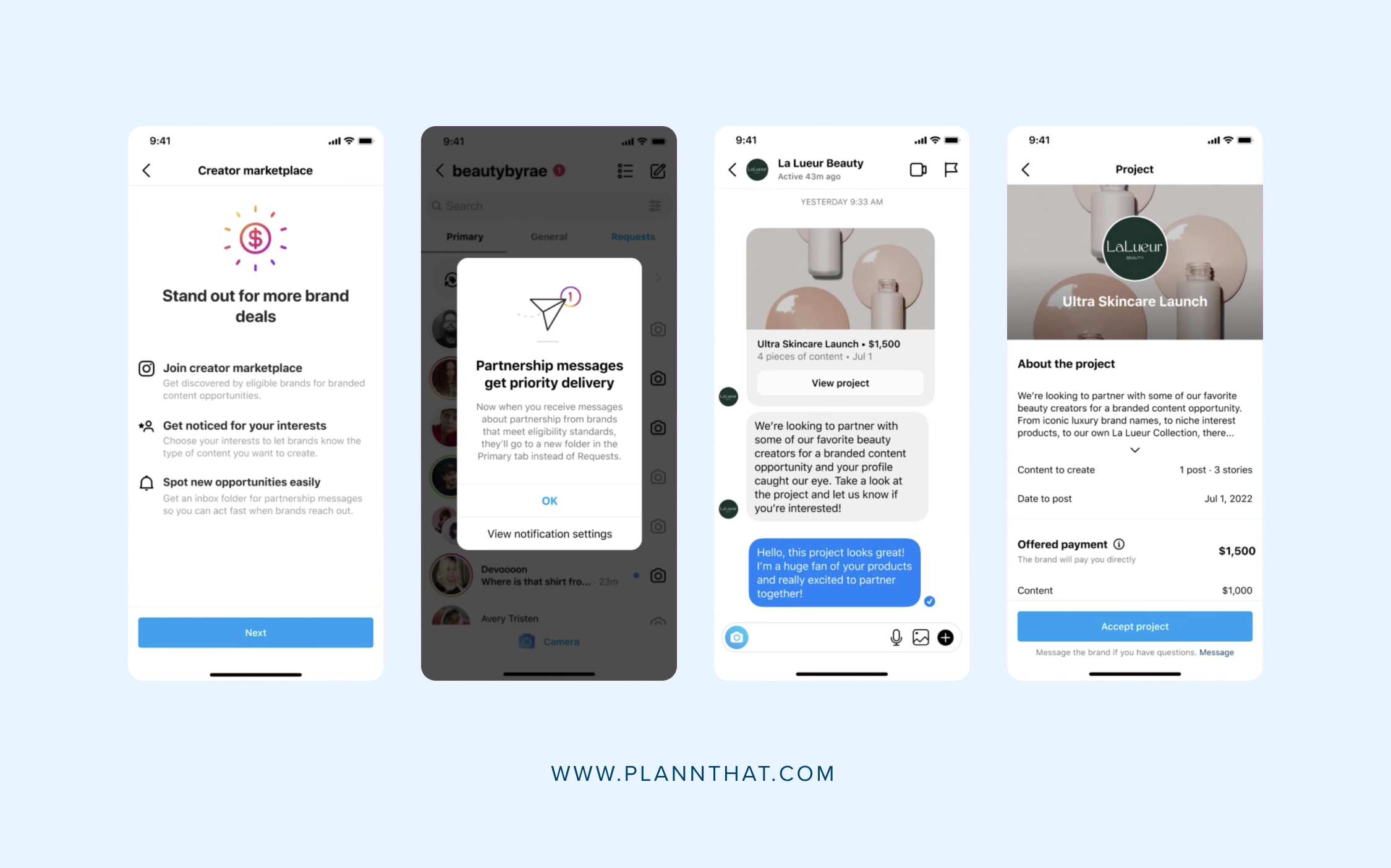 Instagram is heavily investing in new creator-focused features, such as their brand new Creator Marketplace.
As Adam explains, "Branded content is a multi-billion dollar industry on Instagram. It's how a lot of creators make money around the world. The creator marketplace is a new space within the app where creators can find brands and brands can find creators, and look for opportunities to work together."
While the specific details of the creator marketplace as still sparse, we know that creators will be able to directly message brands they want to work with (and vice versa).
Once available, creators will be able to join the creator marketplace to access a stack of branded content opportunities. Creators can nominate what kinds of campaigns and topics they want to work on and will be able to access a dedicated inbox folder in their DMs just for partnership opportunities.
Plus, it looks like brands will be able to share project briefs directly with creators via DMs (including the project budget, how many pieces of content they need created and due dates for delivery). Then, creators can accept projects in just one click to speed up the delivery of branded content.
What this latest Instagram update means for you
If you're a content creator, blogger or personal brand using Instagram, this new marketplace will give you exciting new ways to earn money on the platform. Without even leaving Instagram, you can secure new job opportunities and accept branded content projects in seconds.
As for brands and businesses, this new marketplace is a brilliant way to expand your influencer marketing efforts. Rather than spending hours scrolling through potential influencers on Instagram, the creator marketplace gives you a tailored list of industry-specific creators who are open to creating content about your niche or brand.
Plus, the dedicated partnerships inbox tools are a game changer for all involved. Rather than having messages get lost in someone's 'message requests' folder, brands and creators will immediately be notified of new opportunities to get the ball rolling faster.
If you haven't already, now is the time to be tapping into the power of branded content. As Instagram continues to prioritize creator-focused features, your business needs to ensure your social media strategy makes room for strategic, branded content that gets your brand, products and services in front of valuable new audiences.
The latest Instagram updates you need to know about
Along with the announcement about Instagram's creator marketplace, Adam revealed a range of other updates you need to know about.
For a while, Instagram has allowed creators and brands to create Instagram Reels and for them to show up on Facebook. Now, Instagram is releasing a new feature that will allow you to proactively cross-post your Reels to Facebook.
While it might seem small, this important new feature allows you to be eligible for the creator monetization tools that Facebook offers (such as overlay ads and Facebook bonuses).
Recently, Instagram announced the first trial of NFTs on the platform. At the time, this trial was only available to select creators based in the US. Now, Instagram is expanding this test to half a dozen countries around the world.
Plus, a number of US-based users have just woken up to the new full-screen feed experience. Interestingly, we've heard reports that Instagram's new full-screen feed has defaulted to dark mode, which has been met with a very mixed reception from users.
This update is an important reminder that dynamic vertical content (specifically Reels-style videos) needs to play a bigger role in your social media strategy on Instagram.
Level up your social media presence in 2022 with Plann
Now you've scored the latest insights about what's happening in social media, it's time to put your knowledge into action. And what better way to do that than with your ultimate all-in-one social media suite, Plann!
Ready to expand your reach on social media with Plann? Go on, redeem your 7-day free trial of Plann Plus. If you don't like it, keep using Plann for free!