You've heard the rumors and now we have official confirmation: Instagram is testing a full-screen home feed.
It's the most dramatic change to the Instagram feed experience we've seen to date. It comes off the back of other recent algorithm changes, including prioritizing original content and the return of Instagram's iconic chronological feed.
We first covered the news of Instagram's full-screen home feed experience back in April when we first heard whispers of the changes. But now, we have confirmation from Instagram themselves that a test is currently underway that could change the way you interact with Instagram forever. Here's what you need to know.
What has changed with Instagram's feed format?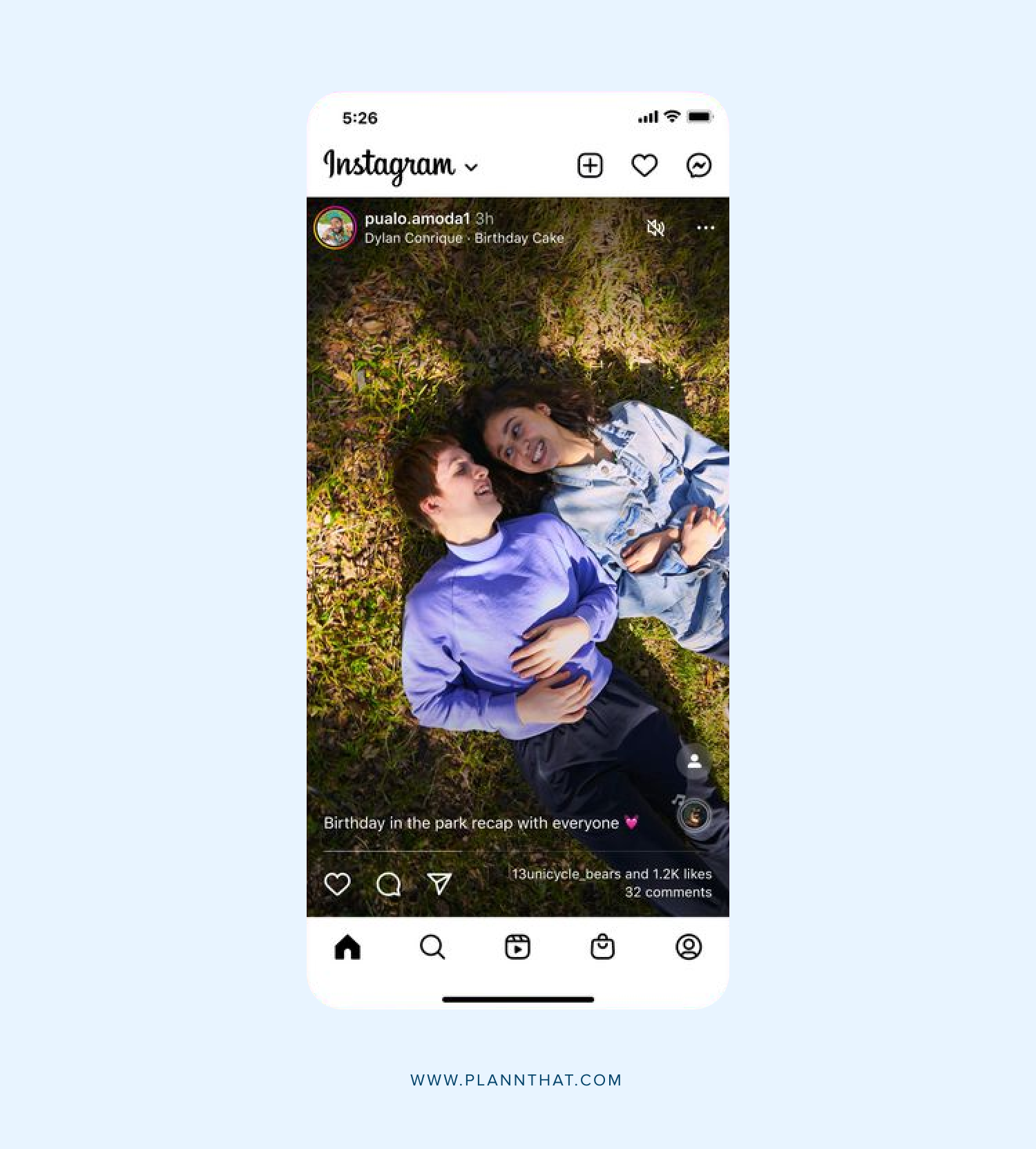 First up, let's run you through the latest change. This week, Adam Mosseri (Head of Instagram) confirmed that Instagram is running a test of a new immersive feed experience.
Adam shares that Instagram believes video will continue to play a bigger role in the Instagram experience, which is why they're testing a new full-screen feed format that allows videos and photos to take up more of your screen.
The aim is to integrate all content (photos, videos and even Instagram Stories) into one immersive feed, similar to the layout of the Reels feed. It makes sense, especially considering the popularity of the Reels format.
In fact, Meta has revealed that Reels now make up over 20% of the time users spend on Instagram, making it no surprise that they're keen to experiment further with a full-screen immersive feed experience.
If you don't have access to this new feed format, don't worry. Instagram confirms it's still in the testing stage and will be rolling this update out over the next few weeks. Their aim is to gain user feedback first (both good and bad) before expanding this new feed out globally.
What does this change mean for your business's Instagram strategy?
So, what does this new feed layout mean for your business? Well, if you're not already creating and sharing video content, now is the time to start.
With this new feed format, high-quality vertical video content is what will be prioritized in the algorithm (and will help you generate the best results). It's time to focus on creating content that is 9:16 sizing to maximize screen space and give audiences a reason to remember you.
Plus, Reels continue to be a non-negotiable content format for brands and businesses on Instagram. These short, bite-sized videos are a brilliant way to share tips, educate your audience and even tease your upcoming product or service releases.
We also know that Instagram plans to roll out new monetization options for Reels, which means now is the time to experiment with this content format and find ways to build these posts into your Instagram marketing strategy.
Not sure where to start with Reels? We've pulled together 10 top-notch Reels ideas you can start posting right now. Plus, why not join our FREE 9 day Reels challenge and learn how to reach 10k+ followers organically without spending a cent!
Our two cents on the latest Instagram feed changes
Here at Plann, we see these latest Instagram feed changes as a way for the platform to remain competitive with its biggest rival, TikTok.
TikTok is synonymous with this full-screen, immersive video experience, and its skyrocketing popularity means it's a winning format for brands, businesses, creators and users alike. Not only does this format keep viewers engaged and scrolling through content for longer, but it also preferences and prioritizes punchy, high-quality video content.
For businesses and marketers, this new feed format offers exciting new opportunities to get creative and find new ways to promote your offering, educate your customers and boost audience engagement. The days of static graphics are behind us, as TikTok and now Instagram continues to encourage brands and businesses to get filming and publish immersive video content on their platforms.
Plus, for photographers, this latest feed update means portrait sizing is more important than ever. By resizing all your images to 9:16 sizing, you can capitalize on this full-screen experience and drive even more engagement from your posts.
Level up your social media presence in 2022 with Plann
Now you've scored the latest insights about what's happening in social media, it's time to put your knowledge into action. And what better way to do that than with your ultimate all-in-one social media suite, Plann!
Ready to expand your reach on social media with Plann? Go on, redeem your 7-day free trial of Plann Plus. If you don't like it, keep using Plann for free!