Have you ever noticed that most of the Instagram feeds you follow are light and bright? Don't come across many dark Instagram themes?
They're mostly white coloured feeds with soft colours, usually accompanied by a low temperature (more blue and grey than pink and red) and known as one of the most popular colour schemes on Instagram.
Why do we all like white so much?
The reason, is because it's so minimalistic and beautiful!
The brightness draws you in, it's calming, soothing and relaxing – quite possibly because most of these feeds have shots of people relaxing on their bed, or have minimal props, ahhh, space.
I've been following Stef from @inkandpulp for a while and she knows how to rock the light and bright feed.
Visit Stef's feed for some overwhelming white and beautiful use of the white space technique.
Are you inspired by dark Instagram themes?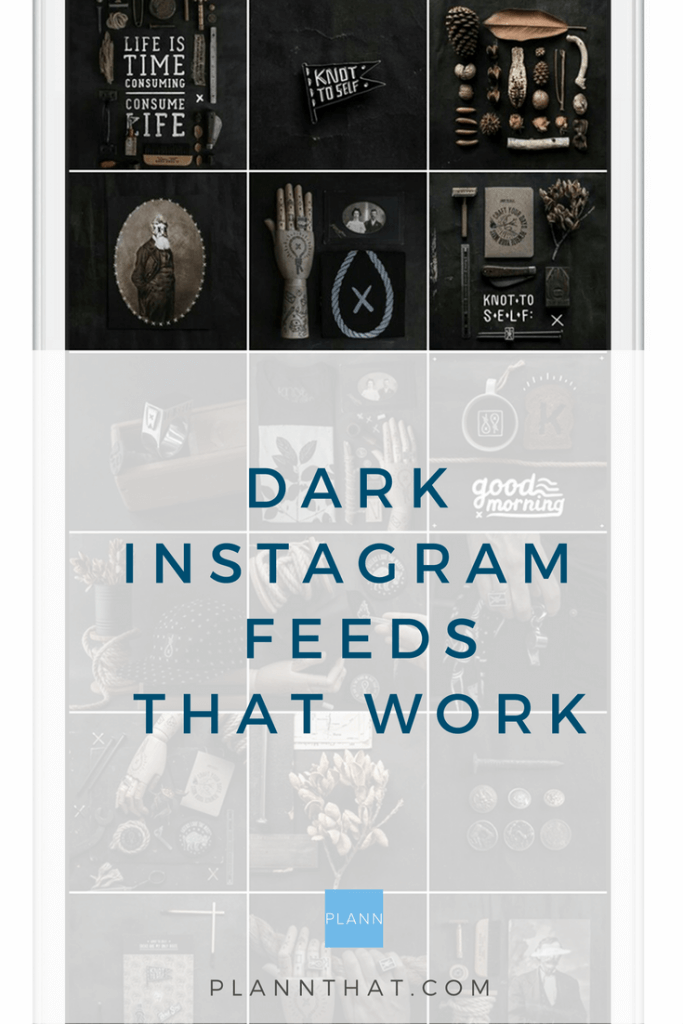 Using dark colours is extremely effective but MUCH much harder to execute, there's a lot more thought to put in behind the scenes.
Plan your Instagram feed to stand out.
Here are 5 brave Instagrammers who decided to be different, planning and executing dark feeds to get ahead (and featured on blog posts!).
Elizabeths feed is perfectly executed and is always my 'go-to' when asked about how to use a dark Instagram themes to stand out.
If you're looking for inspiration, or have never seen a dark and moody Instagram feed before – start here.
A++
This account ooooozes with masculinity and darkness.
Choosing dark props and dark lighting matches their branding, the team behind this feed have planned their instagram aesthetic to hone in and speak directly to their 'urban' target audience.
Margo's feed is always a knock-out.
The most interesting thing about Margo is that she doesn't only do 'dark' images, but always has a distinctive moodiness about her work.
If you scroll through her feed you'll notice she plans her Instagram to roll through both dark and light colours.
Margo also has two cute cats that feature in her feed – you guessed it, black and white.
Co-incidence?! (If not, that's some serious planning!)
What about adding colour to the moody mix?
Here's how one of our favourites knocks it right out of the park, planning her instagram feed with dark colours, high contrast and pops of colour.
Sneaking in pops of coral, bright pink, red and yellow, dark is not always black and white.
Make room for Bobba!
Bobba is a Great Dane from Switzerland, he's dark in colour and loves adventure!
One of our absolute favourite pet accounts on Instagram, the angles and wonderful way the images have been edited is what makes Bobba's feed so unique.
Bobba is always the feature of an image, with 90% of the images being close up – creating a 'dark' theme.
Plann, our visual Instagram strategy app was created so you could plan, organise and schedule your Instagram feed in advance – giving you more time to think creatively, and less time trying to work out what and when to post.
Which was your favourite?
Did you have a favourite from these stylishly moody accounts?
Think we've missed yours from the list, or know someone else was robbed of a spot?
Tell us in the comments below!