Turns out they were right all along – less really is more. Minimalism is taking over our lives, from art and photography to tiny houses and simple living. Minimal Instagram feeds are flooding our scrolling sessions, and in the world of overly saturated photos of travellers and girl groups decked out in the latest fast fashion, it has never been more welcome.

There's nothing quite as refreshing as a scene that's been pared down and stripped back to its bare visual necessities.
A minimal style relies on the photographer's ability to tell a story using only the key elements: composition, color, texture, patterns, and light.
Why are Minimal Instagram Feeds so-cool-right-now?
Some savvy Instagrammers have realised that these are the essential ingredients for creating a feed that screams "eye candy".
So here are some of our favourite minimal Instagram feeds that feature fashion, interior design, travel, and creative content. They are so easy on the eye, you might not be able to resist tapping that follow button ASAP.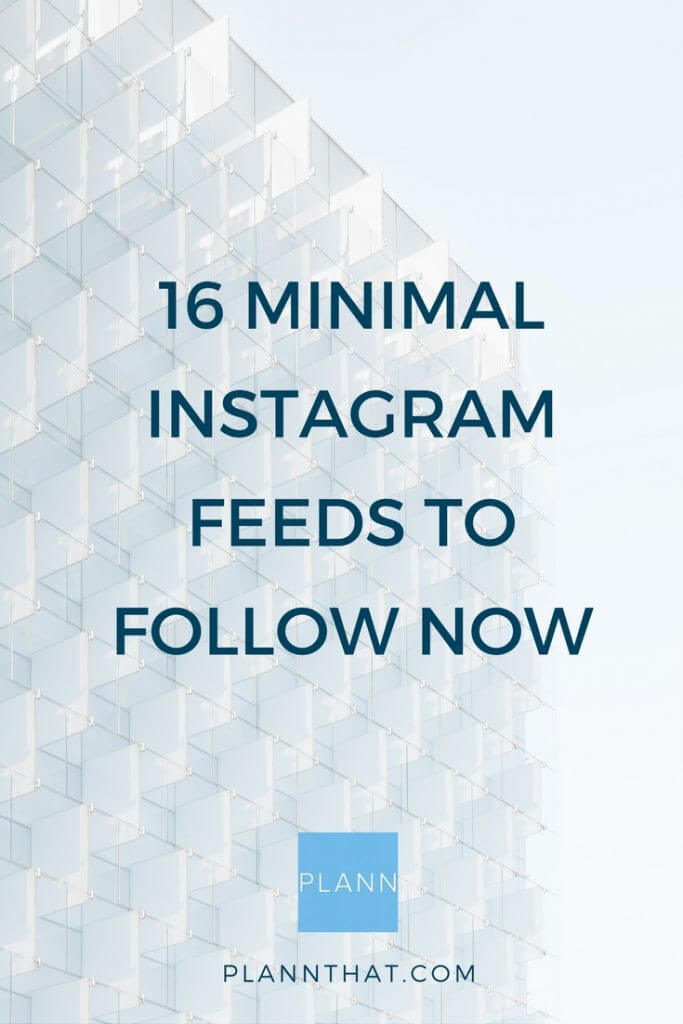 Read on to find your new fave minimal Instagram feed
Fashion feeds
@oraclefox is the personal blog of art director and photographer Amanda Shadforth. It features timeless fashion pieces and minimal photography, with a focus on neautral tones, as well as a sprinkling of simple (and so chic) line drawings.
@mija_mija is also a personal blog, this time of art director and traveller Mirjam Flatau. It focuses on fashion and lifestyle photography, with some stunning black and white images.
@harperandharley's Sara Donaldson is the queen of neutral dressing, and only wears monochrome tones and denim. She's also super elegant, and is basically the Audrey Hepburn of Instagram.
@pepamack's minimal Instagram feed is the work of creative director Petra. Her feed features amazing outfits and product shots, as well as some gorgeous soft lighting.
NOT SURE IF MINIMALISM WILL WORK FOR YOU? CHECK YOUR STATS USING PLANN ANALYTICS, NOW AVAILABLE!
Travel feeds
Gray Malin uses colour but keeps it pared back and pastel. His minimal Instagram feed is flooded with photos of the beach, and his drone shots are perfectly zoomed out.
@littlecoal's Eric Ward is an outdoorsy type, which we are totally fine with. His photos are big on adventure, but his landscape shots in particular are minimal in their zoomed out and symmetrical style.
This feature account is all about travel photos with the right mixture of magnificent architecture and scenic nature, with a minimalist approach – only one person per image!
Matt Gee uses white frames around his photos, which means his feed is a minimal delight! His focus is on nature, and his consistent de-saturation of colours is to-die-for.
WANT TO GET SERIOUS WITH INSTAGRAM? FIND OUT HOW AN INSTAGRAM PLANNING APP CAN HELP YOU
Interior Design Feeds
If you hate clutter both in your home and in your feed, this account is a must-follow. Bonus? You can shop it all in their online store.
@wooding__'s minimal Instagram feed showcases interior designs with modern touches. Its consistent white background gives a classy, comfortable, heaven-on-earth feel.
If you're a contemporary design lover, check out @studiodistil's minimal Instagram feed for some serious #inspo. Seriously, so many dream home moments it's almost unbearable.
Another minimal feature account reminding us that when that when it comes to interiors, bare is beautiful.
STUCK FOR WHAT TO POST ON INSTAGRAM? HERE ARE 33 CONTENT IDEAS TO SPARK SOME INSPIRATION
Creative Content Feeds
Daniel Reuda uses black spaces and wide shots to keep his feed feeling minimal. His photos definitely tell a story, and are intriguing without being overwhelming.
Daniel's partner Anna makes similarly delicious content – her images have the same fun, storytelling vibe, but with a pop more colour.
@katelynsabatine's minimal Instagram feed uses clever framing and warm temperatures to capture the little moments in life – coffee in the sun, new socks and reading in bed.
This page is not only a gift to minimal photography fanatics, but also to dog lovers as well. Yes, we found a minimal dog Instagram account. You're welcome.
These minimal Instagram feeds are simply stunning!
Did you have a favourite, or think there's one we overlooked? Let us know below!
Do you have a minimal Instagram feed, or want to see if one would work for you?
Plann is the app you need.
Download Plann now from the iOS and Android stores to start visualising your new aesthetic and making it a reality.