Keeping abreast of top Instagram hashtags for your industry is a key strategy. If you use Instagram, you need to be optimizing the way you use these tagged words and phrases. It's a simple, highly-effective way to maximize your post reach, and we can show you how to up your game. Right here, right now. #honest
It's important to use the right hashtags. There's a lot of bad advice out there, and we don't use the word "right" loosely. If you use hashtags such as #LikeMyPhoto or #FollowForFollow, not only will you get a lot of weird accounts following you, you also won't see much real growth (i.e., new followers will not engage, and/or they'll drop you over time).
Why Hashtags Work So Well
Using the top Instagram hashtags for any given post can boost the amount of people who see you very quickly. Because of this, it's important to know whose eyes you want on your post . . . because you'll get them.
If your photos are niche-specific, your results will be even better. And if those who do come to your profile page like your array of tiles, they're more likely to a) check out your bio links; b) follow your Instagram account.
So, those hashtags will lead to post views, which lead to profile page views, which will lead to link clicks, which lead to conversions, which lead to money in your pocket. #prettyimportant
How to Find the Top Instagram Hashtags
Employing the right hashtags plays a key role in having people stick around to read your blog. The key is not to get just anybody to follow you, it's to get the people who are interested to stay awhile.
[clickToTweet tweet="So where does #FollowForFollow fit in?" quote="How do you find the right hashtags for your post, or for your industry in general?"]
The answer to that is a complicated mix of alchemy, scavenger hunt, and Scooby Doo mystery, but websites such as Hashtagify can easily help you isolate some good ones. Plann Instagram scheduling app allows you to stealth-spy and copy hashtag sets used by competitors (just be sure to personalize your own set of thirty; more on that below). You can also employ the simple, yet effective technique of entering keywords into the Instagram search bar and viewing relative popularity, and then opting to cover the gamut from extreme niche (with a targeted and smaller reach), as well as hashtags with a somewhat broader base of appeal.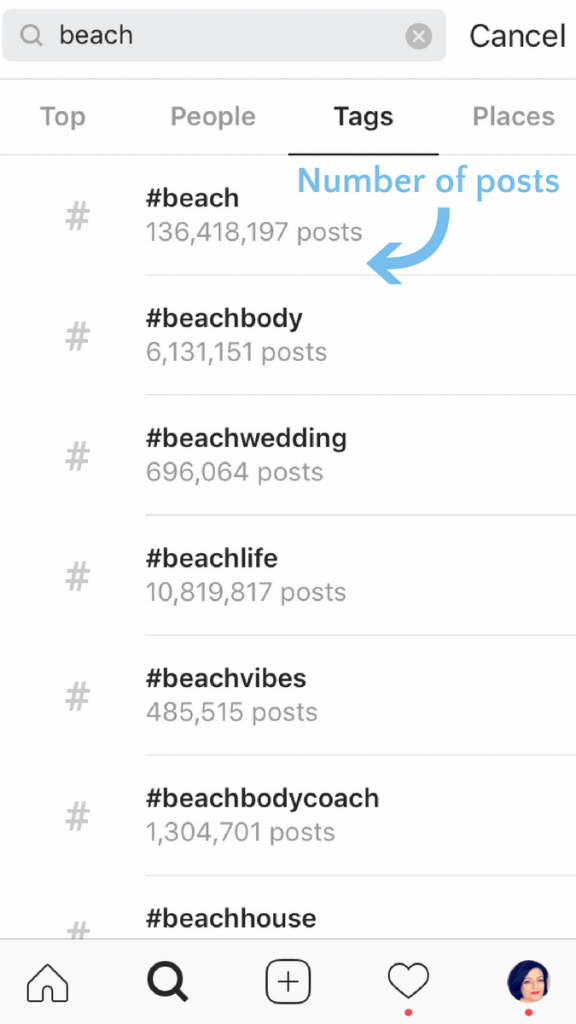 HOW TO GET MORE FOLLOWERS ON INSTAGRAM: EXPERT TIPS
Please Use All 30 Hashtags
We are going to gently demand that you greedily take advantage of all thirty hashtags that Instagram allows you for each post. People don't take advantage of this enough. By using all thirty hashtags you raise the chance of people coming to your posts.
Many brands will, confoundingly, only use a couple hashtags (or maybe even none! WHYYY ???) when posting, which means less visibility. Using thirty relevant hashtags plays a huge part in getting noticed on Instagram. If it's a matter of seeming too chill or cool to care, you can mitigate the eager-beaver vibe by disguising your hashtags in the first comment of your post. Just make sure to get those hashtags posted ASAP after your post goes live, or you'll miss out on the algorithm boost.
Avoid Spammy Hashtags
Using top Instagram hashtags that relate to your community is a great way to get people over to your posts. You'll want to use popular, trending keywords and phrases people in your target market are already tracking and following. However, there's a pitfall that not everyone knows about, and it bears mentioning again, so at the risk of repeating ourselves: don't use hashtags with ludicrously high post counts.
What does that mean? Enter hashtags into the search bar on Instagram and check those numbers. If there are over 100,000,000 posts associated with a certain hashtag, you're going to get a lot of garbage bot responses on your feed. Not to mention, the hashtag itself is going to be so overburdened, your post will be buried under an avalanche of posts the moment it's published. Not helpful.
LEARN HOW TO REPOST PHOTOS WITHOUT GETTING IN TROUBLE – ADVICE FROM A SOCIAL MEDIA LAWYER
That's why Plann color codes hashtags while you search to show you which ones to focus on.

As Always, Be Authentic
When optimizing your Instagram game, emphasize authenticity. It's a trait often overlooked in social media, but it's a crucial one, and beyond that, it's actually rewarded from a marketing perspective. Your audience will engage more when your story, presentation, and efforts feel authentic and intimate.
Inject your hashtag sets with that sense of honesty by making them pertinent to your brand, your theme, and the content of your posts. The top Instagram hashtags aren't relevant to you if they don't directly resonate with you and your client base. Remember, it's always best to stay on-message with your followers. They'll come to trust your voice.
Takeaway
Go out and find the top Instagram hashtags for your brand, and let Plann help your business put it all together. Don't forget, every now and then you should switch up your hashtag sets and try out new ones . . . with Plann, you can conveniently save group after group of these, ready to instantly test whenever you'd like.
ALSO, Plann's Suggested Hashtag tool has taken the guesswork out of finding the most effective hashtags, now it's simply a matter of choosing the best hashtags based on the content of your post and similar hashtags in your industry. We've done the research for you!
Download Plann for iOS and Android today!