Introducing Basic Analytics for TikTok Videos

Available across Plann Desktop and iOS, easily learn more about your TikTok video performance by uncovering the number of likes, comments, views and shares your content gets – all within your social media planning workspace here at Plann.
Where can I find TikTok analytics?
Plann Desktop:

Click on any published video to uncover your likes, comments, views and shares.
Learn which trends, transitions and creative styles on TikTok are getting you the best results!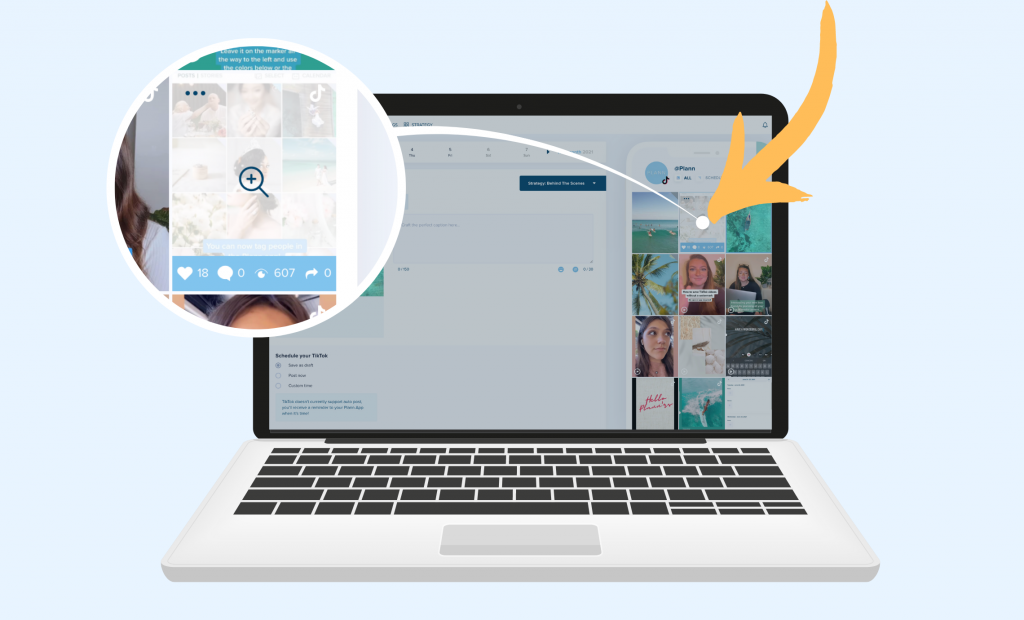 Where are TikTok Analytics inside the Plann App

Tap on any published video in your mobile grid to find your most liked, commented, viewed and shared stats, right inside your Plann App!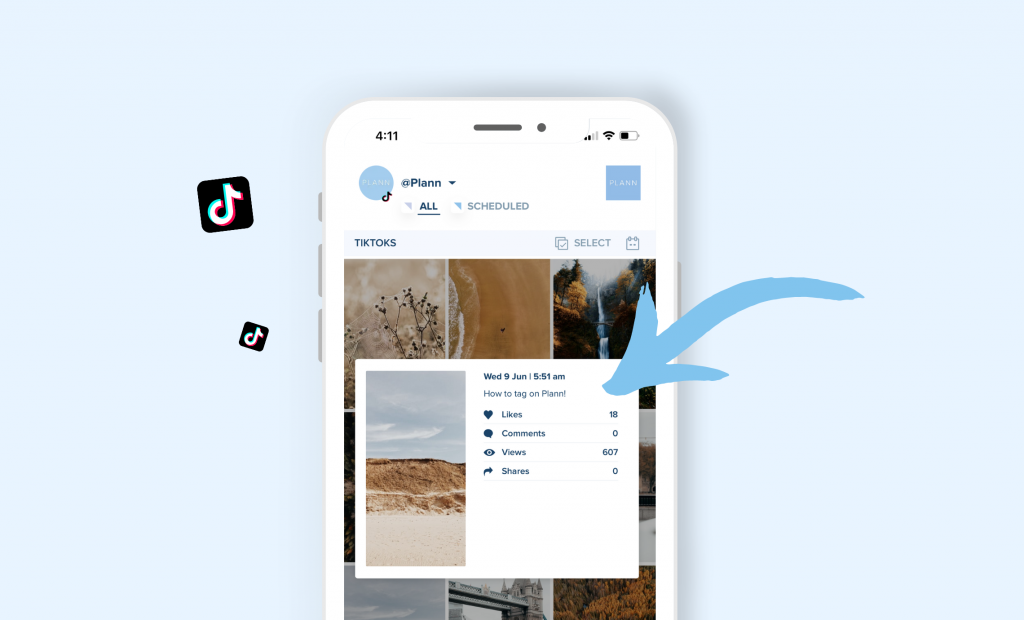 * Available on iOS

Watch the lovely Ashley walk you through where to find your TikTok analytics inside Plann Desktop + App now
Should I be on TikTok?


The short answer — yes, and only if you want to be.
TikTok is one of the fastest-growing social media platforms in the world and is quickly becoming an advertising haven for businesses!
But deciding if it's the right fit for you requires needing the answers to essential questions like:

Who is your target audience?
If they're 25 and under, TikTok is the place to be, with older people slowly downloading the entertainment app to see what it's all about.

Can you easily showcase your products/services in a video?
We believe this answer is a outstanding yes, with so many different creative options – any business can be represented in video.

Are you comfortable sharing light-hearted content?
TikTok isn't a 'serious' platform by any means!
The best performing content on TikTok is Entertainment, and Education, and sometimes a mixture of the two called Edutainment.
We recommend that you spend time playing and experimenting with the platform with different types of content so you can find the perfect fit for your business.

Am I ready to reach new audiences?
We saw it with Instagram, the best time to build a new audience is when a platform is still quite new and organic reach is high with untapped potential for virality.
Can I repurpose my Instagram Reels to TikTok?

We're making sure TikTok isn't just adding another item to your to-do list and creating more social media overwhelm.
By rescheduling and repurposing content across Instagram and TikTok, you're reaching more people by doing the same amount of work, and we're excited to help!

Here's how repurposing works using Plann:

Reels to TikTok, or TikTok to Reels on Desktop!
You can now cross-post from Instagram Reels to TikTok – simply click the three-dots on your thumbnail during planning to be able to select to duplicate for TikTok.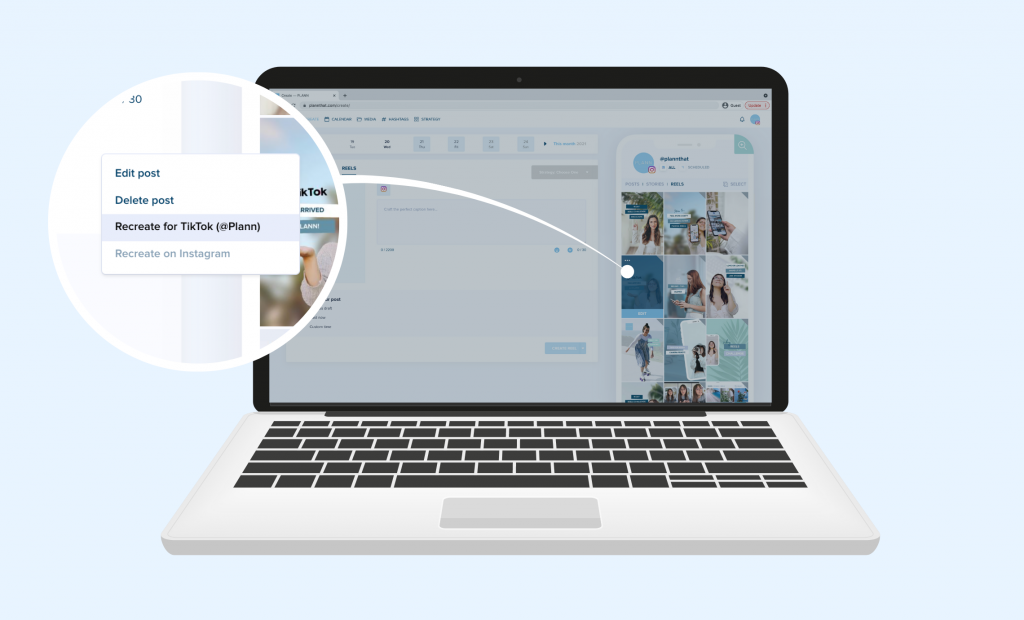 Video Walkthrough of how to repurpose Reels + TikToks using Plann
Watch our superstar Customer Success representative Ashley repurpose content across TikTok and Instagram Reels!
Here's how you can use Plann's dedicated planning space to design your Reels and TikTok schedule: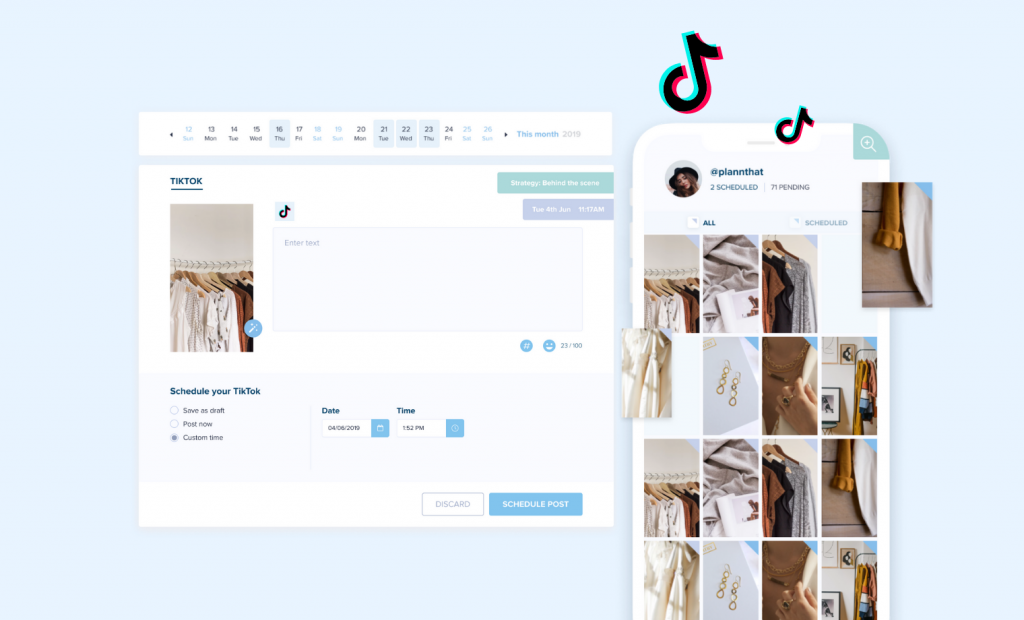 Use Plann's unique strategy feature to build out themes, ideas, placeholders and prompts for future videos.

Here are different ways you can build out your strategy with a dedicated planning space:


1) Organize your files together in one place
Upload, store and manage all of your video files ready for your next TikTok video.
Think of it as your own social media dropbox! Choose to store files ready to create new videos, OR, batch create your content and save them here in your new planning space, ready to post.
If you work with a team you may have noticed that even though you're sharing an Instagram login, and Instagram account – your 'DRAFT' folder on Instagram is not shared(!) so your work is unable to be shared across different people. Additionally, there are still quirks in the Instagram platform where users are reporting they're losing work… ouch!
Plann is the perfect place to keep everything all together to access, safely.
2) Use Plann's strategy tool to design your own TikTok strategy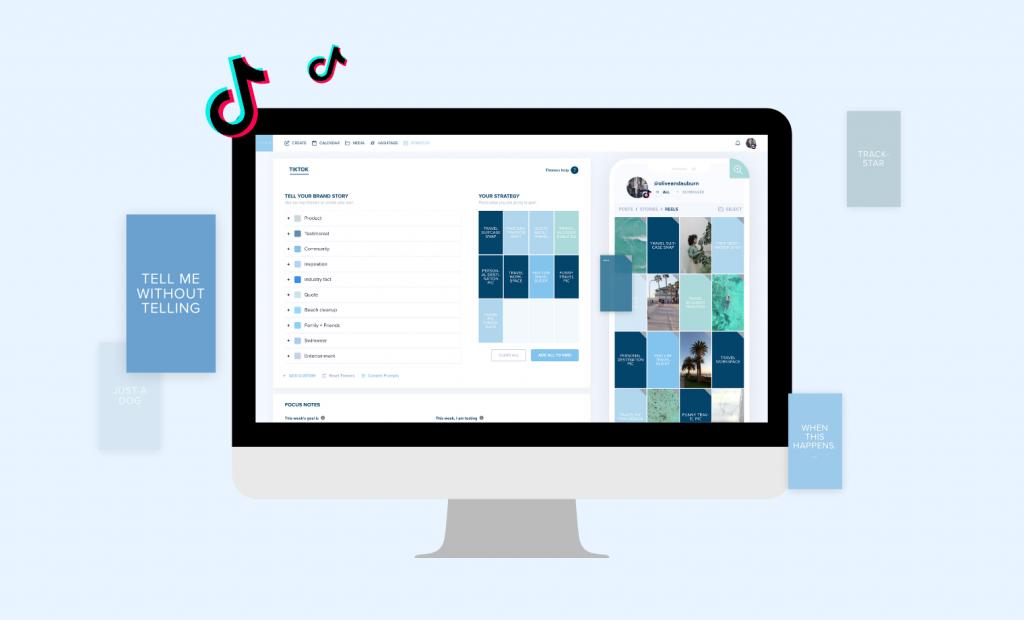 There's nothing worse than feeling pressured to 'create content' when you're not sure what the objective is.
Use Plann's strategy tool to design a unique, purpose-driven posting strategy so that you're always on track with what you're creating, rather than scrolling for hours looking for inspiration and losing hours and hours of precious content creation time.
Plann's unique strategy tool is the perfect way to organize batch creation and your content shoot list.

3) Save links to trending TikToks, audio, or effects you'd like to recreate later
Spotted trending clips, audio or effects and want to be able to refer back to them later?
Now you can save everything right inside your new TikTok planning space!
When you're binge-watching TikTok videos and spot something you'd like to recreate, simply tap the 3 dots on the Reel itself and choose to save the link.
Easily paste this link, along with any trending hashtags, comments, or username tags (or upload any screenshots), directly into your Reels space in Plann.


When I schedule videos to TikTok, will they auto-post for me?

Currently TikTok does not support auto post.
TikTok is a fairly new platform and has just started building tools for developers like Plann to be able to support their platform and we're furiously watching their updates!

At the time you've selected to post your TikTok video, the Plann App will send you a reminder to publish it to the platform.


Working with a Team?

When social media workflows are housed in each of the individual platforms, it can quickly become a nightmare for virtual assistants, team members or business partners to access work.

Having one centralized location inside Plann makes working together a b-r-e-e-z-e.
Our pricing is designed to grow with you.
If you need more team members to help you manage your social media across the web, simply upgrade your Plann subscription at any time for the exact amount of people you need.


Available now with Plann Plus, you'll also get:
– Auto posting (and re-posting) across TikTok, Instagram, Facebook and LinkedIn social media platforms
– Unlimited media uploads and scheduling tools
– Social Starters, our done-for-you Instagram caption solutions
– Custom events on your calendar to design your own content, editorial or brand schedule
– Unlimited hashtag sets (to auto post in first Instagram comments)
– Custom strategy tools to plan with the intention
– Comments and mentions management to quickly respond and keep conversations flowing
– Free professional stock photos and videos for when you're short of content
– Unified brand calendar to add and sort all of your marketing activity
Gift Plann to your friends, family or followers <3

Gift your friends, family, or followers $10 off Plann with your unique referral link!
By using your unique link, you'll gift them a month of Plann free, PLUS, you'll get $10 Plann credit just for sharing a favorite tool.
Find your unique link in your Plann settings to gift the sunshine in someone's day
HOW TO FIND YOUR UNIQUE REFERRAL LINK: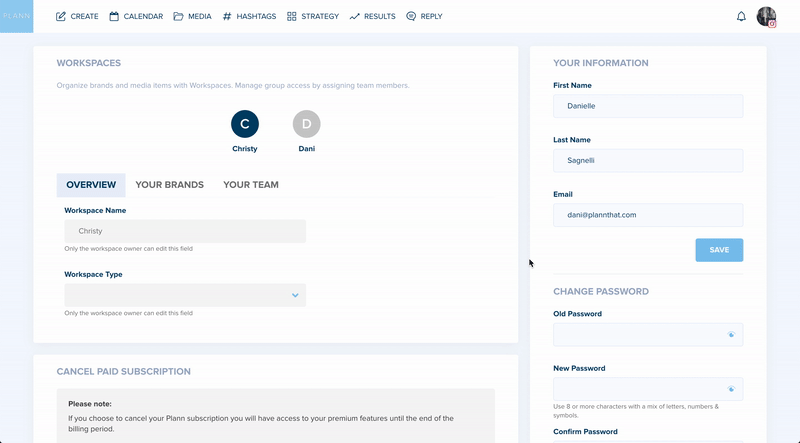 We genuinely love hearing from you and all of your ideas for Plann.
Reach out to the product team directly at feedback@plannthat.com
Christy Laurence
Plann Founder
@plannthat