Is your podcast getting streams few and far between? Do you feel like you're shouting out into a void and only attracting crickets?
You're not alone.
A problem many podcasters face is how to increase their streams and share their value with more people in the world. One of the best solutions? Instagram.
With billions of active monthly users, it's an incredible platform to gain exposure.
But how can you leverage Instagram to your advantage?
Here are six things you can start doing today to get more ears listening to your content.
No paid ads required.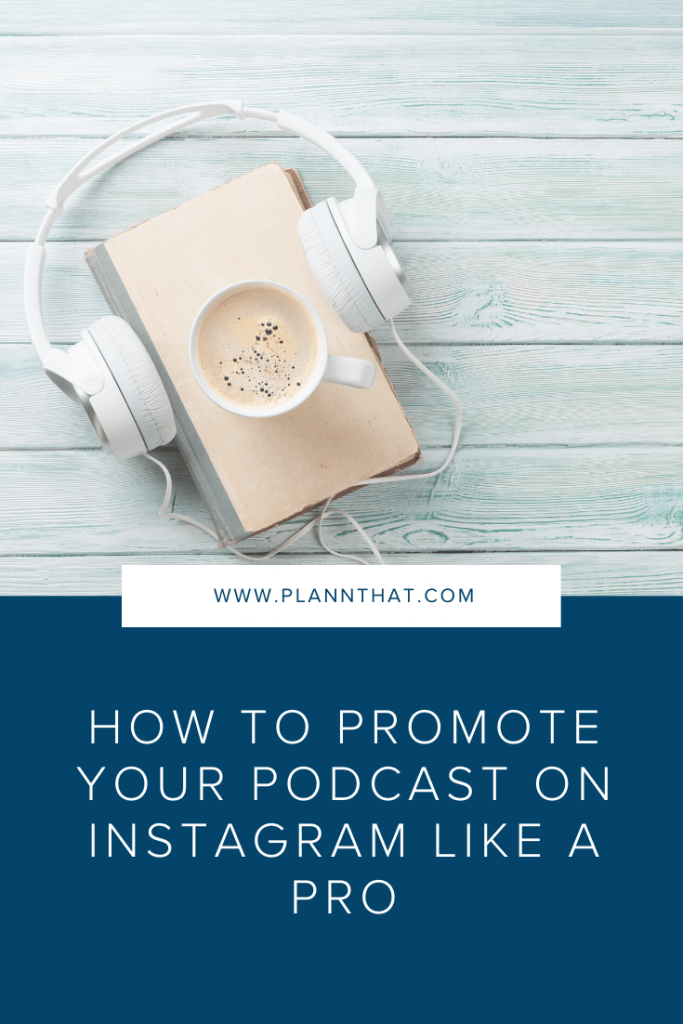 How to Share Your Podcast on Instagram
1. Add Your Podcast Link To Your Bio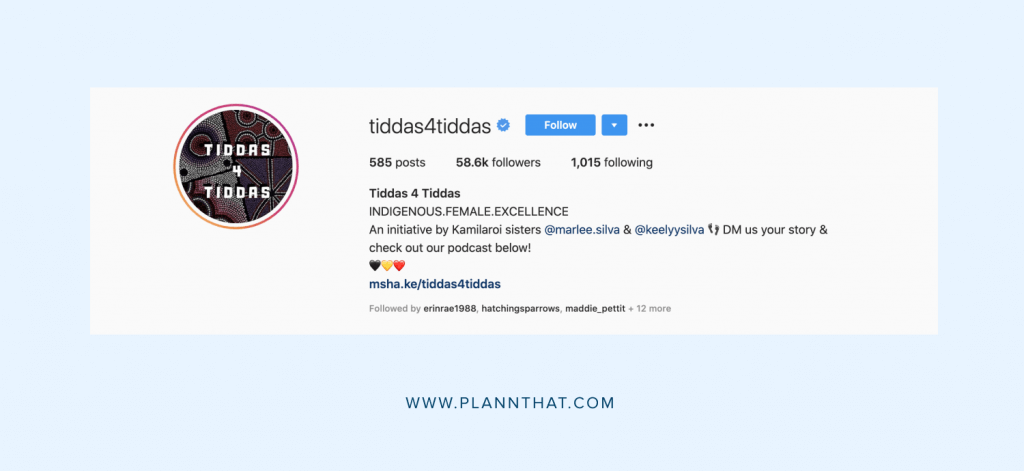 You only have one clickable link on Instagram. Use it wisely.
Instead of promoting the homepage of your website, use it to highlight your latest podcast episode. You can also use a tool like Linktree to add multiple links to your link in bio!
But don't just drop the link, tap "save changes" and close the app.
Use your bio word-count to create a compelling call to action. Throw in a few emojis to draw attention and entice people to click on your link.
Action Step: Re-write your Instagram bio to let people know you have a podcast and what the latest episode is all about.
2. Share Content About Your Guests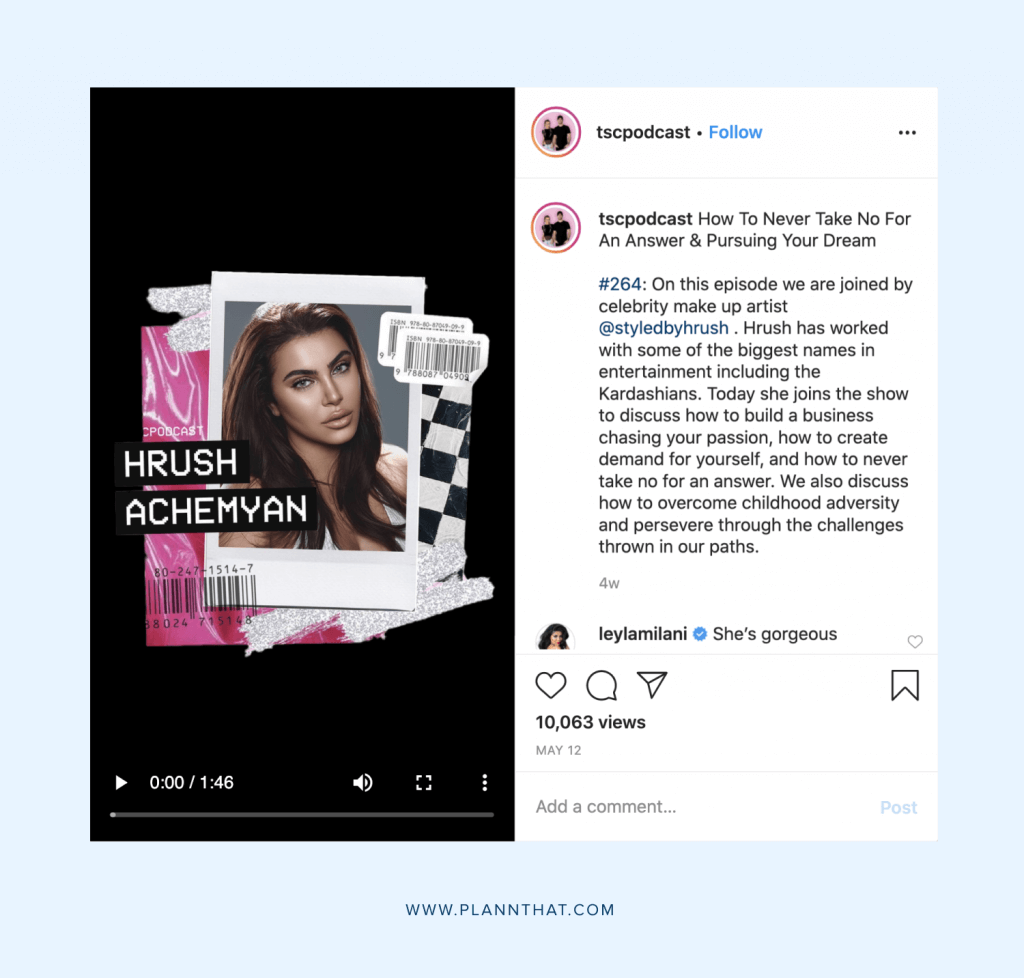 It doesn't matter how well-known your guest is — there will always be people who don't know them.
Get your audience excited about your next episode by sharing some information about your guest.
Create a graphic in Canva and write a caption that talks about:
• An intriguing part of their background that's relevant to your audience.
• The topic you two are discussing.
• A quote from the episode.
For maximum impact, take a page out of the copywriting 101 handbook. Use the good 'ole bait and hook to peak interest, but still leave your followers wanting more.
Lastly, don't forget to tag your guest in the post!
Action Step: Practice writing intriguing hooks for your Instagram posts
3. Create Teasers For Upcoming Episodes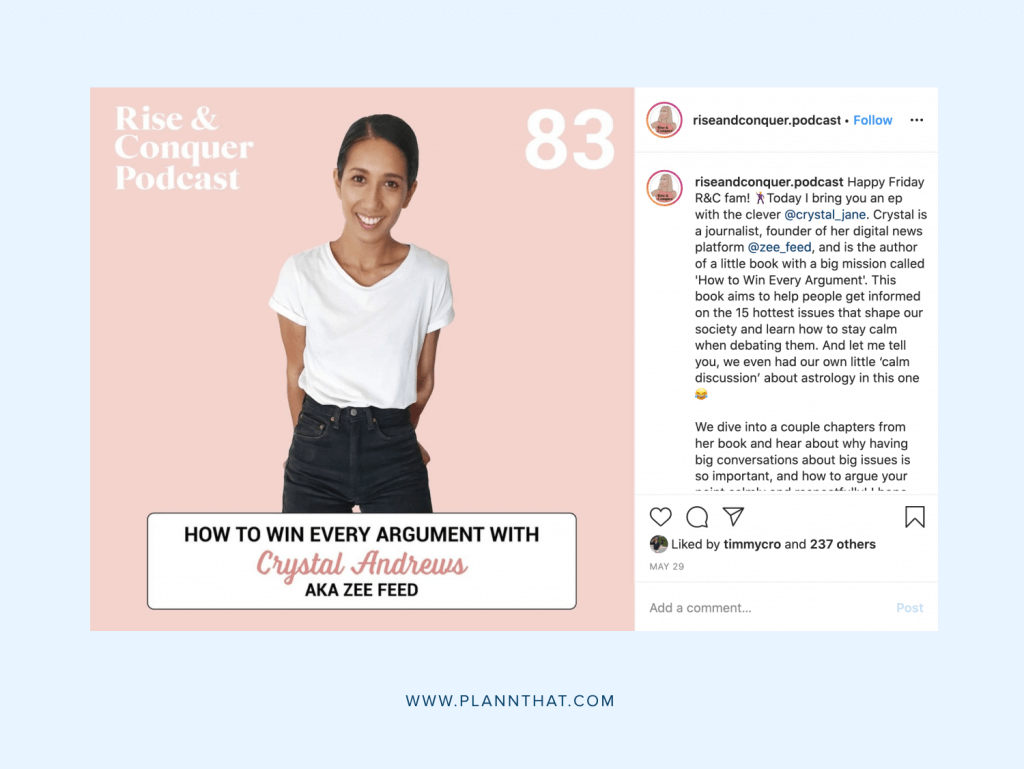 Teasers are an enticing way to promote your podcast on Instagram and get people excited about the episode.
Think of it as a trailer to a movie.
You want to give away the basic premise of the plot (and maybe one of two juicy details), but not all the gems or shocking plot twists.
Choose an intriguing audio clip from the podcast and use Canva to create a visual for the soundbite.
Next, import the audio and visual into an app like iMovie.
Voila! You've created a short audio snippet for your podcast.
All that's left to do is upload it onto Plann and add it to your Instagram content schedule.
Action Step: Create a template on Canva that's unique to your brand and persona and use it for every single promo clip. It will save you time and create a consistent look-and-feel on your feed.
4. Use Instagram Podcast Hashtags
Hashtag research is the secret sauce to your Instagram promotional strategy.
With the app only showing your feed posts to your audience, you need to use hashtags to get your content seen by people who don't know you.
Hashtag best practices:
• Choose hashtags that don't have millions of posts (yours will get buried in seconds).
• Select hashtags that have low competition to boost your chances of landing on the "top" feed for that tag.
• Go for smaller hashtags if your account is new and increase as your engagement grows.
• Mix podcast hashtags like "podcastlove" with tags that are relevant to your podcast topic like "travel" or "entrepreneurship"
5. Experiment with Hashtags Stories
Not promoting your podcast on Instagram Stories? Here's why you should:
500 million people use the feature every single day.

1 in 4 Millennials and Gen Z-ers use Stories to find products and services to buy.

1/3 of most-viewed Instagram Stories are from businesses.
TL;DR: If you're using your podcast to grow your personal brand or business, it's one of the most powerful platforms out there.
At the end of the day, it takes a platform to grow another platform. With so many eyeballs on Stories every single day, it's an incredible feature to gain exposure and listeners.
Here are some of the ways you can use Stories to promote your podcast:
Share behind the scenes footage, snippets and teasers.

Use the "Poll' feature to quiz your followers on topics they want to know more about.

Use the "Question" feature and answer them in a podcast episode.

If you have 10k followers, use the "Swipe Up" feature to promote your episode when it drops.
Action Step: Create Instagram Story content for your next podcast episode.
6. Other People in Your Niche and Collaborate
Don't think of other people in your podcast niche as competitors.
Instead, view them as collaborators.
Following other people in your niche and building those relationships will help you gain exposure and establish yourself as a thought leader.
By keeping a pulse on what's resonating with someone else's audience, you can use that as a source of inspiration.
Plus, collaborating means you can share your audiences – and that's one of the best ways to grow your podcast and Instagram account. Chances are if someone is already following an influencer in your niche, they'll resonate with the content you're creating.
It's a win-win for everyone.
Action Step: Start following other influencers and podcasters in your niche and form genuine relationships.
How Are You Going to Promote Your Podcast on Instagram?
Follow these six action steps for growing your podcast on Instagram, and you're bound to see an uptick in your number of streams.
Once you've created all your promo content, use Plann to schedule it. While drafting your post, you can select the best times to post based on when your audience is most online, taking all the guesswork out of the equation and hello to a boost in engagement.
Which tip are you going to try out first? Do you have advice for growing your podcast?
Let us know in the comments below!