For businesses on Instagram, having a clear content strategy is vital to success. That means understanding who you're talking to, clarifying when your audience is online and what content your followers want to see from you. But for many businesses, understanding the difference between what to post to their Instagram Feed vs. Instagram Stories can be incredibly confusing. 
It's no secret that Instagram Stories has exploded in popularity in recent years. In fact, nearly half of Instagram's monthly users are taking advantage of Instagram Stories. That works out to be around 500 million people posting 1 billion Instagram Stories every single day. Talk about a golden content opportunity!
So, does that mean publishing to the Instagram Feed is pointless? How can you distinguish between what posts to share to Stories and what to save for your Instagram Feed? Never fear Plann'rs, this expert guide has all the social strategy wisdom you've been searching for. 
In this blog, discover:
– The difference between the Instagram Feed and Instagram Stories
– How to optimize content and craft a powerful strategy for a winning Instagram Feed
– Why you should be leveraging Instagram Stories to give audiences new insights into your brand
– Which content you should be posting to each Instagram feature and why + more!
Ready to master your Instagram content strategy with stunning Stories and click-worthy Feed content? Keep reading to learn more!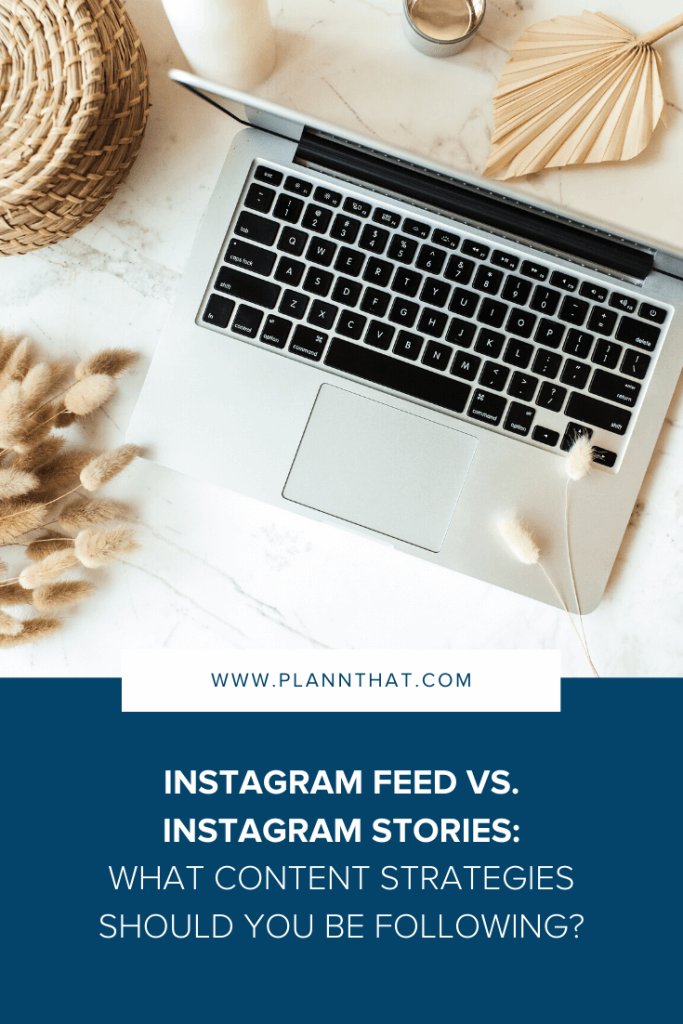 What is the difference between the Instagram Feed and Instagram Stories?
Instagram knows how to keep its users on their toes. In fact, the platform is constantly evolving and offering new ways for brands to connect with audiences. Since launching the feature in late 2016, Instagram Stories has been one of the platform's most popular new additions. The premise behind the feature is simple: to allow users to share ephemeral short videos and images with their followers that last for just 24 hours before disappearing from the Stories Feed.  
Originally, the Instagram Stories feature was created to encourage users to snap and share moments from their day in real-time. Fast forward to 2020, and there are now 4 billion brands advertising on Instagram Stories with businesses leveraging this powerful feature to launch new products, host Q&As and drive sales. In fact, the creative potential of Stories is untapped, with Instagram regularly releasing new updates to the feature (including new stickers, interactive elements and visual graphics to help brands customize the experience for audiences).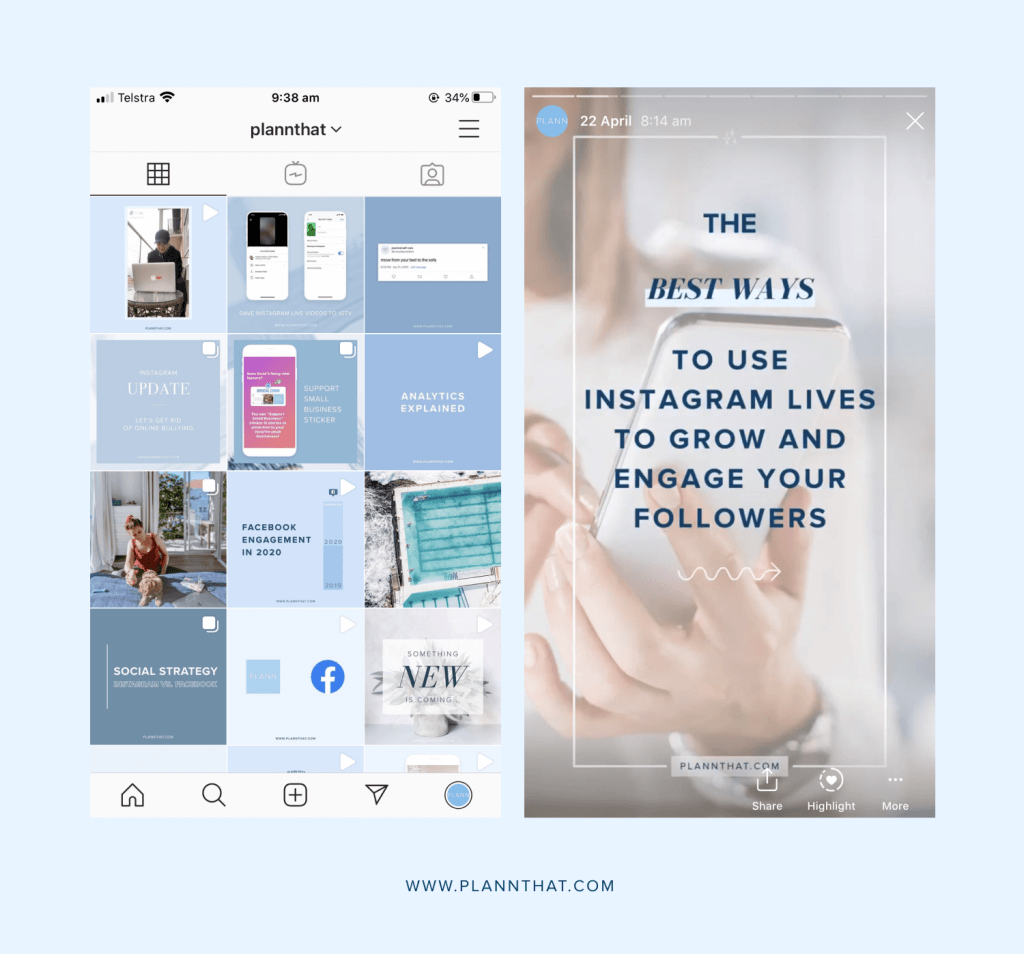 When it comes to the difference between Feed and Stories posts, the secret lies in the execution. Stories should act as an extension of your brand, offering more natural, in-the-moment insights into your business to personalize your brand. In contrast, Feed posts are highly curated visuals that show your brand at its best, acting as a portfolio of who you are and what you do. Stories are fleeting (lasting for just 24 hours), while Feed posts are permanent (remaining on your profile for the life of your account).  
But a successful Instagram content strategy needs to harness the benefits of both features to maximize your results. So, what content should be shared to each?
What strategy should brands be following for Instagram Feed posts?
Let's kick off with the place where Instagram content all began: the Feed. These posts are shared to your Instagram Profile and appear in the main Feed of users that follower your brand. As the OG of Instagram Feed content, these posts offer a more professional, polished insight into businesses and require a higher level of curation and attention to detail. 
The key to crafting a killer Instagram Feed content strategy is to think of these posts in relation to each other, rather than in isolation. As each image and video you share will be added to your ever-growing profile, it's important to curate a cohesive aesthetic of eye-catching branded visuals to capture your audience's attention.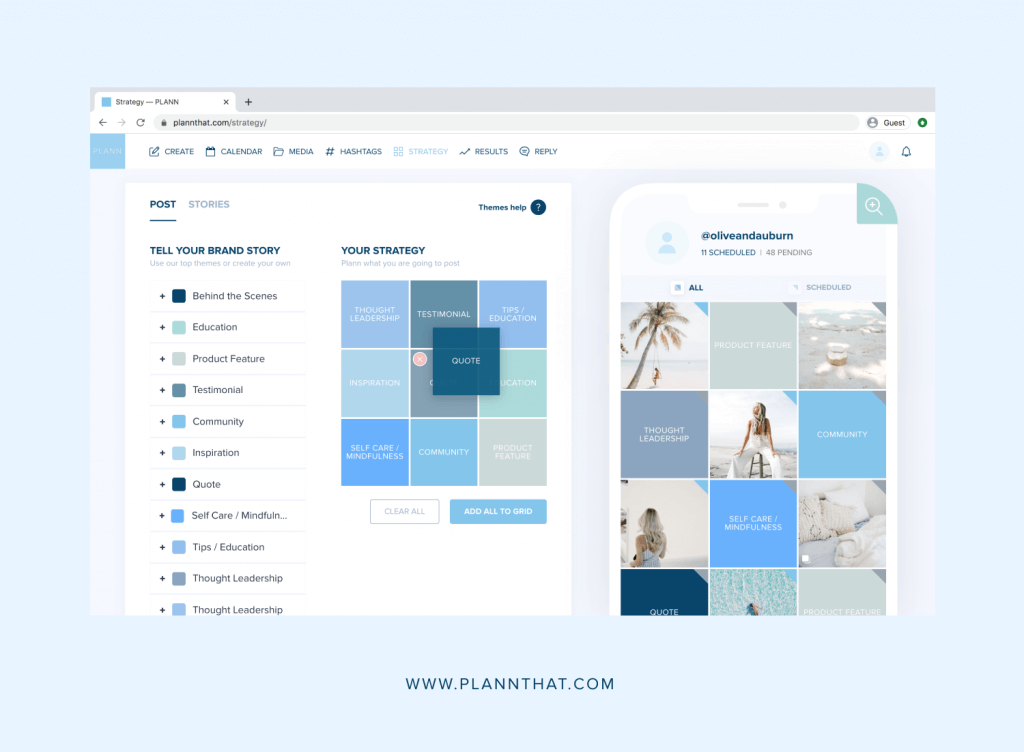 Make sure to use a content calendar to map out these Feed posts in advance. This will ensure you're sharing a mix of engaging content that shows your businesses' unique selling points. Planning and preparation are essential to boosting engagement rates and results for your business on Instagram! 
Here are 3 key tips to keep in mind when crafting your Instagram Feed strategy:
1. Leverage evergreen content pillars
As Feed posts will remain on your profile for life, its essential these posts remain relevant to your audience in the weeks and months to come. This means leveraging evergreen content opportunities that aren't time-sensitive to maximize this content's value over the long term. 
For each business, the specific content you choose to share will be different depending on your services and industry. 
However, when it comes to evergreen content there are a few common categories to leverage, including:
Tips or advice: Do you have a FAQ page on your website? Are you constantly getting the same questions from your followers on social media? Why not turn these common pain-points into valuable pieces of evergreen content! Showcase your expertise by providing clear expert insights into the problems your customers are facing. 
Listicles: Although bloggers have been using this content pillar for years, Instagrammers can also benefit from the classic 'listicle' format. Use the Instagram carousel feature to showcase multiple images over a number of slides. Use the caption to share more details and explain the list and use a clear title for the post, such as "6 superfoods to add to your morning smoothie" or "8 ways to get active during your workday". 
Testimonials: Let your customers advocate for your brand in their own words by sharing positive reviews and testimonials. These evergreen Feed posts will build valuable social proof and help convince potential customers to choose your brand when it comes time to make a purchase.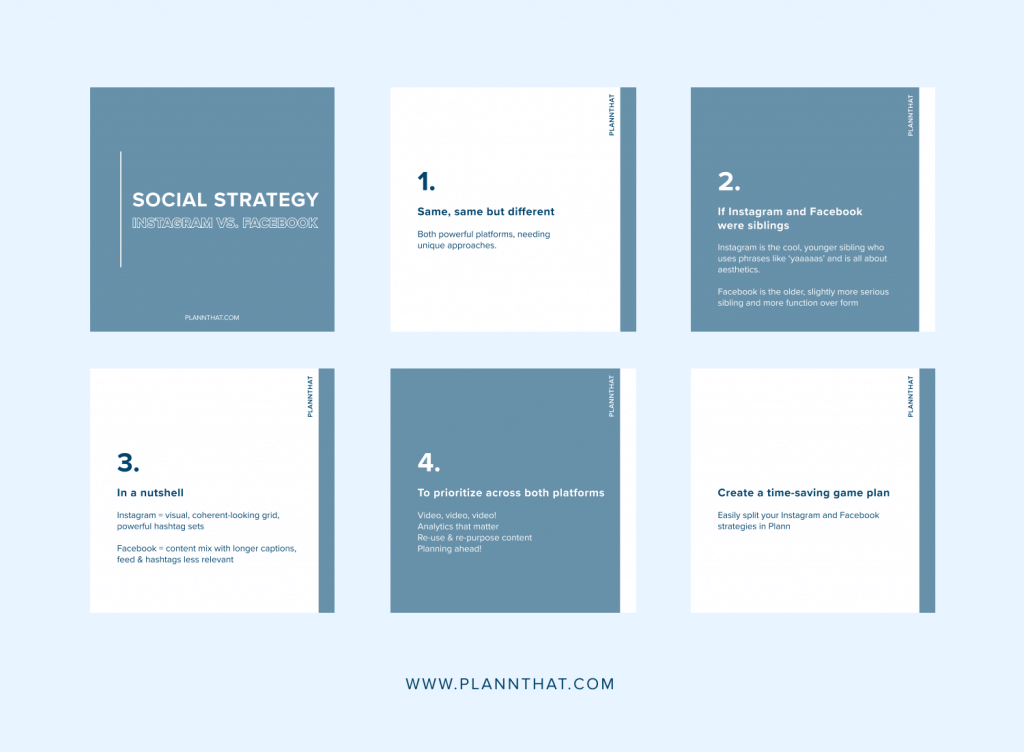 2. Harness overarching brand messages and objectives
Your Instagram Feed should act as a virtual portfolio of your business. This means showcasing who you are, the products and services you offer as well as any key points of difference that help you stand out from your competitors. One of the best ways to create engaging Feed content is to ensure each post is linked to a brand message or business objective. By giving each post a clear purpose, you'll be more likely to engage audiences and see tangible results from your efforts on social media. 
Start by clarifying your core business objectives on social media. What do you want users to do? This could include:
– Increasing traffic to your eCommerce store or website
– Boosting sign-ups to your newsletter mailing list 
– Promoting sales for your new products or services 
– Engaging with influencers to build brand trust and preference
Creating an engaged community of followers and brand advocates
With these objectives in mind, consider what key brand messages you want to communicate with your followers. This could include messaging from your mission or vision statement, unique selling points (USPs) or core services and products on your website. Identify the most important message you want your followers to take away from your Instagram profile, and use this to map out the brand-focused content you'll be sharing to your Feed.  
3. Curate a cohesive Feed experience 
With your messaging and objectives nailed down, it's time to shift your focus to the look and feel of your Feed content. Plann'rs, it's time to get creative! Just like any kind of marketing collateral, your Instagram Feed posts need to be consistent, cohesive and clearly branded. Just as your website's homepage is carefully designed to present your brand at its best, your Instagram Feed should act as the face of your brand on social media. This means curating and sharing a selection of visuals that leverage high-quality imagery, on-brand colors and fonts as well as striking graphics. 
Not sure what's involved in curating a cohesive Instagram Feed? Here are the essential ingredients to include:
– Choose a theme or aesthetic: What visual style do you want your content to follow? This could be anything from sleek, minimal visuals to bold, color illustrations and typography. By creating a clear theme for your visuals (using branded colors and a consistent color palette), you'll achieve a striking and cohesive Feed. Why not create a moodboard to help you plan out the style of visuals that will fit your brand best on Instagram?
– Use the same filter to edit all images: Similar to our last tip, make sure to use a consistent present (a.k.a. A photo filter) to make your Feed posts look polished, professional and well-planned. This small step is key to keeping your entire Feed cohesive!
– Keep your Feed balanced: Wondering why your Feed looks messy and cluttered? It all comes back to the way you shoot each individual image. When capturing content for your Instagram Feed, make sure to follow the 'Rule of Thirds' photography principle and focus on one element in each photo, while also mixing up the posts you share (so you're not sharing the same type of image in every single post).  This will help to balance your Feed, capture attention and avoid visual overwhelm.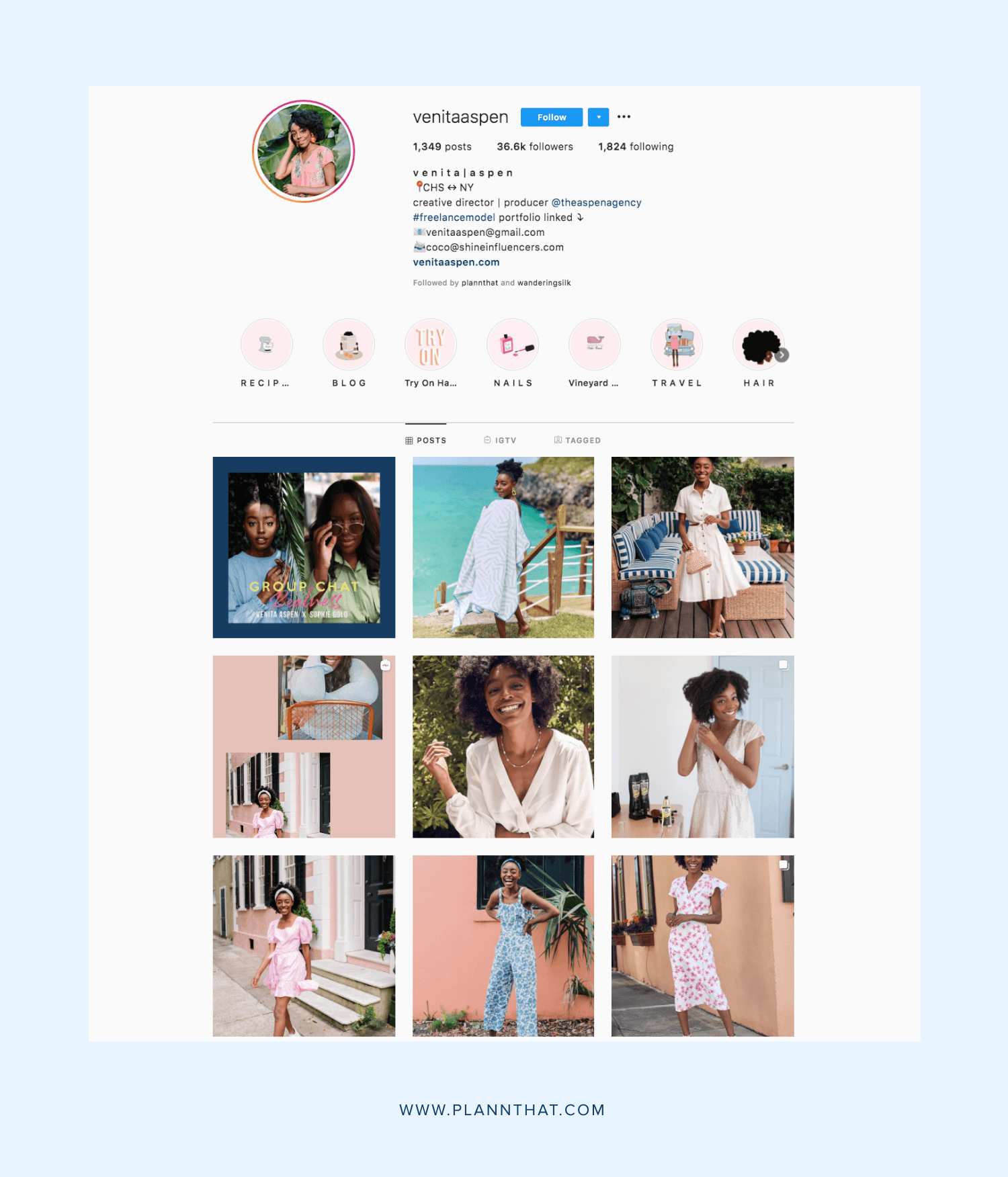 What strategy should brands be following for Instagram Stories?
When it comes to Instagram Stories, their lack of permanency can fool many brands into leaving this content to the last minute. Although these Stories might only show up in the Stories feed for 24 hours, this content requires the same level of planning and preparation as your Instagram Feed posts.
Instagram Stories offer the opportunity to showcase a more raw, unfiltered side of your business. But over the years Stories have also evolved from a marketing perspective, with the rise of Instagram Stories ads that enable brands to use the feature to advertise and promote products to key audiences. And Stories are proving a powerful tool for driving tangible business results, with 62% of Instagram Stories users saying they've become more interested in a brand or product after seeing it in their Stories. 
The best way to understand the difference between Stories and Feed posts is to think about Stories as an extension of your brand. These posts offer new opportunities to connect and engage with audiences in real-time and offer a refreshing departure from the highly curated content you'll be sharing to your Instagram Feed. 
To maximize your results, it's important to ensure your Instagram Stories continue the clear visual identity you've established in your Feed. Make sure to leverage your brand guidelines when creating custom templates for Stories, and use brand colors and fonts to keep your aesthetic consistent and instantly recognizable. Plus, make sure to optimize your content for the Stories' experience which means shooting videos and photography vertically to harness screen space. Instagram recommends resizing images to a 16:9 ratio (with a resolution of 1080×1920) with videos cut to 15 seconds (longer videos will be split across multiple slides) for the best results.
So, wondering what types of content you should be sharing to your Instagram Stories? Here are a few content ideas to get you started:
– Reshare your latest blog posts: Leverage your existing content by promoting your recent blog posts via Instagram Stories. Pull out the most important tips or messages from the blog and turn these into branded Stories using custom templates. Plus, for those businesses with over 10k followers, you can add a 'Swipe Up' link to take users directly to the post to boost website traffic. If not, direct users to your 'link in bio' to read more.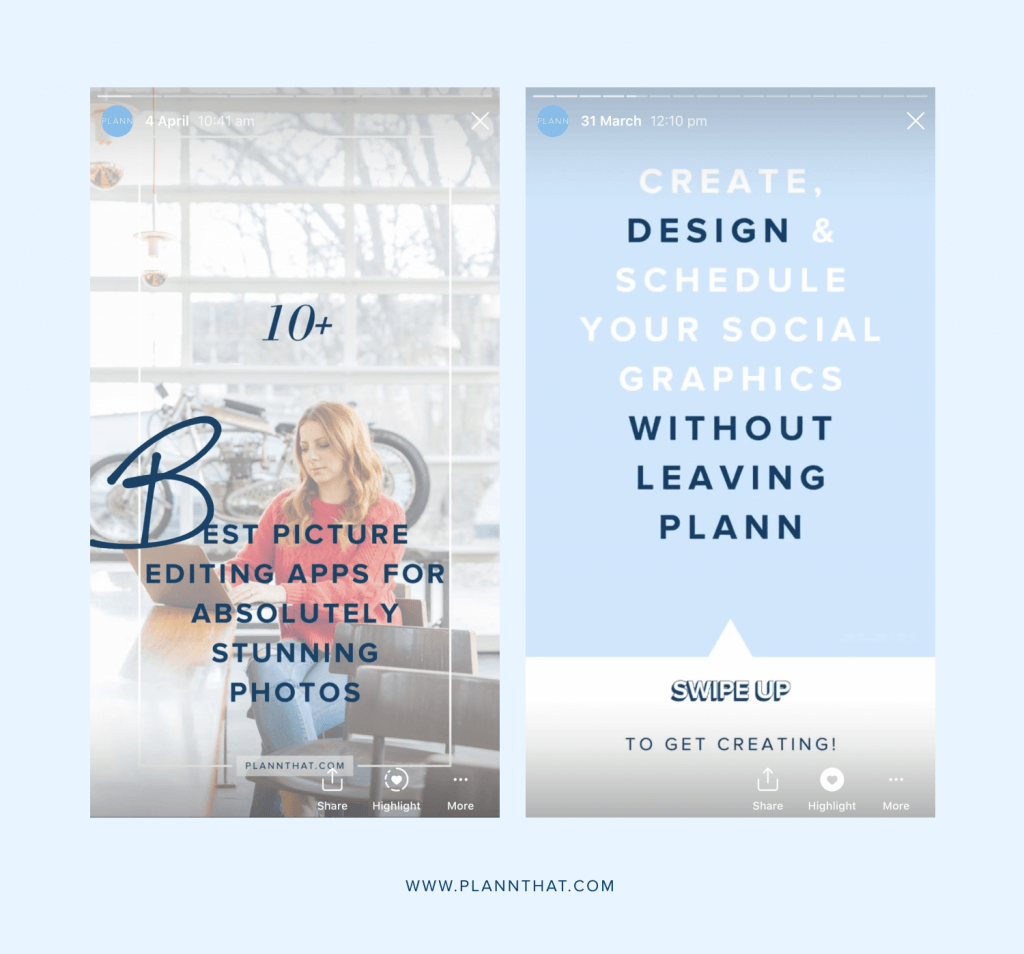 – Promote your Instagram Feed posts: Did you know you can share clickable versions of your Instagram Feed posts to your Stories? Maximize the reach of every Feed post by sharing these to your Stories and use GIFs and stickers to capture attention. Try using stickers that say 'New Post!' or 'Click Here' to boost clicks and engagement.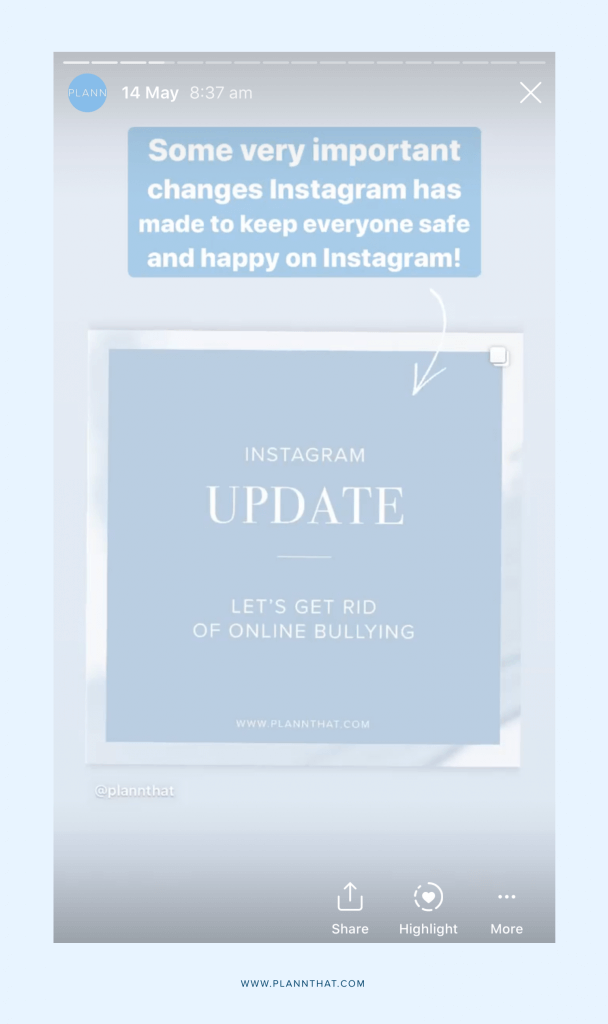 – Host Q&A sessions: Engage with your followers in real-time by hosting a live Instagram Stories Q&A session. Book in a time in advance and let your followers know you'll be hosting a live broadcast in the days and weeks ahead to boost attendance. Create a clear agenda for the session and come with a few prepared questions around a common theme or topic. 
– Ask for audience feedback: Looking for feedback on an upcoming product design? Want to know what content your audience would like to see from you?  Use the Instagram Stories' 'Question' button to gather informative insights into your audience. Plus, you can use the 'Poll' button to gather quick, meaningful data about your customers' preferences.
– Host a tutorial or product demo: Want to showcase your products in action? Perhaps you want to provide added value with free mini-tutorials or how-to videos? This content is perfect for Instagram Stories! Make sure to plan out these tutorials in advance and use text overlays to explain each step for those watching with sound off. 
– Spotlight your team members or take audiences behind-the-scenes: Show the faces behind your business by sharing 'Meet The Team' style posts to your Stories. Why not get one team member to do a daily 'takeover' of your businesses' Stories and show a glimpse behind-the-scenes of your business. This will humanize your brand and build valuable trust with potential customers.
Conclusion
So, there you have it Plann'rs! Remember, a successful Instagram content strategy leverages both Feed and Stories posts to maximize reach and capture attention at all customer touchpoints. Both types of content require planning and preparation and should look and feel cohesive by following brand guidelines to achieve a cohesive aesthetic. But, most importantly, have fun with your Instagram content! Try new ideas and experiment with content types to see what performs because with your audience.