Keen to develop your entrepreneurial skills and become a smart and savvy small business owner?
Running a small business isn't easy, but with the right resources, you can learn and improve every day. There are plenty of opportunities to build new skills and walk the path to business success. 
Listening to podcasts is a great way to learn from other small business experts. You can discover creative business tips and challenge yourself to boost your marketing game! Whatever questions you have, the best business podcasts have the answers you're searching for.
Not sure where to get started? Leave it up to Plann to show you the way! Check out our 5 top small business podcast recommendations. Happy listening!
Why listen to the best business podcasts?
Podcasts are in the midst of a popularity boom, with over 2,000,000 shows and 48 million episodes available! As podcasts continue to thrive, you can count on new content being uploaded daily to answer all your small business woes.  
One of the great things about podcasts is that they can easily accommodate busy entrepreneurial lifestyles. Need to put on your walking shoes and pick up an order? Busy crafting and posting products? A podcast can play in the background while you work on other tasks, making them the key to efficient multitasking. 
You can also rely on business podcasts as an up-to-date source of information. Most podcasts share new episodes on a regular schedule. This means you can learn from audio content that reflects the current market—and whatever the latest change to the Instagram algorithm entails.
Even better, many of the best business podcasts are created by super successful business owners! What better way to improve your knowledge of the business world than by listening to the greats share their experiences?
Where to start listening to business podcasts
The rise of podcast popularity has been great for distribution, with podcasts now appearing across all kinds of apps, systems, and devices. 
If you're an iPhone user, you can access an amazing podcast library using the Apple Podcasts app. On Android devices, you can use the in-built Google Podcasts. Alternatively, download a new app, like Spotify, Overcast, on Pocketcasts. 
Planning to listen to podcasts at home? You can connect most podcast services to your Smarthome devices, using Alexa or Google Home to control streaming. Easy! 
5 of the best business podcasts for small business owners
So you know that small business podcasts have the power to make you a better entrepreneur, but you're not sure where to begin. With so many podcasts to choose from, how can you tell which ones are worth your time? 
As always, you ask, and Plann answers! Here are our 5 top recommendations for great business podcasts!
Fancy the chance to learn from the best in the biz? Behind the Brand, hosted by Gen L. A., takes you behind the scenes with some of Australia's most amazing entrepreneurs.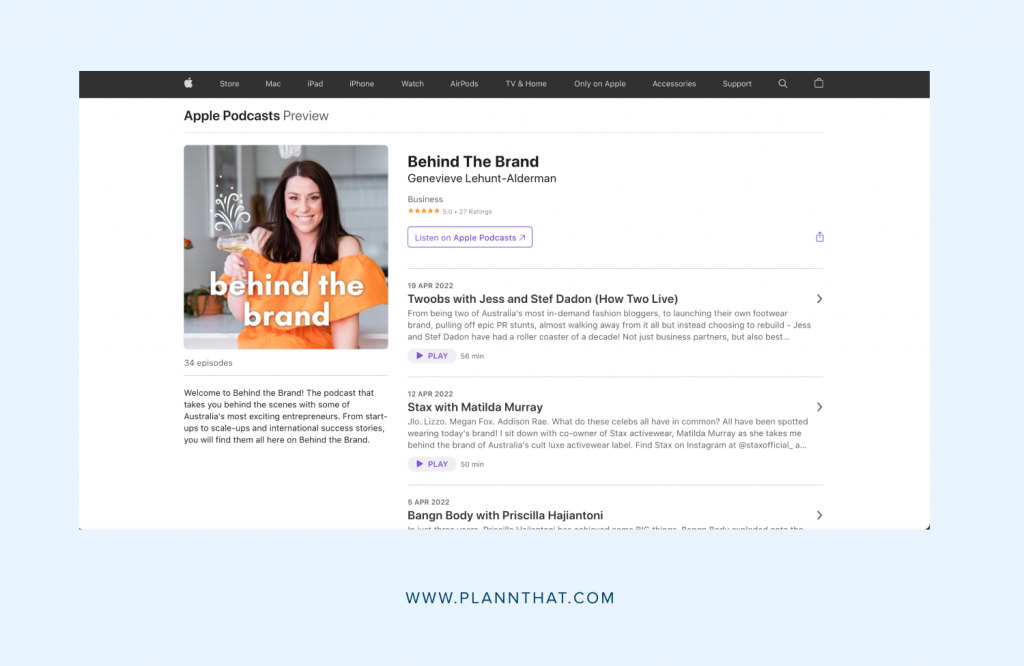 This podcast covers everything from start-ups to booming international enterprises. Every episode features a new business owner, so you can learn from successful people across a vast range of industries. Listen closely for fun and informative tales of wisdom! 
Past guests of Behind the Brand have included KeepCup founder Abigail Forsyth, Daily Blooms superstar Courtney Ray, and Plann's very own Christy Laurence. Need we say more?  
Looking for a podcast that brings business and life together? Check out What's Up, Rusty?. Hosted by Russel Spurlin since November 2021, this podcast includes plenty of business inspiration.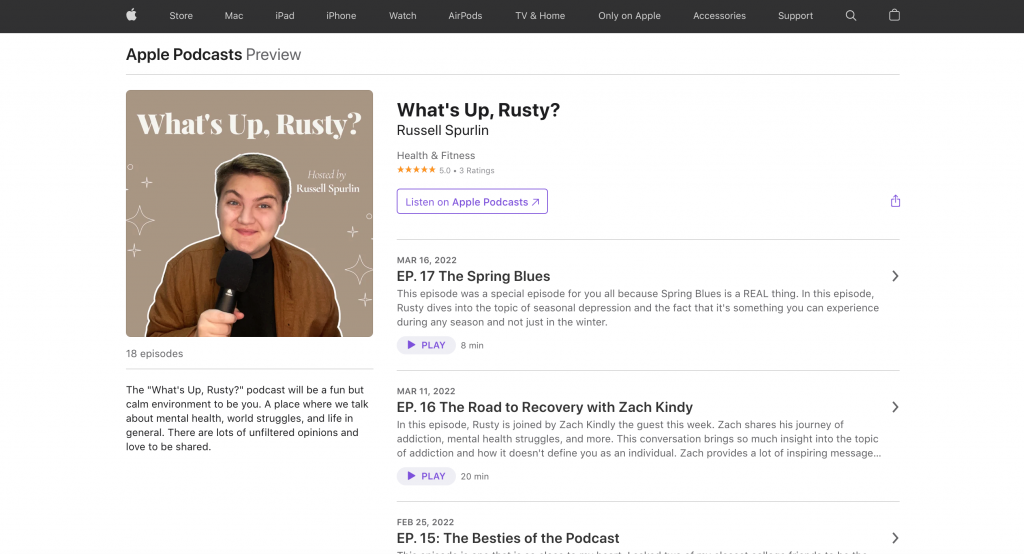 What's Up, Rusty? is well known for its fun yet calm approach to all kinds of topics, from business advice to mental health, world struggles, and more. You can expect to find a mix of Q&A, interview, and chatty episodes, encouraging you to chase your dreams and set achievable goals. 
Previous What's Up, Rusty? episodes have included "Don't Wait Do It Now" and "The Power of Showing Up." You can always count on a dose of small business motivation!
Hosted by Jessica Filip, the Say It, All podcast is your number-one source of confidence, truth, and empowerment, including the good, bad, and ugly of entrepreneurship.

Say It, All offers opinions, interviews, advice, and discussions on all things small business. You can expect episodes that help you adjust your mindset, set business goals, and defy the odds to turn your brand into a success story. 
The Say It, All podcast has welcomed plenty of talented guests, including journalist and activist Suswati Basu and Apollo Grill owner Rachel Griffith. Want a feminist approach to small business learning? Here it is!
Still learning your way around the business world? The Small Business Made Simple podcast, hosted by marketer and social media expert Jenn Donovan, is for you!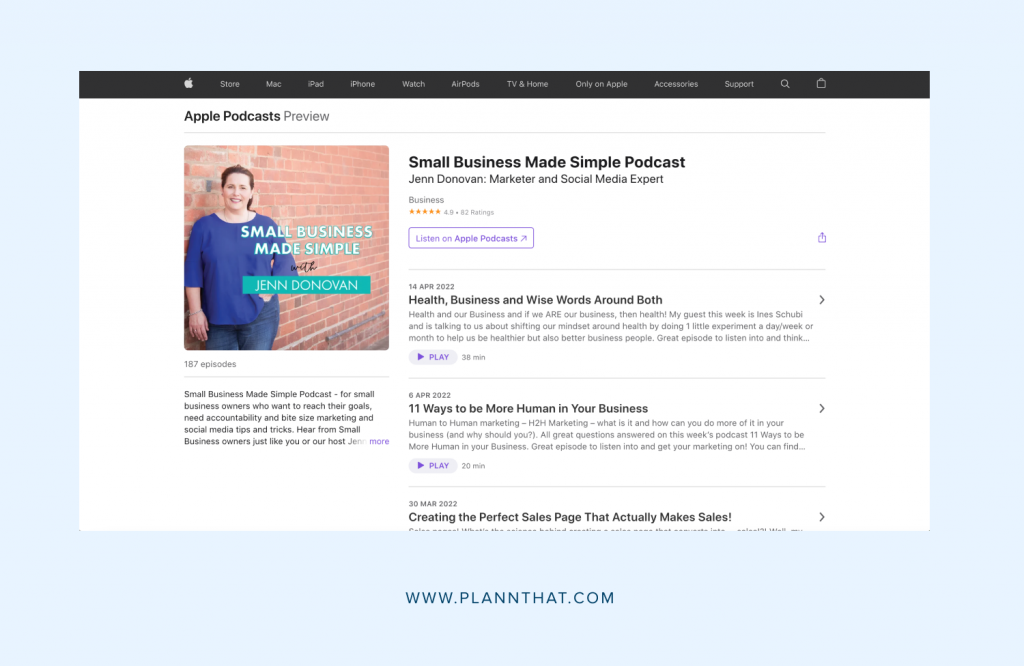 This podcast takes you through the basics of entrepreneurship, offering you a foundation for everything you need to know about marketing, sales, branding, and so on. It's basically the podcast guidebook to running a small biz.
Previously, Jenn has produced podcast episodes covering sales page tips, marketing predictions, eCommerce advice, and more. Small Business Made Simple is the perfect beginner's resource!
If you're keen to turn your small business into an empire, try the Grow a Small Business Podcast, hosted by Troy Trewin.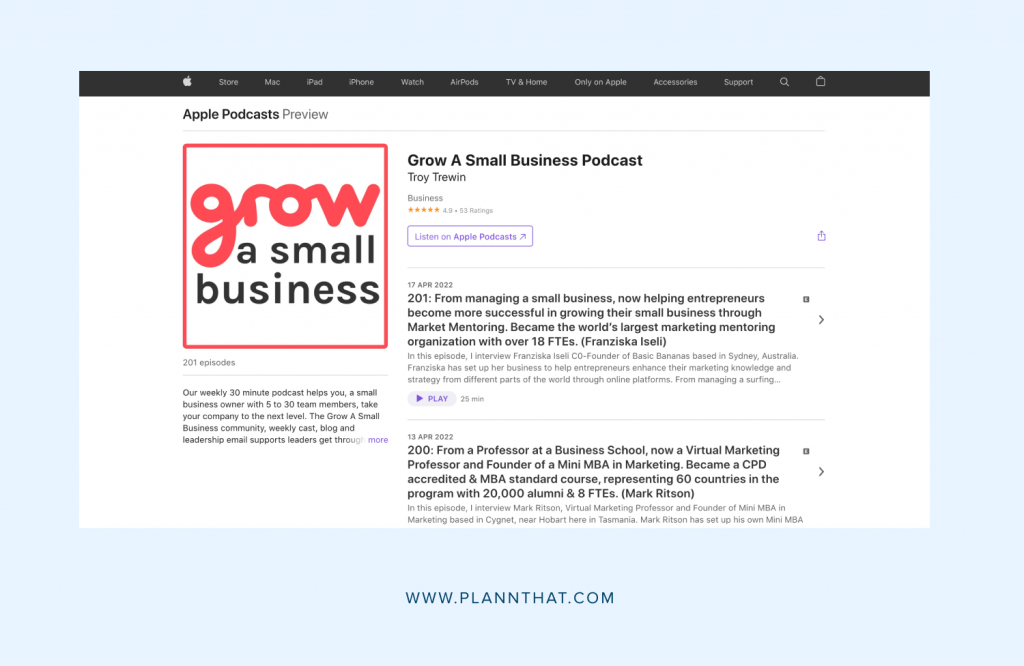 This podcast is designed to give you the skills you need to scale your business. In every episode, you'll learn something new about strategic planning, digital marketing, business management, and more. Plus, hear from successful guest speakers.
In the past, the Grow a Small Business Podcast has shared interviews with Harvard professors, chats about young entrepreneurship, and advice on making the most of marketing. This podcast offers everything you need! 
Plann for business success
Once you've listened to these great podcasts for small businesses, you'll be ready to put what you've learned into action! That's when it's time for Plann. 
Sign up for a free 7-day trial of Plann, and start building your brand's social media presence today!