TikTok is a social media must-have, full of brand-new trends and totally amazing marketing potential. But are you using all the features you could be?
Lives treaming is one of the brightest gems in any social media platform's crown, and TikTok is no exception! When you go live on TikTok, you can communicate directly with your audience in real-time. Your followers will even receive a notification to let them know you're online.
Making the most of TikTok live is a great way to boost your social media reach and build your online community. Here at Plann, we believe that community equals conversion, so your TikTok success could be the key to business sales and a climbing follower count. Awesome, right?
If you're feeling a little lost about the world of TikTok live streaming, never fear. Here's everything you need to know about going live on TikTok!
How do you go live on TikTok? A step-by-step guide
The first step to TikTok live success is knowing how to go live in the first place. Luckily, setting up your first TikTok live is simple, with just a few basic steps to remember.
Step 1: First, open the TikTok app, and click the + icon in the middle of the bar at the bottom of your screen.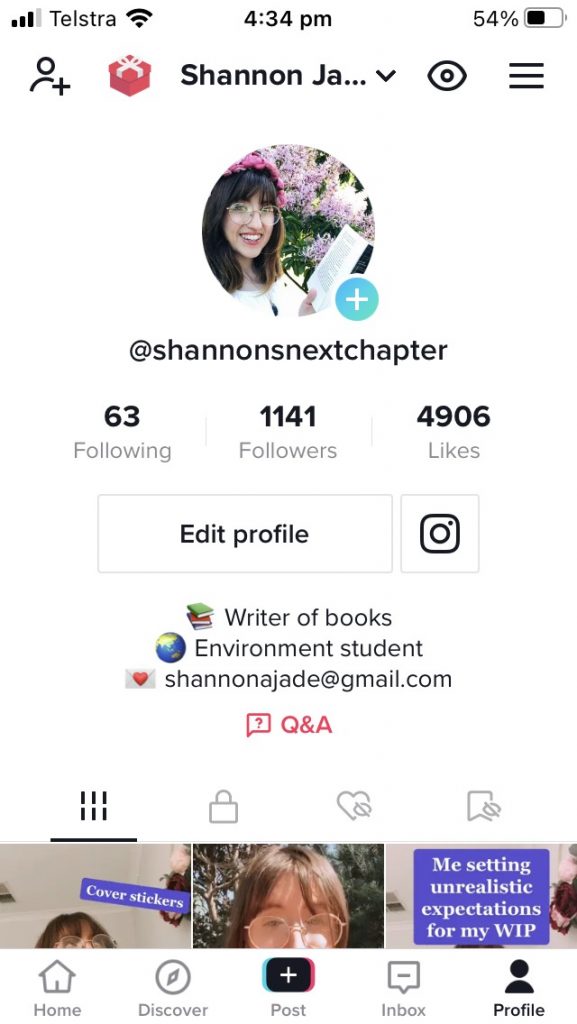 Step 2: At the bottom of your screen, you'll see a navigation bar. Choose live on the far right.
Step 3: At the top of your screen, set a cover image and a title for your live video. Add your broadcast's topic too.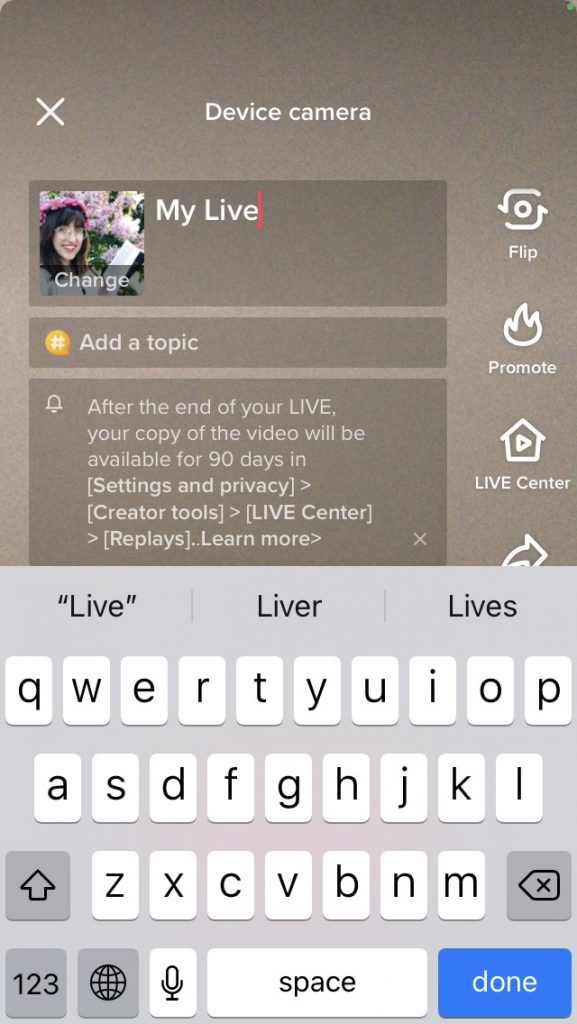 Step 4: At the bottom of your screen, click the red Go LIVE button.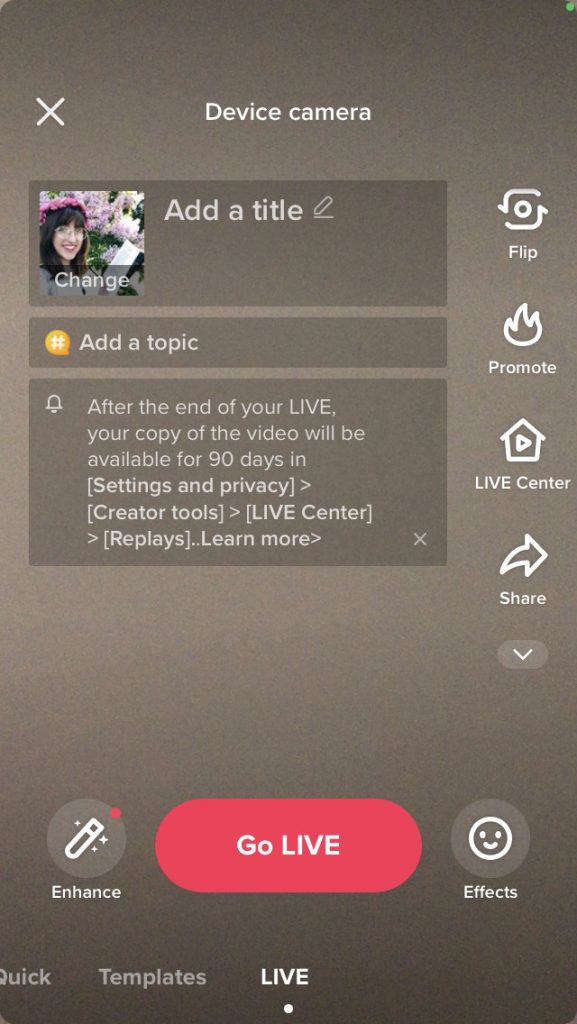 Once your live broadcast begins, you can start chatting with your audience. You can also flip the camera, add visual effects, filter comments from viewers, and even add moderators to join you.
Tips for a successful live
The most successful TikTok live streamers keep a few tips in mind whenever they start a new broadcast. Remember this simple checklist to give yourself the best chance at success!
Pick the best time to go live
A TikTok live strategy should always consider time. Before you go live, refer to your unique TikTok insights to find out when your audience is most often online. This is the perfect time to start a broadcast!
It's also a good idea to consider the length of your live. TikTok allows you to host live videos for up to an hour, but it's usually a better idea to stick to a shorter time slot of 30 minutes or less.
Quality content
Quality is always a priority! Even though TikTok lives may seem less strict than permanent videos, a quality production can help you engage audiences more effectively.
Before you go live, check that you have a stable internet connection, good lighting, and great sound quality. Set your phone on a stand to prevent shaking footage, and get ready to go live!
All about the audience
When you go live on TikTok, your audience should be your priority! This means listening to your followers, communicating with your viewers, and producing content that matters to the people who tune in to your content.
By prioritizing your audience in your live streams, you can build a strong TikTok community, improving your social media reputation and impact. Win-win!
Plann ahead
It's always important to plan your content ahead of time, especially when you're communicating live. This can help you build the confidence you need to create a great live broadcast.
By creating even a simple content plan before your live stream, you can eliminate the risk of awkward silences and keep your live running smoothly.
Check your stats
Like other TikTok content formats, TikTok lives are accompanied by a range of stats and insights to help you better understand your audience.
Once your live is over, remember to check in with your analytics to find out more about your viewers and how they engage with your live content. All of this information is available in the in-app LIVE Center!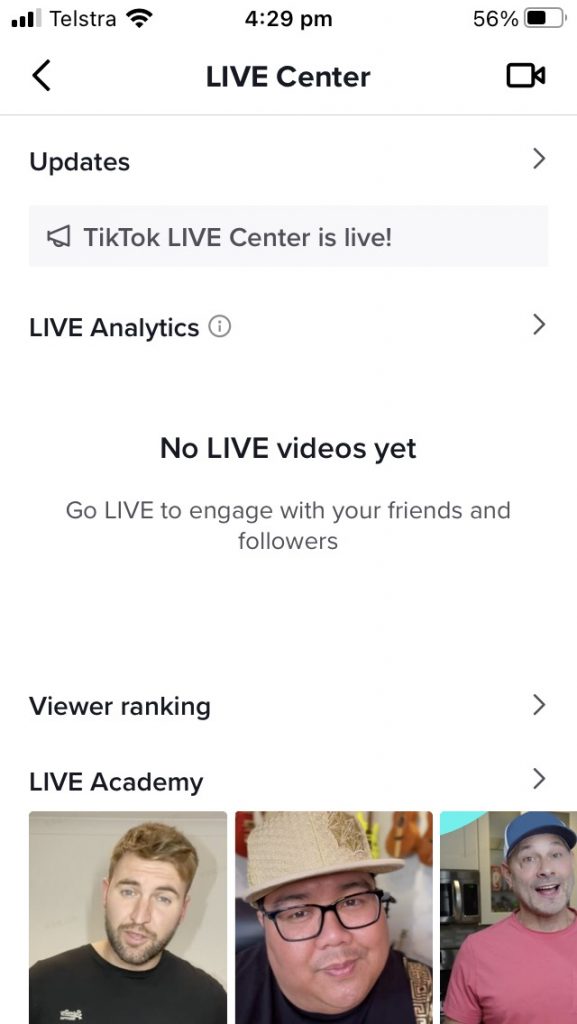 FAQs about TikTok live
Going live on TikTok can seem daunting, especially if you've never hosted a live broadcast before. To help you feel a little more confident, check out our answers to a few frequently asked questions.
Does everyone have access to live streaming?
Users often ask how to get live access on TikTok. Sadly, TikTok live streaming isn't available for all users. That means you're not alone if you find yourself wondering, "Why can't I go live on TikTok?"
To set up a TikTok live, you have to meet two minimum requirements. First, your account details will need to show that you're over 16 years of age. Second, you'll need to have earned over 1,000 TikTok followers.
If you're over 18 years old, you can access extra TikTok live features, earning gift points from your followers throughout your broadcast.
What should you do if you can't go live?
Maybe someday, TikTok will allow all users to go live, but for now, there are things you can do to work toward the feature. If you're not old enough to go live yet, spend your time working to improve your account so that it's ready to make an impact when you're able to use the feature.
If your TikTok follower count is holding you back from live broadcasting, it's time to start building your audience! This is an opportunity to use other TikTok tools and features to boost your following and earn your first 1,000 fans.
Can you go live with friends?
TikTok live is designed to be collaborative, which means that you can go live with your friends.
Once you've set up your live stream, you can invite up to twenty moderators to collaborate with you. At the bottom left of your screen, tap the infinity icon, and invite your friends to join your live. It's that simple!
Can you join someone else's TikTok live?
If you'd prefer to go live with someone else to help you, you can join another user's TikTok live broadcast.
Ideally, it's best to plan a collab with another creator ahead of time. However, you can also request to join another user's live by viewing the live and navigating to the comments section. There, you'll find an icon of two smiling faces. Tap this to send your join request.
Need help achieving your TikTok A-game? Sign up for a free trial of Plann today, and start Plann'ing your TikTok content right now!