Did you know that you can create exclusive content communities within the Instagram app? Well, now you do! And we're going to teach you how. 
Thanks to Instagram's close friends list feature, it's possible to handpick the followers you want to share exclusive content with. Instead of marketing to the masses, you can now narrow your niche and communicate directly with just a select few. Talk about social media power! 
Available for all kinds of story content, the close friends Instagram feature has plenty of benefits. When you learn to navigate it well, you can take control of your Instagram community and brand identity, choosing your content and targeting its audience specifically. 
If you're a little unsure of just how Instagram's close friends list can help you and your account, don't worry. This is the Plann guide to everything you need to know!
What is 'close friends' on Instagram?
The 'close friends' Instagram feature is a curation tool, allowing you to tailor the audience that has access to your latest Instagram stories feed.
By creating a close friends list on Instagram, you can choose to share new story content with a curated list of users. At any time, you can add or remove accounts from the list, ensuring that your faves have access to the stories you share. 
Can anyone see your close friends Instagram list? No! The beauty of this feature is that you can keep it behind the scenes of your brand. Accounts you haven't added to your close friends will never see your exclusive content or know that it exists.
When you post an Instagram story that's exclusive to members of your close friends list, your story will show up at the top of their Instagram feed with a green circle surrounding your profile picture. That's a sure way to make your content stand out to the followers who matter most!
Why create a close friends list
Close friends offer plenty of advantages, whether you're using your account to chat with friends or market a small business empire! 
As an everyday Instagram user, creating a close friends list can help you distinguish between your followers and your friends. Sometimes, day-in-the-life updates might not be suitable for millions of Instagram users. A close friends list allows you to share content with just the people you know will understand. 
From a business perspective, the 'close friends' Instagram feature can have many benefits. Using this tool, you can create social media communities in your brand space. This means targeted marketing opportunities and brand-building power.
A curated close friends list can help you communicate with your followers more effectively and in more specific ways. It can also help you connect with consumers quickly and easily. You might even use the tool to offer exclusive Insta content as part of a subscription or rewards offer! The options truly are endless. 
How to add close friends on Instagram
Adding close friends on Instagram is easy when you know Instagram well! Anyone can use the close friends Instagram feature to improve marketing potential and achieve Instagram success. 
To get started with your own close friends Instagram list, follow these simple steps. 
1. Pay a visit to your profile
First, you'll need to set up your Instagram account for close friends! Start by tapping your profile picture and navigating to your own Instagram profile. At the top right of your screen, you'll find a menu icon, represented by three horizontal lines. Click this, and scroll down until you find the close friends option.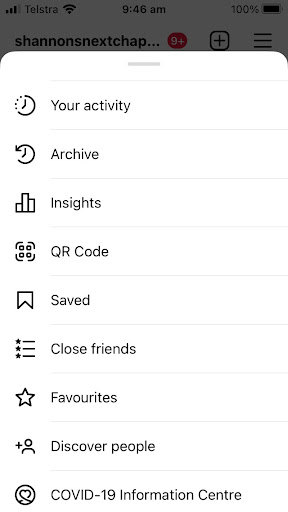 2. Start curating your list
Once you've made your way to the right settings tools, it's time to start curating your close friends list! In the close friends menu, you'll find a search bar and a list of users. 
Scroll through your users suggestions to find Instagram's close friends recommendations based on your account activity. 
If you want to add specific followers to your list, use the search bar at the top of your screen to find and add their accounts and select close friends you wish to add. When your list is complete, click done to finalize it.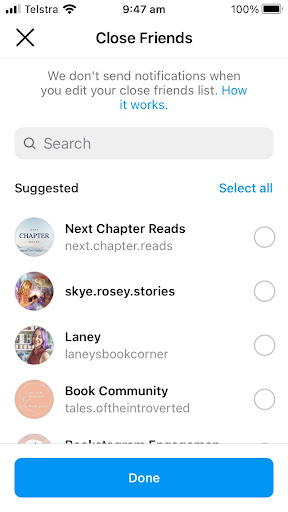 3. Plan your exclusive content
When your close friends list is ready to go, you can start preparing your content plan! The stories you share with your close friends will depend on how you've created your list. If your close friends are real-life besties, you might share basic unfiltered life updates. 
If your close friends list is full of subscribers or potential customers, think about how you can market your brand directly and purposefully.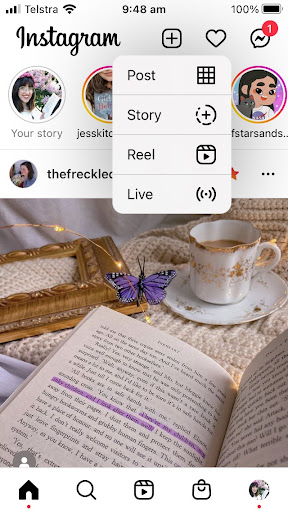 4. Share stories with close friends
Finally, you're ready to start posting content to your close friends! 
To do this, navigate to your Instagram home page, and tap the + icon at the top of your screen. Choose story from the dropdown menu, and create your story post as usual, using a range of 'gram tools and features. 
When your story content is ready to share, look to the bottom of your screen. Here, next to your story, you'll find the close friends option. Click this to ensure your content only goes to your close friends list, then hit send to post.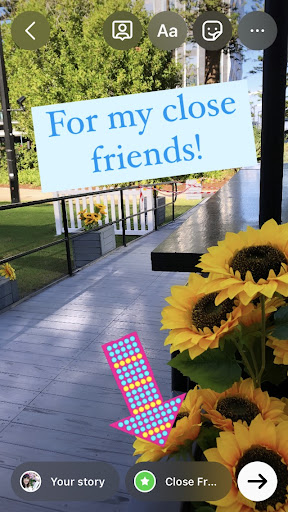 5. Check your stats and repeat
As with any Instagram content, it's important to keep an eye on how your close friends stories are performing, especially if you're using them for marketing purposes. While your story is live, you can click on your profile picture to review it and check who has seen or engaged with your story content. 
Later, don't forget to check your insights and analytics. This will help you identify what's working best for your close friends audience, giving you insights you can use next time you post.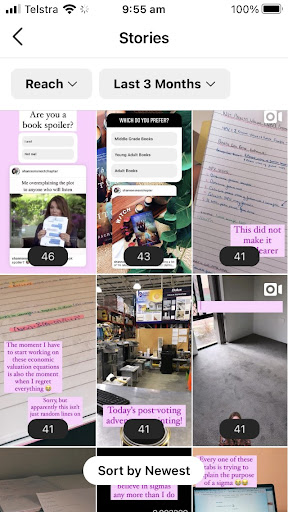 Plann'ing for close friends
Our Plann'rs are well-versed in Instagram's best tools and features, including the close friends list! As always, Plann makes it easy to prepare content ahead of time and create great 'gram strategies. 
Want to make a start on exclusive close friends content for Instagram? Sign up for a free 7-day trial of Plann today!