Struggling to find, save and add music to your Instagram Reels?
You're in the right place.
Instagram recently rolled out new features that make it 100x easier to create a Reel to the music or sound you want.
Whether you're looking for the perfect song to dance to or you're in the mood to lip sync to an iconic Kardashian quote — this guide will help  you find and add the perfect soundtrack to your Reels.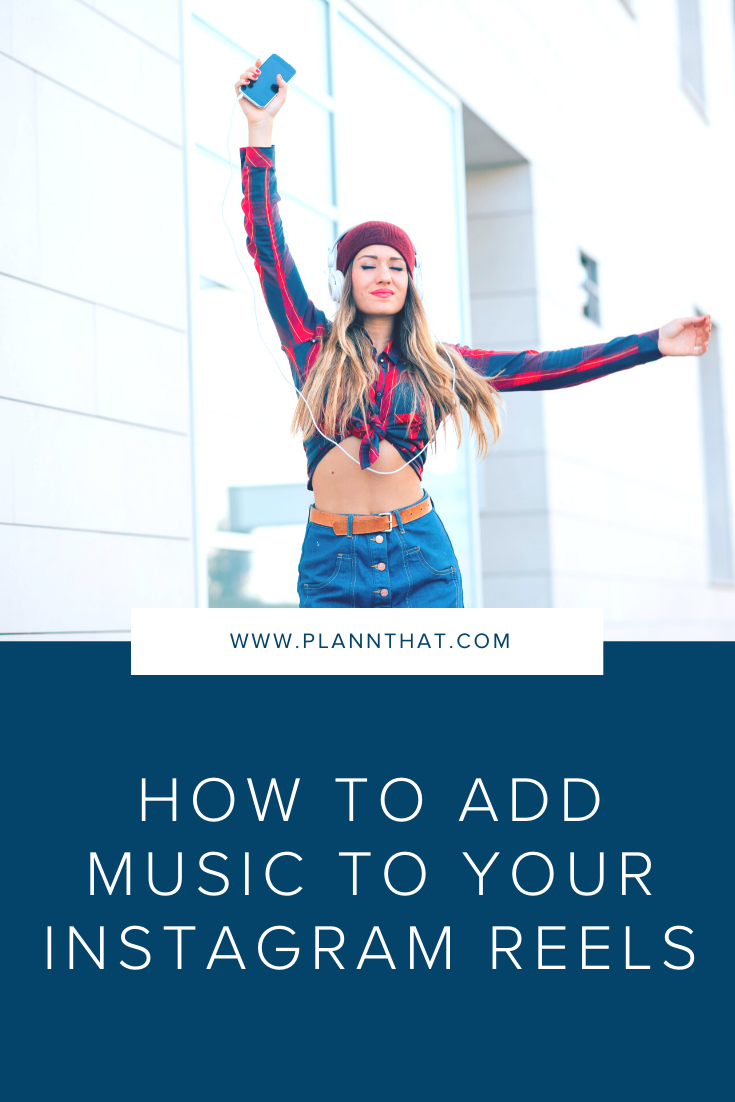 What is Instagram Reels?
Instagram Reels is the newest way to create video content on Instagram. Similar to its rival TikTok, you can record and edit 15-30 second video clips to music and text and effects to your creations.
Once your Reel is live, you can share it on your Stories, publish it to your Reels tab on your profile and allow Instagram to push it out to the Explore Feed.
While the algorithm for Reels is still up for debate, it looks like the Explore Feed curates a mix of trending content as selected by their content creators and content based on who you follow, the content you like and where you're located.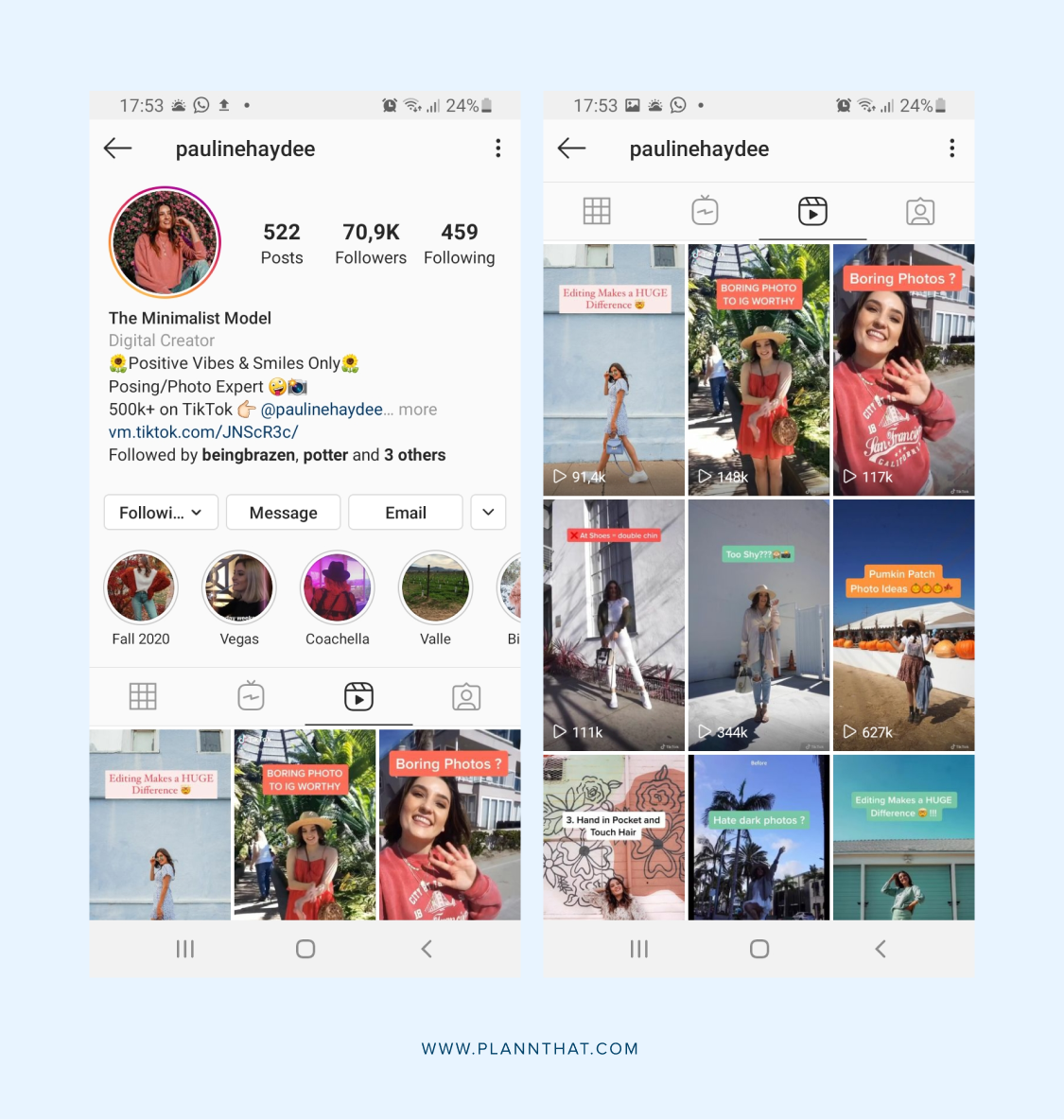 The Benefits of Adding Instagram Reels to Your Content Mix
Think of Reels like permanent high-quality (but still informal) Instagram Stories. It's a way for you to show off your personality, make your followers laugh and deliver educational content in bite-sized pieces.
Grow Without Ads
As with any new feature Instagram rolls out, the algorithm rewards early adopters. Plus, with the Reels Explore feed, it's super easy to reach new followers and boost your engagement WITHOUT buying ads.
Shop 'Til You Drop
And if that's not enough to get you Reeling with excitement, Instagram announced that they're working on a shopping integration. Much like users can shop IG Stories, Feed Posts and IGTV, brands and influencers will soon be able to tag products in Reels and make it easier than ever for followers to shop in-app.
Gain Engaged Followers
But what makes Reels stand out from all the other features on Instagram is the fact its algorithm shows you Reels based on your interest. As a brand or influencer, this is incredibly powerful as your content is getting in front of potential leads who are most likely to buy, follow and interact.
Read More: New Instagram Reels: How to Make It Work for Your Brand
How to Add Music to Reels: A Step-By-Step Guide
When Instagram first launched Reels, there was a lot of confusion around adding music. Some people had it, and others did not. Some of the sounds people loved on TikTok were nowhere to be found, and the ability to save music to use later was non-existent.
Since then, Instagram has rolled out a bunch of new features to clear up the confusion and help them compete with TikTok.
You can now:
‣  Save audio clips to a folder and use it for a future Reel.
‣  Share audio pages via DMs.
‣  Search the audio browser to find sounds and music for your clips.
Not sure how to do it? Keep reading.
We're breaking down the entire process to have you Reeling like a pro in no time.
Step 1: Open Instagram on Your Phone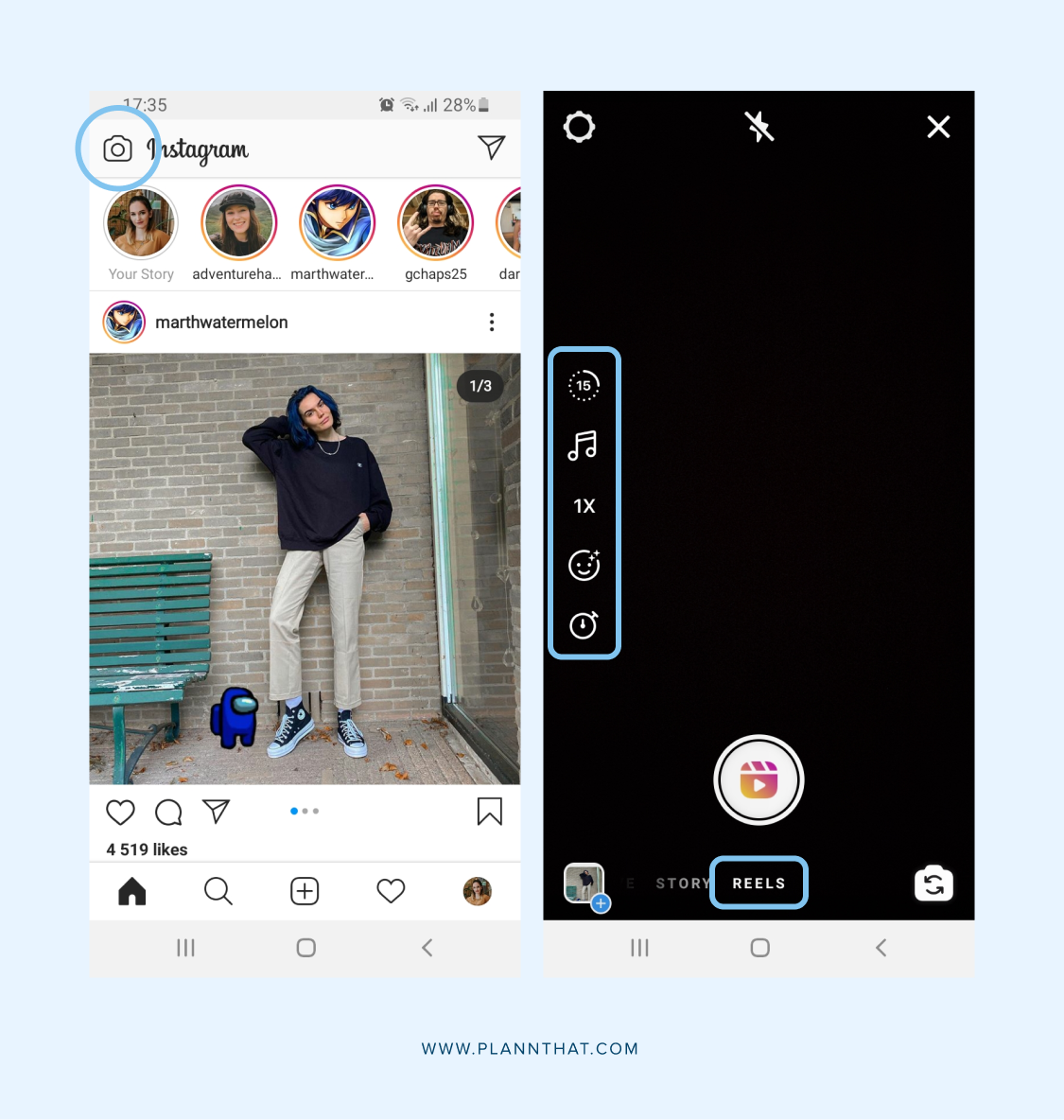 ‣  Tap on the Instagram Stories icon in the top left corner of the screen
‣  At the bottom of the screen slide to the right to select 'Reels'
Step 2: Search For Music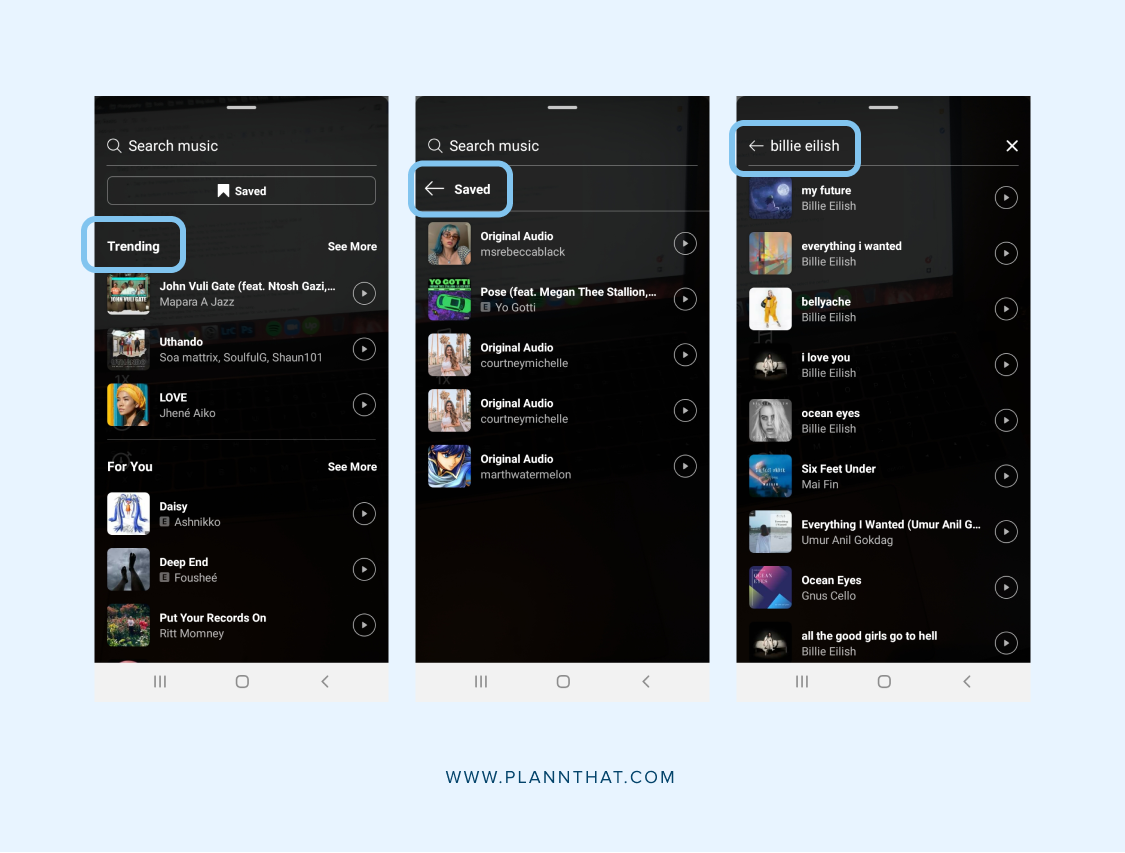 ‣  When the Reels screen loads, you'll see a bunch of new icons on the left hand side of the screen. Tap on the music note to choose music or a sound for your Reel
‣  Tap the 'Saved' icon to view sounds you've added to your collection
‣  Browse songs that are trending on Instagram
‣  View songs Instagram thinks you will like in the 'For You' section
‣  Or tap on the 'Search Music' bar at the bottom screen to look for a particular song or artist
Step 3: Add Music to Your Reel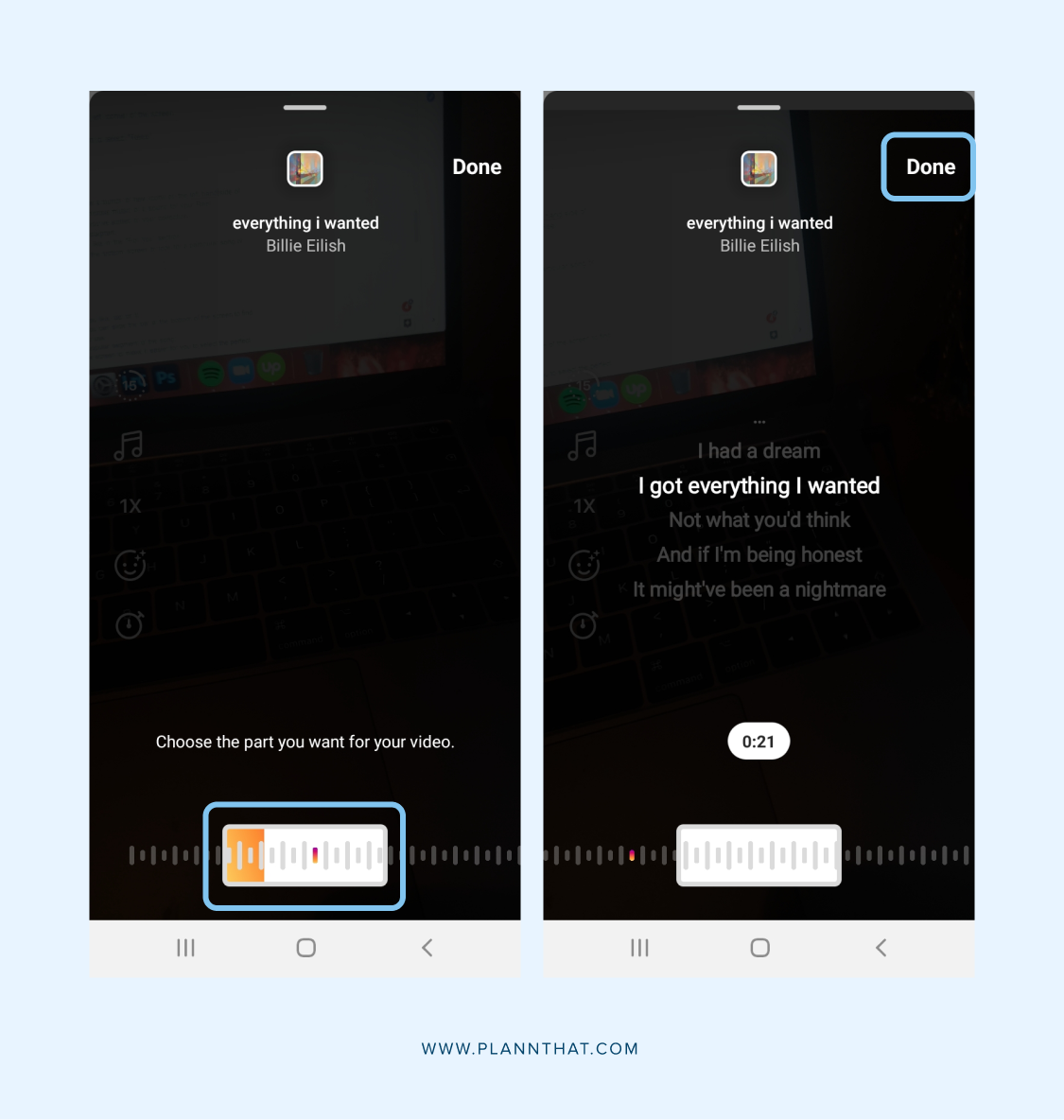 ‣ Once you've found a song clip you like, tap on it
‣ The song page will open, and you can slide the bar at the bottom of the screen to find the part of the song you want to use
‣ A pink dot indicates the most popular segment of the song
‣ The lyrics will also show on the screen to make it easier for you to select the perfect snippet
‣ When you're happy, tap on the 'Done' button in the top right-hand side of the screen and you've successfully added music to your Reel!
Step 4: Share Your Reel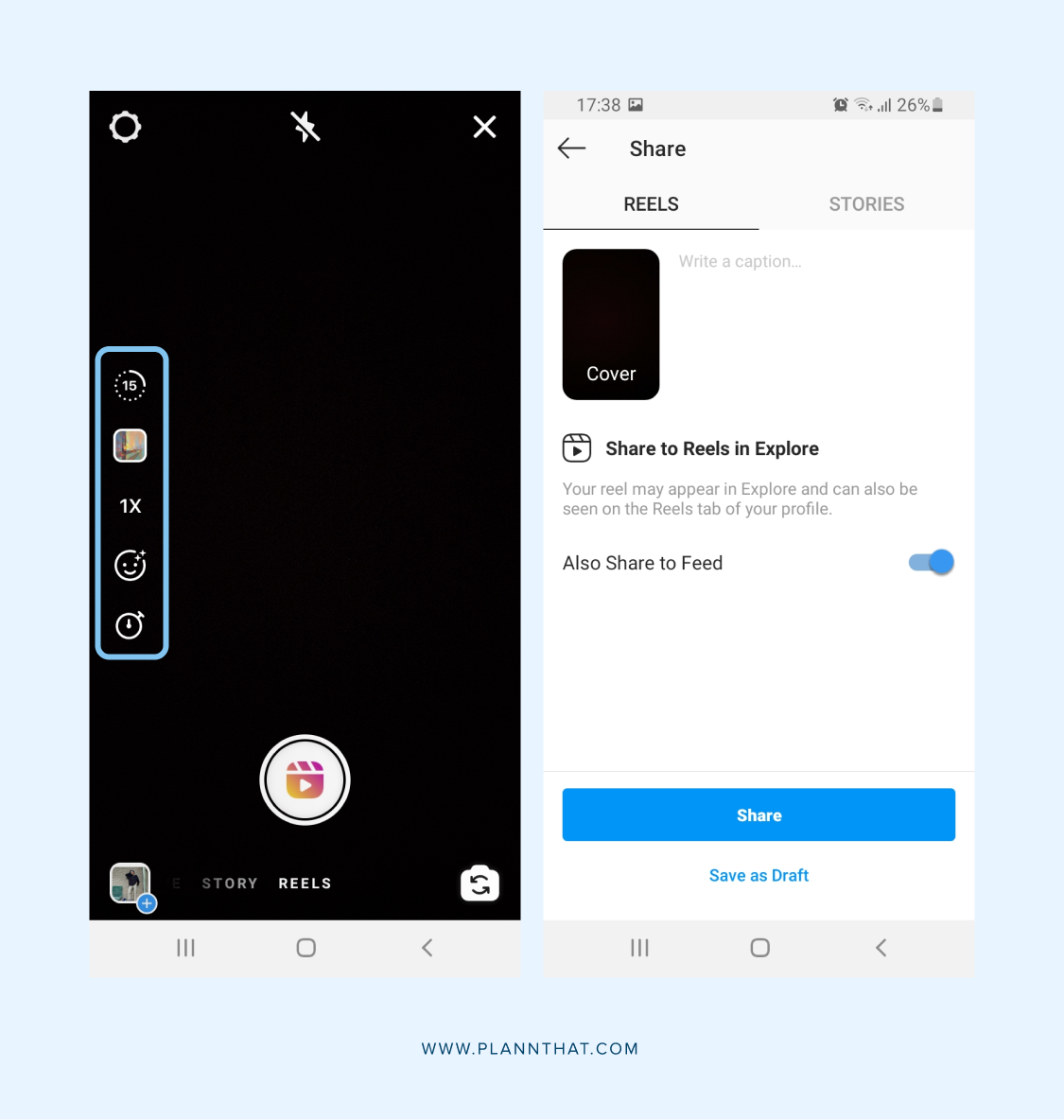 ‣ You can now film your Reel, add effects, text and everything else
‣ When you're done creating your masterpiece, add your caption, hashtags and share it with the world!
How to Save Music From Other Reels
So you have ZERO music in your "Saved" folder?
Whelp. Let's fix that stat!
‣ Go to the Explore Page (or any Reel you love)
‣ Swipe around until you find a Reel with music or a sound you want to use
‣ Tap on the audio file at the bottom of the screen
‣ The audio page will load, and you can save it to your folder by tapping on the save icon in the top right hand side of the screen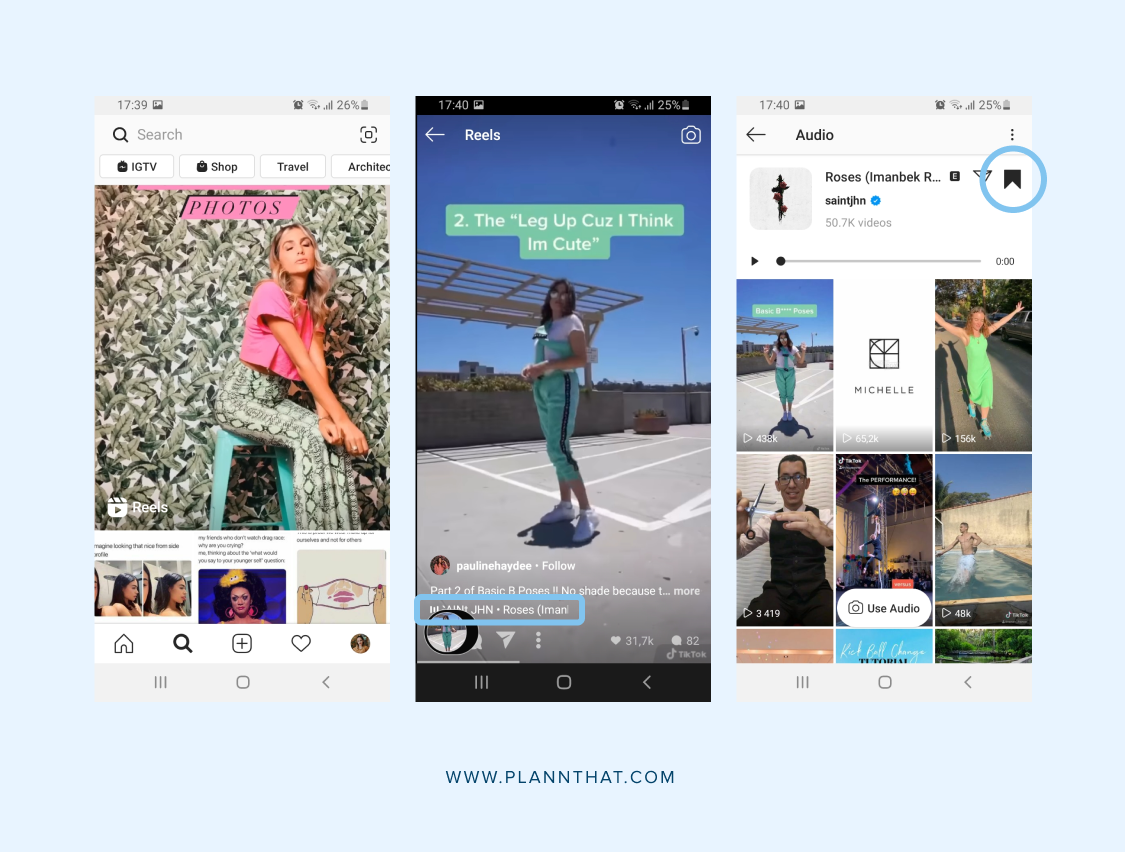 Top tip: You can also choose to DM the sound to a friend by tapping on the paper plane icon. Your friend will receive a link to the audio page and can save it to their folder and see all the other Reels using the sound.
Reel in Your Followers
At a loss when it comes WHAT to post on Instagram? We've got you!
Sign up for a free Plann account and you can use our new content prompts *tailored to more than 50 different industries* to help you stay consistent and on-brand.
Remember, you can use Reels to expand on the content you're creating elsewhere. Use this as a guideline to brainstorm ideas for your videos that will reel in your audience and keep them coming back for more!
Note: If you are a Business Account you don't currently have access to Audio on your Reels which is a massive bummer, but you can use original audio from other people's Reels – or, if you don't want to try this trick consider switching your Business Account to a Creator Account and continue enjoying all the Plann perks like Analytics and Audio on Reels!