Wanna know one of the best things about working for Plann?
Apart from our awesome team, the BEST customers, our Friday arvo drinks and our founder Christy's cute puppy, Peach, who she sometimes brings in to the office (okay, now we're just bragging!) One of the biggest perks is the fact that we are our own customers.
Because our marketing team 'Planns' our own Instagram feeds on Plann (so meta!) it gives us awesome insight into exactly what features would take our social media scheduling process to the next level. That way, we get to build them for you guys to use and love, too!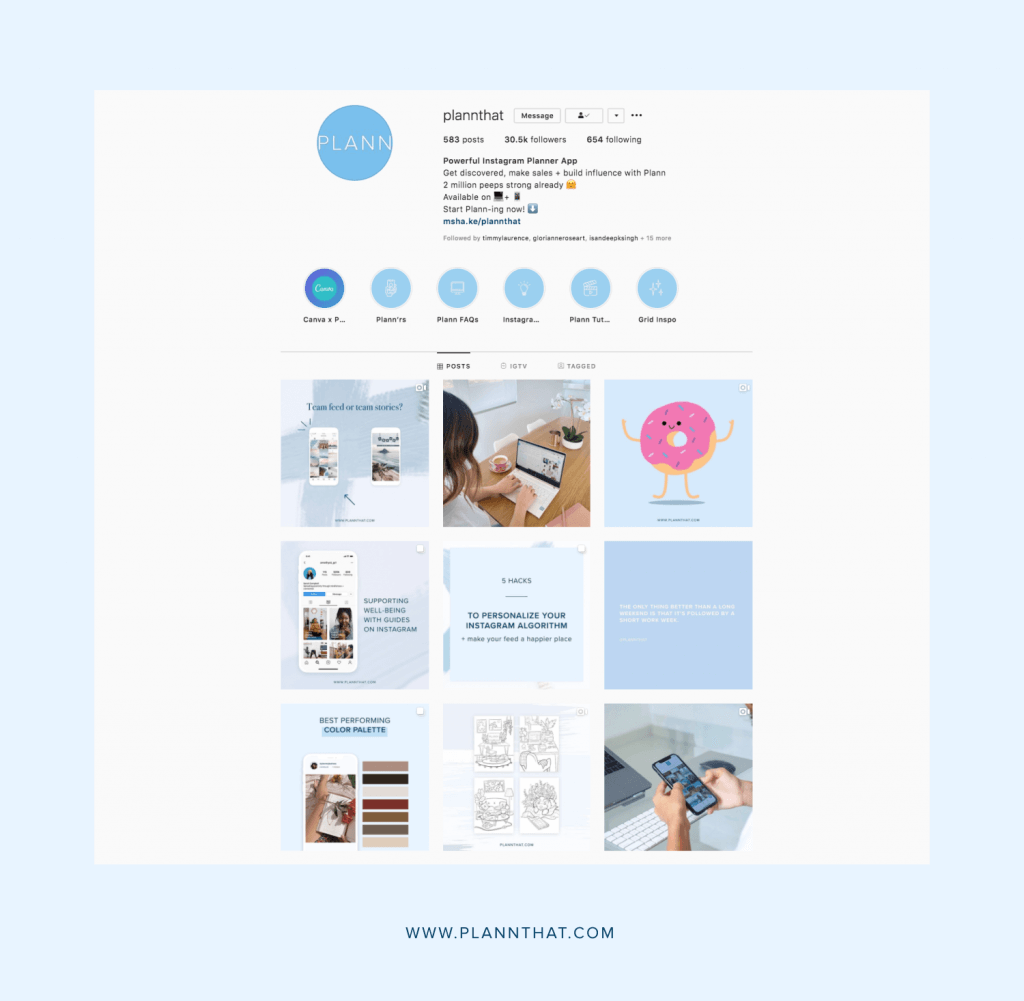 But, have you ever wondered how exactly the Plann team Planns our feed? Inspired by Notion's article about how their team uses Notion (one of our other fave tools), we thought we'd give you a little inside peek into our content creation process. Not only will it satisfy any nosy curiosity you might have about what *other* people are doing (or maybe that's just us!) but you may pick up some handy insider tips along the way.
So, without further ado, take a stickybeak inside how the Plann team Planns our content.
We work a week in advance
Believe it or not, the Plann team don't actually work months and months in advance! We like to stay flexible, in case anything new and timely comes up. Plus, you never know when inspiration for a creative idea will strike! 
Instead, we like to have a weekly brainstorming session on a Monday with our marketing team, when we talk about what we've got coming up — any new feature launches or themes we particularly want to cover. We'll also look at any new blog posts we've got in the pipeline, and how we can repurpose these across social media. Then, after our meeting, we'll go away and start creating content for the week.
We use the 'strategy' tool to kickstart our planning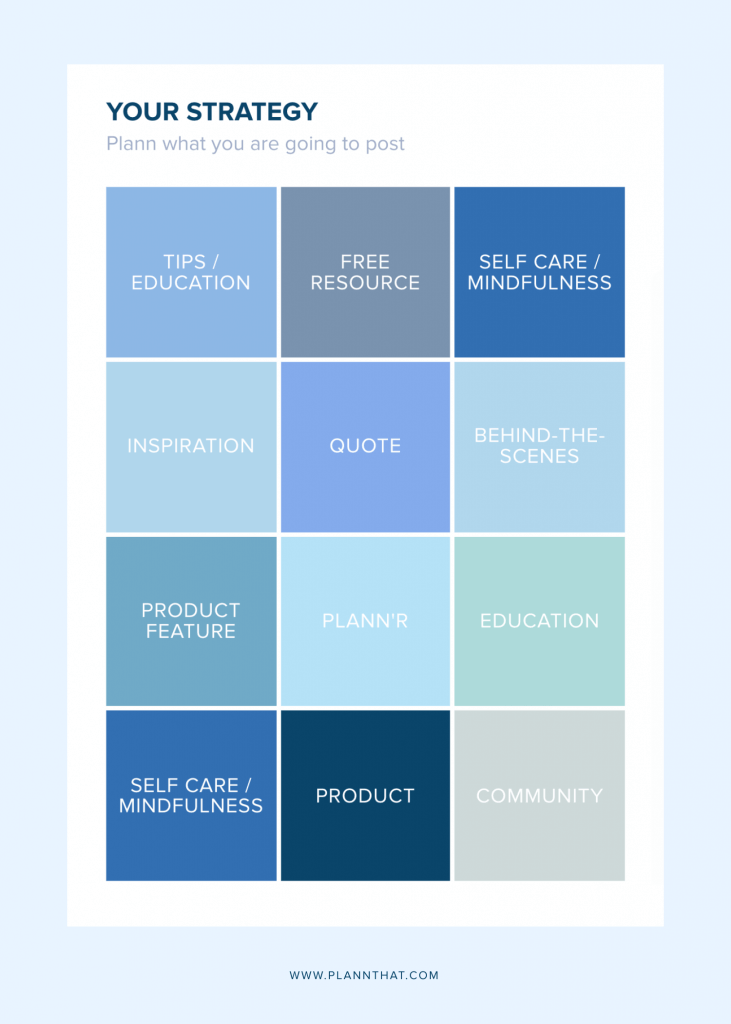 The 'strategy' tool is a bit of a favorite of ours at Plann (well duh! We created it!) This is usually the first step in planning out our weekly content. We have all of our different content themes planned out on our strategy grid, which shows us what type of content to post, and when.
We stick loosely to the same pattern every week, to ensure we're getting a nice, varied mix of content. This was based on a 30-day content strategy plan we ran a couple of months ago, which allowed us to monitor for different types of posts performed (using Plann's 'Result' tool.'  These strategy tiles guide us on what kind of content we need to fill the spaces with.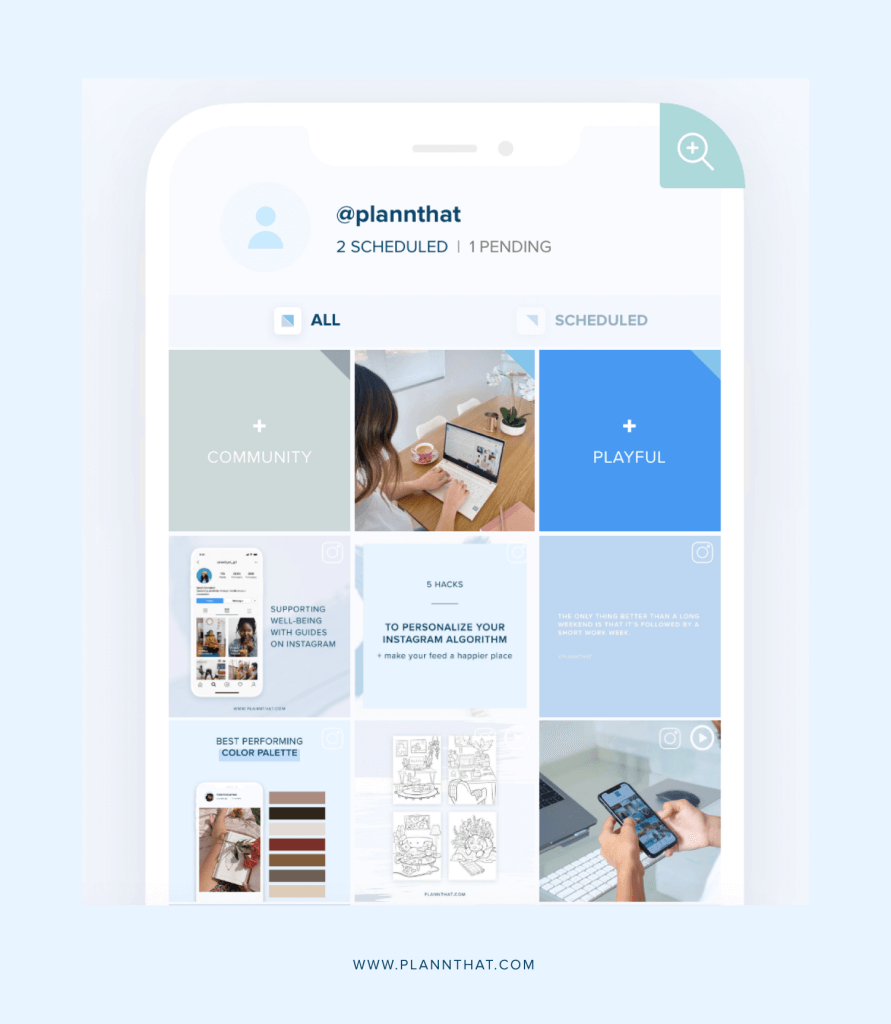 We create our graphics in Canva
Once we know what type of content we're posting, it's time to create our visual content. At Plann, we're all firmly on the 'Canva' brigade — it's by far the easiest way to create beautiful, branded graphics in bulk. Until recently we would create these off templates within Canva then import them in.
But now that we have our kickass Canva integration, we create these from right within the platform. We'd be lying if we said part of us didn't just selfishly want this awesome feature to streamline our own creative process 😉  Our designer extraordinaire Dani goes to 'create' selects 'Canva' and goes to work creating graphics for our post.
We're crazy about 'collections'
Of course, we don't create new graphics every single time we post. We're not about reinventing the wheel! Instead, we have collections galore already set up in Plann that we can pick and choose from when we need photos to post. These contain a mix of stock images and brand photography images we've taken that show Plann and action. We have these tagged by themes and ready to go, so that we can easily find what we need, when we need it.
Writing captions is collaborative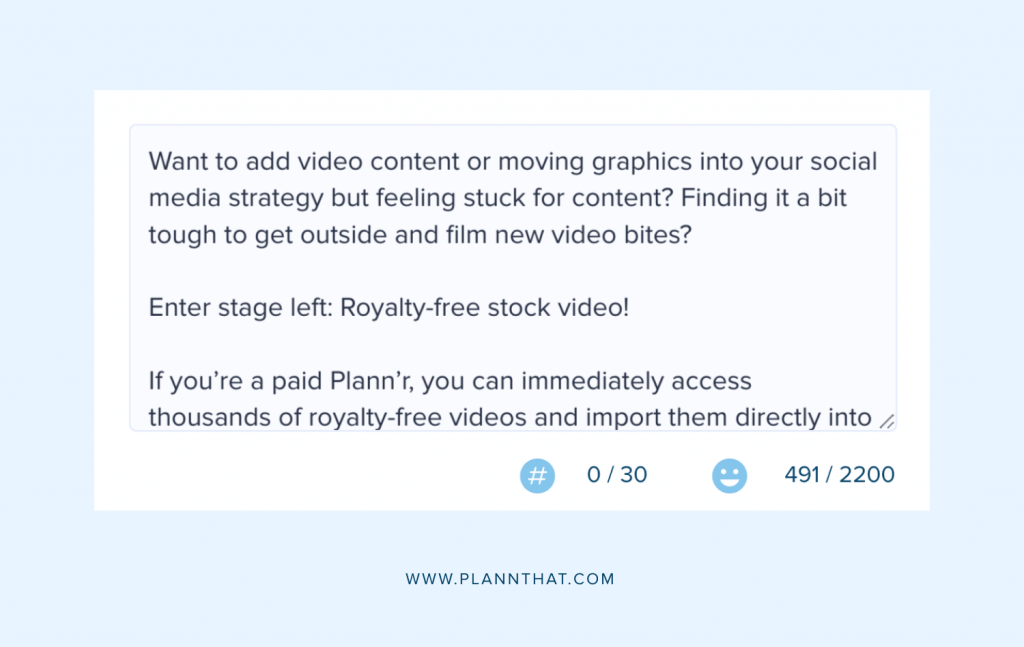 Unlike many marketing teams, we don't have just one person who writes all of our captions. After all, variety is the spice of life! We all have different writing styles, but having a strong tone of voice for Plann means that we're able to ensure we keep things consistent. 
Our marketing all-rounder Dani, digital producer Emma and marketing manager Karina will all chip in and write captions each week. Once Dani has planned out what our posts look like, we'll all jump in and write a couple of captions each (using Slack to communicate who's doing which one) Because Plann is cloud-based, we can each log in on our own devices and the caption will save across everyone's account. No 'lost work' disasters here!
From there, it's time to schedule in advance (using Plann's 'best time to post' feature to tell us our optimal times) and get that content out into the world for you guys to enjoy!