Instagram moves at the speed of light to bring us innovative new features that uplevel the way we create and consume content.
Naturally, during the month of August alone, Instagram unveiled enough new features to fill an entire volume of a 2020 history book. Some, you're likely Reely familiar with (hint, hint) but others, you may have completely missed amidst all the fanfare. 
So, without further ado, here are all new Instagram updates that should be on your radar. 
Instagram launched QR Codes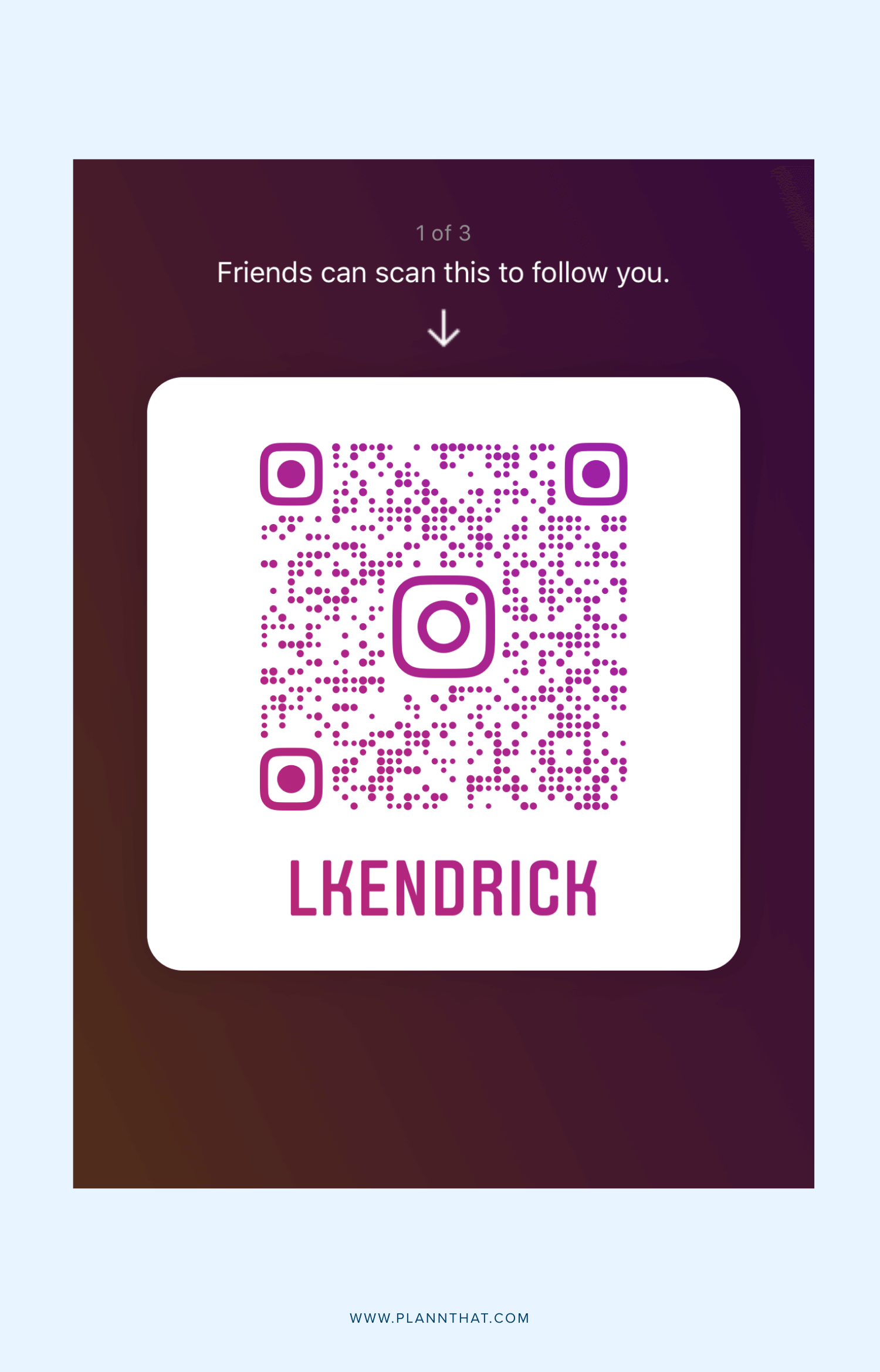 This one is hot off the press! Facebook has just announced another new feature that helps small businesses navigate this tricky time.
Covid-19 has seen the rise of the QR code with the codes used for contactless check-in for covid tracing, as well as taking the place of physical menus at restaurants. 
Now, any business can download its own QR code that's already linked to its Instagram profile. By scanning that QR code via the Instagram Stories camera or any other camera on their phones, users will be navigated to a business's profile on Instagram and be able to make bookings or seek more information like business hours or new products drops!
Instagram Reels!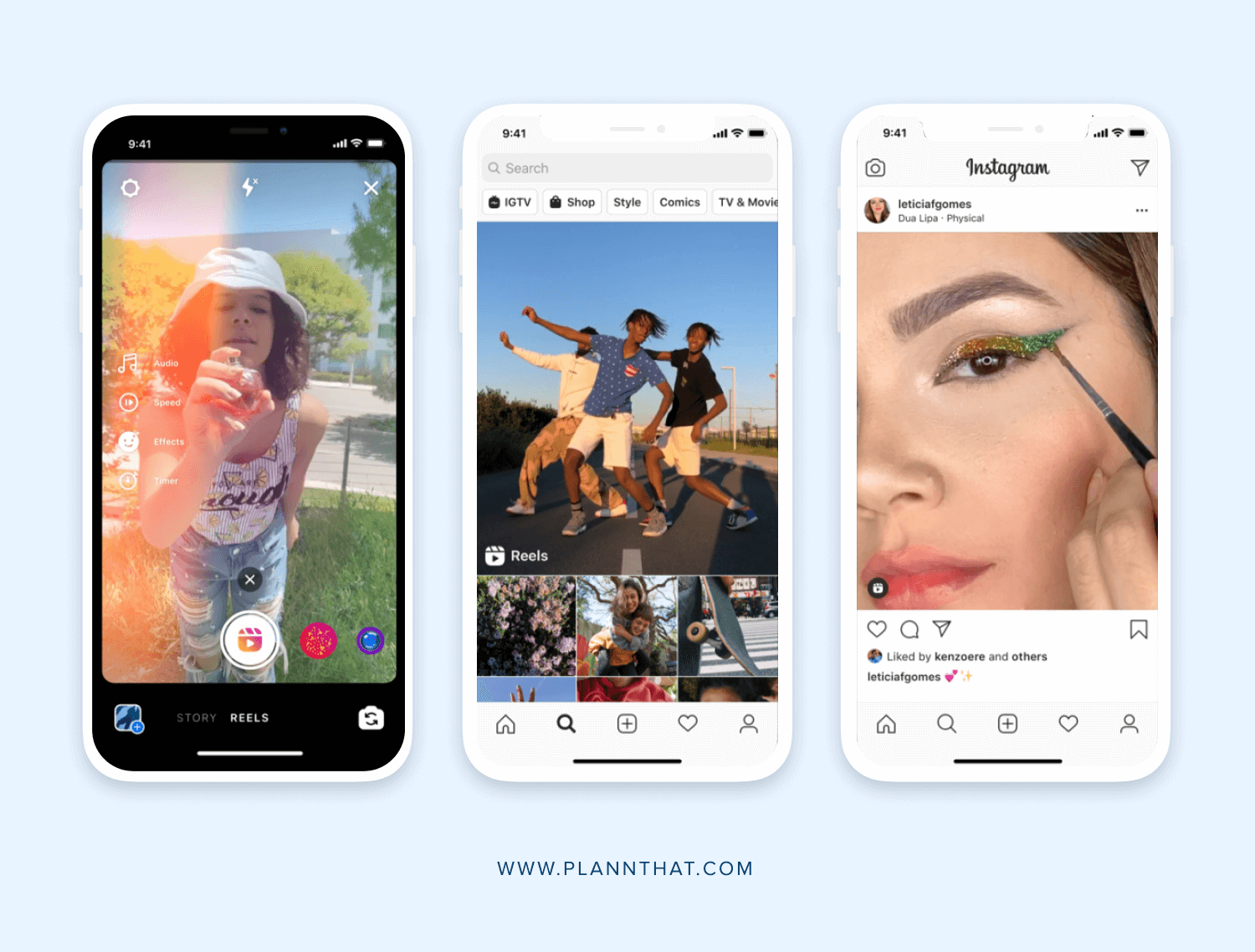 Okay, so unless you've been living under a rock, you're likely already aware that Instagram recently hit 'go' on Reels. Following a less-than-groundbreaking attempt with Lasso, this is the platform's answer to short-form video content. Living right within the Instagram app, the tool allows you to record and edit up to 15 seconds of video.
Like TikTok, they have a bunch of editing tools that allow you to customize your videos, like adding sound, AR videos or adjusting the speed. You can then share these with your followers on your feed, on the 'Reels' section on your profile or even reach a wider audience in the 'Explore' feed.
Since its launch on August 5th, our feeds have been flooded with Reels videos, with everyone from celebs, business, brands and influencers experimenting with the tool. But, is Reels worth investing your time and effort into, or is it just another passing fad that will disappear into oblivion the second you've finally got your head around it? 
We honestly believe that just like IGTV, Reels is here to stay! Here's why: TikTok has already proven the power of fun, bite-sized videos. But, not everyone (especially over the age of 25!) wants to dance on the internet or learn to use the whole new platform. 
Reels gives brands, businesses and individuals the opportunity to harness the power of short-form video without having to completely change their content creation strategy and process. Plus, it's another place you can easily repurpose content if you're already making TikTok videos!
That said, we recommend getting on the Reels bandwagon early before it gets too oversaturated. Not sure where to start? We've put together this handy guide on how you can make Instagram Reels work for your brand!
Instagram rolled out new fonts

A few months ago, we teased that Instagram was testing an array of new fonts for stories. Now, they're finally here! Unlike Reels, this update launched with more of a whisper than a bang — just casually appearing in our stories creator mode one day. And yet, it's actually one of our fave Instagram updates we've seen in recent times!
No longer are our options for adorning our stories limited to blocky typewriter text or cursive.  Now, there are 9 different fonts to choose from, ranging from bold, playful typefaces to minimalistic and elegant. There's also some funky new shading effects that can give your text a more 3D feel and help it stand out — especially against busy backgrounds. 
To play with Instagram's new fonts, just head to Instagram stories mode, add text and scroll across until you find your fave!
Instagram unveiled pinned comments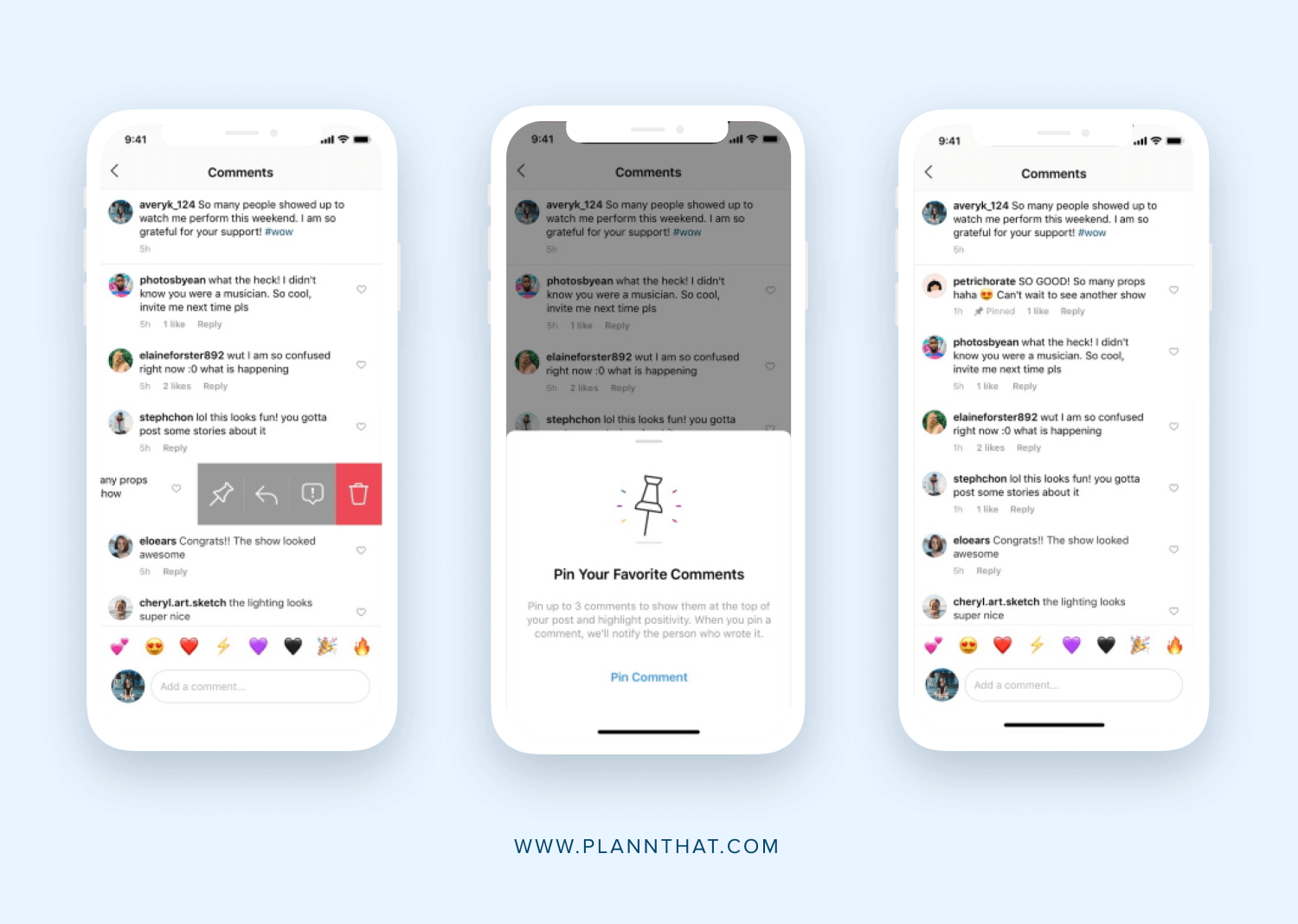 Thanks to this new update, you can now pin up to three top comments on your posts. It's a small change, but one that actually comes with a bunch of unexpected benefits. Firstly, if someone leaves a really lovely, heartwarming comment on your post, it allows you to draw attention to it as it will be the first one people see. This can have a domino effect in spreading the positive vibes further – which appears to be the goal of the update. It also rewards the person who left you the sweet note as, as they'll be notified if you pin the comment. It's kind of like a simple way of saying "thanks for being such a legend!"
Pinning comments can also be a great way of generating more engagement on your posts. If someone has left a really funny, interesting or thought-provoking comment, pinning it to the top of your comments section can encourage more people to reply to it. That means more comments and therefore more engagement for you! Plus, it can also be great social proof, as if people see others writing positive things on your photos, they're naturally more likely to respond positively, too.
At the end of the day, we're fans of anything that spreads more positivity on social media. So, we're totally on board with this new update! To give it a go, just click on a comment and tap on the little 'pin' icon that appears in the top right corner.
Instagram and Facebook messages are starting to merge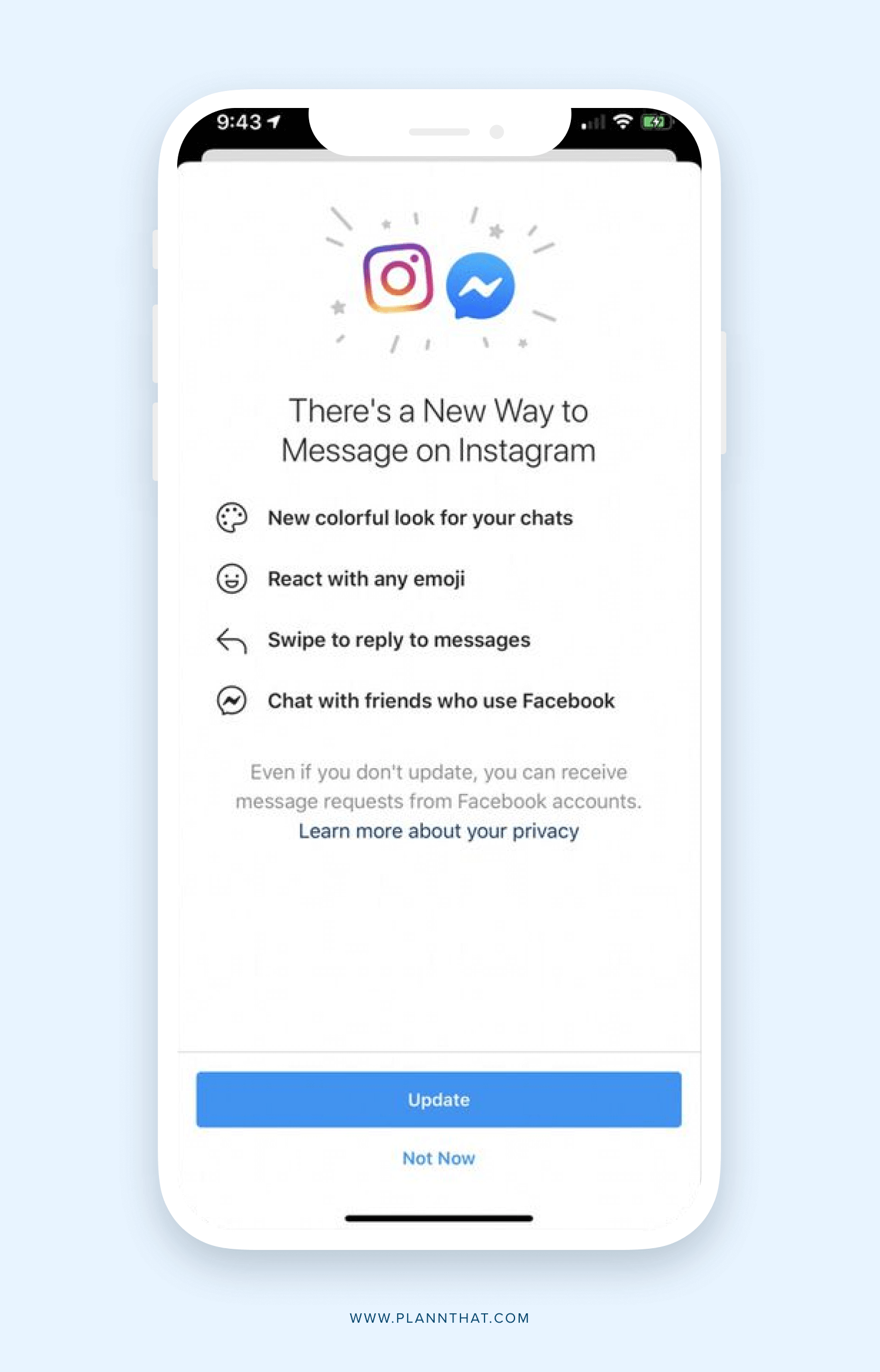 There's no doubt that Instagram has alllll the things going for it. But, when it comes to DMing, Facebook messenger definitely reigns supreme. It's such a strong offering, that some people choose to use it by itself without even using the main app! So, given that Instagram is owned by Facebook, it makes sense that they've decided to combine the best of both worlds and merge the messaging apps.
Last week, Instagram users in the US noticed an updates screen in the mobile app with the message "There's a New Way to Message on Instagram"  Upon clicking 'update', the user's DM sections was transformed into one that resembles Facebook messenger. They were also given a range of fun new features, including emoji responses, swipe to reply and colorful blue and purple messages. The update also allows you to chat with your Facebook friends within the Instagram platform.
The rollout is said to be part of Facebook's plans to allow unified cross-messaging among Messenger, Instagram, and WhatsApp. It's not clear exactly when this will be available in other countries, but keep an eye out in your DMs for the update!
Instagram DM Private Account alert 

This one is a smaller update but oh so handy. You can now check on whether your friends follow an account before you send them a DM so you don't accidentally send them a private account's content that they can't see (there's nothing worse than being on the receiving end of one of those messages, but I want to seeeee!)
We hope you enjoy taking some of these new features for a spin and stay tuned for the next Instagram-land happenings!