When it comes to achieving your full potential with social media marketing, the secret is to leave no stone unturned. That means maximizing reach across a wide range of social platforms, Facebook included.
Facebook has great marketing power, helping you connect with new audiences to boost brand awareness. But knowing how to make the most of the platform is no easy feat. That's why we're here to help!
If you're ready to start leveraging Facebook to build your brand and reach new people online, you've come to the right place. Here are our top tips to help you increase your Facebook reach.
What is Facebook reach?
What does 'people reached' mean on Facebook? In the world of social media, reach is just that: the amount of people you can reach with a post or profile.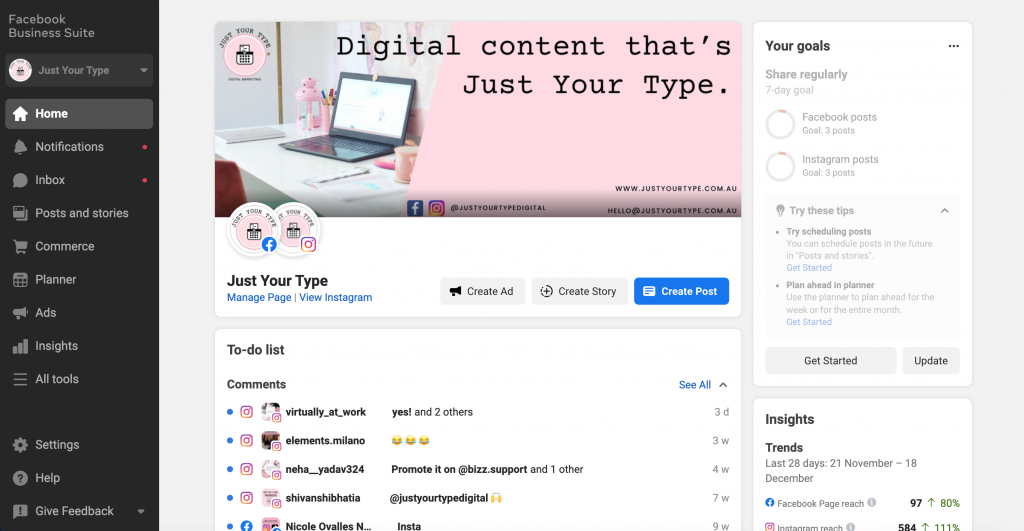 On Facebook, your reach represents the total number of people who see your post or page, no matter whether they stop to engage or simply scroll by. Your reach refers to unique users, which are accounts or devices seeing your post or page for the first time.
Via the Facebook Business Suite, Facebook pages allow you to access analytics and insights, where you can see your reach and engagement rates.
You'll notice that these things are measured within a specific time period, usually a default of 28 days. You can adjust your settings to search within a different time frame, but you can't look for lifetime reach or engagement.

Facebook insights allow you to view reach for both your full Facebook page and for individual posts, helping you determine where new reach might be coming from.
There are three main types of Facebook reach. Let's dive into these in more detail below.
Organic Facebook reach
Organic Facebook reach is the most common type of reach and is what most people focus on when building a Facebook following.
Organic reach refers to the number of people who see your page or a post completely organically, without the help of paid advertising.
This type of reach is an example of earned media. The only way to build your organic reach is by building your account and working with the Facebook algorithm. It can be challenging to succeed, but organic reach still offers great marketing potential.
Viral Facebook reach
Viral Facebook reach is what happens when users see your content because of someone else's engagement with it.
When a user likes, comments, or shares on your post, the Facebook algorithm sends the post to people on their friends list. This means that people who aren't yet following you have the chance to see your content!
Viral reach is driven by engagement, making strong Facebook engagement strategies more important than ever.
Facebook ad reach
Facebook ad reach occurs when you place a paid ad on the Facebook platform, aiming to target new audiences within a specific advertising budget.
Facebook ads allow you to reach new potential audiences, with the Facebook algorithm strategically placing ads to appeal to relevant users. Paid advertising often offers the highest reach results, along with advanced performance metrics.
While Facebook ads do come at a cost, they are a valuable asset in your marketing toolbox and are definitely worth a try as part of your marketing strategy.
What influences Facebook reach?
There are many factors that may influence your Facebook reach by affecting the way the Facebook algorithm works to show relevant posts and pages to interested users.
Factors that may affect your reach include:
• Engagements and interactions (from both followers and non-followers)
• Content format and post optimization features
• Whether posts are organic or include paid ads
What about Facebook impressions and engagements?
Facebook reach is important, but it shouldn't be your only focus. Other metrics matter too!
Facebook impressions are a good place to further understand user interest in your content.
While reach refers to all unique users who see your Facebook posts or page, impressions refer to all views, even those from returning users. Impressions will always exceed your reach. Comparing the two can help you determine how many users have viewed your post more than once.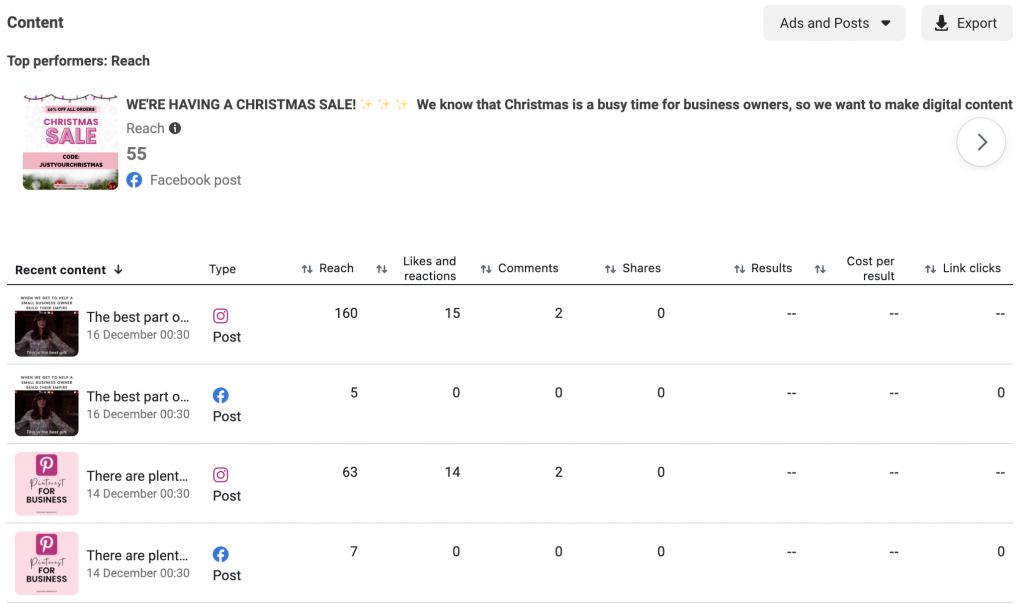 If you've ever wondered how to get more likes on Facebook, you probably recognize the importance of engagement. Unlike reach, which refers to users who see your Facebook content regardless of how they respond, engagement is all about the actions that users take.
Facebook users, both followers and non-followers alike, can engage with your content in a number of ways. They can like, comment, share, or save. When users engage with your posts, they tell the algorithm that you have something important to say and may contribute to improved long-term reach.
Five hacks to improve Facebook reach
Improving your Facebook reach is the first step to Facebook marketing success. More viewers lead to better brand awareness and more traffic for your page and posts. Here are five tips to get you started.
1. Optimize for your page and content
Optimizing your Facebook page and posts can help you enhance in-app SEO, making your content easy for relevant users to find.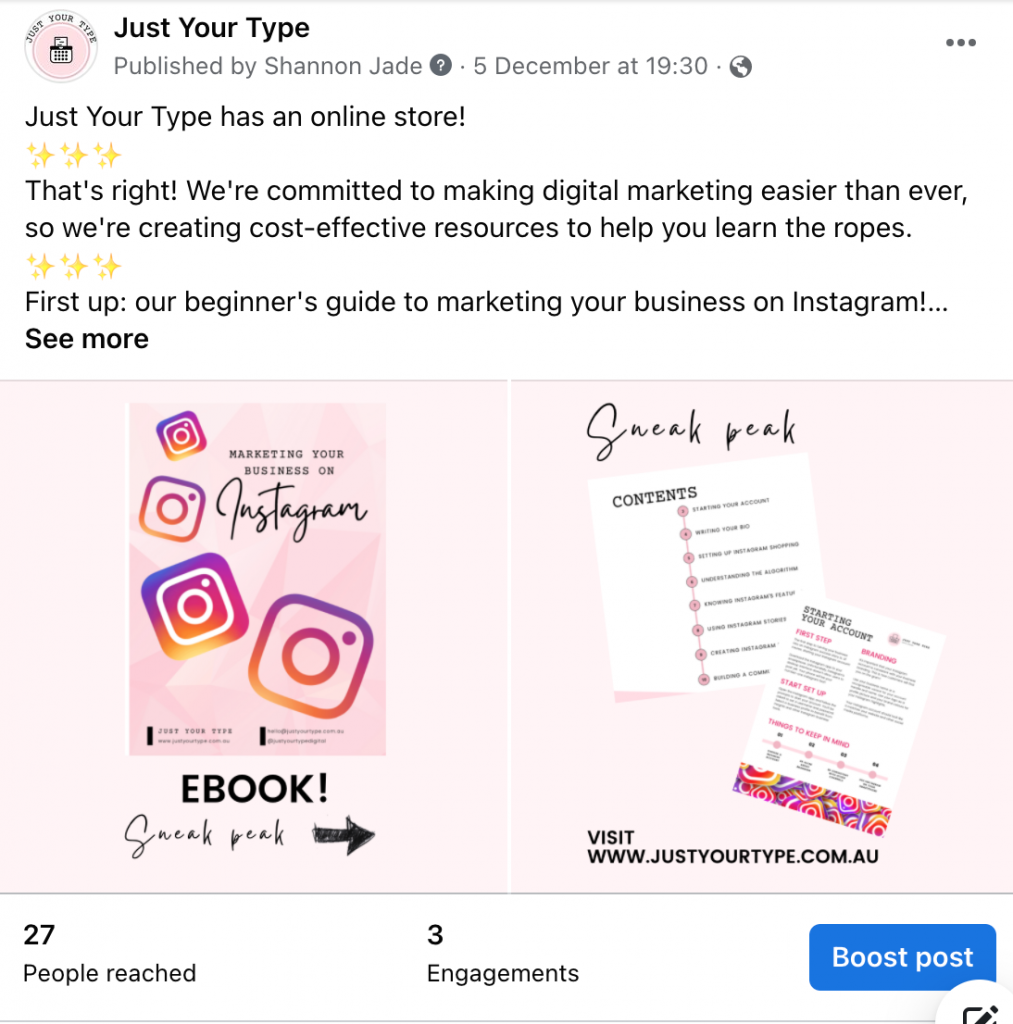 Start by considering Facebook on its own merit. You can repurpose content from other social media platforms, but you should alter it slightly so that it is right for Facebook. Facebook isn't a hashtagging space, so you can leave those to Twitter and Instagram!
Next, think about your captions. Your written content should be clear, engaging, and informative. Wherever possible, try to include relevant key terms that relate to your brand and your content. Try to include a call to action, letting users know how to engage with your post, too.
2. Be strategic with scheduling
Scheduling Facebook content in advance can help you implement a plan with ease, saving you time in the long run. Be strategic for the best results!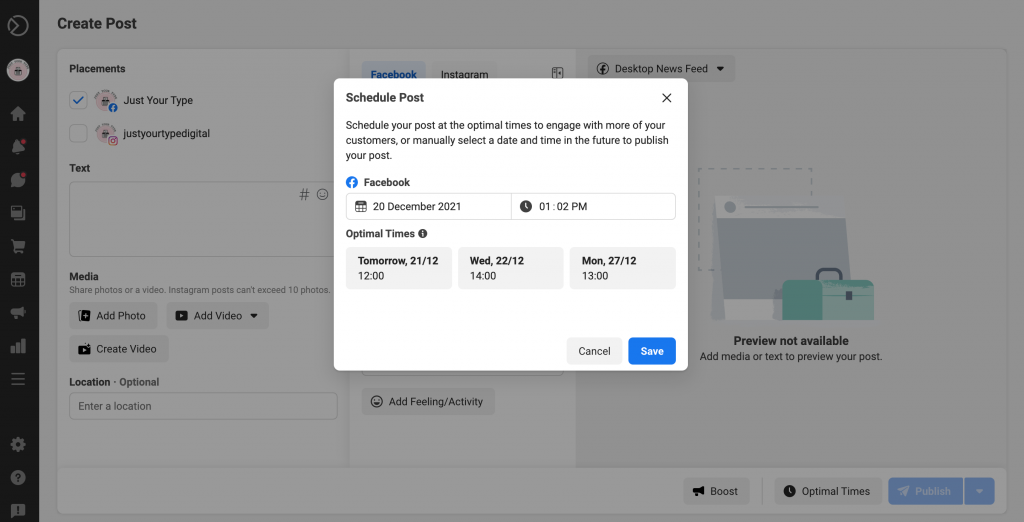 To begin, consider your audience. Where are most of your followers located? What are their personality types, and how do they typically use the Facebook platform?
Most importantly, when are your followers most often online? Do they use Facebook throughout the day, or do they mostly scroll in the morning and evenings?
To give your Facebook posts the best chance at success, try to schedule them for high-traffic times and dates, when many of your followers will be online to see them.
The best posting time will vary depending on your niche and location. Facebook Business Suite now offers optimal times to help guide you, too.
3. Mix up your content types
On any social media platform, variation has great reach and engagement potential. Facebook is no exception!
To keep your content interesting and convince the Facebook algorithm of its value, mix and match with content types. Try a range of formats, and notice how different post types perform. Do your followers prefer one post type over another?
Your Facebook content should rotate through your brand's key content pillars. You can share text-only posts or posts that are accompanied by images or videos. If you're feeling courageous, try a Facebook Live to communicate directly with your audience.
4. Try paid Facebook advertising
Facebook ads allow you to target new audiences and enhance your reach quickly, making them a great opportunity to grow your platform.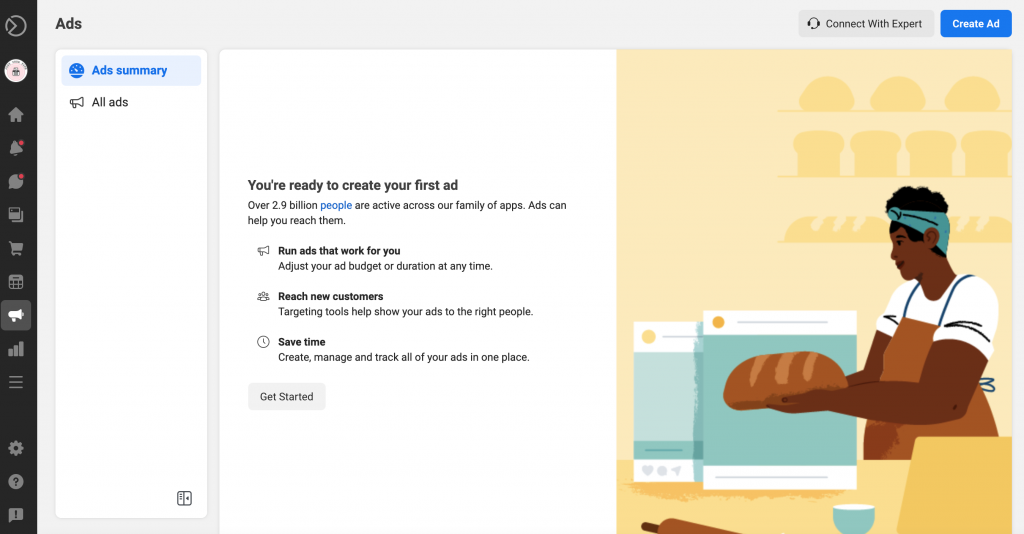 Start by visiting the Facebook Business Suite. Choose 'ads' from the sidebar, and get started on your first Facebook ad. You'll be prompted to choose an ad format and a goal, and you'll be able to set your advertising budget.
On Facebook, you can place ads to drive website traffic, promote your page to local users, or advertise your Facebook page in general. You can also sponsor individual posts or use automated ads that change depending on advertising performance.
5. Build a Facebook community
Building a community is an important part of succeeding on social media. There are many ways to achieve this on Facebook.
Allow your audience to be your guide as you create new Facebook content. Consider what matters to your followers and how you can share posts that offer them value. When users comment on your Facebook content, remember to respond, opening the lines of communication.
Facebook Groups are also another helpful way to build your network and promote the spirit of community. You can supplement your Facebook page with a group that invites users to participate in conversations and learn from you in a community space.
Boost your Facebook reach and success with Plann
Like any other social media platform, Facebook success is almost always preceded by a strong social media strategy. Using the Plann app, you can brainstorm, plan, and even schedule Facebook posts ahead of time!
Sign up for a free Plann account today, and you can create a winning social media strategy that will help you drive strong, sustainable engagement on all your social platforms, including Facebook.