Starting a Fashion brand from scratch is the opposite of easy, but there are plenty of entrepreneurs setting up shop on Instagram and watching their brands grow to 'Instagram Famous' status.
But just *how* do you become one of those brands that succeed?
Rove Designs in Byron Bay just so happen to be part of the Plann family, and we are so excited to share with you their best tips on growing a Fashion brand on Instagram.
Keep on reading for the full interview…
Warning: You may get extreme wanderlust and a desire to start a Fashion brand after reading!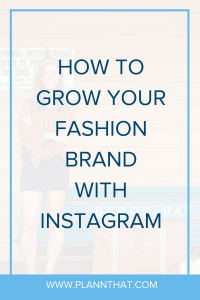 How to Grow a Fashion Brand on Instagram
What gave you the first inkling of inspiration to launch your label?
I have 5 years of experience working for the biggest fashion brands in Europe and have always loved discovering other countries. After having travelled for 5 months around the world during a sabbatical break, I decided to start my own label in Byron Bay. It was really more of a curious side-project at a time when I didn't know where I was heading in my life. I combined my two passions and my travel-inspired fashion label ROVE was born.
Your brand Rove is not only beautiful but ethically made! Is this a strong personal value of yours?
Thank you so much! In my opinion you can't close your eyes to the fact that this beautiful world needs some serious changes asap! Especially when you travel you become very aware of the different environmental and social issues first hand. I find it important to do your best in being ethical and sustainable, as a business but also in your personal life. I try to apply this the best I can, taking small steps, day by day. There is so much to learn, but you have to start somewhere!
How has Instagram impacted the growth of your Fashion label?
I would not have a successful online fashion business without Instagram! It is such an amazing opportunity to be discovered by fans around the world. Talented influencers and a coherent theme with beautiful photography have really helped me grow.
If you could speak in front of a million people right now, what would you tell them about growing an Instagram that they most likely do not know?
Instagram is such an amazing platform to connect to your audience. Use that voice you have to promote something you really care about in a loving way. Take the opportunity to connect to people who are like-minded to your ideas and values. Then growth is a positive consequence.
We can see that your Instagram photos follow a clear color scheme, why have you chosen these colors?
My colour scheme is very connected to my travel-inspired collections. Currently the collection is called "Hues of India" and so the posts are a blend of turmeric, terracotta, blush and pinks. Soon we will launch new pieces inspired by the South of France, so the colours will adapt to that.
At the moment do you monitor your Instagram analytics within Plann? What is the most interesting thing you've noticed?
Yes, I always use Plann to check my best performing posts and every now and again I "spy" on the competitors' best-performers. I've noticed people are currently really loving tulip fields! And they love the ocean! Especially if there's a person floating in it….But generally an original idea, bright colours and an optimistic theme seem to work for me.
Could you give us some nifty tips on how to balance travel and work?
Travelling while working is still a bit of a challenge but it also forces us to simplify our business and focus on our priorities. I'd definitely recommend finding apps and freelancers that make your life easier and free up your time. Don't expect to go on holidays, it's more like working from a different location where you dance Salsa instead of having a barbie after work. The whole reason for my business is to have the freedom to work from wherever and travelling has always been my number one priority, so you just make it work.
We absolutely LOVE that you've been using Plann to style and grow your Instagram, what is your favourite feature of the app that you can't live without?
I love planning out my feed! As a creative person, I love having an eye-catching feed, matching colours and styles. Without Plann, it all looked incoherent and it took me ages to come up with new posts, it has made my life so much easier!
For anyone looking to start a Fashion label of their own, what is your best nugget of wisdom?
Listen to your audience!! So many fashion designers don't take into account how people would want to feel wearing their designs. I started testing my label at the local markets and I still think that's an amazing part of my job – actually seeing my customers try on my designs and observe how they wear it.
WOW! Wasn't that just incredible? We learnt so much from Carolin and we hope you did too.
Make sure to follow @rovebyronbay on Instagram and leave a comment letting them know we sent you!
Download Plann for iOS and Android now!