Insights from an Instagram Travel Photographer
Want the best Instagram photography tips from a real-life Travel Photographer? You know, those pics you see of travellers venturing to exotic places, seeing the world and working as an Instagram travel photographer? (It's a pretty flipp'n awesome gig if you ask us)
But how on earth do you get to become a professional Instagram travel photographer?
What mountain do you have to climb? What flights do you have to book?
Where can you find all the best Instagram photo tips and tricks?
Well, in this interview with the always incredible @withlai, we're going to delve deep and discover some of the best insights that you need to kick off your own Instagram travel photography journey.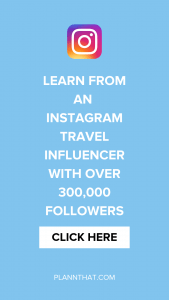 When did you know you wanted to become an Instagram travel photographer?
I think Instagram travel photography was more a process that happened naturally than a decision. I started to travel first, and eventually, I started to take photos to show my family the places I visited.
Where do you get your AH-MAZING photography inspiration from?
I get my photography inspiration from anywhere, ads on the street, my fav Instagram accounts and travel videos. My mum inspires me a lot, she's tagging me in any and every photo/video related to travel that she sees on Facebook.
View this post on Instagram
What did you do before you became a full-time Instagram travel photographer?
I'm originally from Brazil. A few years ago, after I finished my Bachelor degree, I left my job and moved to Europe to improve my English. The traveling made me flipp'n excited. Brazil is a big country and you can't reach other places and regions as easily as in Europe. I was amazed at how easily (and cheaply) I could go to other countries and I became addicted to it.
Walk us through a day in the life of an Instagram travel photographer…
If it's a day to shoot content, we wake up early and just go explore whatever we have planned for the day. In those days we take on average 300 photos (and post around 2 or 3). When we are not shooting, we work in any home office, we make some calls, answer emails, plan trips, edit photos, find locations for the next photoshoots, etc.
PSSST -> No idea what to post on Instagram Stories? Here's a run down.
View this post on Instagram
What is the biggest milestone of your career as an Instagram travel photographer so far?
Definitely the day I left my corporate job to become a full-time Instagram travel photographer. It was a hard decision, but I couldn't see myself sitting in an office everyday anymore.
If you were to pick a place on the map right now and go there, where would you go to?
IRAN! Iran is my dream destination, the culture, people and food seem to be so interesting I just HAVE TO go, hopefully soon!
How does Plann help you to manage your content?
I'm a control freak and I can't just upload a photo without checking if all the details match. I don't want to have 3 posts in a row with the same pose or same colour. With Plann, I can put all the photos together and make sure the feed looks interesting for my followers! Another feature I love is that Plann reminds me when it is time to post. With so many countries and different time zones, it's easy to forget to post!
PSSST -> Need to create some custom Instagram story graphics? Here's a guide!
What makes you different from other Instagram travel photographers?
I think I am different for the same reason as everyone is different. I have a unique background, story and perspective. There are things that only I can see, and I think that every human being feels the same. 10 people can go to the same place and all of them will have totally different experiences/opinions about what they have seen.

What's it like to travel the world and work with your better half?
Hard, there's no other word for it. Imagine spending 24 hours every day with the same person next to you. Even with all the love in the world, it's hard. We both love to travel so much and we are so happy to be on the road, that we always find ways to overcome any challenges along the way.
View this post on Instagram
What does it take to be a successful Instagram travel photographer?
There are so many factors which influence 'success', there's just no magic formula. What is 'success' anyway? 10k? 50k? 1M? I think success is in our heads if we know we are doing the best we can, we reached it!
How do you keep an engaged Instagram audience?
I spend a lot of time on it! Really A LOT! I spend hours every day answering messages, commenting back and engaging with new accounts.
PSSST -> Do you want to learn our strategies for managing Instagram direct messages like a pro? Here you go!
We're so flipp'n happy that we had the opportunity to chat with the lovely Laiza about her journey as an Instagram travel photographer.
If you'd like to send some love her way on the 'gram – leave a lovely comment and squeeze in a follow if you're feeling like it!
We know that we are aaaalways looking for tips for Instagram pictures, so if you want to read some more Instagram tips for photographers be sure to check back to our blog in future for some more goodies!