It's tough growing a following on social media platforms.
Sometimes, it can feel like there isn't room for you and your brand. But then you see a new account gain a social media audience, and it's left you wondering:
"What's the deal? What am I missing?"
The short answer: Your magic formula.
You see, growing a following on social media isn't a one-size fits all approach. You can't copy-paste what another account is doing and expect to see the same results.
Sure, some strategies are universal, but there are nuances you need to factor into your equation.
Think of your social media strategy as creating a recipe from scratch. You need to determine the right mix of each ingredient to find the perfect formula for attracting, retaining, and turning your target audience into your biggest fans.
That's exactly what you're going to learn in this blog post.
By the time you're done, you'll have the ingredients to create a basic formula for your social media experiment. Take it, tweak it, and boost your follower count one post at a time.
The Best Ways to Get More Social Media Followers
Get off the social media growth struggle bus.
Use these strategies to build an engaged online community that cannot get enough of your brand.
1. Create a Strong Brand Identity
Convincing someone to follow you is hard.
You only have a few seconds to stop someone mid-scroll and give them a reason to tap the follow button.
Feeling frustrated with the how?
It all comes down to creating a strong brand voice and identity in your social media marketing. Your "personality" is what draws users to your page.
It's how you stand out from the competition, create a recognizable presence on a social media platform and help users relate to your brand and its mission.
Case in point: Wendy's.
The US fast-food giant is infamous for its sassy Twitter account. Its humorous responses to customer inquiries, competitors, and social media trends have built a cult social media following and set the brand apart from everyone else in the industry.
Takeaway: Be more like Wendy. Create brand messaging that stands out and doesn't sound like everyone else. Infuse your unique personality, and you're on the way to creating a memorable brand with a loyal following.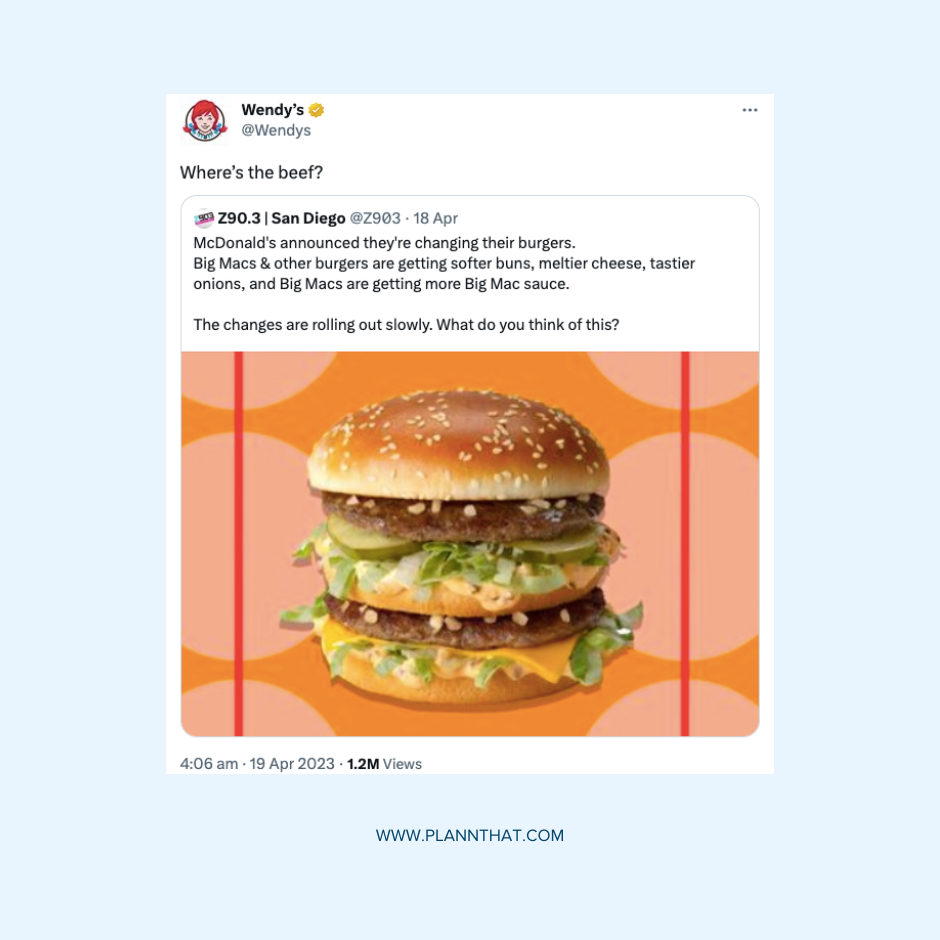 2. Post Consistency [This is Key!]
The top reason brands don't attract new followers? Consistency.
It's the butter to the bread of your social media strategy.
Yet many new creators skip out on creating a posting calendar and wonder why their account only attracts crickets.
Why is consistency so important? And how does a social media posting schedule help with gaining followers?
• It builds a relationship with your audience.
• It establishes trust.
• It gives the algorithm gods what they want: users logging in and spending time on the app.
Takeaway #1: Decide how often you want to post on your social media channels and stick to it. Make your posting schedule non-negotiable.
Takeaway #2: Set it and forget it. Save time with Plann's scheduling tool to bulk create and auto-post your social media content.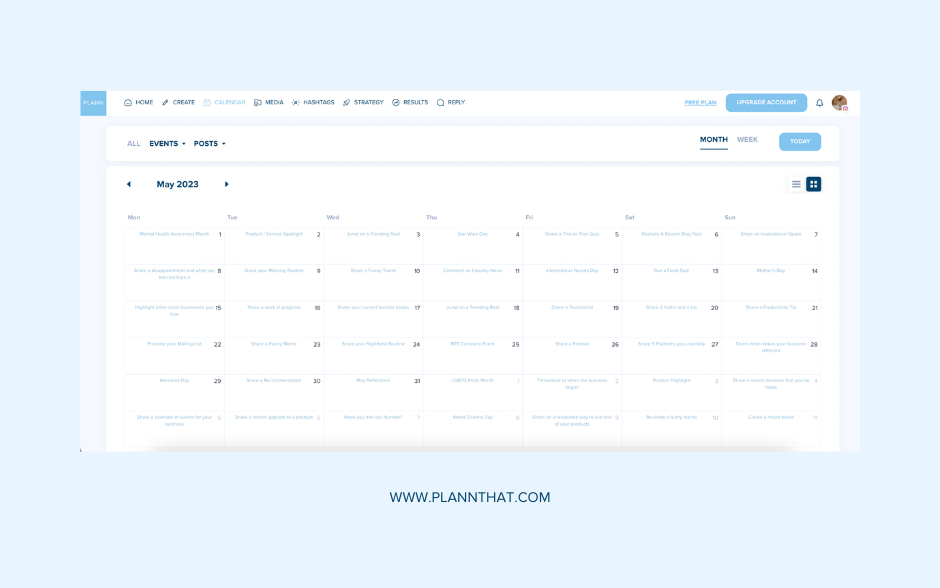 3. Engage With Your Community
Not engaging with your community makes your brand easy to forget.
Building a loyal following means you must put in the time and effort to create authentic connections.
But anyone who says it's easy is lying. It requires commitment. It demands a top place on your priority list.
Anything less won't attract followers or lead to more engagement.
So how do you do it?
1. Ditch the emoji replies: When someone comments on your posts, actively engage and take the time to respond with something meaningful that also initiates a conversation. Your goal is to get the ball rolling, whether it's in your DMs or on a LinkedIn update. Your flame emoji? That's not going to cut it.
2. Use Stickers on Instagram Stories: In case you haven't heard, the DMs are where the sales go down. The people watching your Stories are far more into your brand than a casual feed scroller. Get those eyeballs off your Stories and into your DMs with polls, questions, and quizzes.
3. Follow Relevant Accounts: Spend time actively engaging with like-minded accounts in your niche. Whether it's potential followers or thought-leaders, these interactions go a long way in building your reputation and putting your name on the map.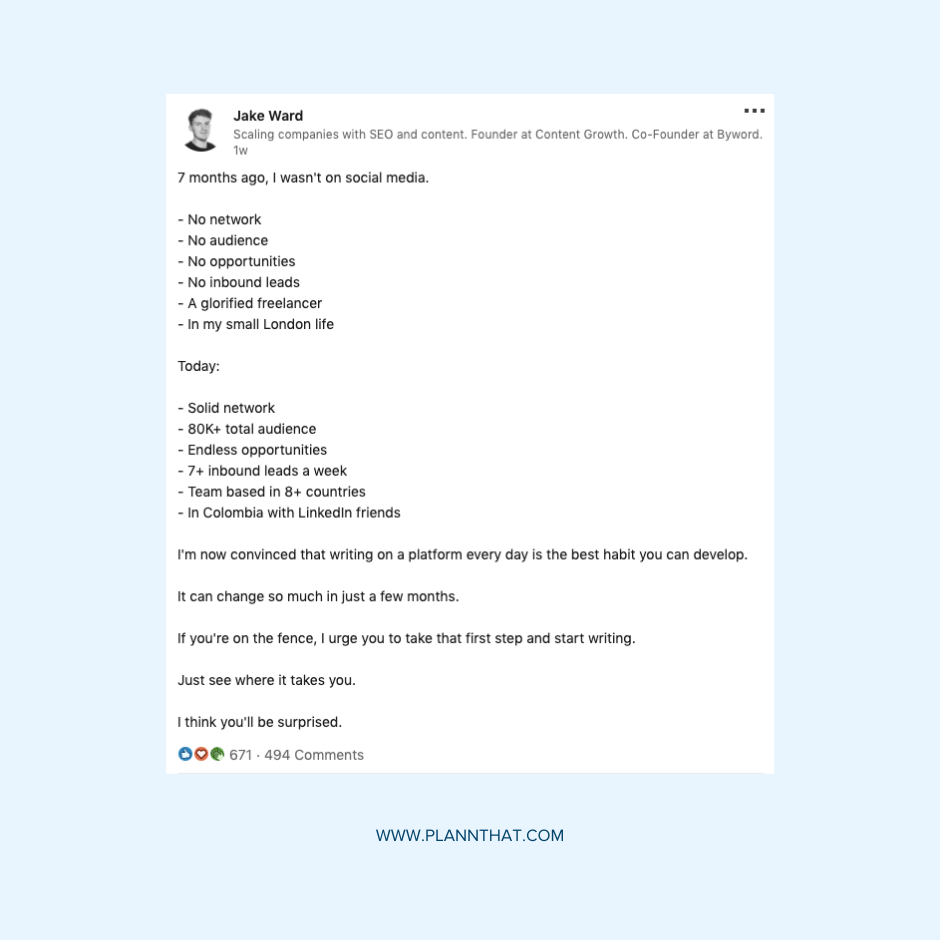 4. Follow Relevant Niche Hashtags
Yup. Hashtags are still relevant.
But it's all about your hashtag strategy and not stuffing 30 at the end of each post.
If you want to gain more organic followers, you need to put on your sleuth cap and find the hashtags your followers use.
Let's dive into a quick example.
You're a fitness influencer launching an activewear brand. Some of the hashtags your ideal customer might follow are:
• #squatproof
• #activelifestyle
• #gymclothesaddict
You can also create a branded hashtag to increase engagement and encourage user-generated content.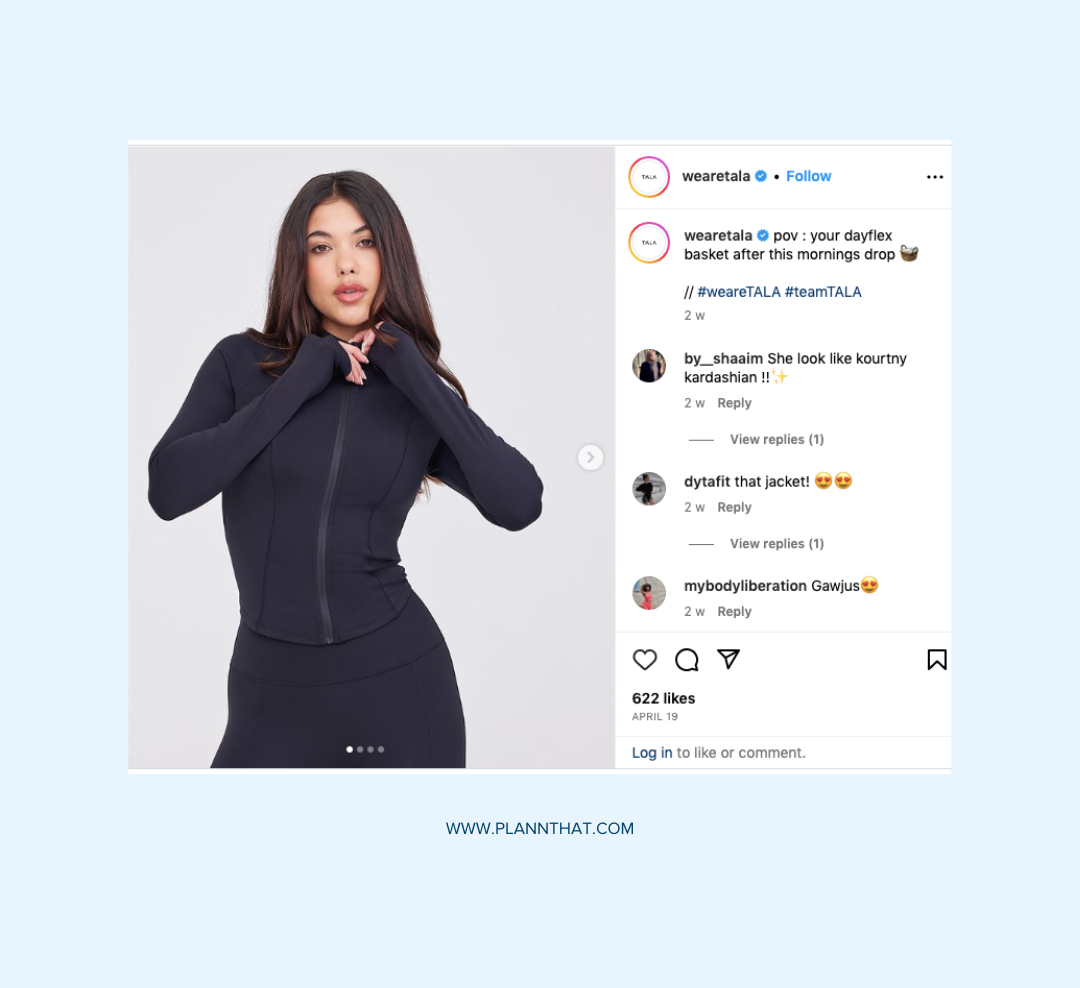 Takeaway: Find, use, and follow the core hashtags related to your brand. Regularly engage with the content other users post.
Need a hand finding high-performing hashtags for your brand? Try Plann's hashtag manager, packed with thousands of handpicked hashtags ready for you to plug and play.
5. Collaborate With Influencers and Accounts in Your Niche
There's a lot of noise on social media.
Everybody struggles to cut through it.
What can you do to get noticed and boost your social media presence?
Collaborate with other users.
There are three ways you can do this:
1. Host a giveaway: Team up with similar brands who aren't your direct competitors but attract your ideal audience. While some people will unfollow you when the contest ends, you'll still gain brand exposure, and some followers will stick around.
2. Offer a paid partnership: If it's in your budget, create an influencer marketing campaign. Find influencers who align with your brand, offer a paid partnership, and reach a new audience.
3. Collaborate on content: If you're a content creator (or even a brand), reach out to other accounts in your niche and pitch a content idea like a Reel or photoshoot. When it comes time to tap publish, use the collaboration feature on your Instagram post. It will post the content on both feeds, helping you gain direct access to their audience.
Takeaway: Use social media to be social, collaborate with creators and grow your network.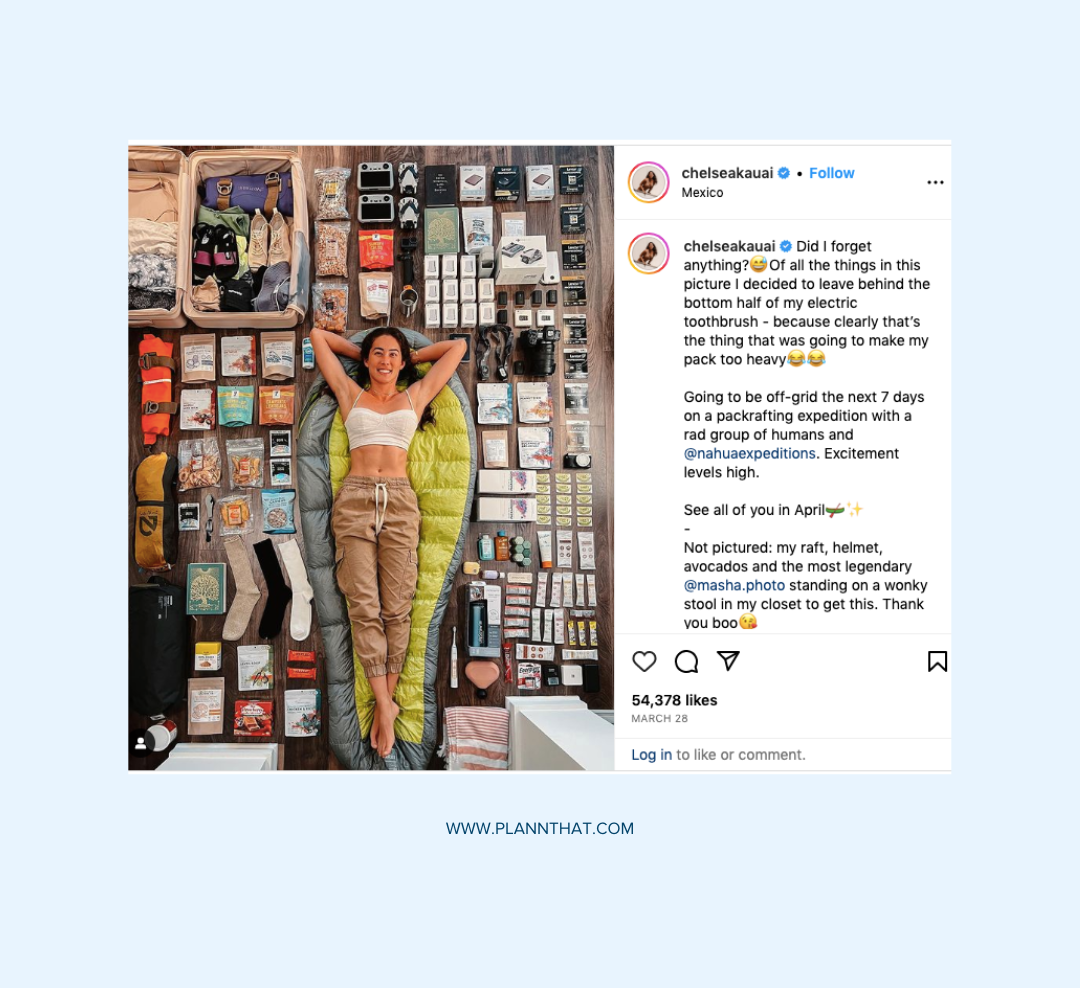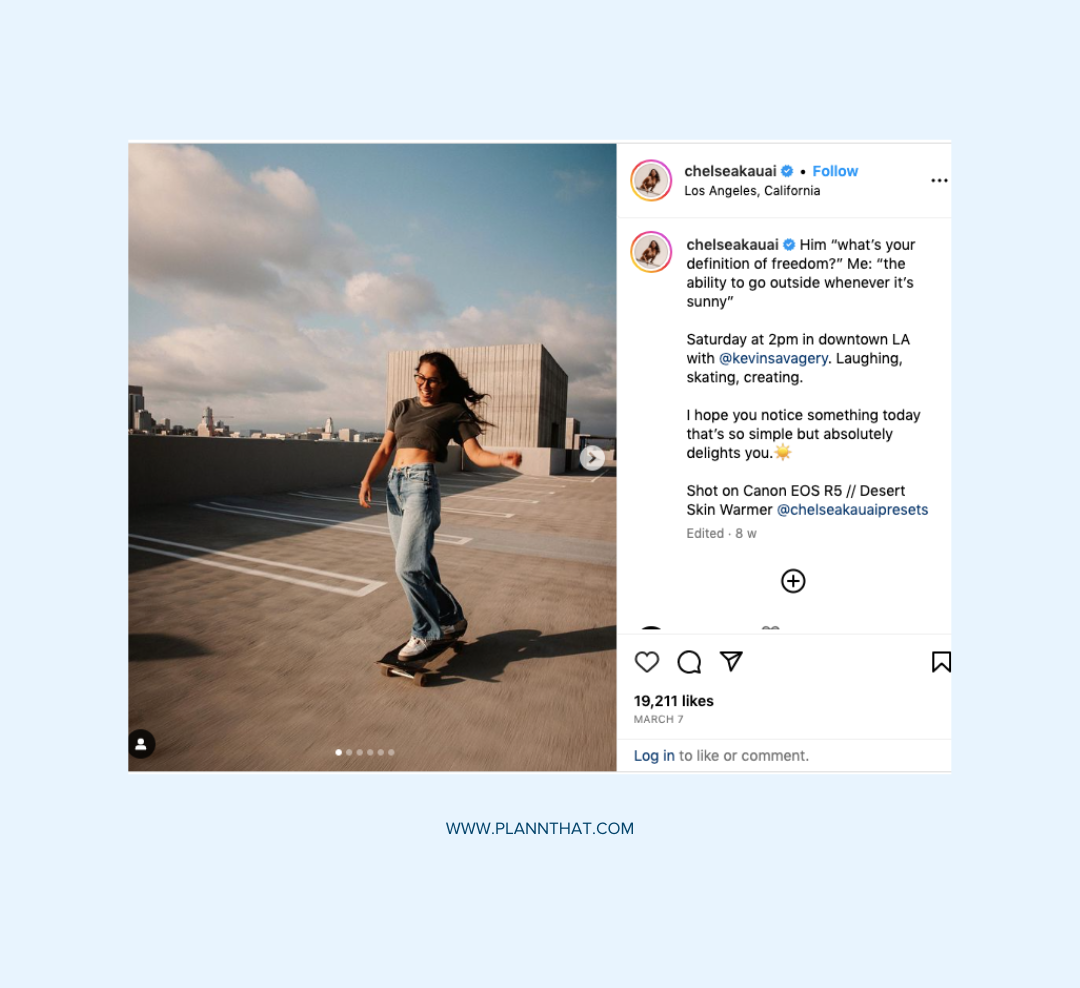 6. Hop Onto Audio Trends
It sucks when you want to grow on social platforms but have zero content ideas.
It's even worse when you miss a trend that could have blown up your account.
Especially when you know it would have taken you five minutes to film.
The solution? Staying on top of audio trends.
And no, you don't need to follow the Spotify TikTok playlist.
All you need is Plann's Trending Audio feature.
The best part? It's free.
Create an account with your email address, and you can instantly browse the latest trending audios for TikTok and Instagram.
That's not all.
You get a mini breakdown of the trend and examples to inspire you.
Goodbye procrastination, hello more followers!
Takeaway: Stay on top of trending audio to gain exposure for your brand.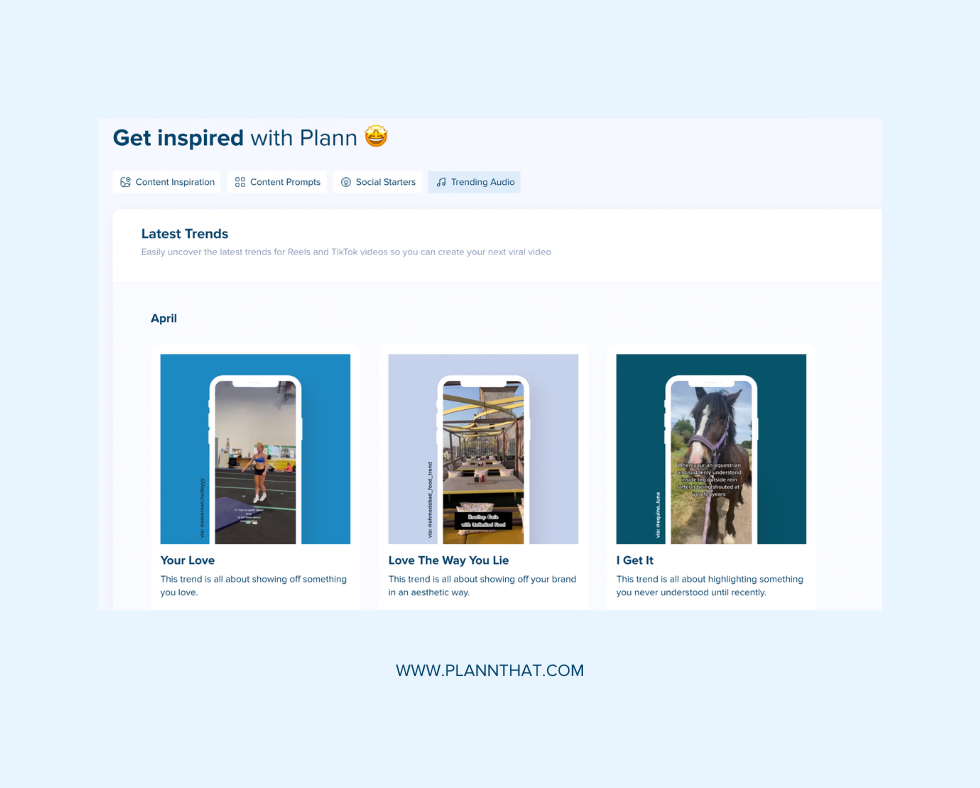 7. Re-Post Your Greatest Hits
Okay, time for something a tad controversial (in the best way).
clears throat
Repost your top-performing content.
Think about it.
Radio stations crunk out the greatest hits from a decade. It's nostalgic for you and something new for your 9-year-old niece who just discovered the Spice Girls.
The same goes for your content.
If it's evergreen, post it again.
It did well the first time, so there's a high chance it will do well again and reach a new audience. Plus, a chunk of your current followers probably didn't see it the first time.
Still not convinced?
Those "feature" accounts are constantly re-sharing content. Take a page out of their book and try it for yourself.
Get More Social Media Followers With Plann
Figuring out how to gain followers doesn't begin and end with this post.
Like all good strategies, you need to figure out the formula for your brand.
How do you do that?
Analytics.
As scary as your Instagram Insights might be, you need to look at them regularly to learn what you're doing right (and wrong) to get more social followers.
Once you have data, it's easy to make strategic marketing decisions based on facts that'll grow your social media accounts and increase engagement.
The next step? Sign up for a 7-day free trial of Plann Pro and score the all-in-one social media suite you need to grow your brand. Harness a drag-and-drop visual planner, score done-for-you content prompts, leverage thousands of high-performing hashtags, and so much more.
P.s. Looking to create more social posts across more platforms? With Plann's cross post feature, you can maximize your social presence and work smarter, not harder.