With great power comes great responsibility… and that's certainly the case when it comes to social media! It gives people and brands a platform to broadcast their message to thousands of people who may not ever otherwise hear it. 
If there's one group of people who are using that power for good, it's the eco-friendly crowd. From creating more sustainable versions of everyday products to educating their audience on how to reduce their environmental impact, these activists are saving the earth, one post at a time.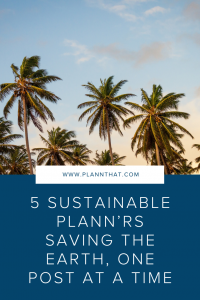 Whether you're looking for inspo for going green or for starting your own sustainable business, these 5 eco warriors deserve a spot on your feed.
1. Nadia of Teal n Bronze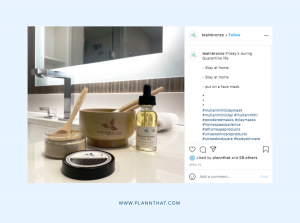 There are so many great eco-friendly skincare and bodycare options out there for women these days. But, why should the ladies be the only ones who can save the earth and look great doing it? Nadia from Teal n Bronze is solving this problem with her gorgeous range of unisex bodycare products. They're all cruelty-free, plant-based and handcrafted using USDA Certified Ingredients. Her feed is also a great source of inspiration for sustainable self-care routine!
Fave Plann feature: "The Strategy/Content prompt motivate me with ideas to create effective content, along with a beautiful Instagram grid for 2021. It helps me organize my thoughts around a foundational aesthetic with helpful suggestions for relevant, timely messaging.  You can find content prompts to launch a sale, host a giveaway, for many different business models — jewelry, florist, realtor, service-based businesses, restaurants. It's a game-changer! 
Top eco-friendly tip: "Every little gesture contributes to making a difference.  Consider switching out single-use make up wipes for a luxurious towel and a premium face cleansing bar or oil remover. Almost 20 million pounds of single-use wipes are discarded daily in the US, and likely 90% of them aren't biodegradable leading to clogged and damaged waterways."
2. Eco Souk Me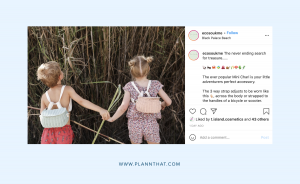 Treading lightly on the environment can be tough when you have a growing family — because nappies don't just grow on trees, you know! But, the legends at Eco Souk Me are making it much easier (and more stylish!) They're an online lifestyle store that curate the finest functional but sustainable family brands, and deliver them straight to your door! Even if you don't yet have kids of your own, they're worth a follow for their adorable family snaps!
Fave Plann feature: "I love Plann's ease of use — most of all, the stats and new auto post feature!"
Top eco-friendly tip: "Think about the lifecycle of any purchase before making it. Try and understand where it's made, the material it's made from and by whom.  Small but consistent changes are the best. Once you've nailed making one change an everyday norm, find another and keep repeating this process.  Shop in your local independent stores — they always have better quality items that are ethically made and sustainably sourced over your mainstream chain stores."
3. Elly of Live Bright Green

If you love the idea of adopting a greener lifestyle but don't know where to start, you need to give Elly a follow! As a green living consultant, she removes the overwhelm from making more eco-friendly choices. She breaks it down into simple, actionable tips and makes it feel so much achievable. Her feed always inspires us to do our bit for environment daily, even if it's just something small.
Fave Plann feature: "I love that you can schedule posts ahead of time – and plan the look of your feed"
Top eco-friendly tip: "I would love people to know that how we spend our money really does count. Buy secondhand wherever possible, or swap with friends, rather than buying new"
4. Eco Dominant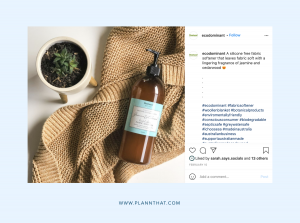 Cleaning products are one of the best places in the home to make sustainable swaps. After all, so many of the traditional products are loaded with harmful toxins and chemicals. That said, so many of the eco-friendly alternatives out there simply just don't do the job.
That's where Eco Dominant comes in! This Aussie-owned company makes eco-friendly cleaning products that actually work. And, we can't believe we're actually saying this, but their Instagram feed actually makes cleaning products fun with their handy tips and interiors pictures. Who would've thought?
5. Green and Co Salon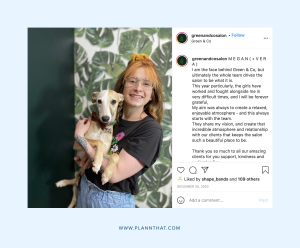 This Instagram account might just inspire you to go green with your hair…. No, we're not talking about sporting a Billie Eilish-circa-2020 hairdo.
Green and Co Salon are experts in provided sustainable, eco-friendly hair practices without sacrificing any of the results. If green living, great hair days and a gorgeous office dog are kinda your things, you'll want to give them a follow, stat!'
Building a sustainable business requires a sustainable Instagram strategy. Start building yours with Plann today.