Organize, pre-plan and schedule your first Instagram comment, then leave it to us to auto post it at the time your post is published.

Often used for hashtags and Instagram username tags, you can now use Plann to pre-fill your first comment on Instagram to keep your post caption clean and clear.

Fill your post caption with what's most important, your unique message, keeping your hashtags clear and separate in your first comment.

What would I put in my first comment?
Use the saved hashtag sets that you've already made inside Plann, and we'll help you add them into your first comment – keeping your post nice and tidy!

Or, use this extra space to add different hashtags, tag other user accounts (like friends, models, suppliers or photographers), or even start a conversation with someone at the time of posting!

For example, you might be a wedding photographer posting your favourite shot, and tag the makeup artist or wedding planner to thank them for also being such big parts of the day!
Is first comment auto posting available for me?
First comment auto posting for Instagram is available to all of our Plann Plus members (upgraded) right away. If you're a Plann Plus member, we're delighted to let you know this feature has already been added into your account, on us!

Plann Plus memberships start from as little as $7 per month and give you access to every single one of Plann's premium features!

Note: Auto posting first comment is only available for Instagram Business Accounts.
Learn how to set your account up as a business account and link it to Plann!

How do I schedule my first comment?
Plann on Desktop – as you're drafting your next post, you'll notice a new space to expand a second text box. This is where you can add hashtags, tag the usernames of friends or suppliers, or get a conversation with someone off to a start!

To help, we've made sure your hashtag sets can be easily imported to this new space.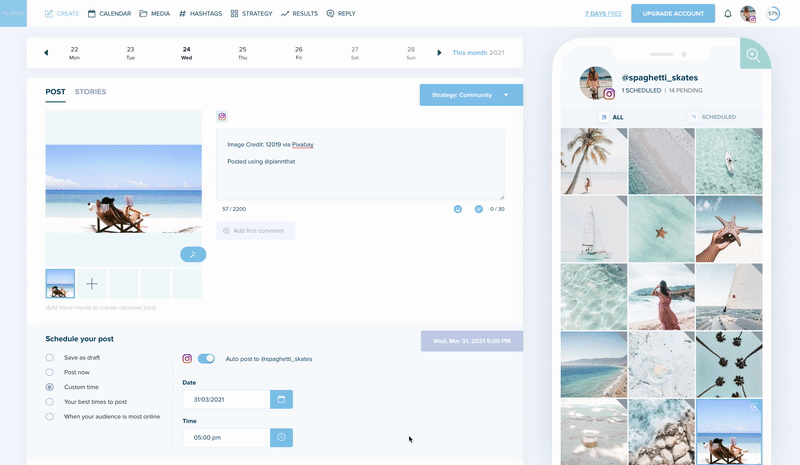 Plann App – as you're drafting your next post, you'll also see a new space to populate your first comment to use in the same way as using Plann on desktop.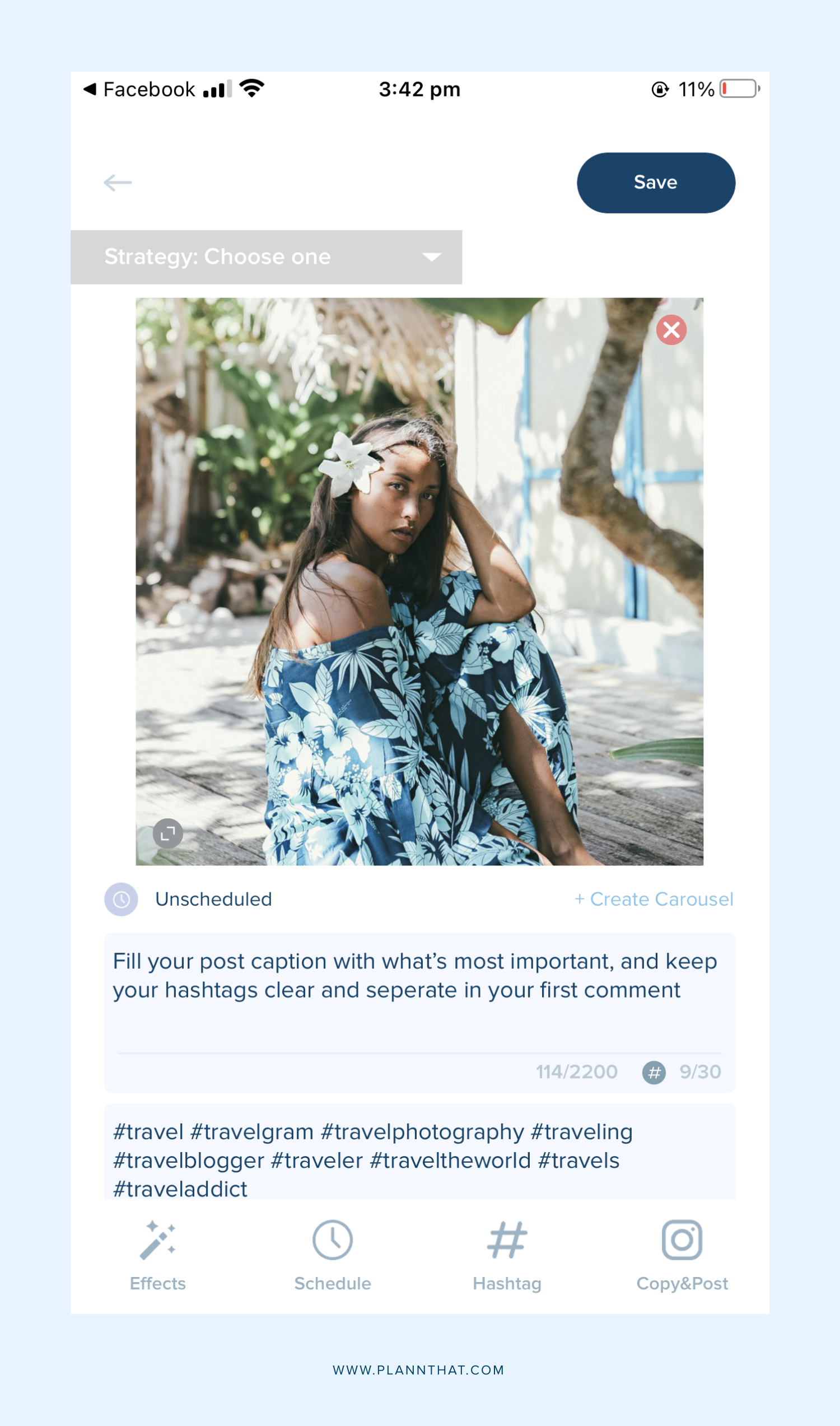 How many hashtags can I add?
The combined amount of hashtags you can use in total across your post and first caption is 30.

I don't have an Instagram business account, or I have auto posting turned off, can I still prepare my first comment?
Yes! Absolutely!
Without a business account however, Plann is unable to automatically publish the comment for you – this is a feature Instagram only supports business accounts for.

How to set up an Instagram Business Account, and what additional features are supported.

How does that work? How can I manually post my first comment?
We'll give you the planning space to pre-plan and organize your first caption.

At the time you're ready to post, we'll send you the same friendly notification to let you know your post is ready to be published via the Plann App. You'll follow your same steps to copy & post your image to Instagram, paste your caption, and publish manually.

On completion, you can go back into Plann and choose to COPY the contents of your first comment, then flick back into Instagram to publish your first comment.

Is it worth upgrading to Plann Plus for?

Ahem – we might be a little biased, yes, absolutely! Who wouldn't want to streamline their Instagram content strategy by being able to auto post first comments!
When we think of ALL of the premium features that Plann Plus offers (including this new feature already added to all Plann Plus memberships), they've all been designed to ensure your success on Instagram.

This is just one of many that will make sure social media is manageable, easy, and fun.
In your Plann Plus membership, you'll also get:
– Unlimited hashtag sets (to use in first comments!)
– Advanced Instagram analytics
– Auto posting (and re-posting) across Facebook, LinkedIn and Instagram social platforms
– Unlimited media uploads and scheduling tools
– Custom strategy tools to plan with intention
– Comments and mentions management to quickly respond and  keep conversations flowing
– Free professional stock photos and videos for when you're short of content
– Custom events on your calendar to design your own content or brand schedule

Thank you <3 
Your support makes this possible!
As a bootstrapped (non-funded) tech business we rely heavily on the support of our community to design and build new and exciting features to make your social media life faster, easier – and fun again!
Any thoughts, feature requests, compliments and/or questions?
We genuinely love hearing from you!
Reach out to the product team directly at feedback@plannthat.com

Christy Laurence
Plann Founder
@plannthat