CapCut templates have become all the rage on TikTok. In fact, you've likely seen trending TikTok videos using CapCut templates all over your For You Page.
That's because this app is one of the best free video editing tools out there, allowing you to create viral, trending, or aesthetic videos with just a touch of a button.
For brands and businesses, CapCut templates can help you level up your social media content with ease, especially for beginners who are intimidated by traditional video editing software.
Want to level up your social media videos, but don't know where to start? Discover our complete guide to CapCut templates, including where to find them and how to use them.
What are CapCut templates?
If you're an avid TikTok user, you've probably come across the 'Use this template in CapCut' button before – which is a game changer for creating trending social media content.
Essentially, the video editing app CapCut allows you to edit video content with ease. You can either create your own video from scratch or use one of their premade templates (which combine music, filters, effects, and more).
Since TikTok and CapCut are owned by the same parent company, you can also access CapCut templates within the TikTok app.
What makes CapCut templates so impressive is their ability to make content creation easy and accessible, even for absolute beginners. There's no need to have any experience with video editing: simply import your clips into an existing template and you'll be on your way to boosting visibility!
How to find CapCut templates
There are two ways to find and use CapCut templates: first through the CapCut app and second through TikTok. But to access these templates from both platforms, you'll first need to download the CapCut app.
Finding CapCut templates through the app
Once you've downloaded the CapCut app and opened the home screen, navigate to the bottom of the page where you can see a 'Template' button.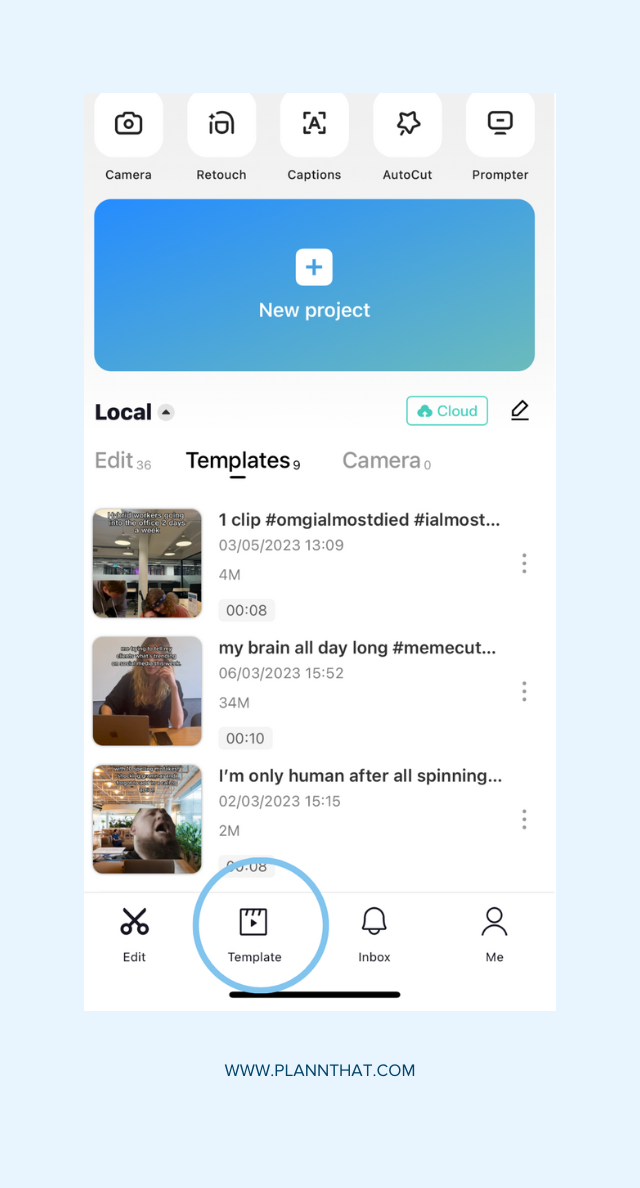 Once you're in the Template tab, you can see a bunch of different templates recommended for you or you can choose from different categories like fitness, memes, retro, effects, and more. Plus, you also can get access to Reels or TikTok-specific templates too.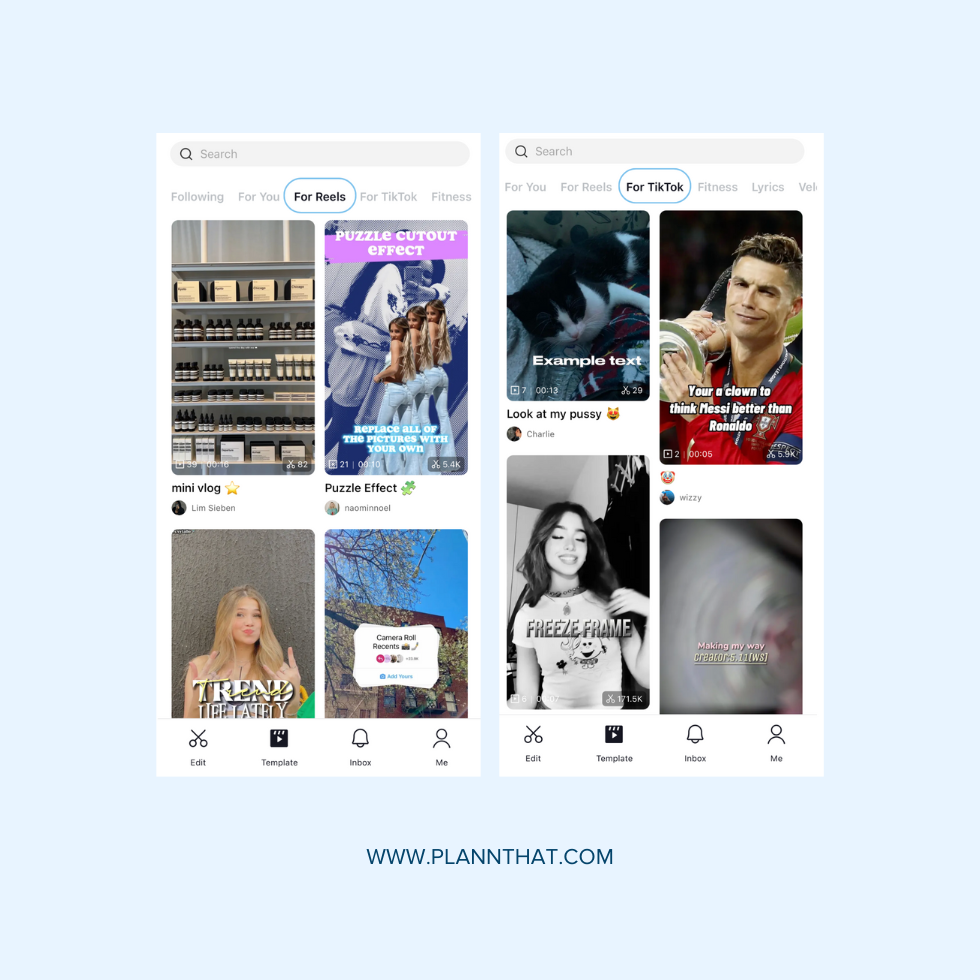 You can also use the search bar to browse more templates and enter specific keywords that align with the type of video content you want to create. For example, if you've seen a specific trend on Instagram or TikTok you can search for keywords relating to that trend to recreate your own version.
Finding CapCut templates through TikTok
There are a couple of ways to find CapCut templates through TikTok, the first is simply scrolling through your FYP and waiting until you come across the 'Use this template in CapCut.' From there, you'll be redirected to CapCut where you can add your own video or photo and change the text too.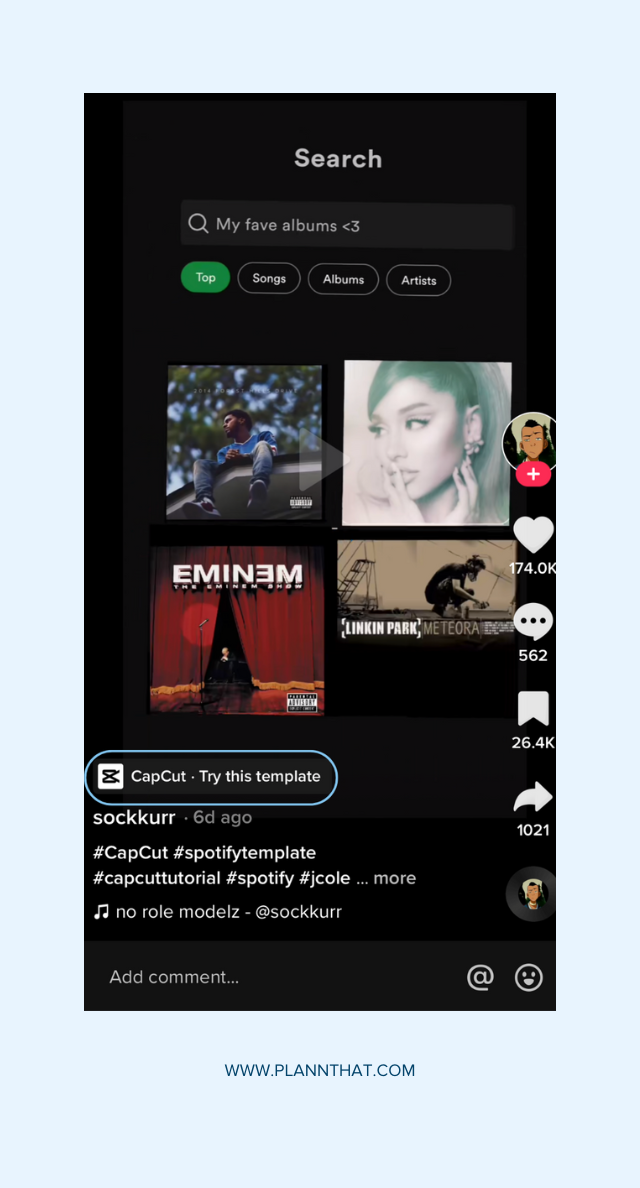 On the other hand, you can also search 'CapCut Templates' in the TikTok search box and scroll through until you find one that you want to use.
Either way, finding CapCut templates through TikTok is a really great way to ensure you're using templates that are trending to boost the visibility and engagement your content receives.
Best practices for using CapCut templates to create unique video content
Using CapCut templates is game-changing for content creators, brands, and businesses, speeding up the content creation process and allowing you to make on-trend videos with massive engagement potential.
But, there are a few things to keep in mind when using other creators' templates in your own social media strategy.
1. Use Trending Templates
If you're looking to build brand awareness and boost engagement, using trending templates is essential. CapCut templates that will help you get the most success are one's that you've consistently seen on your FYP.
Spend some time scrolling through the FYP and find trendy TikToks that give you the option to use CapCut templates to recreate your own. Just remember to use the right trending sound alongside your video to boost your TikTok in the algorithm.
2. Make it your own
CapCut templates are a great starting point but you should always try to make them your own instead of copying them completely. Since the templates allow you to use your own videos, photos, and text, you should mix them up to fit your niche and put your own unique stamp on a trend.
As you can see in the TikTok above, the @thebowesmuseum took a CapCut template and made it their own to fit into their niche while still being relatable and broad enough to garner massive engagement.
3. Trim out the CapCut logo at the end
One of the best tips and tricks we can give you is reminding you to trim out the CapCut logo at the very end of your videos. In most cases, CapCut automatically adds a CapCut logo to the last frame of your videos so be sure to delete the slide before you post.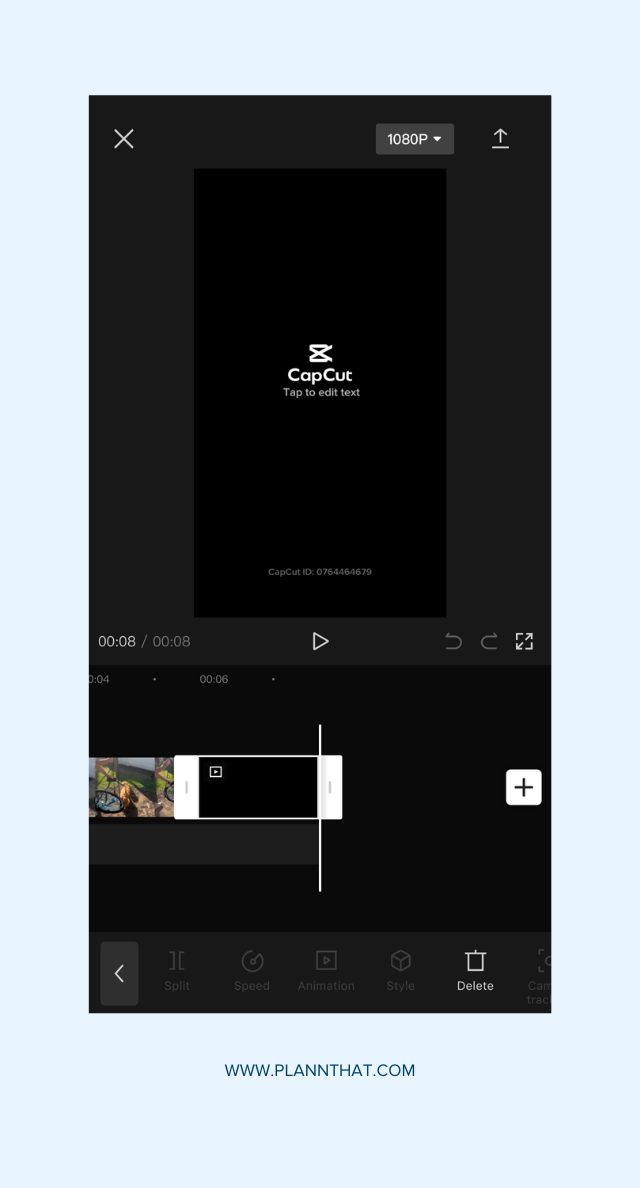 4. Use a diversity of template styles
To keep your TikTok and Instagram profile looking diverse, engaging, and entertaining make sure when you're using CapCut templates you aren't just using one style. Mix up your use of templates to include a variety of different trends, styles and topics.
Rather than using meme-style templates again and again, why not add a fun transition or daily vlog style template into the mix too?
5. Crop the CapCut watermark
When you're saving your CapCut templates to your phone or exporting your videos straight to TikTok, make sure you're cropping out the CapCut watermark.
Removing the CapCut watermark instantly boosts the professionalism of your videos, meaning no other logo is competing for attention in your video content.
Unfortunately, you can't actually save the CapCut videos without the watermark so just simply crop the top part of the video out using your phone.
Ready to supercharge your success on TikTok?
Looking for an all-in-one content creation suite that allows you to manage TikTok and all your other social media channels effortlessly? From mapping out your strategy, and designing your graphics to repurposing your content, you'll find everything you need inside Plann.
Go on, and redeem your 7-day free trial of Plann Plus. If you don't like it, keep using Plann for free!