Black Friday social media conversions are on the rise! In 2022, online sales reached a whopping $9.12 billion, and that number is predicted to be even higher in 2023.
As consumers worldwide get ready for the holiday shopping season, Black Friday promotions are the perfect opportunity to reach a motivated buying market with incredible deals. For some businesses, Black Friday sales are the busiest (and most lucrative) time of the year.
When it comes to crafting an effective Black Friday campaign, standing out from the competition can feel like a challenge. That's why we're drawing inspiration from the social media marketing greats!
Here are five exciting and engaging examples of the best Black Friday campaigns and what you can learn from them.
Campaign 1. Free Gift From DB Cosmetics
What do shoppers love even more than low prices? Free stuff! Makeup brand DB Cosmetics offered a free gift for Black Friday buyers as a shopping incentive.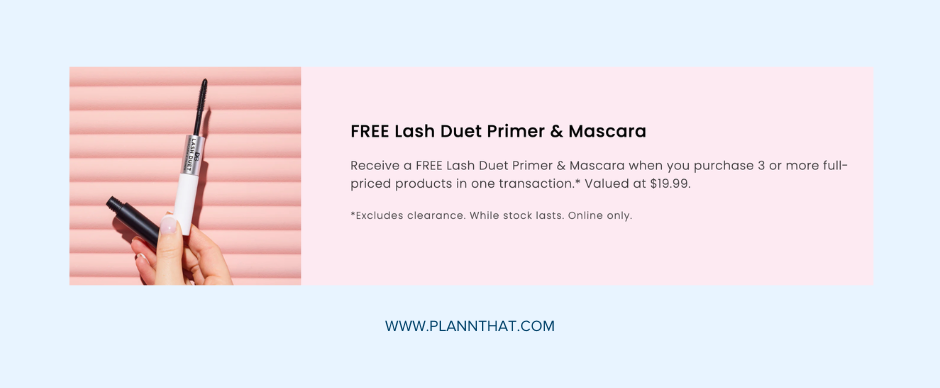 By offering a free extra product with purchases for Black Friday only, DB Cosmetics was able to get people more interested in buying while the offer remained available. This is a great way to encourage fast decision-making and give consumers an extra reason to buy.
This example shows how easy it is to communicate a free offer! Whether you're running a giveaway or gifting stock to buyers, craft Black Friday social media posts that communicate your offer. Add a couple of basic terms and conditions, and voila!
These Black Friday deals are often very popular and can be a great way to stand out. In a market that wants people to buy, you can be the business that's willing to give. This is a smart strategy for building consumer relationships and promoting sales.
💡 Key takeaway: Inspire action and delight shoppers by activating a free gift with purchase during your Black Friday campaigns.
Campaign 2.

Glossier's Limited Time Only
It's time to build a sense of urgency around your Black Friday sale! At least that's what worked for skincare brand Glossier in 2020.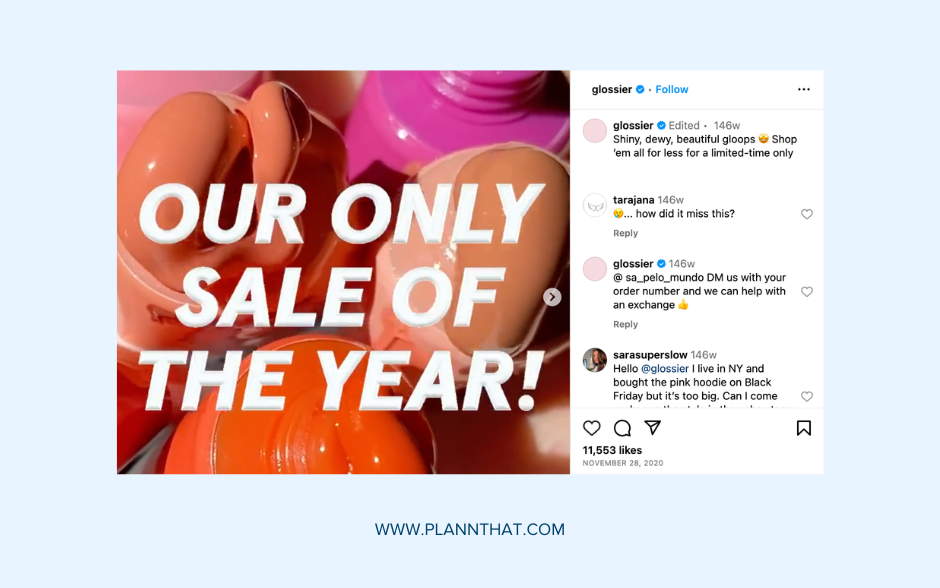 As part of Glossier's Black Friday marketing, the brand shared clear, impactful content focusing on the limited duration of the best Black Friday and Cyber Monday deals. The result? Loyal customers with no time to waste!
This example highlights the power of what marketers call a scarcity bias. When people think holiday sales might run out, they are more likely to jump in and buy now while the best deals are still available. Flash sales equal instant impact!
By reminding consumers that Black Friday shopping deals won't last, you can raise awareness about your sales and encourage customers to spend big. Better yet, you can easily craft these Black Friday ads for all of your social platforms.
💡 Key takeaway: Clearly communicate the duration of your sale and use time-sensitive messaging to compel potential customers to take action, FAST!
Campaign 3.

Green Friday at Davines
Looking for a Black Friday marketing strategy that will really set your business apart? Get inspired by Davines and the Green Friday initiative!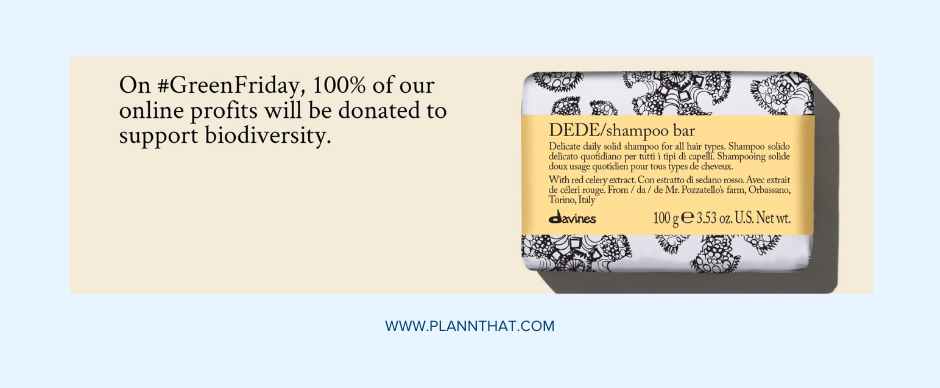 While most businesses use Black Friday as a chance to kick off big spending ahead of the holiday season, Davines does things a little differently. The hair care brand instead celebrates Green Friday, donating 100% of the day's online profits to environmental charities.
This is a great example of how you can turn a Black Friday campaign into something much bigger. You might miss out on Black Friday profits, but you'll have a chance to showcase your brand values and build trust among your consumers.
Campaigns like Green Friday can even help you reach a whole new clientele! This can help you build customer loyalty from new and existing buyers and promote ongoing business throughout the year, long after the Black Friday deals end.
💡 Key takeaway: Tap into your brand values and take a unique spin on a common seasonal moment, making your sale both compelling and memorable to shoppers.
Campaign 4.

The Bath and Body Works Product Focus
Products are at the heart of a successful Black Friday social media campaign. That's why they take pride of place for Bath and Body Works!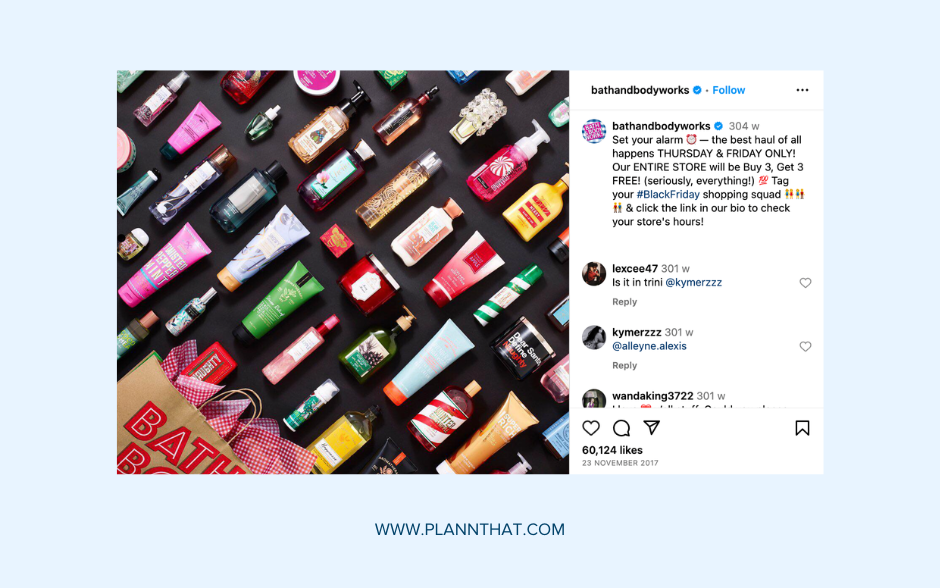 The Bath and Body Works approach makes products the marketing hero. Across a range of social media channels, Black Friday posts focus on what consumers can buy while online shopping deals are live. This doubles as ongoing brand marketing, even when the Black Friday sales end.
This example is a great reminder to make your products the star of the business. Black Friday shoppers aren't just looking for cheap deals. They're also searching for products they'll love, and this kind of marketing shows them what they could be missing out on.
Highlighting your product offerings in this way can also make it easy to combine Black Friday social media efforts with other marketing campaigns! You may be able to repurpose images all throughout the year for optimal productivity. Win-win!
💡 Key takeaway: Move beyond discounts and sales-focused messaging and use your seasonal campaigns to drive home your evergreen brand messages instead.
Campaign 5.

All The Details From JCPenney
Sometimes, the best Black Friday campaigns start with the basics! This post from JCPenney is clear on the details so that consumers know exactly what to expect when Black Friday weekend arrives.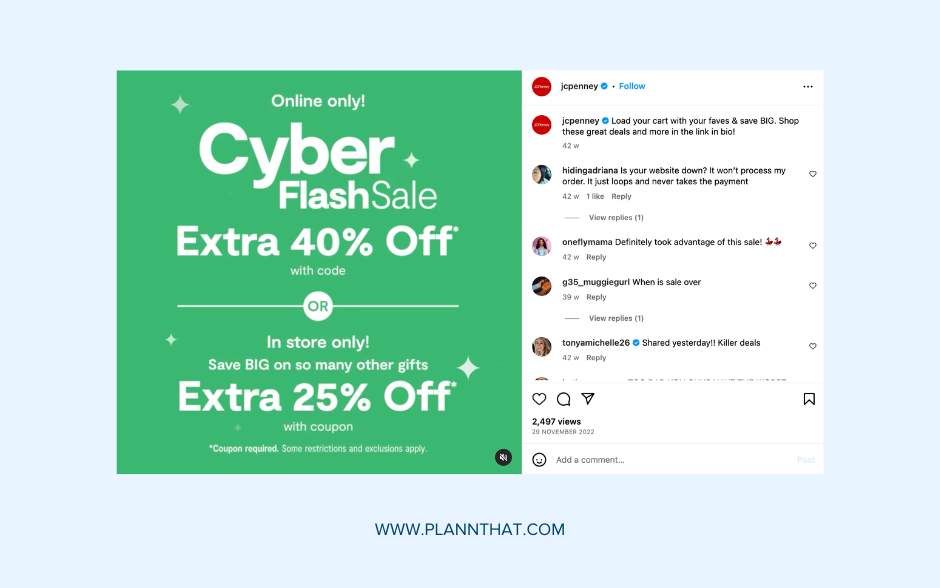 What do buyers really love about Black Friday? That's easy. Great deals! In 2022, JCPenney made this the centre of its Black Friday marketing strategy, highlighting specific flash deals available online and in-store. When your offer is appealing enough, it can speak for itself.
This example demonstrates the power of recognizing your target audience and what they want from you this Black Friday. This social media campaign forgoes all the extras in favor of focusing on what matters most to social media users following the JCPenney accounts.
Black Friday marketing campaigns like this are easy to put together and a great tool for showing off the value your business can offer. You can also use this approach to communicate important sale details, including exclusive offers for your online store or in-person retail spaces.
💡 Key takeaway: Be clear and prescriptive with the details of your sale to take the confusion and guesswork out of what you're asking shoppers to do.
More Black Friday Ideas
There are so many ways to make a real impact this Black Friday!
Consider an early access campaign for loyal customers, newsletter subscribers, or the people who follow you on social media platforms. Alternatively, let your customers have a say! Ask them what deals would get their attention ahead of the sale.
Black Friday can also be a good opportunity to lean into what makes your business unique. Stay true to your brand values and the strengths you bring to the market. You never know who might find you over the course of the holiday sales period.
Ready to supercharge your success on social media?
Looking for an all-in-one content creation suite that simplifies managing your social media channels? Inside Plann, you'll discover everything you need to effortlessly map out your strategy, repurpose your content, and take your Reels content to new heights.
Go on, and redeem your 7-day free trial of Plann Plus. If you don't like it, keep using Plann for free!