Did you know that 95% of businesses consider webinars an important marketing tool?
By adopting an effective webinar promotion strategy, you can drive more traffic to your webinar event and maximize digital engagement for the best possible conversion outcomes. A smart strategy can even help you grow your social media following along the way!
Promoting webinars can be challenging if you've never done it before. That's why we've compiled this list of webinar promotion tips, designed specifically for use across your favorite social media platforms.
Let's get started!
1. Teaser Video
A teaser video can be super impactful in generating interest for your webinar event! You can use high-performing video content to deliver the key information you know your audience will be interested in.
Create a video you can use across a range of marketing channels, from Facebook and Instagram to LinkedIn and TikTok. Incorporate the main selling points for your webinar, and explain how the event serves your target audience.
A good teaser will give your audience a reason to learn more and even visit your webinar registration page! More registrations will lead to greater success, setting you up for more great webinars going forward.
2. Social Media Graphic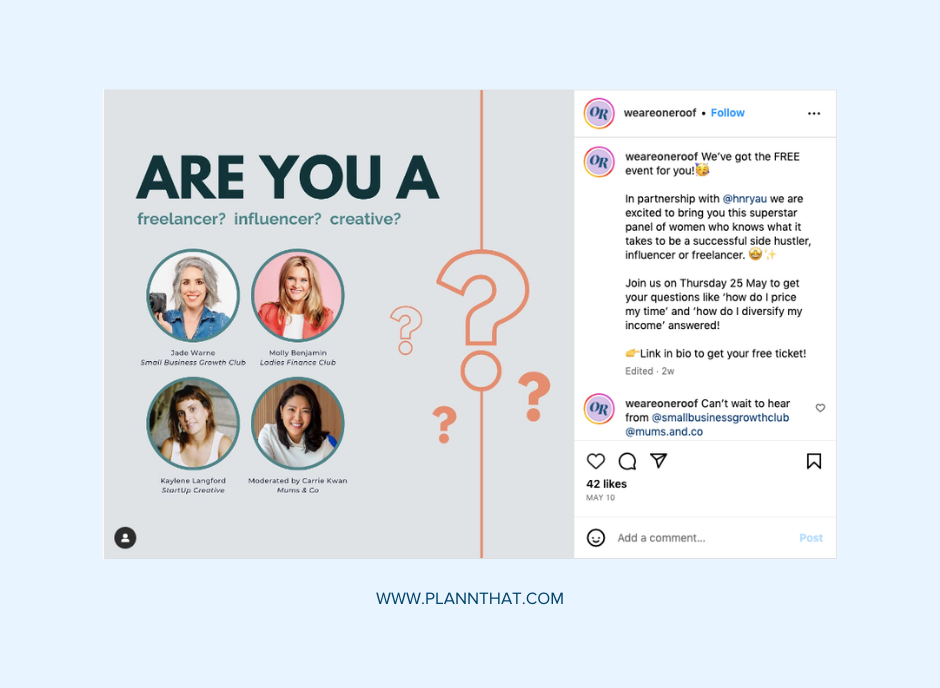 Similarly, graphic social media posts are a smart way to boost attendance for your event and quickly communicate key details. You can design static graphics that highlight when your webinar is happening, who is speaking, how to sign up and so much more!
Using tools such as Canva (which is ready to use within your Plann workspace), you can easily whip up on-brand graphics, carousels and Instagram Stories slides to promote your upcoming webinar. Make sure to include any special offers that might help to draw people in!
Make sure to harness your brands fonts, colors, and logo to build recognition with your audience. Plus, make sure to include a strong call-to-action in your design, ideally to your webinar landing page.
3. Free Gift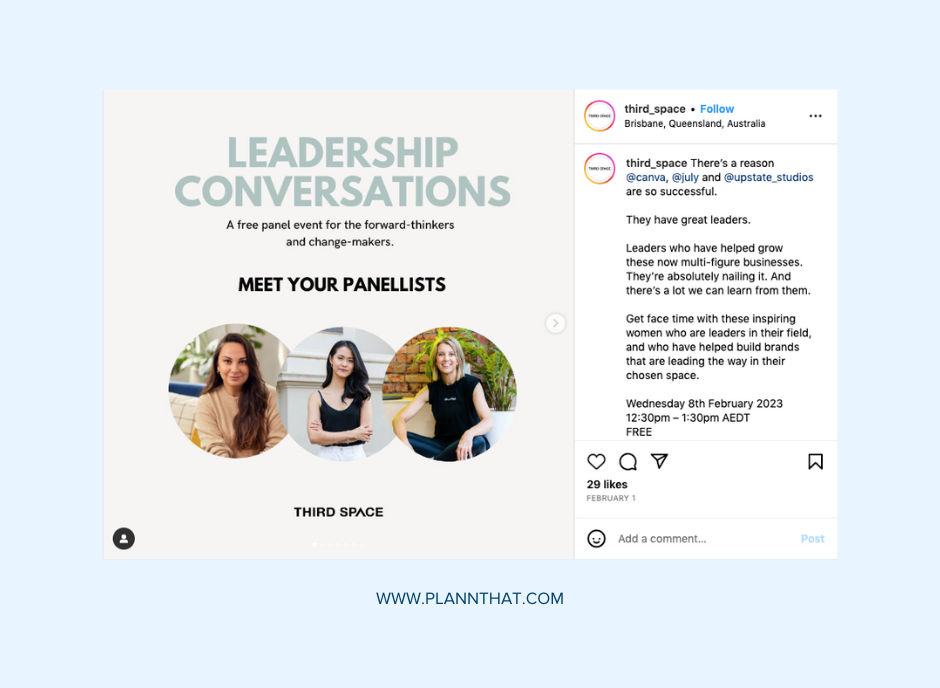 If you're struggling to generate interest for your webinar, a free gift can help! Whether you produce a checklist, free masterclass or a simple eBook, you can use a freebie as a tool for lead generation and webinar promotion.
Create a lead magnet that aligns closely with your webinar topic. Then roll it out via a combination of social media channels and email campaigns. Make sure to keep directing users back to your webinar's landing page.
Free gifts are great for getting people in the door. They can even help you capture the first-party data needed to promote webinars again in the future! If you collect newsletter subscriptions, you can also build an email list in support of other marketing activities.
4. Influencer Marketing
Influencer marketing is becoming increasingly powerful! Working with an established influencer can help you spread the word about your webinar to a whole new audience within your niche.
Reach out to successful influencers who produce content relevant to your brand. Look for opportunities to work with influencers and cross-market your current and past webinars to their followers.
Expanding your audience with influencer relationships can help you continue to promote upcoming webinars long after your initial connection. Plus, you can sell your products or services to a new audience too!
5. Facebook and LinkedIn groups
Social media groups can be a great source of leads for webinar content. Sharing webinar promotion content to social media groups can help you reach new networks of engaged people.
Find online groups related to your niche and the topic your next webinar will cover. Share webinar promotions to these places, and offer incentives to get people interested in attending.
The key is to be selective and focus on adding value to group members. Overtly 'salesy' posts won't perform well in Facebook or LinkedIn groups, and some groups might have rules or guidelines about how and when you can promote offers, like your webinar.
Instead, prioritize building connections with group members, fostering relationships and sharing personalized invitiations to group members.
6. Collaborative Content
Like influencer marketing, collaborative content can be a great way to promote to a different audience. Working with your colleagues can help everyone gain greater engagement and traction.
Talk to other people in your industry, and identify opportunities to collaborate on webinar promotion or the webinar event itself. Share promotional materials across both of your accounts to reach the largest possible audience.
Our tip? Harness the Instagram Collab feature to boost the reach of your upcoming webinar content to both of your audiences using a single post.
7. Blog about your upcoming event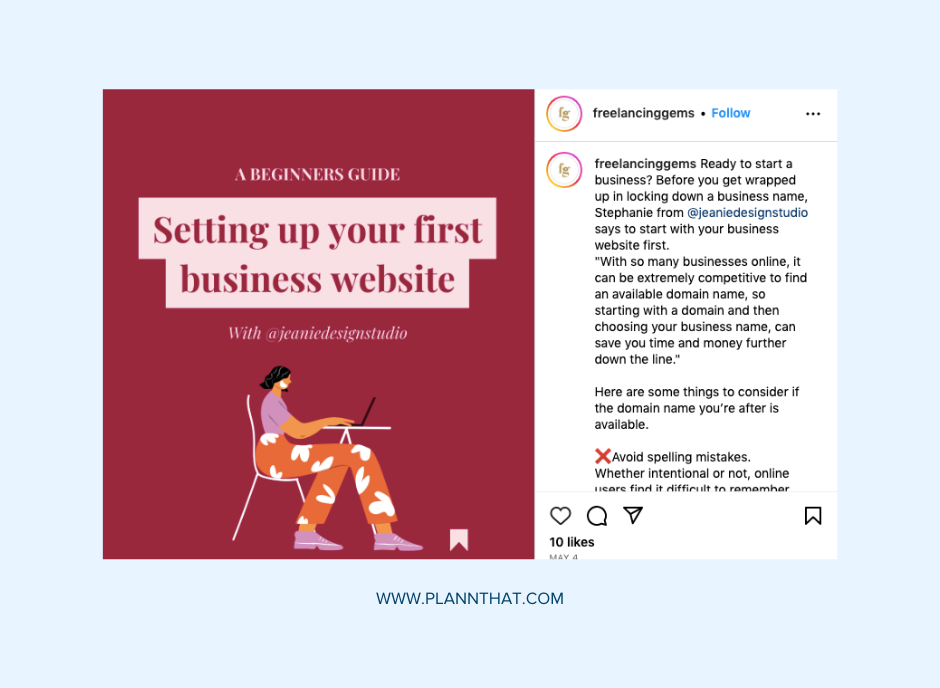 Sometimes, a traditional blog post or landing page is the best way to market an on-demand webinar! You can link to these destinations across your social accounts and in your email marketing, too.
Write a detailed blog that introduces your webinar and its topic. Include your key selling points in detail, and remember to add a call to action that invites users to register their attendance.
Blog content allows you to be comprehensive in describing your upcoming webinar. This can help you reach a motivated audience. Blogs can also give you an easy way to link audiences back to past content, making them great for repurposing.
8. Paid Advertising
Paid ads are invaluable for helping you expand your audience and getting more hits on marketing materials for your webinar. Your sales team can even track ad performance to identify patterns and trends!
Social media is the perfect place to run ads designed to boost attendance at your upcoming events. Create ads that spotlight your webinar guests or call out the takeaway messages of the event for webinar attendees.
While it does require a bit of an investment, one of the best ways to ensure a successful webinar is to run paid ads on your social media channels.
Plann ahead
Are you ready to start promoting your next webinar using these creative ideas? Great!
The best way to get started is with a clear Plann. We recommend organizing and scheduling your content using a trusted all-in-one suite that allows you to take complete control of your social presence.
Sign up today, and make the most of a FREE 7-day trial of Plann Pro!