You know how it goes.
Inspiration strikes, and you have dozens of ideas for Instagram Reels, and then the next day, your mind is blank.
If you're in a funk and need help getting out of it (or don't know where to start), you're in the right place.
Below, you'll find some of the best ideas to use Instagram Reels to grow your community, connect with your people, and make sales while you're at it.
Sound good? Let's get started!
Explode Your Reach with these Creative Instagram Reels Ideas
Are you stumped on how to get more views on your Instagram Reels?
Here are some of the best tried and true ideas that'll help your small business or personal brand stand out and grab the attention of your target audience.
1. How-To Tutorials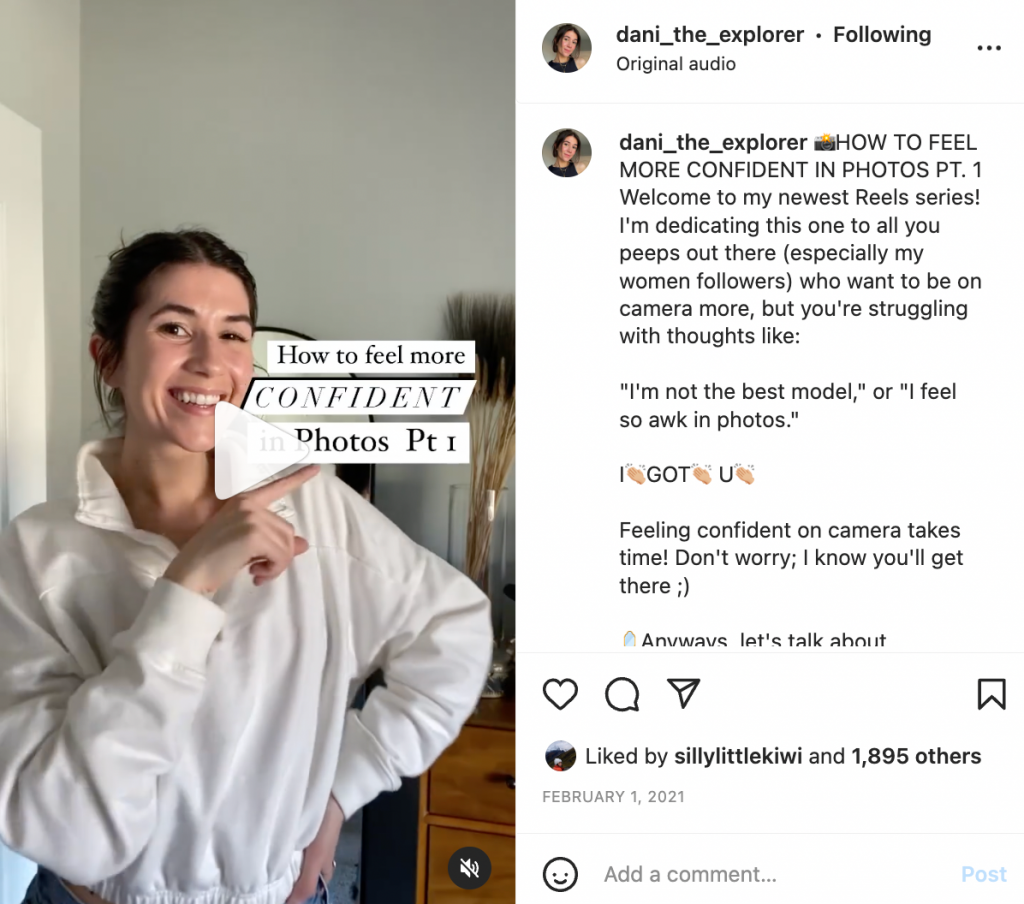 What is the fastest way to boost your views on Instagram Reels?
Tutorials.
Why?
You're teaching your audience how to do something. It's incredibly valuable, which makes it shareable and saveable.
Those two actions are crucial to the algorithm picking up your content and sharing it with more users.
Need an example? Here are a few to get your creative ideas flowing:
• Harley Jordan creates Instagram Reels tutorials to help influencers create better content.
• Tala shows you how to style your gym sets for any occasion.
• Dani The Explorer teaches her audience how to feel more confident in front of the camera and her photography skills.
2. Create A Series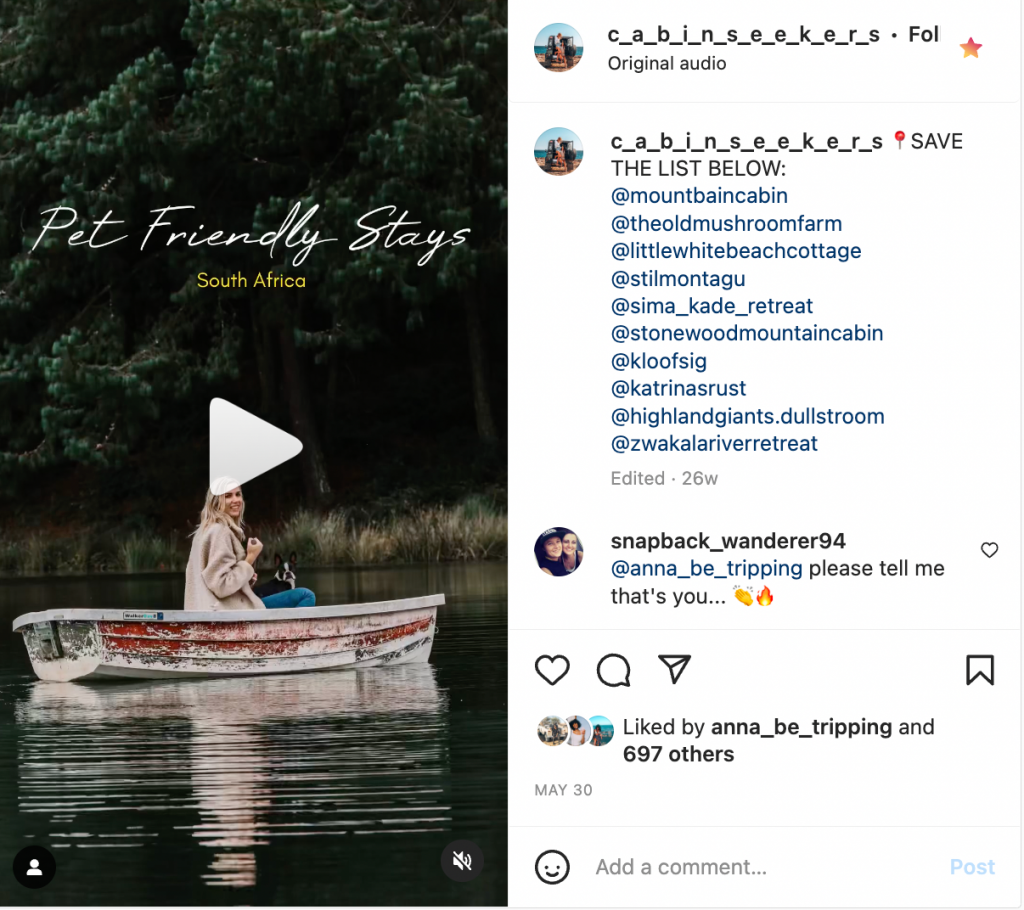 Do you have A LOT to say on a specific topic? Turn it into a series.
Not only is it an excellent way to keep your followers coming back to your profile for the next instalment, but it creates binge-worthy content, and your account becomes known for that "thing."
Hello, brand awareness!
Let's look at some different ways you can use this tactic:
• Travel blogger: Create a Reels series around the best cabins in your state.
• Relationship coach: Create a series around break-up tips.
• Home decor brand: Create a room makeover series.
• Money coach: Create a series showing how you spent and saved your money that day, week, or month.
3. Mini Vlog a Day in Your Life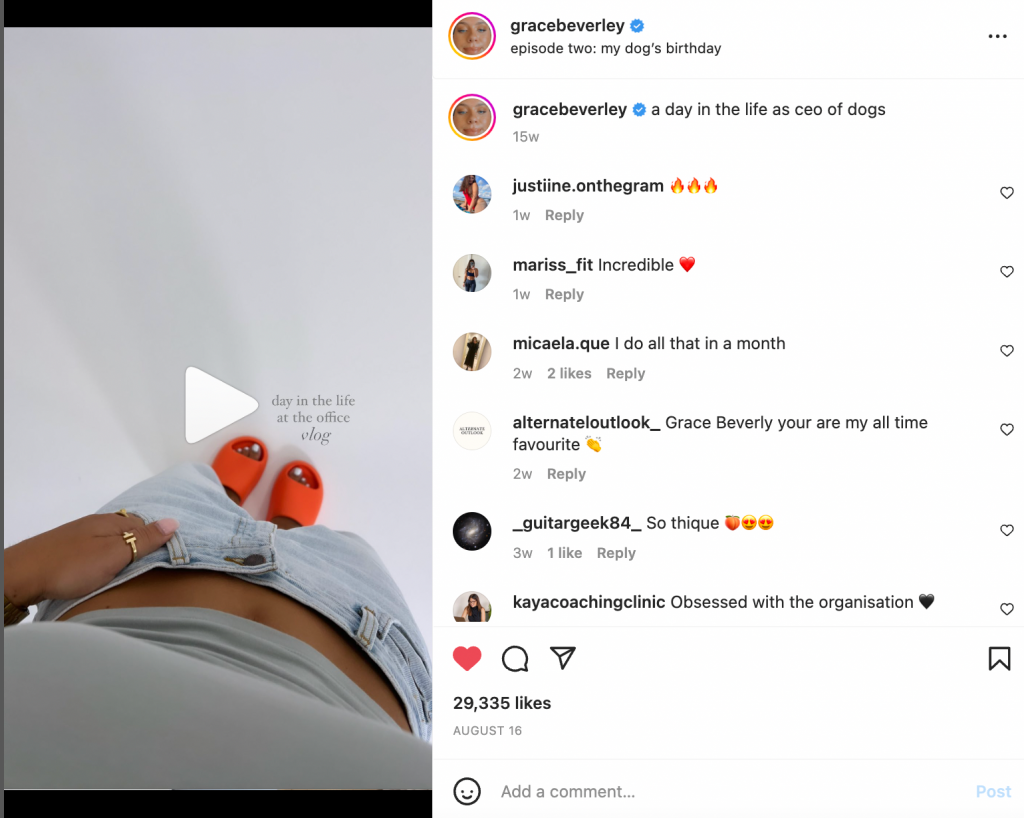 Day-in-the-life videos are some of the most popular content types on any platform.
Youtube, TikTok, to Reels, people love watching other people live their lives.
…But why?
In part, it's voyeuristic and escapism.
We want to imagine what it would be like to have that lifestyle or job. It's aspirational and inspirational content at its finest. Lastly, it allows us to escape the humdrum of our current lives for a couple of minutes.
As a brand, you can leverage mini vlogs to give your audience a behind-the-scenes look into your business. Show your followers what goes into making your product, packaging it, and sending it to the couriers.
One creator who does an excellent job at this is Grace Beverley. The fitness influencer turned business owner frequently shares behind-the-scenes Reels of her life as a busy CEO.
Not sure what to put in your mini vlogs? Ask your followers!
4. Repurpose Your Longer Form Content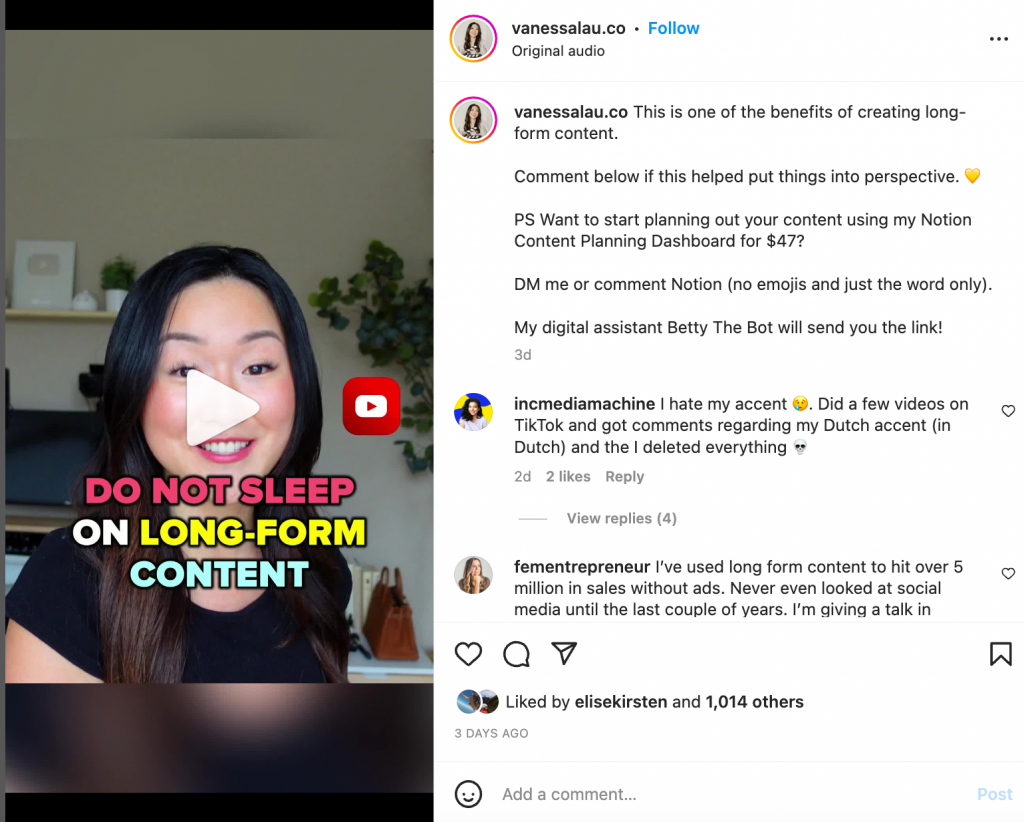 Here's the thing.
If you're spending time writing long-form blog posts or publishing weekly YouTube videos, you need to repurpose your content.
Not only will it save you time, but it will give you loads of Instagram Reels ideas for your content calendar.
You'll get more views by providing helpful tips and tricks to your audience in a bite-sized format while promoting your content on other platforms.
It's a win-win!
Vanessa Lau is a YouTuber who uses this tactic to grow her business on Instagram. She takes this a step further by repurposing her most popular carousel and quote posts into Instagram Reels.
5. Hop Onto Trends
Trends are one of the best ways to get more eyes on your content and grow your brand.
But there is a trick to it.
You want to jump onto a trend as soon as it starts taking off. If you wait too long, it becomes saturated, and your Instagram Reels will get fewer views.
So how do you find this sweet spot? There are two methods:
1. Plann for trends around specific events like Halloween, Valentine's Day, etc.
2. Watch videos on TikTok.
Why?
Audio trends tend to start on TikTok and then trickle over to Instagram Reels.
There's one more thing to keep in mind when it comes to trending videos…
You. Don't. Need. To. Do. All. Of. Them.
Stick to trends where you can easily tie them back to your niche. If it works, it works. If it doesn't, move on to the next best thing.
6. Tell Your Story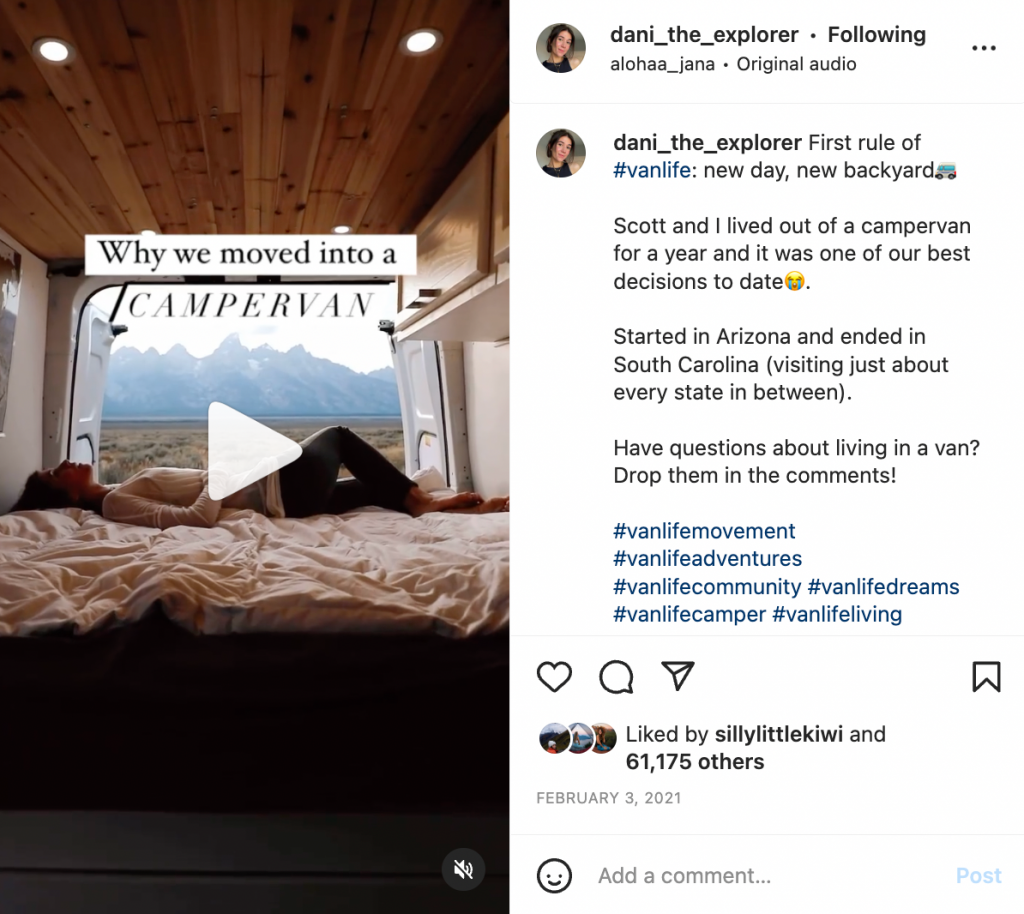 Your brand story is a powerful way to connect with your audience and share your passion with the world.
Why does it work so well to grow your social media following?
It's inspirational.
It helps your customers understand your values and connect with your brand on a much more intimate level.
You're creating an emotional connection and planting the seeds for the know, like, and trust factor to take root, ultimately leading to true fans who love to buy your products and services.
View this post on Instagram
7. Gift Guides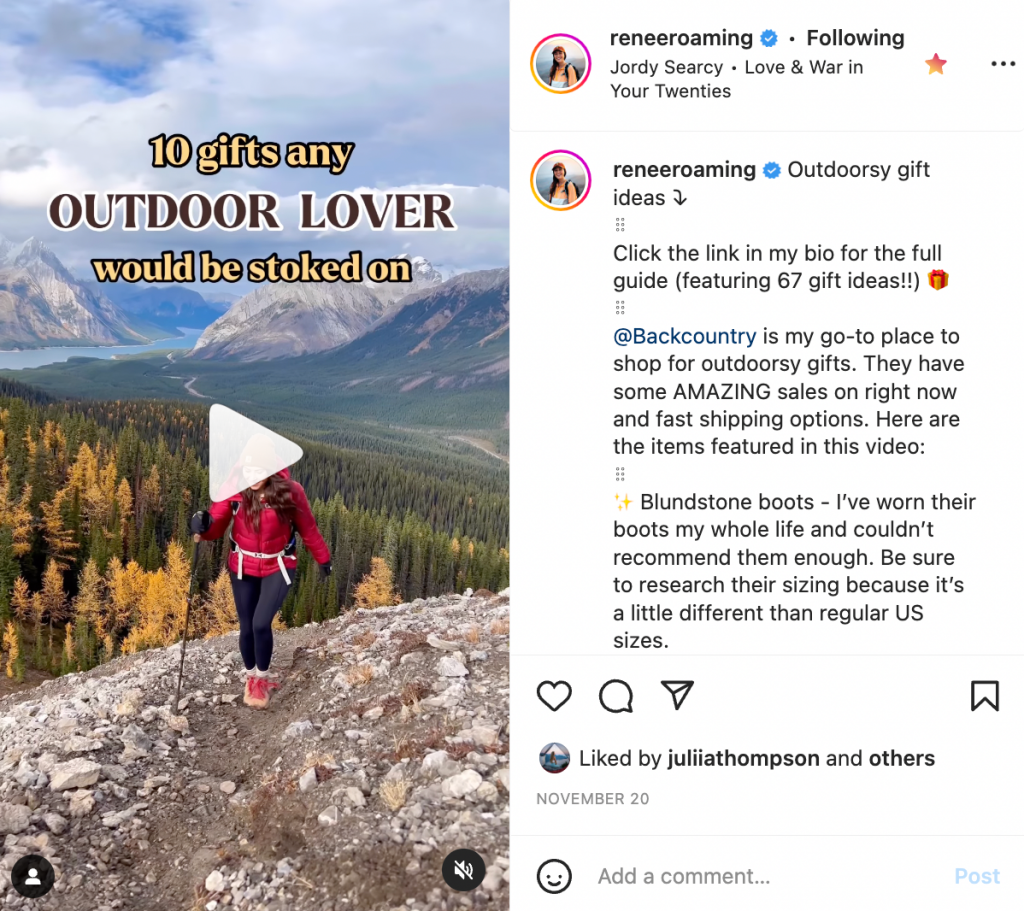 There's always a holiday coming up.
Thanksgiving. Black Friday. Christmas. World Donut Day.
If your brand can fit into any of those celebrations, create a gift guide for your audience.
It's a great way to boost your sales, show off your latest products, and create shareable content.
The result?
You're growing your business and account simultaneously.
Here's some gift guide inspiration to fuel your creativity:
Plann Your Instagram Reels Ideas
Got a bunch of ideas swirling around for your next Instagram Reel?
Great! Get started and keep everything in one place with Plann.
Sign up for your free account today and strategize, upload, and schedule (and auto-post!) your Instagram Reels when your followers are most online and ready to engage.