You've put in the work building a beautifully curated Instagram page. Your followers are starting to grow, and you're feeling optimistic about how Instagram can help you expand. But how do you keep those followers excited about your content, so they keep coming back for more?
It's all about having a solid engagement strategy. And, that means moving with the times, and using methods that actually work. Read on for 15 proven strategies for increasing your engagement on Instagram — that work in 2021 and beyond.
Getting to Know Engagement on Instagram
Engagement on Instagram is a dynamic and diverse set of interactions. There are many ways your audience might engage with you. Below are the highlights of how engagement occurs on Instagram.
• Likes
• Follows
• Mentions
• Profile visits
• Link clicks
• Comments
• Shares
• Saves
You're likely already familiar with 'likes.' But this is the most basic form of engagement, as it takes the least amount of effort. 'Comments' take more effort, and they can provide a lot of insight into your followers. The ultimate form of engagement on Instagram is the 'save.' A follower bookmarking your content for future reference is one of the highest quality engagements.
How To Find Your Instagram Engagement Rate
Engagement relates to when someone actively responds to your content or profile on Instagram. It's great to boast a large following. But do your followers interact with your content? Can you rely on your engagement to produce results — like sales, growth, or insight? If your audience is large but your likes, comments, shares (and others) are low, there might be an engagement problem.
Engagement issues can have a long-term impact. Algorithms on Instagram are constantly assessing the relevance of content. Low rates of interaction on your content can feed on themselves, resulting in Instagram offering your content lower priority in feeds. This can reduce the effectiveness of your Instagram strategy, as engagement rates are a good indicator of a customer's willingness to make purchases.
But what is a good Instagram engagement rate? You can take a deeper dive into calculating engagement rates and how to determine the quality of your rate.
Why Engagement Matters
Understanding your engagement gives you valuable insight into the effort you're making with your content. As mentioned earlier, higher engagement will result in greater visibility on Instagram. And the time and money you invest in content should produce results. Ultimately, you're trying to drive sales, growth, or awareness. And by understanding how well your audience is engaging you are empowered to pivot where necessary and maintain the value you're investing in the platform.
14 Strategies for Increasing Your Engagement on Instagram
All this talk of rates and calculations might have your brain spinning over ways that you can boost your Instagram engagement. Below are 15 suggestions on how you can use various tools to increase engagement on Instagram.
1. Explore diverse types of content
Understanding your engagement is an opportunity to venture the way different types of content impact your audience. Play with a diversity of content types and present that content using the various formats on Instagram.
2. Let no tool go unused
There is a full arsenal of resources to use on Instagram: grid posts, videos, Reels, Stories, Lives, and IGTV. And Instagram's algorithm loves it when you use the whole platform. Increase your engagement and visibility by using as many of the formats as possible.
3. Use interactive features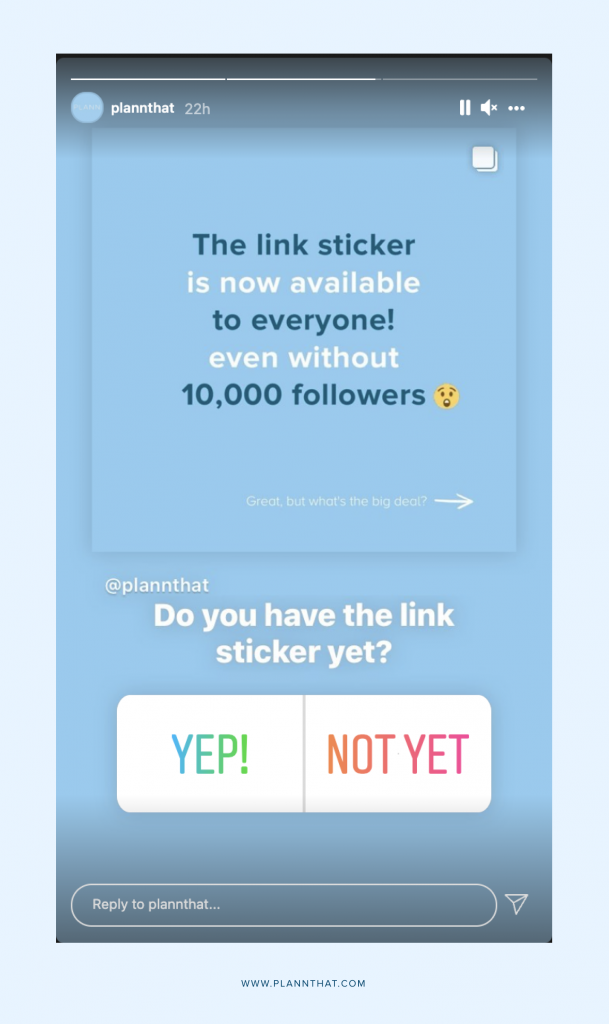 Instagram's suite of engagement Stickers are one of the best ways to get your followers interacting with your content . Use them to engage a poll question, take a quiz, and get a conversation started that results in further engagement.
4. Find the YOU in your content
What is it about the content that could have only been posted BY YOU? The details and nuances of your narrative, product, service, brand (and so much else) are unique to you — and this differentiator is compelling for creating your content.
5. Throw a contest or offer giveaways
It's fun and exciting to enter a competition or test our luck with a raffle. These are also opportunities to get your audience clicking on links in your posts and engaging with shared information, tags, and follows as requirements for the giveaway.
6. Reel your audience in with a compelling hook
You'll want to get to the meat of what's interesting in your Reel within a few seconds. Create a flashing effect, use an interesting sticker, or say something compelling right from the beginning.
7. Draw attention from the first thumbnail
Your Reels cover image is your first chance to garner attention and interest. Select a frame directly from your video or consider uploading a customized image.
8. Ask questions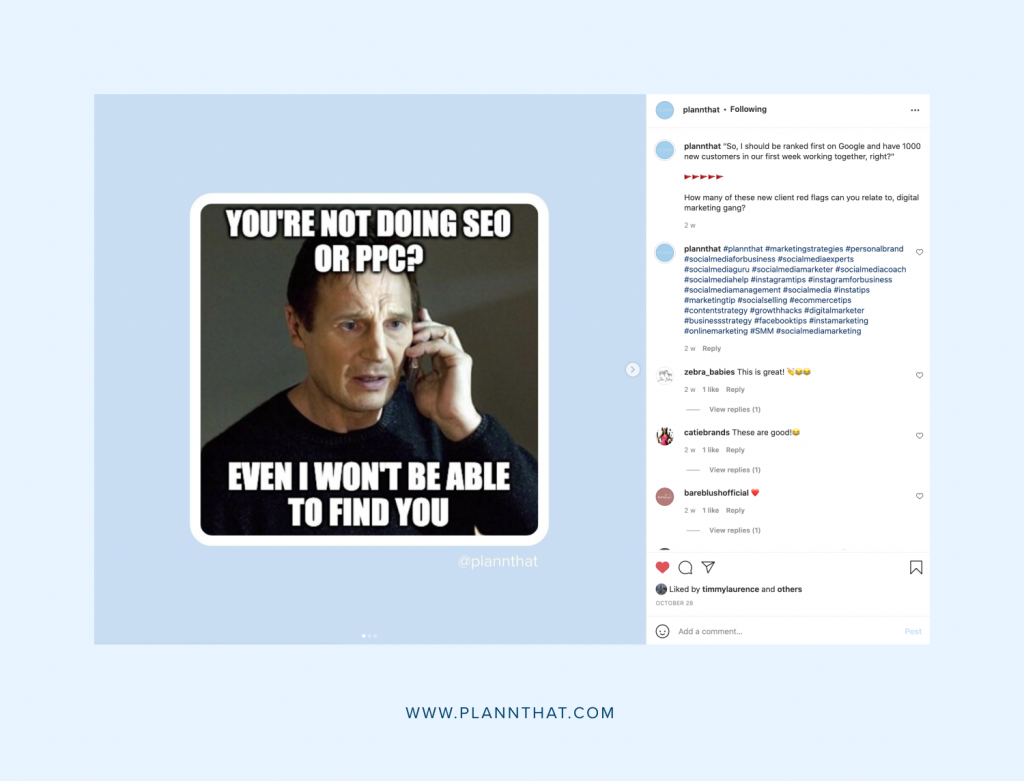 A call to action (CTA) has a place in your Instagram Reels, Stories, and Posts. Play around with the Question Sticker to encourage your audience to engage in a back and forth that invites them to return for more.
9. Use hashtags in Stories, too
You might be in the regular habit of researching and customizing hashtags for your grid posts. But this feature is also available as a Sticker and can really help you get more engagement on Stories.
10. Build intrigue with a Countdown Sticker
Countdowns aren't just exciting on New Year's Eve. They also help build intrigue for the launch of a new product, event, service, or store. They also keep people coming back to follow the hype.
11. Use location-based Geotags
Increase the likelihood that your Story will land in public feeds by using Stickers to identify your location, especially for an event or the opening of a brick and mortar store.
12. Get others involved with Mentions
Mentioning another profile is an instant way to draw in other communities and boost Instagram engagement — when it makes sense to do so. And they aren't just for grid posts anymore, you can also use them in Reels and Stories.
13. Take advantage of trending VR filters
Looking for a way to elevate basic content? Virtual Reality (VR) filters are a great way to make content more interesting and participate in popular trends.
14. Use Carousels to your advantage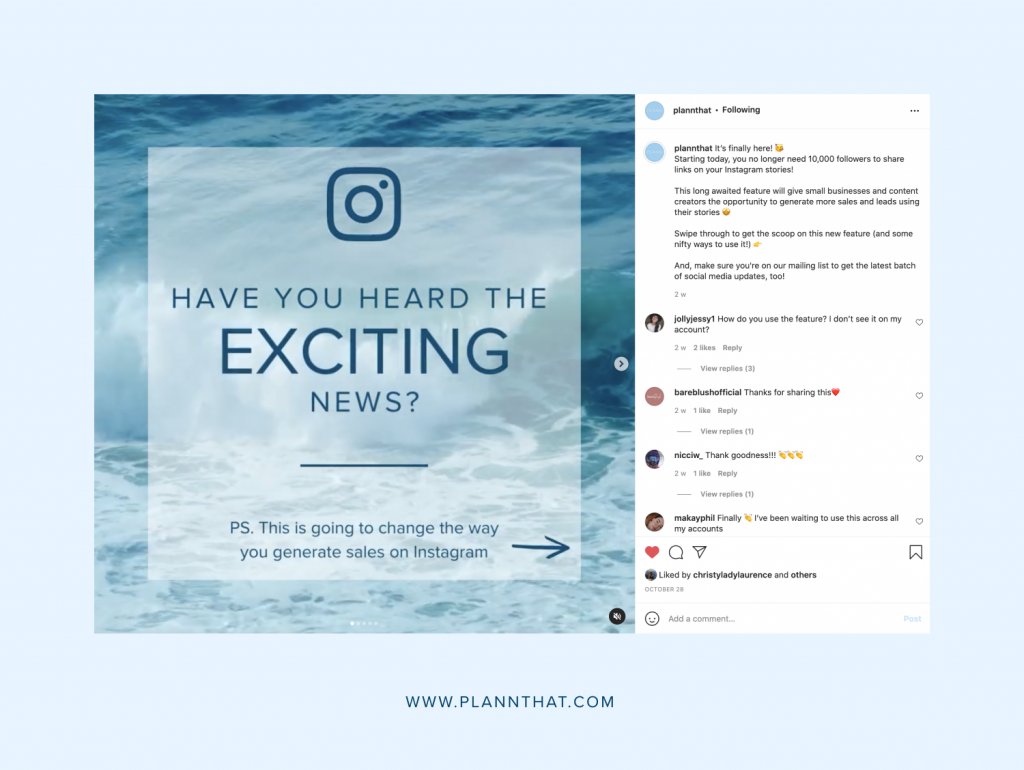 Single images and videos have been shown to generate less engagement than layered images. Get your users swiping and spending more time with your content by turning your grid posts into a carousel of images and videos—up to ten slides at a time.
Use Plann To Boost Your Instagram Engagement
From next-level insights into how your content is performing to tried-and-tested caption prompts, you can find everything you need to analyze and improve your Instagram engagement inside Plann. Try it for free today!