By now, you've spotted to rise of AI for business. It's already revolutionizing social media marketing, from speeding up content creation to improving audience engagement and even providing in-depth insights that help inform your social media strategy.
We get it: the world of AI can seem a little scary. Plus it can be confusing to figure out how to harness the right AI tools to elevate your social media presence and content performance, too.
Luckily, we're here to help you take advantage of AI for business. Keep reading to discover a stack of ways you can start using AI tools to your advantage as a business on social media.
1. Fast-track social media content creation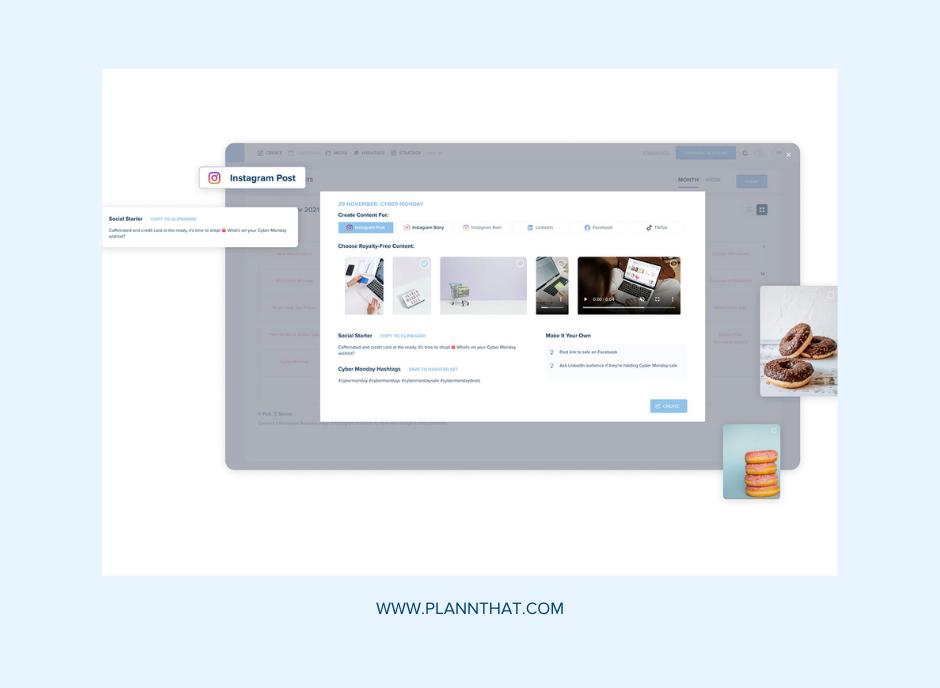 Let's face it, monthly content creation (from coming up with fresh content to designing your graphics and even writing captions) can take a heap of time out of your already busy schedule.
But, with the power of AI, you can leverage the right tools to fast-track your content creation process.
Having trouble producing a tonne of graphics? Canva's AI tools like Magic Design can help you visualize your designs just by uploading your media into a blank presentation. You can turn your text and images into auto-generated, personalized designs in the right format from static Instagram posts to Carousels, Stories, and even Pinterest pins.
We all know that your social media content needs an epic caption too, which is why AI copy tools can map out caption templates to go along with your posts.
Want to make sure your captions have an expert marketer's touch? Plann's done-for-you Social Starters can elevate your caption game with just a click of a button with a done-for-you caption template that you can customize and repurpose across different social media platforms.
2. Gain insights into your target audience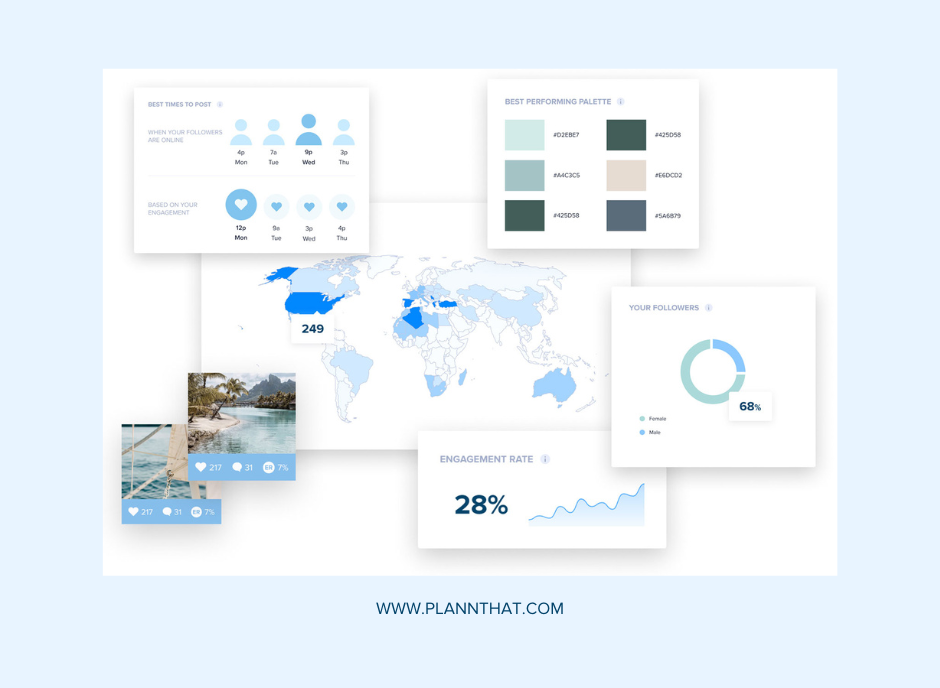 To tailor your social media content to your target audience, you'll need to do some audience research and consider who your audience is, and what their needs, wants and pain points are.
For the average person, this can take hours of time. But, AI can do it with just a touch of a button.
Using AI for audience insights can help you get to know your target market, their behavior patterns, preferences, and purchasing habits. This can ultimately help you create social media content that increases engagement and boosts conversions.
Thinking about running a campaign on socials? Ask ChatGPT to find deep insights about your target audience from their pain points to their purchasing patterns. This can help you deliver relevant ads and organic social media content on the platforms they use the most.
You can even use AI tools to help you write messages that will result in the biggest impact, and drive the most meaningful results. For example, Phrasee is an AI platform that generates marketing messages across the online customer journey to optimize content and deliver results, conversions, and ROI.
3. Stand out from your competition
Did you know that AI can also help you with competitor research? With so many businesses and brands across social media (from Instagram to TikTok and even Pinterest) it's not enough to just know who your competitors are. You also want to have a competitive edge over them, too.
That's why AI can help you learn more about your competitors by analyzing their social media strategies, and gain a better understanding of what works in their social media content and what isn't. This can help you build on your own social media strategy and support you in identifying competitors' weak points so you can win over their audience.
AI tools like Brandwatch can help you compare your brand to your competitors and other leaders in your industry and learn both your strengths and weaknesses to create a winning social media strategy.
4. Finding the right trends on social media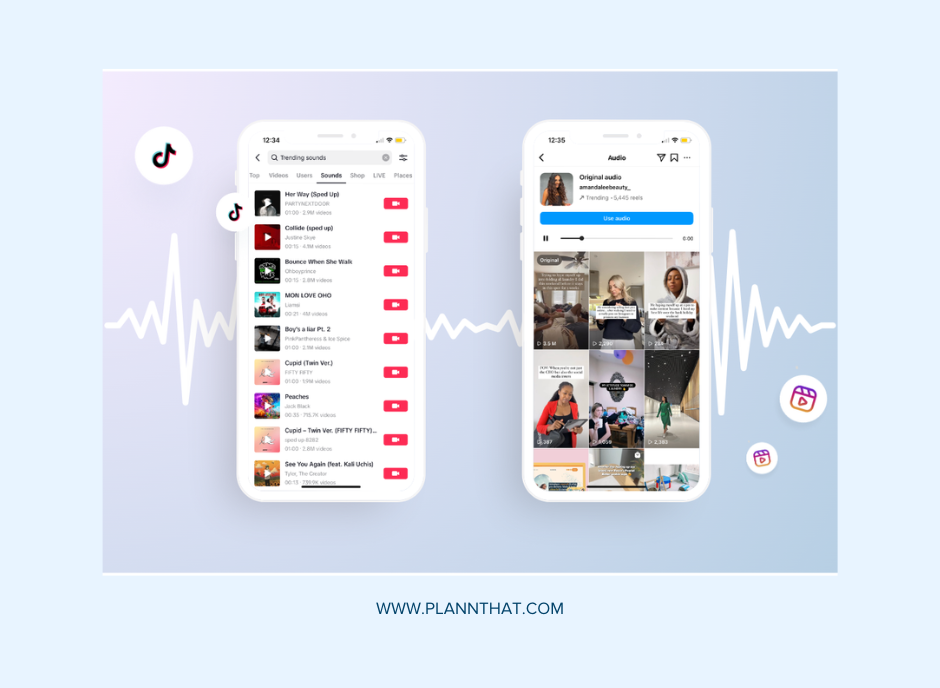 We all know how important trends are to increasing reach and engagement on social media. But, with a new TikTok trend appearing daily, it can be super hard to keep up with trends across different social media platforms.
Well, that's where AI comes in. If you're looking to integrate trends into your social media content, then AI can help you with trend research. Long gone are the days of manually scrolling your feed for hours trying to figure out what's trending on TikTok, Instagram, and even LinkedIn.
Plus, you can even use AI tools to find trending hashtags relevant to your niche and industry in seconds. We all know that hashtags change and evolve on different platforms which can be hard to keep up with.
That's why tools like Plann's hashtag collection feature suggest sets of hashtags that are up-to-date, relevant, and high-performing to make sure your social media content is reaching the right audience and doesn't get lost in the crowd.
Plus, you can use hashtag analytics to find out which hashtags are working and which ones aren't to optimize your performance and boost your content's reach and engagement.
5. Enhance your social media strategy
Last but not least, AI tools can help you enhance your entire social media strategy by helping you find new content pillars that speak to your audience, helping you discover the best times to post on each platform, and even the best SEO keywords to include in your social content.
Your social media strategy starts with your content pillars that are aligned with your business goals. And, if you're having trouble nailing your content pillars, then AI tools like Plann's customizable theme feature can help you build them out using content themes commonly harnessed by brands.
If you're writing blog posts and repurposing them across your social media content, AI tools like ChatGPT can help you uncover the best SEO keywords and phrases to include in your blogs and in your captions too.
Plus, if you're looking to find the best times to post across your different social media platforms to maximize reach and engagement, then Plann's analytics tell you the optimal time to post your content when your audience is most online and when content has performed the best in the past.
Ready to take advantage of AI tools on social media?
Looking for an all-in-one content creation suite that allows you to manage your social media channels effortlessly? From mapping out your strategy, and designing your graphics to repurposing your content, you'll find everything you need inside Plann.
Go on, and redeem your 7-day free trial of Plann Plus. If you don't like it, keep using Plann for free!