Buying followers is never going to help you grow an engaged audience on social media.
Sure, a high follower count looks great.
But what's the point of hitting 10k when none of those accounts are real people who care about what you're posting?
Our take? It's way more valuable to have 500 engaged followers who interact with your content, share it and will buy whatever you're selling.
So how do you grow an organic audience on social media?
An effective attraction strategy.
Below, you'll find five of the best ways to increase your organic engagement rate and attract loyal followers genuinely interested in what you offer.
1. Optimize Your Social Media Profiles
Optimizing your social platforms is a crucial step in attracting new followers on social media.
It leaves a strong first impression when you have a compelling and well-optimized profile.
Remember, you only have seconds to grab a user's attention and convince them to tap the "follow" button.
Here are some key strategies to optimize your social media profiles for your target audience:
1. Clear and Consistent Branding: Your profile picture, cover photo, and bio must align with your brand identity. Use a high-quality, recognizable logo or a headshot as your profile picture. Choose a visually appealing cover photo that reflects your brand's aesthetic. Craft a concise yet captivating bio that communicates who you are, what you do, and what value you offer.
2. Keyword Optimization: Research and incorporate relevant keywords in your profile bio, username, and captions. This helps improve discoverability and increases the likelihood of appearing in search results and recommended accounts.
3. Compelling Bio: Your bio is your elevator pitch. It needs to tell users who you are, the value you provide, and a clear reason to follow your account.
4. Link to Your Website: Remember, the goal of growing a social media audience is to encourage users to take action. Use the link in your bio to drive traffic toward your latest offering, blog post, or anything else you're promoting.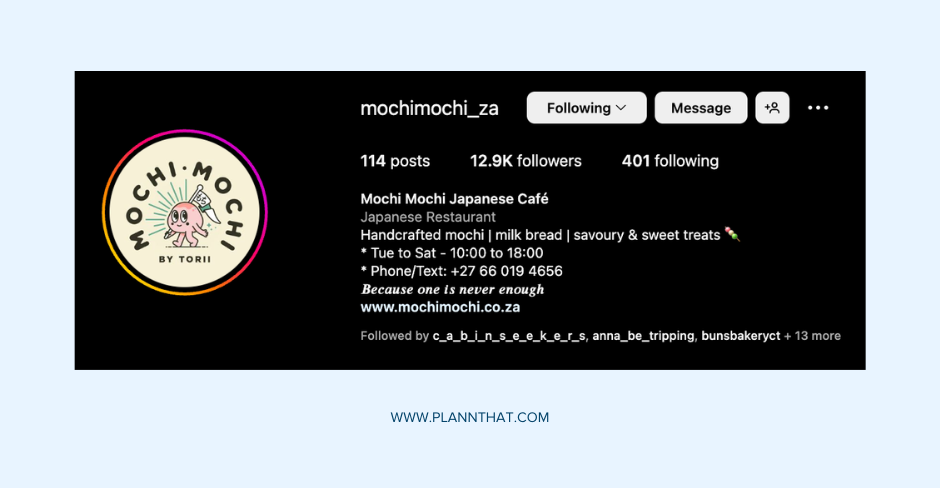 2. Create Engaging Content
Here's the deal.
If you want to grow your social media audience, you need to create valuable, captivating content that resonates with your target audience.
When this trifecta is in play, you can attract social media users and engage your followers.
But how do you create engaging social media posts?
1. Understand Your Audience: Open the Insights tab and analyze your content performance. Which posts resonate the most with your audience? What are the common themes and trends? Use your analytics as your guiding light to figure out what content your audience wants to see from you.
2. Create Valuable Content: Before you hit "publish", ask yourself, "Will my audience find this valuable?" When you create content with your followers in mind, your posts become sharable, increasing your reach and attracting new followers.
3. Encourage Engagement: The best content prompts users to take action. Ask questions in your captions, run polls on your Instagram Stories, or create challenges. These interactions are signals for the social media algorithms to promote your content to a wider audience.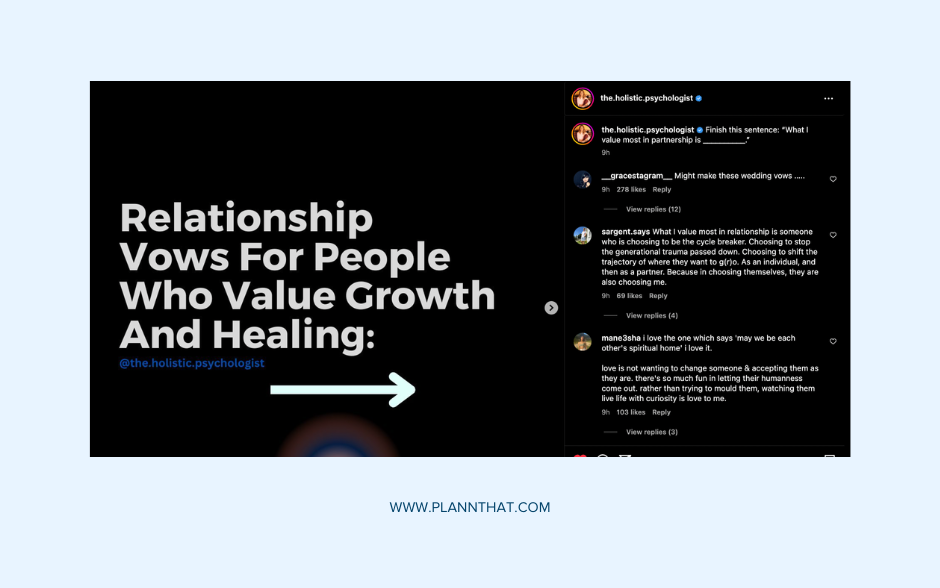 3. Reach New Users By Asking Followers to Tag Their Friends
You've probably seen this social media strategy before.
"Tag a friend who needs to hear this."
"Tag your travel buddy."
"Tag 3 friends to win."
It's a popular tactic because it works.
It amplifies your organic reach.
When your followers tag their friends in your posts, it exposes your content to a new audience. Each person tagged could become a new follower, boosting your social media engagement and increasing your chances of going viral.
That's not all.
There's a psychological factor at play as well.
When we see our friends tagging us in a post, it's building social proof. It signals that your content is worth checking out and is already endorsed by people we know.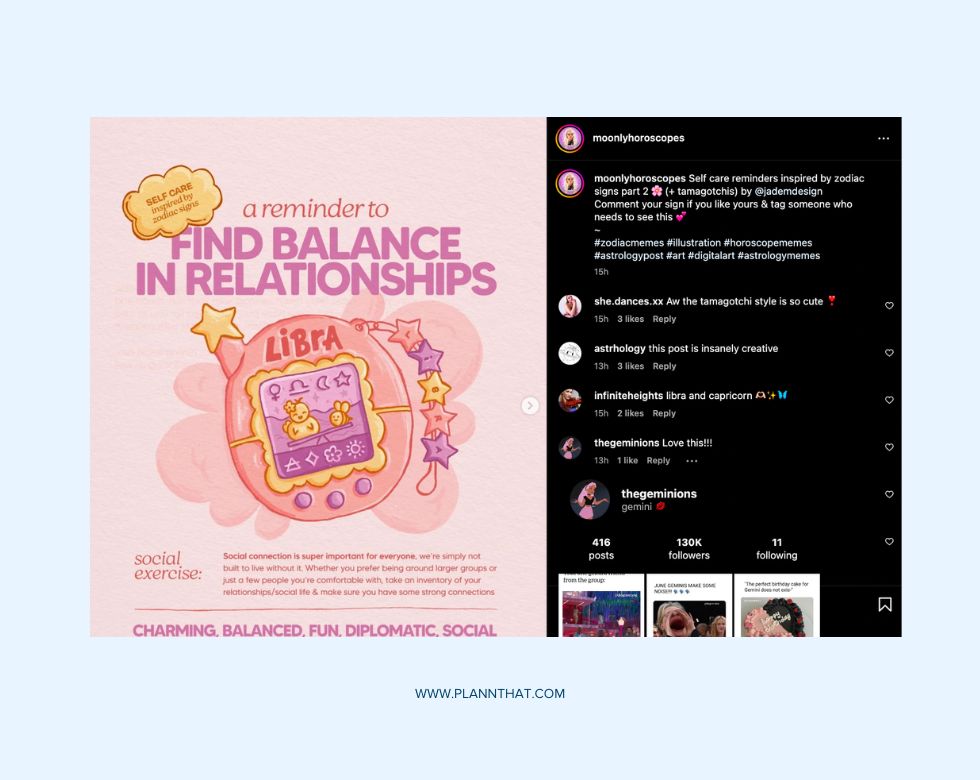 4. Use Relevant Hashtags to Expand Your Reach
Want more eyeballs on your posts?
Level up your hashtag strategy.
These digital signposts help users find content that aligns with their interests and is your golden ticket to increasing your visibility on social media channels.
But how do you find the right set of hashtags for your social media marketing strategy?
1. Research Industry-Specific Hashtags: What hashtags are relevant to your niche? What are your competitors using? Are there specific terms used by your audience? What hashtags are trending in your industry? By tapping into current conversations, you can make sure your hashtags are relevant and expose your content to the right users.
2. Mix Popular and Niche Hashtags: While popular hashtags like #travel have a larger audience, these terms are highly competitive and new posts are buried in seconds. Niche hashtags, on the other hand, have a smaller audience but are more targeted. Your content has more of a chance to stand out and reach users who are genuinely interested in your page.
3. Be Specific and Contextual: Along with a range of broad hashtags, make sure to choose at least three to five highly relevant hashtags for your post. The more specific to your niche, location, or content, the better.
Psst…Use Plann's free hashtag manager tool and get suggestions for your niche. Instantly.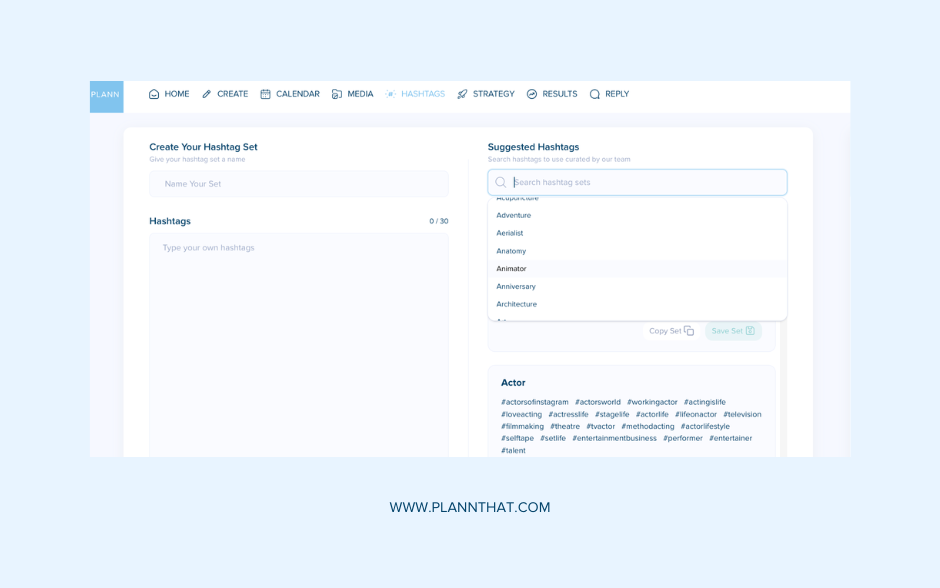 5. Create a Consistent Posting Schedule
How does posting consistently help you attract organic social media followers?
Well, first, it increases your visibility.
The more content you have out in the ether, the more opportunities you create for users to find your account and tap the "follow" button.
Secondly, you build trust and maintain engagement with your followers by showing up regularly online. You're establishing reliability (which the algorithm loves) and committing to creating a steady stream of valuable content.
After all, it doesn't matter if you're attracting 100 new followers each week, but everyone unfollows you a month later.
How often should you post on social media platforms?
It's up to you.
Whether it's five times or three times per week, as long you stick to a consistent posting schedule and serve your audience, you're on the right track to improve your organic growth.
Grow Your Organic Reach With Plann
Organic social media growth is a process.
It requires time, effort, and strategy.
But if you stick to it and put your followers first, you'll create the right mix of content that'll resonate and grow your social channels.
Take the first step and sign up for a free 7-day Plann Pro trial today. It's the only all-in-one social media management suite you need to stay consistent, cross-post on different social networks, and analyze your performance.