So you've heard alllll about the benefits of Instagram Reels. Like higher engagement rates and more sales. You want a slice of that pie, but there's just one problem…
…You have ZERO idea what to post.
Okay, that's a lie. You have an IDEA of what to post, but you're not into this whole 'pointing into air and words come out' idea that everyone seems to be doing.
It's overdone and besides, you feel awkward AF doing it. But you're stumped on other ideas.
That's where we come in!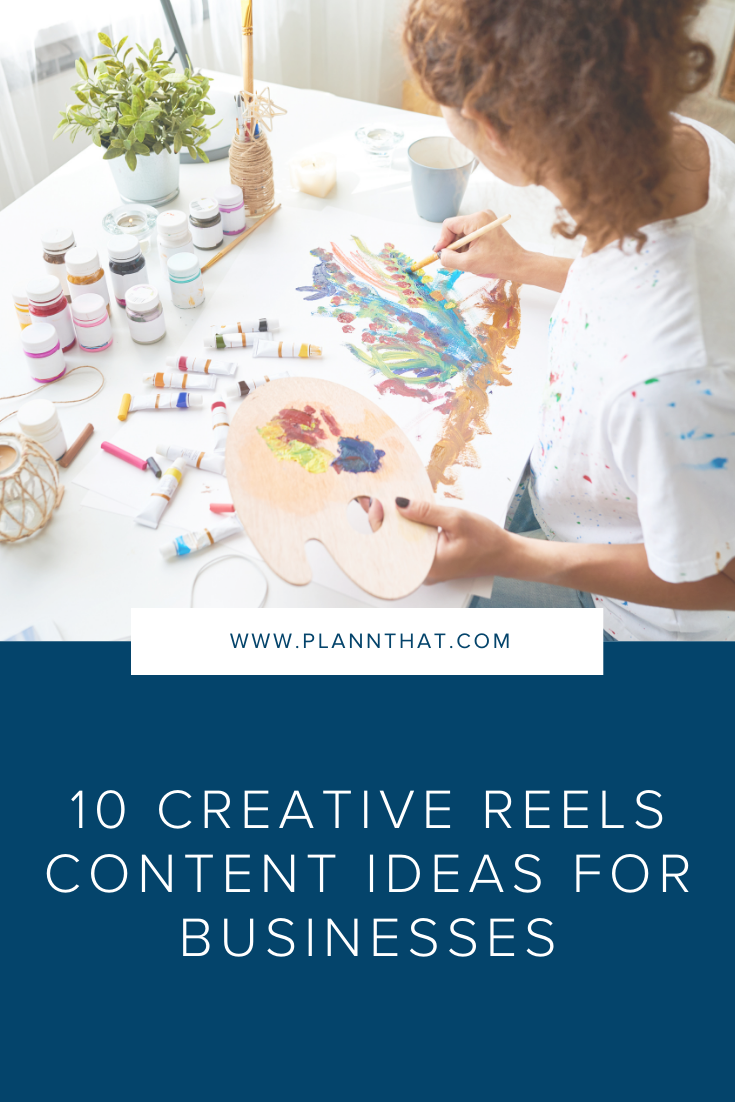 By the time you've finished reading this post, your content creation block will be cured, and you'll have 10 fun Reels ideas for your business or personal brand.
No pointing required!
1. Create a Talking Head Clip
You don't need fancy transitions, sweet dancing moves or a Pinterest-worthy office to make an impact on Reels.
Sometimes simple is all you need to get your point across.
Create a 15-second clip of you sharing a tip (make it actionable!), add some text, and you're done!
**Music and fun effects are optional**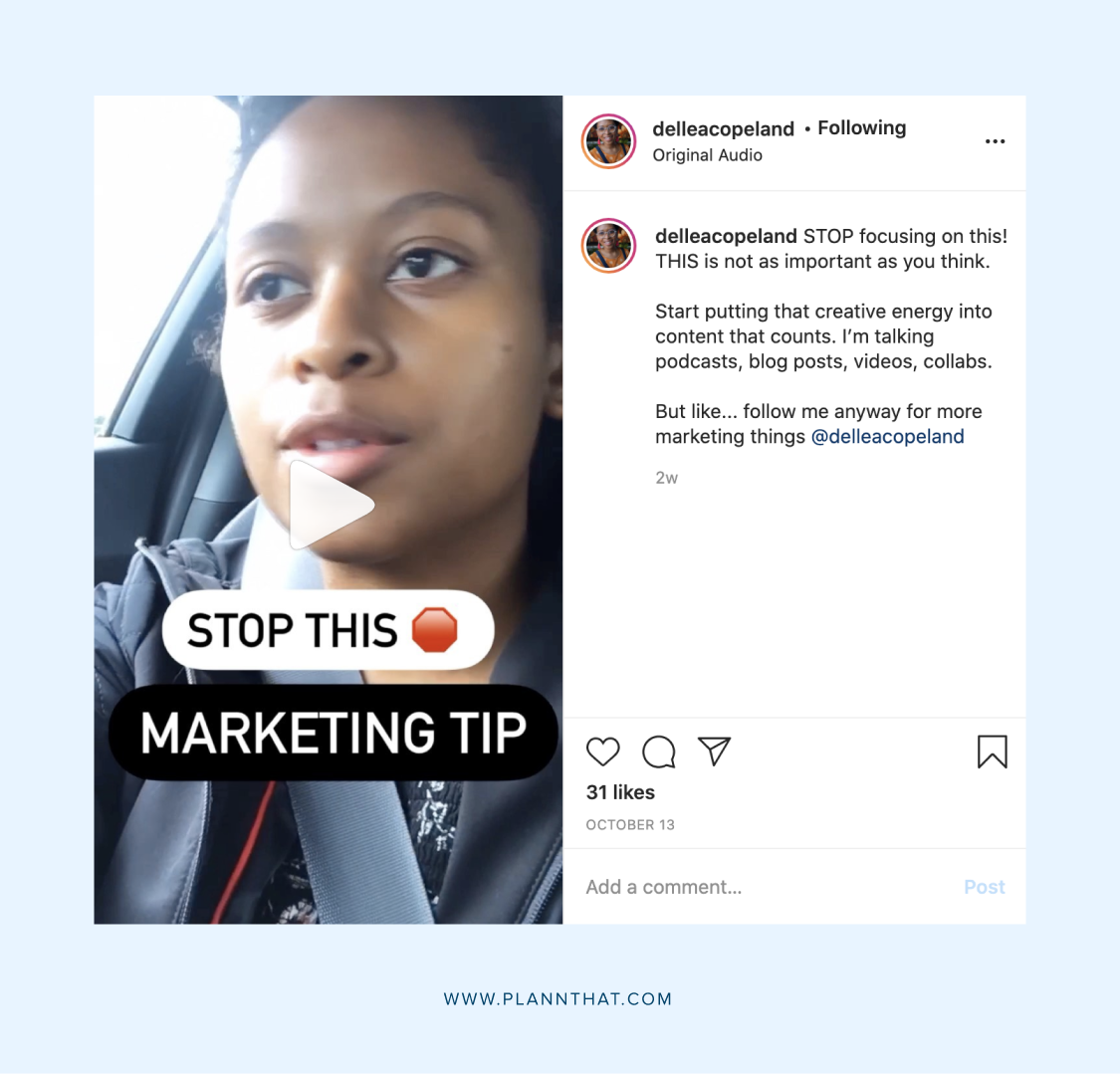 2. Use the 'Yes, No' Song
E-40's song "Choices (Yup)" blew up on TikTok and gives you a fun way to help out your audience without pointing a finger.
So, what do you need to do?
Find the audio under 'Music' when creating a Reel and answer six yes/no questions about yourself, your business or common misconceptions in your industry.
For each segment, you'll nod your head yes or no and write out the questions as captions.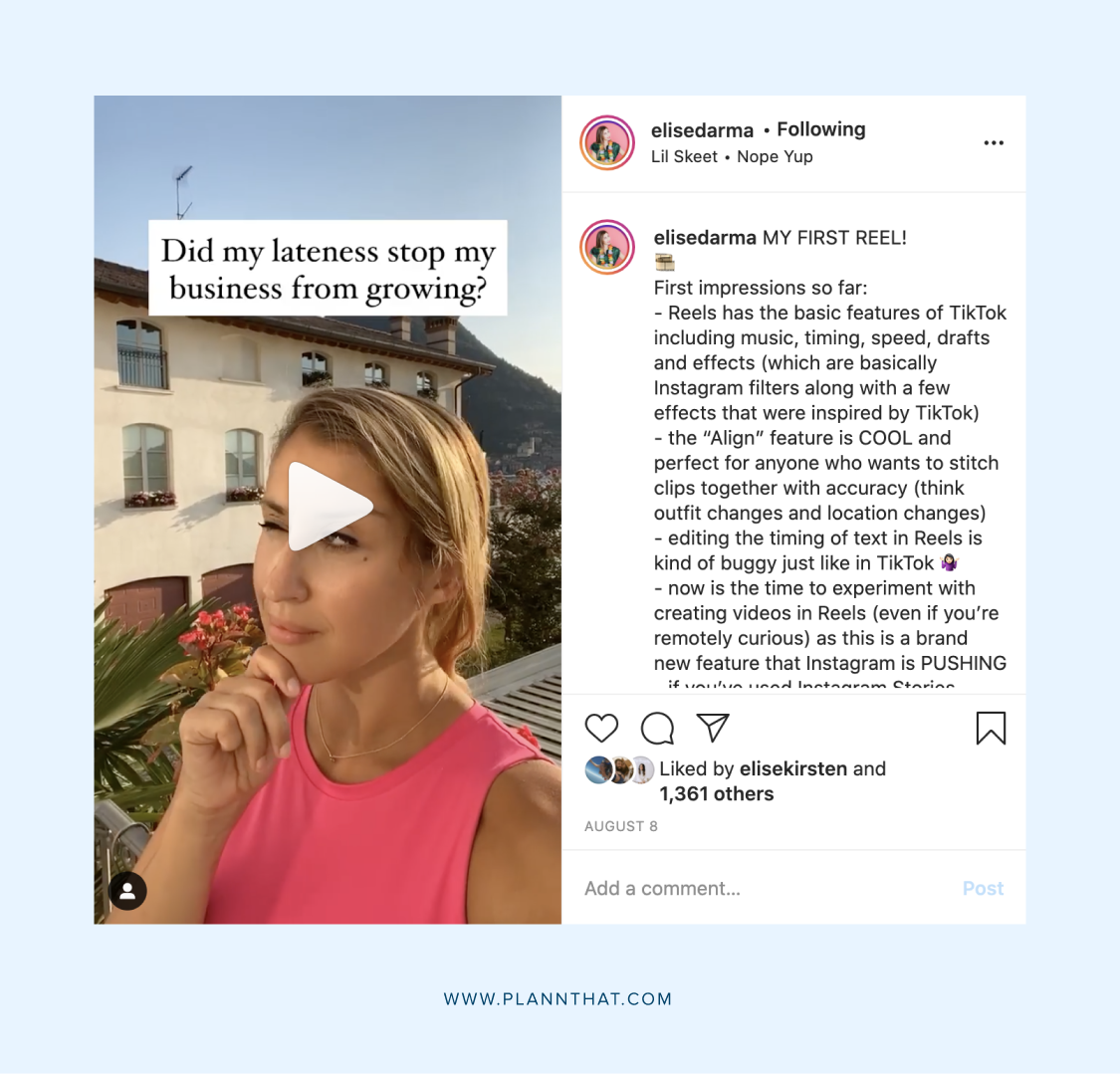 3. Get to Know Me
New to Instagram Reels and don't know what to post?
The 'Get to Know Me' trend is an excellent choice and is ridiculously easy to make.
First, select a song that fits your style, personality or brand. 'Level Up' by Ciara is a firm favourite with many users hopping onto this trend.
Next, list the following as captions while you dance or smile to the camera:
• Your name
• Where you're from
• What you do
• What you offer
If none of those options resonate with you, switch it up and make it on brand!
You could also talk about your journey, and how you 'levelled up' in business or life over the years.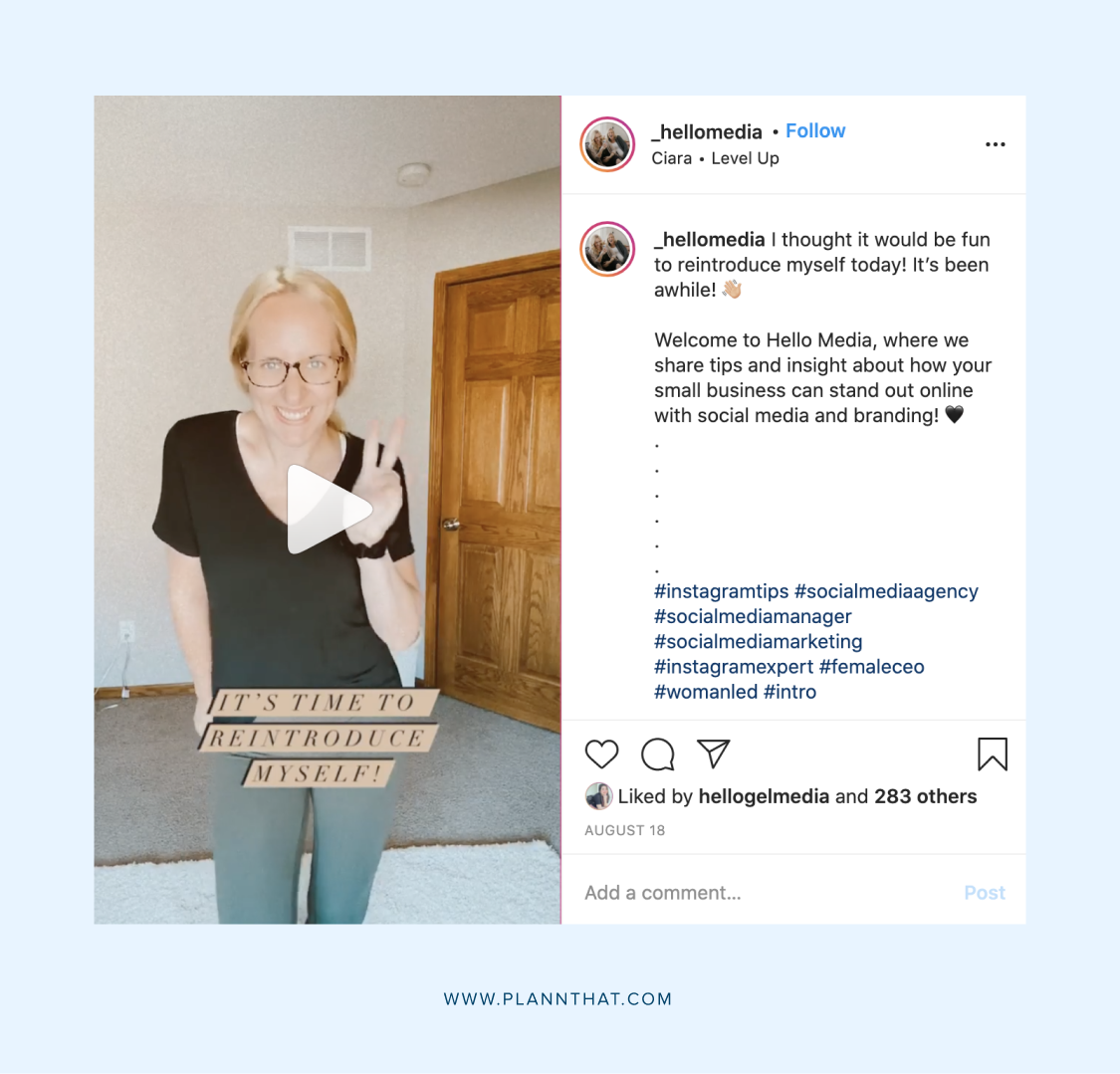 4. Make a Tutorial
Quick, easy-to-digest and actionable tutorials are an easy way to make a splash on Reels.
• Are you a business coach? Share three tips on how to find your niche.
• Do you have impressive makeup skills? Give your followers a short and sweet eye-liner tutorial.
• In the travel industry? Show your followers how to edit their vacation photos with a Lightroom tutorial.
The options are ENDLESS, and it's an excellent way to provide your audience with value and build up that know, like and trust factor.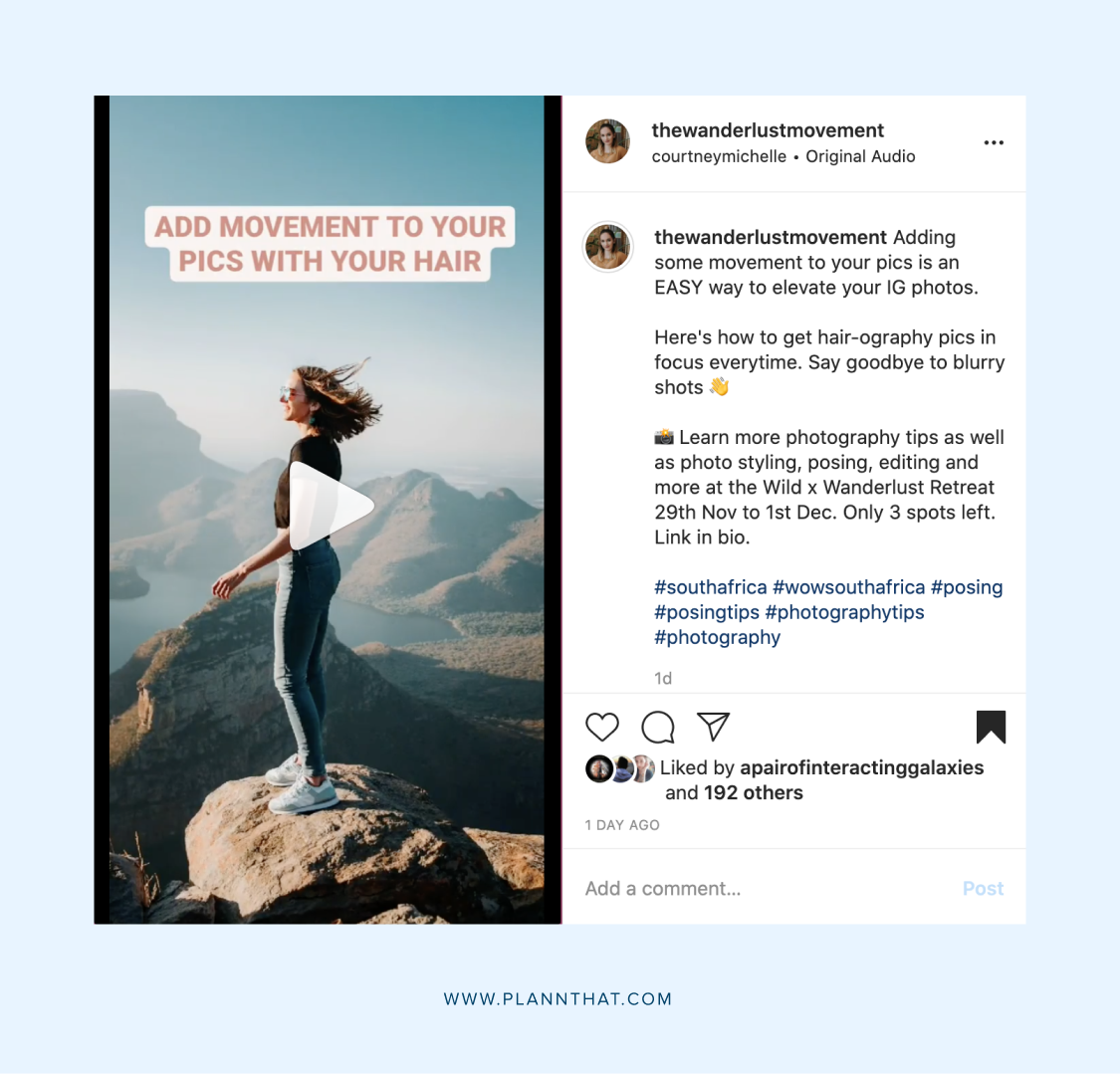 5. Post A #Shelfie
Your Reels don't have to be business 24/7. Use these short videos to show off your personality and give your followers a glimpse into your life.
A fun way to do this is to use your bookshelf. 
Create a Reel picking up the books that have changed your life, had the biggest impact on your business or your current reading list.
Top tip: Add a caption at the end, asking your audience to list their favourite books in the comment section below to boost engagement!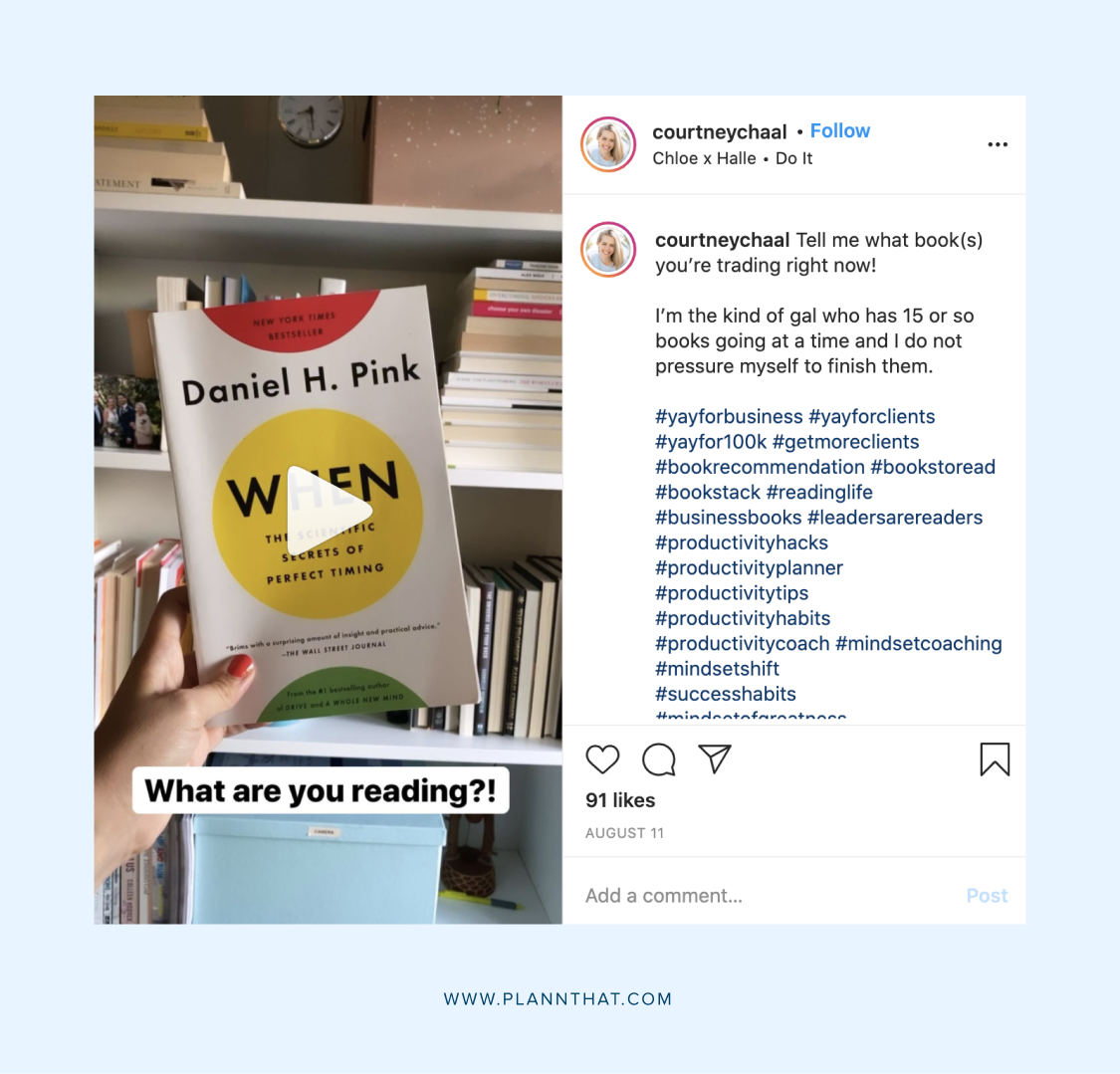 6. The "Office Check" Trend
Give your followers a sneak peek of what it's like to work with you. You can do a pan over your entire office space, focus on your favourite parts or show off the tools of the trade.
Are you a remote worker? Make a Reel of the co-working space or coffee shop you're crashing for the day!
Stumped with song ideas? Harry Styles's 'Watermelon Sugar 'is a top choice for the Office Check trend.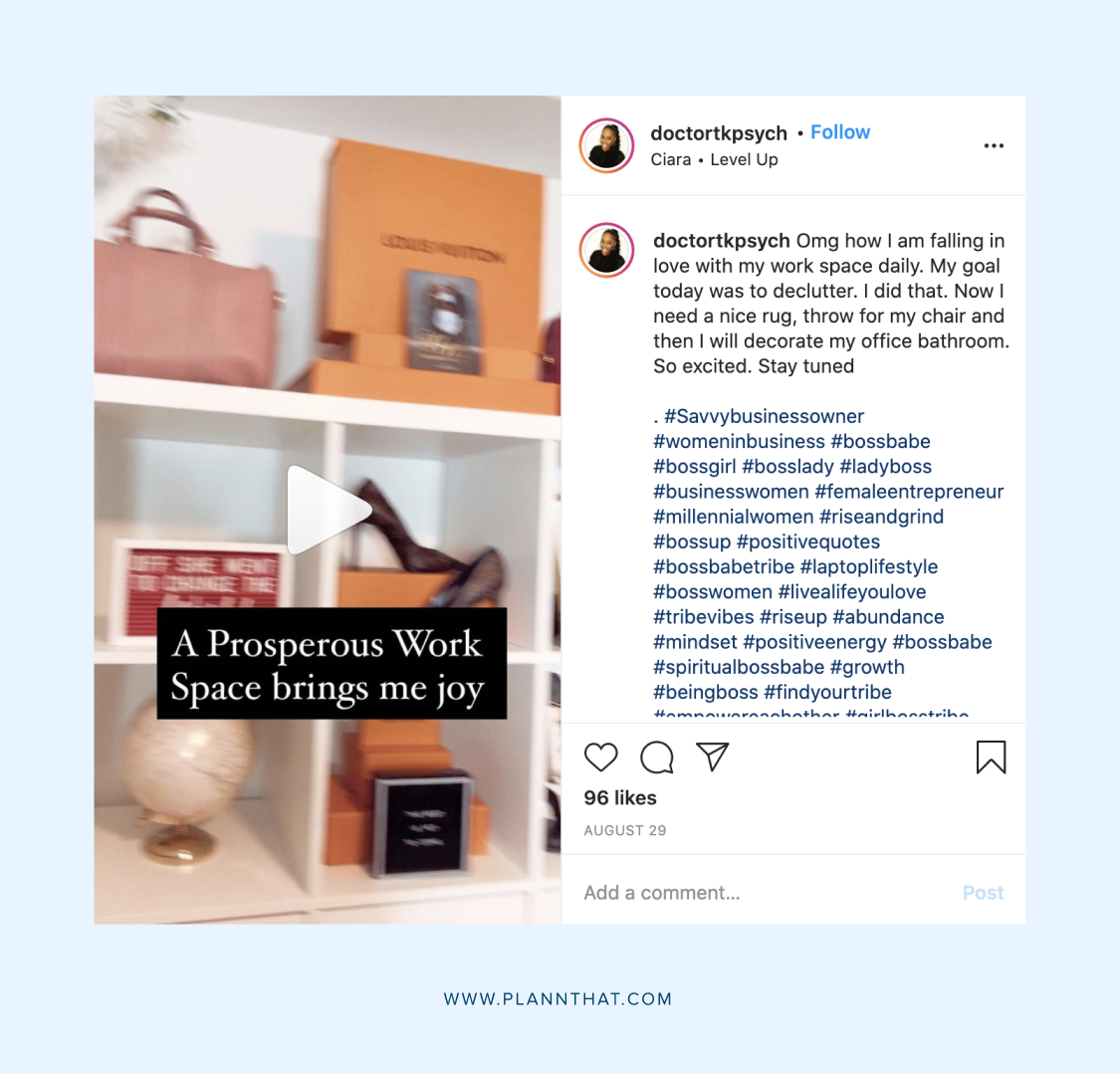 7. Comment on Industry News
For this next Reel content idea, you'll need the Green Screen effect.
It's a filter which lets you superimpose yourself over a virtual background. To add it to your Reels repertoire, create a new Reel and tap on the 'Effects' button.
Scroll to the end of your effects list and tap on 'Browse Effects.' Next, search for "Green Screen Instagram', tap on the filter and tap the download button.
And you're good to go!
To create a Reel commenting on your industry, find an article online that you want to talk about. Screenshot the article and add it as the green screen background.
Then record yourself stating your thoughts in 15-30 seconds and share it with the world!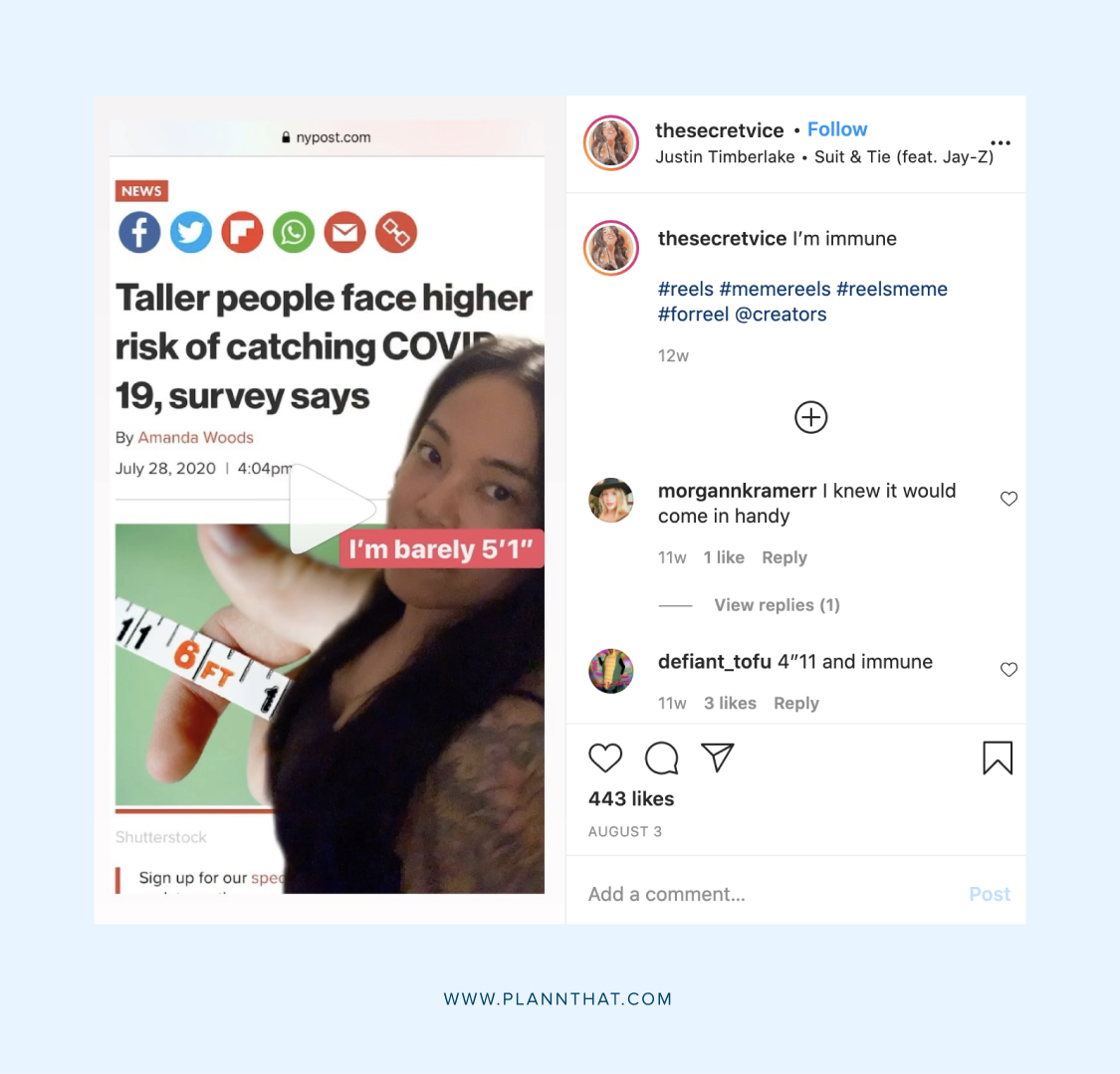 8. Bust Myths and Share the Truth
Are there common beliefs and assumptions in your industry that you want to bust? Or things you disagree with?
Create a Reel and share your truth with the world!
Here are some ideas:
• What do people think it looks like to start a coaching business?
• What are the assumptions people make about your niche?
• What do people think working for yourself is like?
• What do people think working with a coach is like?
You can create a Reel around this idea by writing captions with clips of you talking to the camera and showing the reality.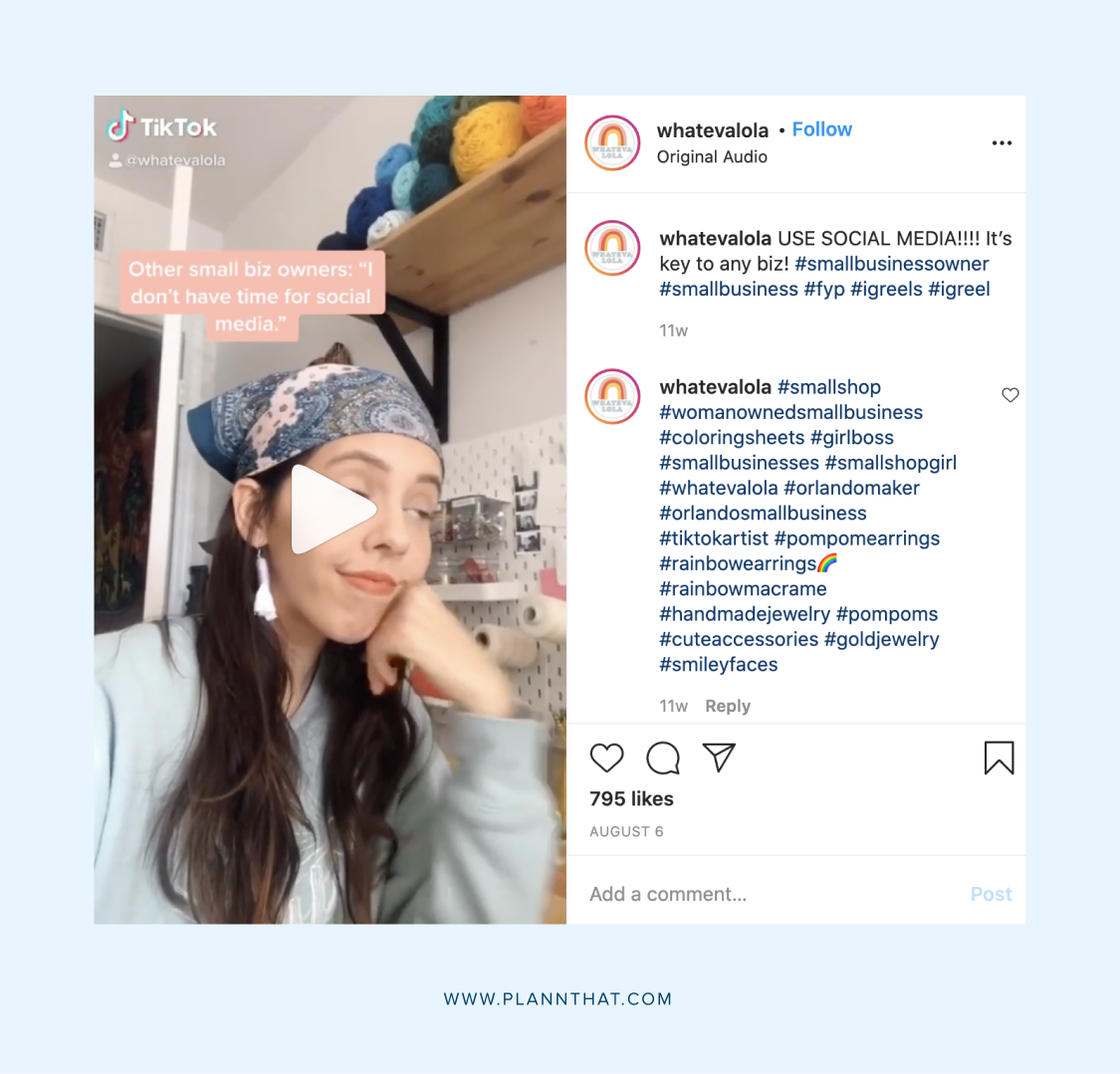 9. Show Off Your Process
Another easy-to-make Reel content idea is to show your process to your audience.
For entrepreneurs with physical products, record yourself making your creation or packing your orders and speed up the process to fit it into 15-seconds.
If you're a service-based entrepreneur, you can record yourself planning, and recording your podcast or YouTube video.
Or even a meeting with your team!
For coaches, you could do a time-lapse of a one-on-one call with a client or your onboarding process.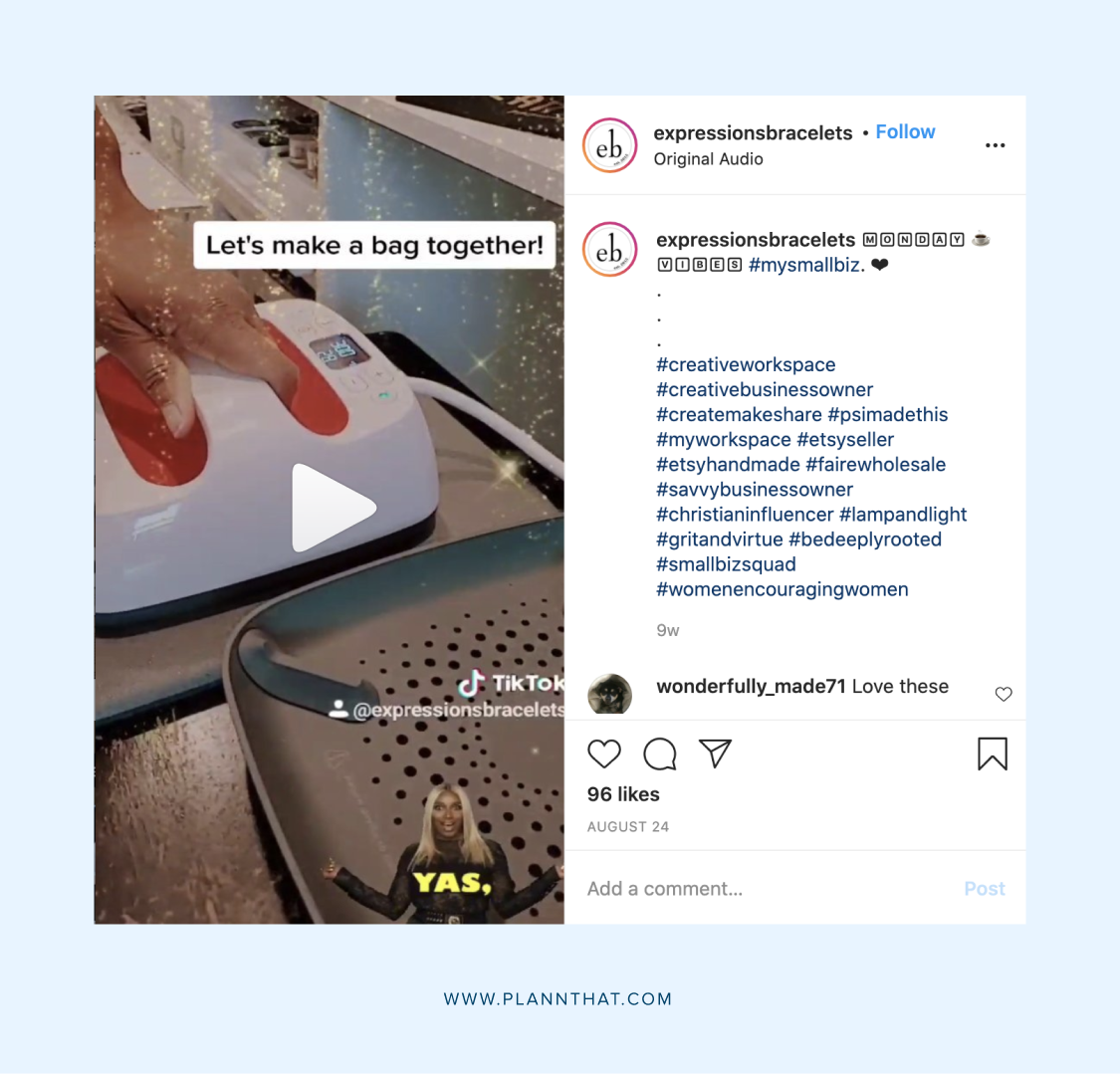 10. Outfit of the Day
For something light-hearted, create a Reel showing off your outfit! 
If you're feeling fancy, you can create a transition where you're in your pyjamas, kick a shoe in the air, and cut to you fully dressed for the day.
You can also reverse this idea and show your audience what you look like after a long day at the office.
It's a great way to add some personality, show off the outfits that make you feel like a boss and take a break from your more educational Reels content.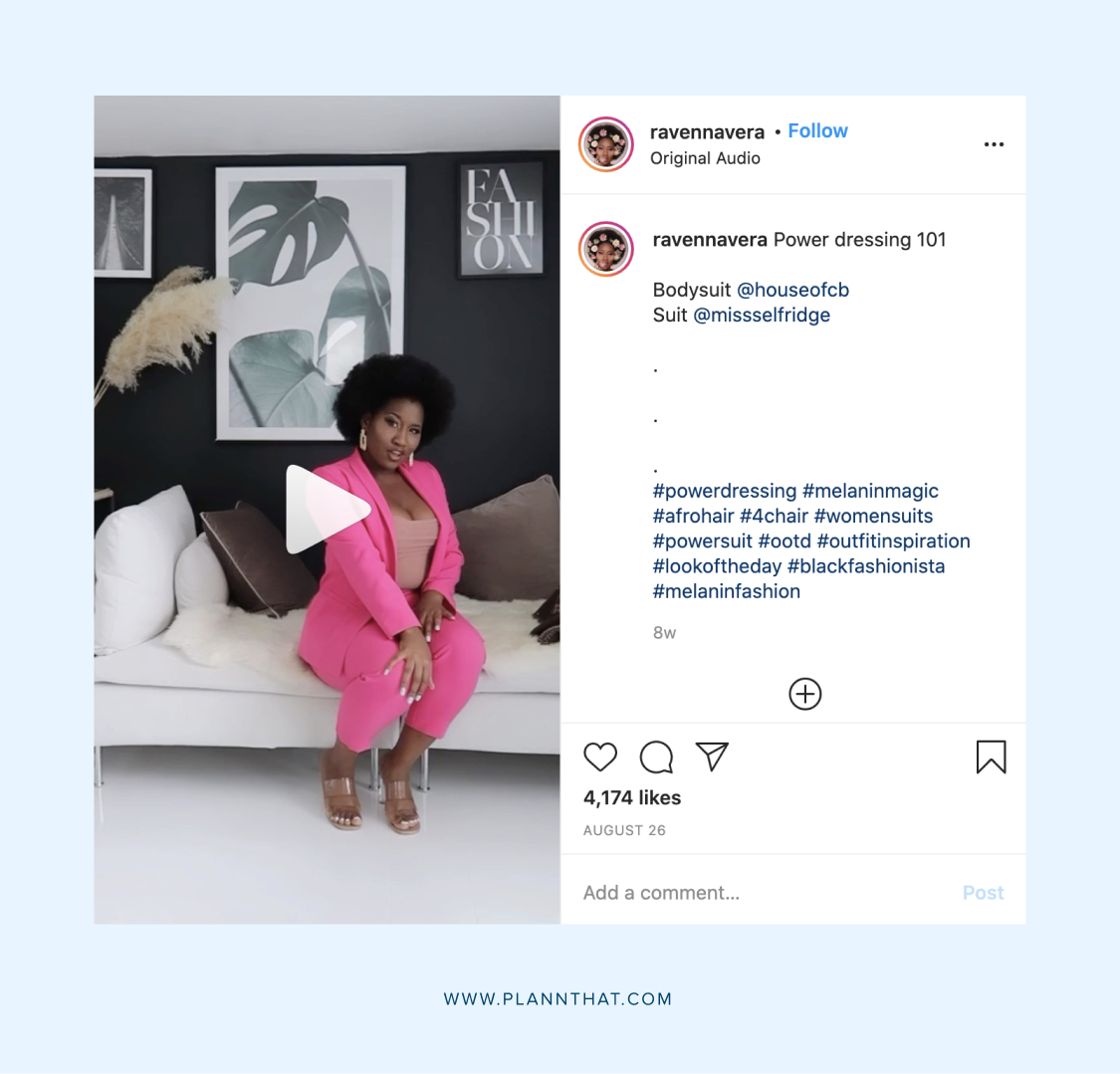 BONUS: Show Off Your Products
Dropping a new line of products? Create a Reel and show off each one!
Reels are a fun way to create a video catalogue and help people see what your products look like in different angels and light. 
You can also take this one step further and create a Reel showing off your best-sellers or a tutorial on how to use it.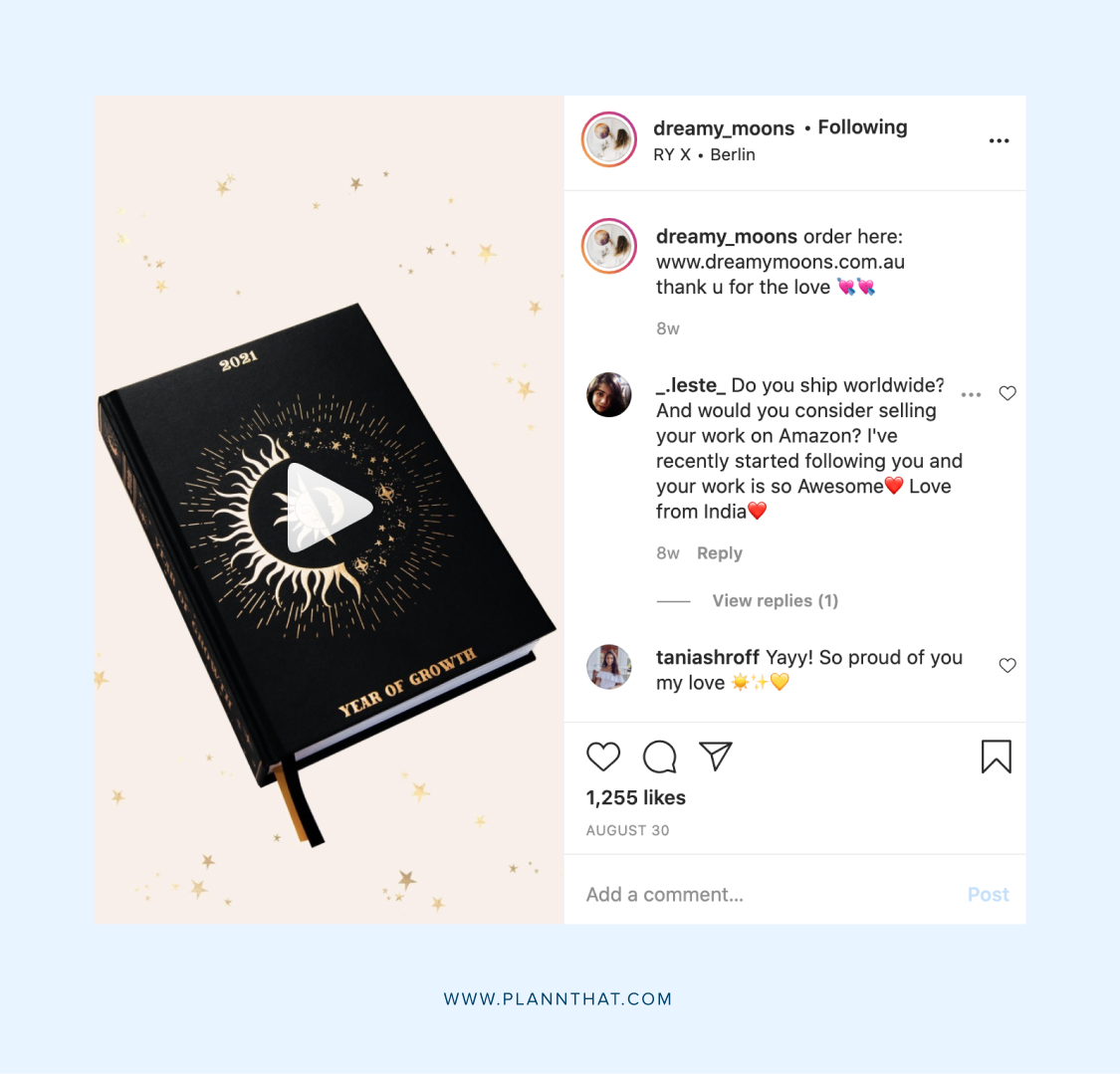 Tips for Creating Reels
• Get a tripod for your phone or a smartphone holder adapter. You can film your videos hands-free without someone holding your phone or building a make-shift tripod to get the perfect height.

• Script out your video! This is useful if you feel anxious about speaking on the spot. It will help you film your Reel quickly with minimal mistakes.

• Explore your Instagram Reel feed and get inspired. Save video ideas to your folder, and you'll never run out of ideas for content.

• Reply to every comment! It's an easy way to boost your Reel in the algorithm and get more views.

• Share your Instagram Reel to your Stories and Feed to boost views, likes and shares.
One, Two, Three…Reel!
Think of Reels like Instagram Stories on steroids. It's a way for you to share behind-the-scenes content of your business and show off your brand personality in a bite-sized format.
With Instagram prioritising Reels, there's no better time to start reeling in new followers and happy clients. 
That said, it's just one part of a strong and cohesive Instagram strategy. Log in or download Plann today to start getting a birds-eye view of your Instagram content! Start to plan, schedule and autopost your Instagram Reels with Plann today!