If you're in the business, marketing or entrepreneurship world, you may have heard the buzzword 'Clubhouse' floating around recently. Perhaps you've found yourself wondering 'what is this club, and why wasn't I invited?' The good news is, you haven't been left out of some exclusive secret society or missed the auditions for an adult version of the Mickey Mouse Club!
In this article, we're giving you the lowdown on everything you need to know about the Clubhouse app — the new, audio-fuelled darling on the tech scene. By the end of this article, you're going to know exactly how Clubhouse works, how you can score yourself an invite and how you can make it work for your business or personal brand.
Come on in and take a peek inside the Clubhouse!
What is the Clubhouse app?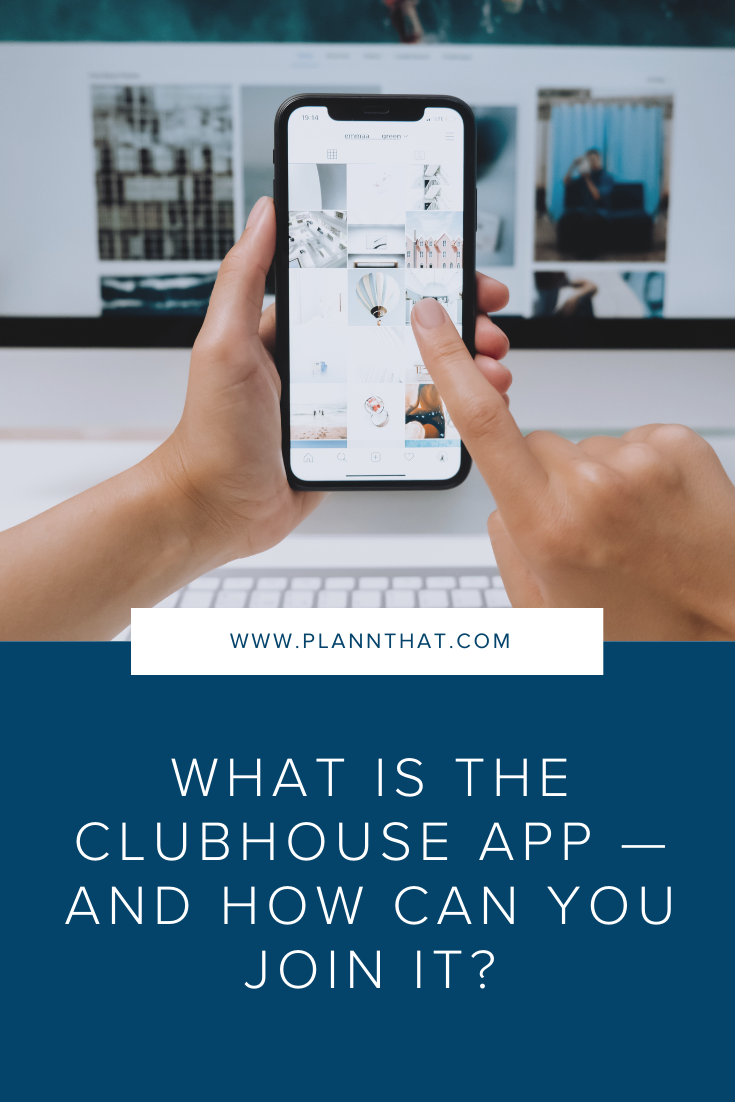 Clubhouse is an invite-only, audio chat app that allows users to join, listen and contribute to virtual 'rooms.' These rooms cover a wide range of topics, from business and self-development to culture, music and film.
Think of it kind of like a combination of  Reddit — in that you're joining communities based on your interests — and Facebook's drop-in 'Rooms' feature. But instead of text or video, all communication is done through audio chat.
Clubhouse is primarily a social app, so you can chat to other users in real-time, network, share advice and ask questions of others in your industry or niche (or outside of, if you're looking to branch out!)
What makes Clubhouse different?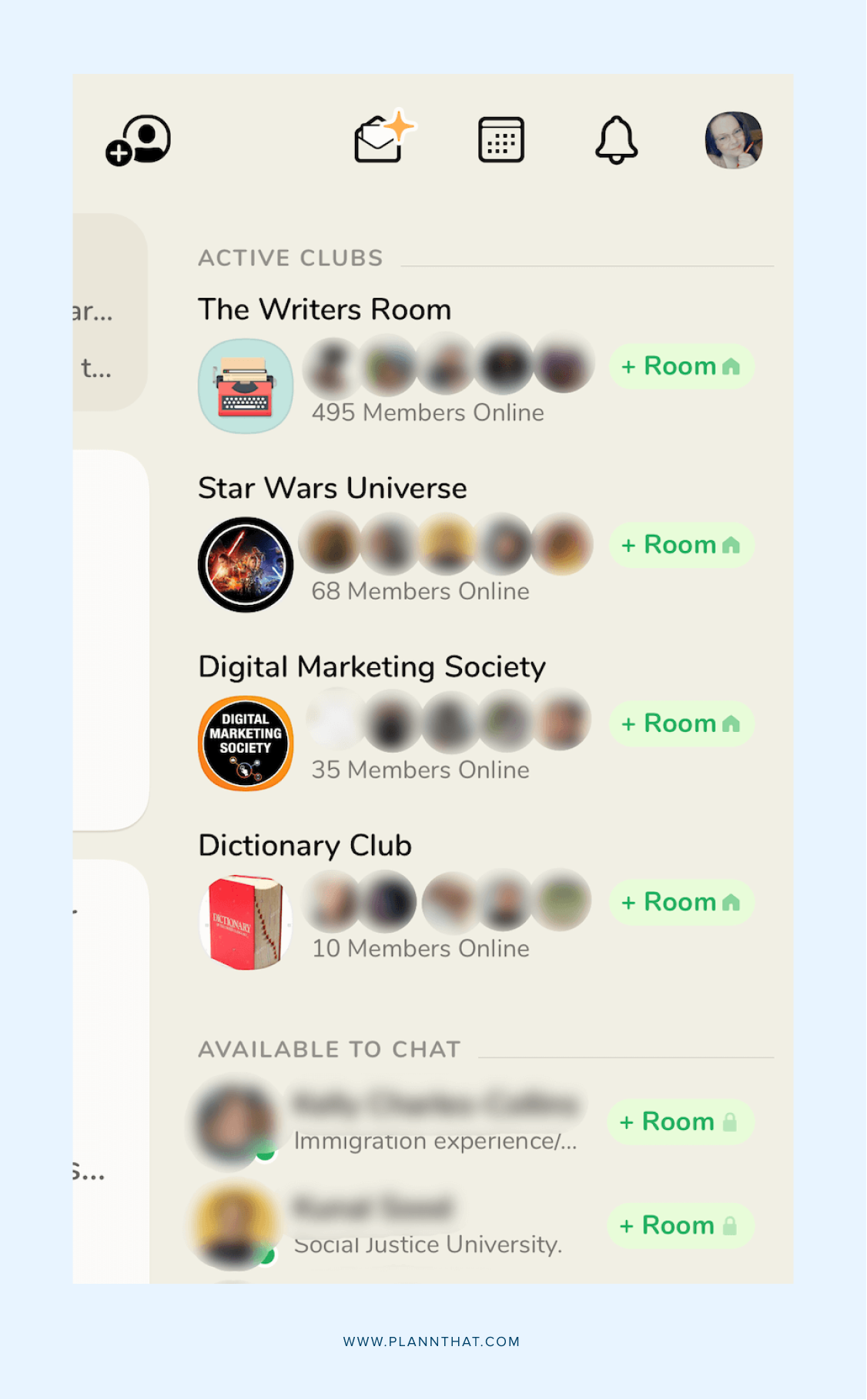 Obviously, one major factor that separates Clubhouse from other social media apps is the focus on audio. Nearly everything on the app is done through the power of voice! In a time where it feels like we're all just staring into screens rather than talking to each other, there's something about voice chat that feels more intimate and connected (kind of like having an actual phone call, in the good ol' days!)
Unlike many other social media platforms, the content you're seeing on Clubhouse is also far less dictated by an algorithm. Instead, you'll join clubs based on your interest, and will be able to spontaneously drop into 'rooms' to join conversations on certain topics. 
Another point of difference for Clubhouse is how exclusive it is. Currently, you need to be personally invited in order to join the app. But, as we'll delve into later in this article, this doesn't necessarily mean you have to be a celebrity or tech VIP in order to sign up (phew!)
How does Clubhouse work?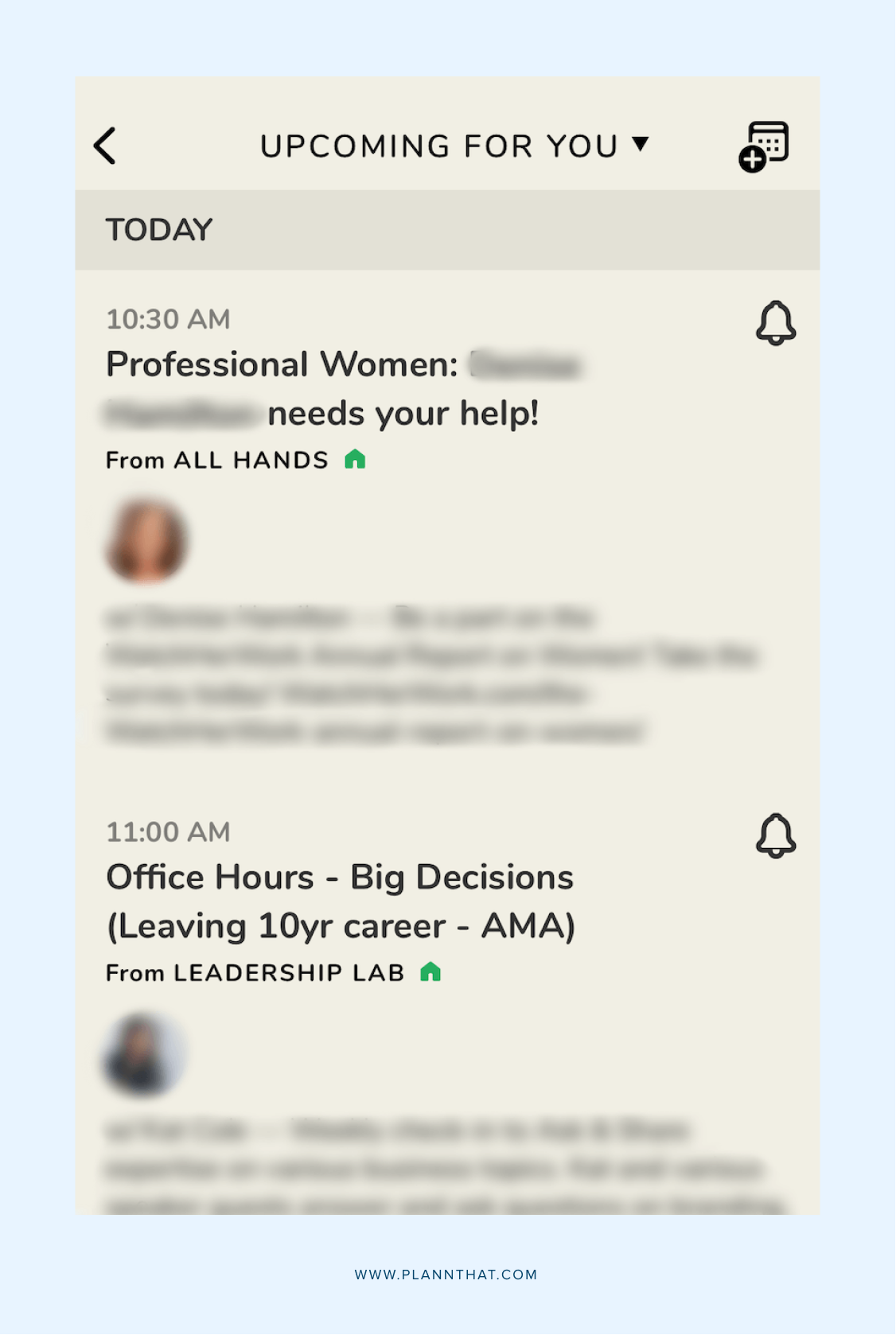 One of the first things you'll do when you join Clubhouse (apart from connecting with your friends who are already on the app) is join Clubhouse Rooms, based on topics you're interested in. These rooms may also have scheduled events (which can follow a podcast-style format, an 'ask me anything' or more of a roundtable discussion with multiple hosts/guests), which you can follow to get reminded before they start.
All of the rooms you've joined will show up in your 'Hallway', which is the main dashboard area in the Clubhouse app. As well as upcoming events, you'll be able to see who from these rooms is online, and start a chat with them if you choose. 
When you first join a new Clubhouse room, you join as a listener. That means you can listen in quietly, but not contribute to the conversation. However, you can request to speak, or be invited to speak by a moderator — in which case you will be unmuted, and will be able to give your two cents or ask a question. You can also request to connect 1-1 with other cool people you've discovered.
If there's a niche or topic you feel like hasn't yet been covered, you can also start your own room on Clubhouse — in which case, you would be a founder and moderator. 
Can you use Clubhouse for business?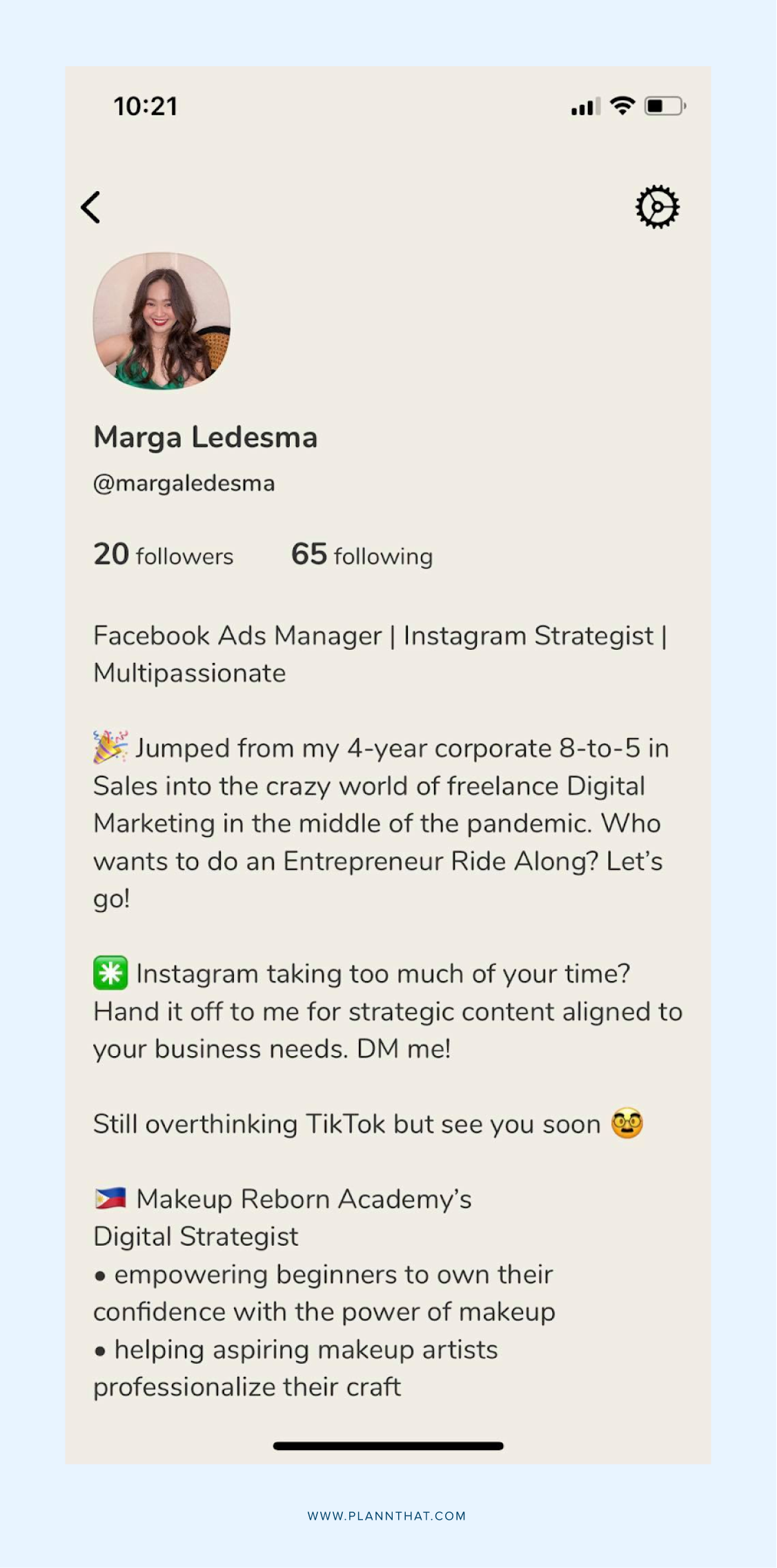 Absolutely! Thousands of business owners, creatives, entrepreneurs and coaches across a wide array of industries have flocked to Clubhouse, and for good reason. 
For one thing, there's more of a focus on genuine connection and high-quality content. It's also far less saturated, compared to other social media platforms. So it's a great place for creating (and consuming) great audio content, without being drowned out by all the other noise of social media. 
Another great benefit of Clubhouse? There's a helluva lot more bio space compared to Instagram. No more trying to condense what you do into 150 characters — there's at least double the amount of space to play with on your Clubhouse profile. Great news for all those multi-passionate folk out there!
Plann's Top Tips for Using Clubhouse for Your Business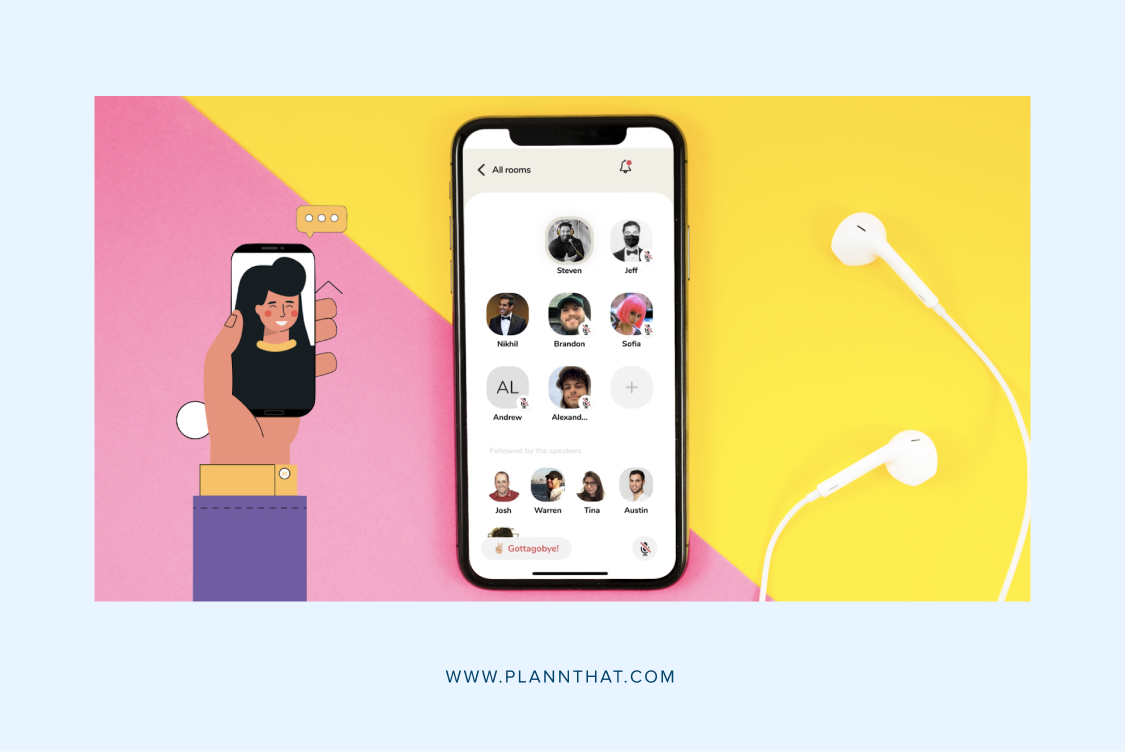 • Depending on the room you're entering, consider tailoring your bio to match the topic (you can save multiple versions to your bio, so you can swap them out as appropriate!)
• Have a concise elevator pitch ready and practised, so you don't ramble about yourself. Limit this to one sentence, and tell them to head to your bio if they want to learn more about what you do
• If you feel a bit awkward holding your own solo room, consider teaming up with someone you know. That way, you can bounce off each other and have a natural conversation — rather than feeling like you're up on the witness stand!
Examples of Great Clubhouse Bios
Leigh's Clubhouse bio strikes the perfect balance between personal and professional. Her summary at the top is a great example of how multi-passionate people can showcase their various passions.

Aoife's Clubhouse bio is engaging, eye-catching and gives readers a glimpse into the founder's key values.

How do you join Clubhouse?
As mentioned, Clubhouse is currently available to join by invite only. While there's a good chance it will become less exclusive in the future, there are a few ways to snag yourself a spot.
Firstly, you can head to their website on iOS mobile to reserve your username and join the waitlist. If you happen to have a lot of friends already on the app, you might find that you'll jump to the top of the list. Otherwise, you'll need a well-connected friend who is already on Clubhouse to invite you (every user gets at least one free invite with their profile) You can also try joining some business Facebook groups, as there's lots of Clubhouse invite chains going around at the moment.
Is there a Clubhouse Android or Desktop app?
Clubhouse is currently only available for iPhones and iPads. That means no Clubhouse Android app — sorry Google users! t might be time to pull that dusty old iPhone out of storage. But, if Clubhouse is anything like most apps in tech world, the Android app shouldn't be too far behind.
Can't join Clubhouse yet? Try Instagram Live Rooms or Twitter Spaces
The good news is, even if you haven't scored an elusive Clubhouse invite, you can still harness the power of more intimate connection using platforms you're already using. Twitter recently rolled out Spaces — which are audio-only rooms where you can have live conversation with your followers. If you're more of a fan of video but don't always want to live stream to the masses, Instagram Live Rooms might be your style. Instagram recently announced that they're launching Instagram Live Rooms, which will allow you go to broadcast with up to 3 people at once. Perfect for round table discussions, webinars, Q+A sessions and workshop.
These new features are in the process of being rolled out, so keep an eye out in your apps. In the meantime, maybe all you need is a new strategy to get your mojo back!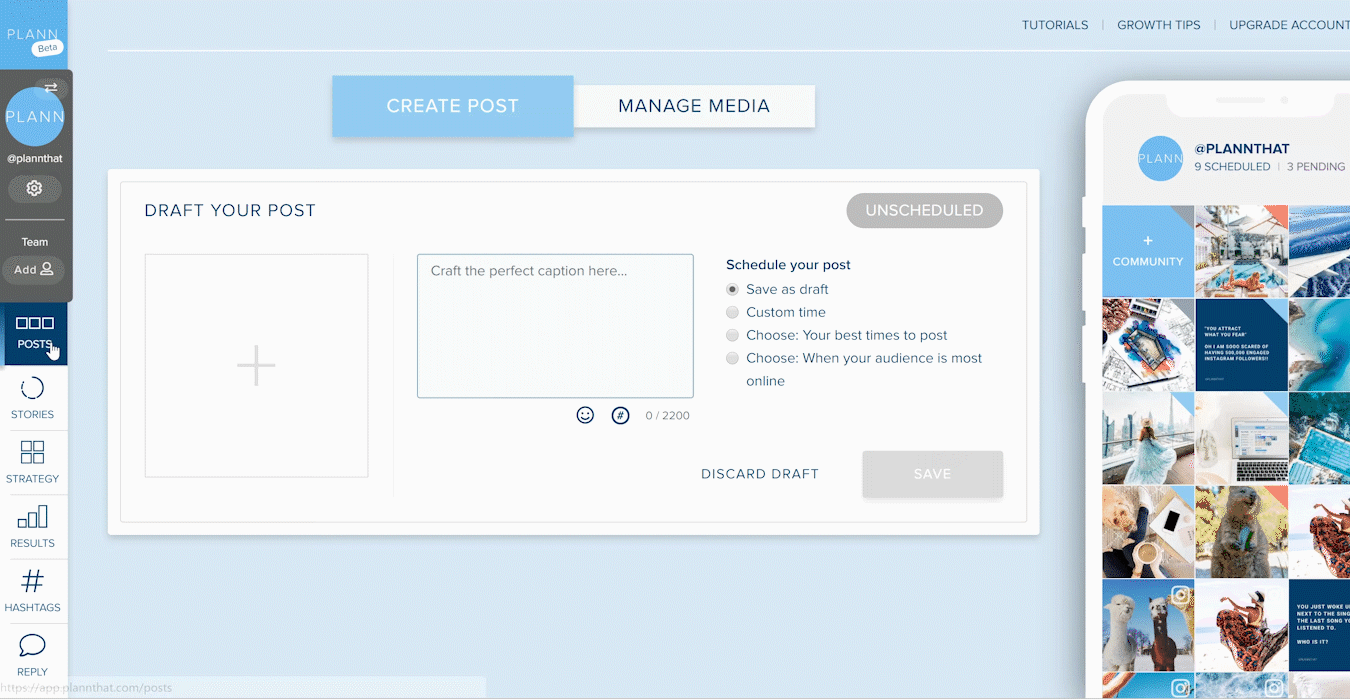 The strategy tool inside Plann gives you suggested content themes based on your industry, or you can create your own from scratch. That way, you can make sure you're always creating valuable, high-quality content your audience will love, no matter the platform! Log into Plann or start your free trial today to start mapping out your winning strategy.