What we know about Instagram Shadowban, and how to discover if you've been impacted?


There are swirling rumours around the internet about an Instagram Shadowban, directly affecting the reach of your Instagram account.
The phrase has been thrown around a lot, but many haven't understood exactly what it is – and if they've actually been affected by the Instagram Shadowban or if they're just struggling with really low engagement.
Here's a breakdown of everything we know about the Instagram Shadowban, including chatting to Instagram users who have been affected, and those who thought they had – but really just needed to make some changes.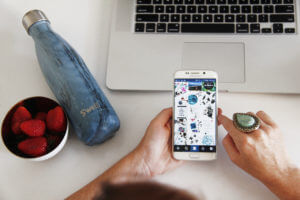 What is the Instagram Shadowban?
An Instagram Shadowban is when your hashtags become 'un-discoverable'. You can use your hashtags, however, they'll only show up in hashtag feeds of your current followers.
This means that your images won't show up in hashtag feeds of anyone who DOESN'T follow you. Obviously, this will reduce the reach of your account, making it much harder to reach a new audience.
How do you know you've been hit with an Instagram Shadowban?
Most people report a dramatic reduction in likes and comments on their images. A quick look over those people interacting with your account are only those who already follow you.
The easiest way to find out if you've been hit is to post a picture then ask a friend to un-follow you (or someone who doesn't follow you already), and check the hashtag feed to see if your picture shows up.
If it's not showing up in the gallery of images – then there could be a chance you have been shadow banned.
What would cause an Instagram Shadowban?
After MUCH investigating, here are all the reasons (at the time of writing this post) that we know that could potentially cause a problem –
1. Using Bots, Automated services and Buying Followers.
Instagram's terms of service are incredibly clear – do not use anything that automates, including using bot programs to comment as you, or automatic posting services, period. (To confirm, Plann our visual planner and Instagram scheduler sends you a reminder to post and DOES NOT risk your account in anyway. We like to sleep at night knowing you're safe.)
How would they know?
One minute your device is getting picked up in Los Angeles (where the IP address is of the automation service that you use is), then next minute you're using your phone in Chicago with another IP address. This straight away raises red flags and looks suspicious.
2. Using the same hashtags for months on end.
We've discovered that for some users that have been given a shadowban, if you're continuously using the same hashtags for extended periods of time Instagram might think you're being a little spammy. We're still looking into this but we always recommend to keep your hashtags fresh and change your tags up – there is no limit to the number of hashtag sets you can save inside Plann.
3. Surges of activity
If you suddenly go on a follow (or un-follow) spree, or like a whole bunch of images all at once – we're keeping an eye out but this could potentially cause a trigger.
4. 'Broken Hashtags'
Sometimes Instagram cracks down on some of the content shared inside a hashtag. For example, something as innocent as #petite might be overrun with posts that are very NSFW! Instagram has started being more aware of R18 material. So, if you're using a hashtag that has been overrun with these types of posts – you might find your whole post might be affected.
How do you know if you're using a broken tag?
If you click on this hashtag, there is no 'top posts' section. Also, you won't be able to scroll past the first page of images – you'll find it has been limited.
Sometimes there's even a message at the bottom that states the tag has been limited due to abuse.
If you remove this broken hashtag from your set, you might see an instant lift of the hashtag problem.
Is Instagram aware of this, or acknowledge what's going on?
On the 1st of March, Instagrams Facebook page posted the following message. It was acknowledging that there is an issue with hashtag search and to continue to focus on creating great content.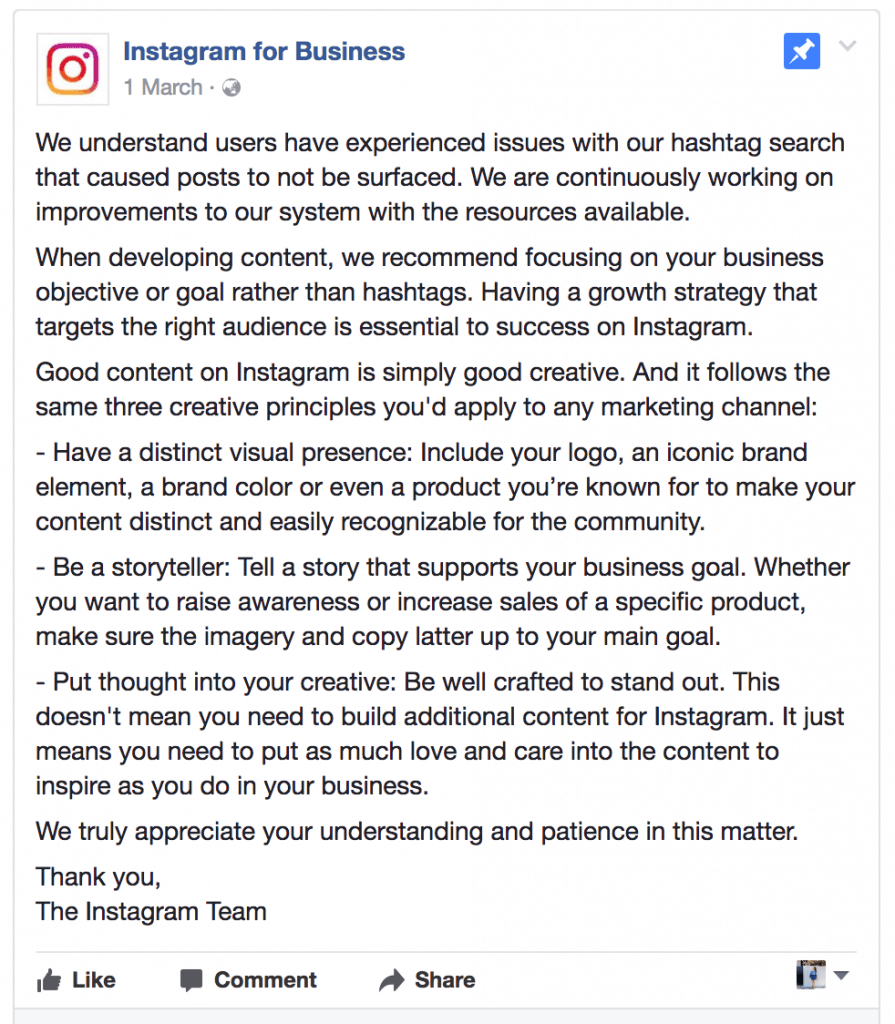 There are many comments from frustrated users asking for this to be corrected. Whereas Instagram's Community Team have said 'We do not currently have the resources to fix this problem.' Hmm.
A Facebook representative called this 'Intended Functionality'.
Thanks to the investigative reporter-esque skills of Kaitlin Pierce from PierceSocial.com, she was able to share information and knowledge she got from the mothership themselves who have mentioned that this is an 'Intended Functionality'.
Kaitlin has spent weeks hounding a customer service support agent who spent time speaking to her about what some of her clients are experiencing (seriously, she must be a unicorn, unheard of!) and what it might mean.
Source: https://piercesocial.com/everything-know-instagrams-hashtag-problem-shadowbanning/
Is this a new type of Hashtag Algorithm?
It appears so!
Seems Hashtags now have their own algorithm that impacts business accounts and personal accounts, flagged as a business.
Here's an extract from Kaitlin article as sourced above, where she keeps readers up-to-date with each conversation with her contact.
UPDATED: April 10, 2017 – "Essentially, the algorithm contains countless factors and for each user, it is different."
I wanted to know more about how the algorithm works. This is all they seem to be willing to give me at this time. The most detail that I can provide is that there is a unique algorithm that determines what qualifies a post to be high volume. It's a combination of Likes, Comments, Views, and about 6 other variables and factors that determine which posts go in the area for Top Posts.
"The most detail that I can provide is that there is a unique algorithm that determines what qualifies a post to be high volume. It's a combination of Likes, Comments, Views, and about 6 other variables and factors that determine which posts go in the area for Top Posts. The Top Posts will show up at the very top and just under that is the section for Most Recent. Essentially, the algorithm contains countless factors and for each user, it is different."
How do I fix an Instagram Shadowban?
Instagrams customer support is notoriously nonexistent, so here's a collective of what we've discovered has worked for other users:
1. Ease up on Instagram activity for a little while.
We've seen within 24-48 hours of returning to a 'normal level of activity' can everything returns to normal.
2. Check your hashtags, are you mixing them up regularly, or are you unaware that you're using a broken/blocked hashtag?
3. Have you been using Automation/bots?
There are two things we've heard of that have worked for others. Obviously, the first thing to do is to stop using automated services as we've heard some users have their Instagram Shadowban lifted fairly quickly. However, if nothing is working, you might find it's your IP address that's the problem. And in some drastic measures, a new device has been the fix.
To confirm, we're not 100% on these as our Plann Instagram account has not been impacted and we are relying on conversations we've been having with other Instagram users from around the world and will update this resource as we learn more.
How Plann can help
We're an app that sits on your phone, so we act as you.
You can organise your media, drag and drop until your feed looks lovely. Then when it's time to post, we prompt you to post to Instagram yourself. This means nothing is automated, and your posts always come from YOUR IP address. This so you always get organic reach and there is no risk to your account being impacted by 'Automation'.
In conclusion

If you're using Instagram and not behaving 'like a bot', doing masses of activity all at once and checking your hashtags regularly, we've seen no evidence so far that your account will be hit with an Instagram Shadowban.
Although our opinion may change over time with more information, we see no reason why Instagram would ban users who are using the platform in an authentic way and how it was designed to be used.
We do know that Instagram changes their algorithm regularly/ We can see changes to our engagement from time to time and could explain a drop in engagement. So we recommend not to panic straight away and understand how engagement is a more important metric to spend time growing.
We recommend reading these two resources we've made especially to keep your Instagram game on track.
How To Find Hashtags to Attract Authentic Followers
AND
5 Ways To Instantly Increase Your Engagement Rate
Have you got an Instagram shadowban?
Have you had different results than what we've discussed above, or been able to have the ban lifted?
Share your findings with the Plann community below!