Social media may not be rocket science, but there are ways to finesse the craft. There are a lot of tips and tricks and things to remember in order to get your game right. But among the bevy of best practices and "should-do"s we like to offer here at Plann blog are also some crucial social media mistakes to avoid.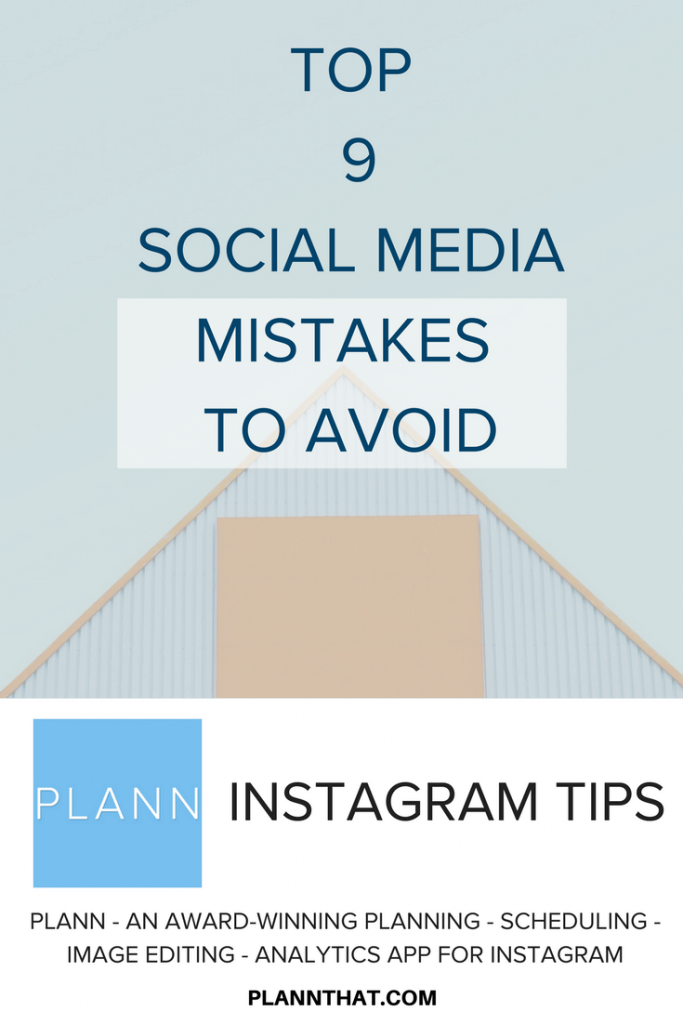 Get on board with what not to do, and you're bound to have a better experience assembling your plan of action. Following, a distilled list of what we feel are the big no-nos:
1.Not Knowing Who You're Talking To
Nothing will lose your audience more quickly than not reading the room accurately. In all forms of professional communication (and most personal as well) everything about everything you say has to be tailored to the listener.
If it's not, they won't listen.
For example:
If most of your buyers are under 25, DO talk about school, dating, and maybe buying a car.
DON'T talk about retirement or parenting teenagers.
If you want people to listen, talk about what they're interested in and what's relevant to their life stage. The best social media feeds work this to their advantage.

2. Not Learning From Analytics
This can be as simple as looking at your top performing posts and learning from them.
Which of your posts received the most comments? Was it a fluke, or is there something you can duplicate, like asking a question or tagging other people?
Which of your posts got the most likes? What can you take from them, like subject matter or copy content?
What time is best for you to schedule posts? What frequency works best?
Staying on top of this information is how you make headway. All of these analytic tidbits amount to a major sum of activity gained or lost.
3. Trying to be Everywhere
There's mania-inducing pressure to be in all the trendiest places. Update your Facebook, Twitter, Instagram, resize that for Pinterest, and is your company on Slack? What about influencer outreach? Do you know your Google rankings? Are you trying Bing ads?
Stop.
Take a note from Vilfredo Pareto:
80% of your customers are probably only in 20% of all those places you're scrambling to be at once.
Pick one or two social accounts — the top performers for your brand, which will be specific to you (one size does not fit all) — and stick to those.
You'll find that eliminating all the extraneous mental noise frees you to perform better in the places that matter.

4. Publishing Bad Content
Cliché as it is, you will always be rewarded if before publishing something, you pause and ask yourself: "Is this even good? Does this add value? Who's going to care about this, really?"
As with everything online, social media is largely won with quality original content. It's somewhat satisfying to be able to say that whoever takes the best photos, thinks of the best captions, and tells the best story usually wins. And if that's not you, then it's someone else.
Give yourself an edge by pledging to do better by your own brand. Commit to publishing only excellent content. Your audience and your business' performance indicators will provide ample reward.
5. Missing Mentions and Messages
People use social media for all kinds of cool and entertaining stuff, but talking to other people and entities is ostensibly the whole point of it all (it's called "social" media)! Mentions and direct messages are often where the curious become customers, and customers become fans. It's a serious and all-too-common mistake to miss these opportunities.
Mentions specifically are not only a prime opportunity to connect with someone, but are also a way of doing that publicly, in plain view of their personal sphere of influence.
At the very least there's likely a cache of shareable content buried in the annals of your branded hashtag search.
[clickToTweet tweet="We like to offer here at #Plann blog are also some crucial #socialmedia mistakes to avoid. " quote="Among the bevy of best practices and "should-do"s we like to offer here at Plann blog are also some crucial social media mistakes to avoid "]
6. Using the Wrong Dimensions for the Platform
Another common and credibility-eroding social media mistake is failing to size images and text for the platform you're using.
If you're crossposting from Instagram to Twitter, take the extra two minutes to crop the photo to Twitter's preview ratio, 2:1.
If you're posting something square to Instagram, make sure the zoomed-in square profile thumbnail still looks good. Make sure your Instagram photo series that you're also publishing on Facebook still looks okay in Facebook's preview format.

7. Not Testing
A tried and true content or advertising formula is invaluable . . . at least until it isn't anymore. While certain things about your brand, industry and approach will always remain constant, the rest is in flux.
You need to test continually, at least to a small degree (and learn from the tests), both to grow and to prevent problems.
Growing your brand takes a continual (and increasing) flow of innovation. Without that, growth will slow, level off, and decline — all gradually. By keeping at least some small portion of your budget set aside for testing, you open yourself up to new growth opportunities.
There are likely myriad markets that you are perfect for, but you'll never discover them unless you're probing for growth opportunities. It's just as important and simple for your Instagram growth as well.
And to speak to testing preventing problems: markets, industries, and advertising platforms change, even if the goal of creating a compelling narrative that genuinely affects people stays the same.
If it hasn't happened already, eventually, no matter how niche your brand is, competitors will turn up and take off right in your space faster than you know what to do with. With no viable contingency plans to out-innovate and outgrow this industry-wide rush, you're in danger.

8. Not Learning
AKA "not applying yourself" or "not paying attention." This is a more abstract social media mistake that can cause, or be the result of, ripple-effects elsewhere. You can't just mindlessly go through the motions. You have to be present and apply yourself every single day — even for the trivial things. When you're responding to comments, you have to do so with focused intention and authenticity.
If you bother to put some genuine thought and feeling into what you're doing, you'll already be well on your way to pulling ahead. But you have to stick with it.
9. Not Optimizing
When you're working on your social media, there are a lot of details you have to manage like optimizing your timing and number of posts per day; testing your screen name, bios, and hashtag sets, etc. The list seems endless. Rest assured, there is an end, and it's a mistake if you leave it undone.
Remember
When you're at a point in your social media strategy where you can begin working on your Instagram feed and getting it where it needs to be, you'll be wise to get started with Plann.
Learn how to use this Instagram scheduling and analytics app here. So go forth, avoid these social media mistakes, and grant yourself an amazing 2018.
Download Plann for iOS and Android today!