There's no question that video content is essential to an engaging and authentic social media presence. If you want to make valuable content that reaches viewers and reflects your personality, you'll need to film yourself in front of the camera.
Videos are key to getting noticed on the Instagram and TikTok algorithms, so why are so many people reluctant about filming and posting video content?
Filming yourself for TikTok and Reels content can be awkward and uncomfortable, especially if you're just starting. It's normal to feel nervous recording yourself on camera and posting your video content to your social media platforms. Fortunately, you can follow a few tips to ditch those nerves for good.
In this post, we'll walk you through our expert advice on how you can become more comfortable in front of a camera so you can record yourself for Reels and TikTok content.
8 Tips for Feeling Comfortable on Camera
Tip #1: Choose Good Lighting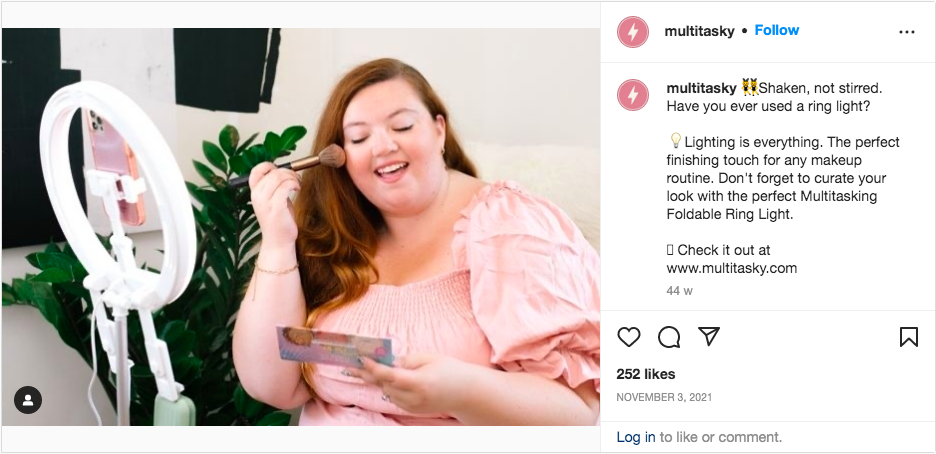 Lighting can make or break your Reels and TikToks. It also affects the way you look in the video.
The most flattering lighting is natural and front-facing – you don't want your primary source of light to be above or behind you.
To get the best lighting for your video, make sure to set up facing a window. This setup should give you natural and fairly even lighting.
If a window isn't available, you can also set up a lamp or similar light source behind your camera. A ring light with a device holder is a great investment, especially if you make videos regularly.
Tip #2: Find a Flattering Camera Angle
Most people look their best on camera when the camera is set either at or slightly above their eye line. Knowing that you look fabulous on camera can help you feel more confident and, ultimately, more comfortable when you're filming.
If you're filming with a smartphone, prop your phone at the right height, ensuring it doesn't slide. A tripod can help you get the most solid setup.
If you're shooting a webcam video, you should set your computer on a stack of books, a box, or whatever's available to get the right angle.
Tip #3: Plan and Rehearse Your Video
Being prepared before filming can make all the difference in feeling confident in front of the camera. If you're nervous about filming, plan what you want to say and do in your video and practice the script. Rehearse in front of a mirror to see how your video will look when you hit record.
You can also practice a few run-throughs of your script on your camera. Re-watch a few of your practice videos to see what you'd like to change. The more you practice being in front of the camera, the more comfortable you'll feel filming social media content.
Tip #4: Find Inspiration in Popular Video Trends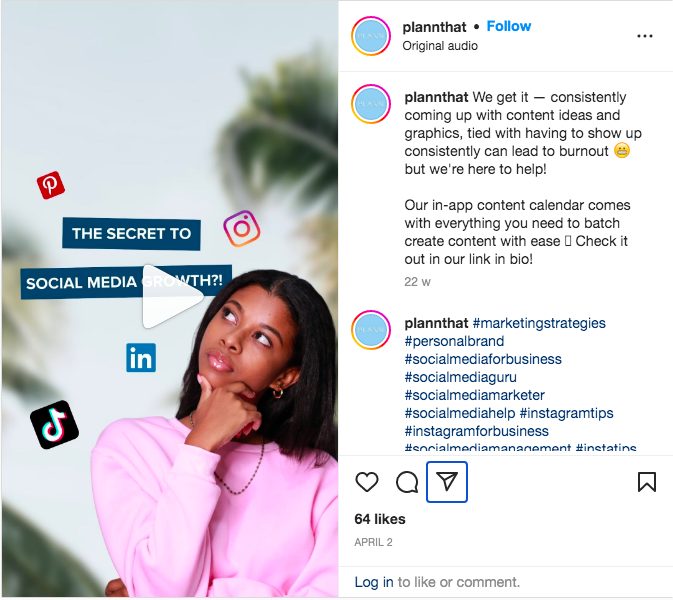 You might find it easier to get in front of the camera by following the latest TikTok and Reel trends that have gone viral. Using trends means you don't have to come up with unique ideas just yet, which will take some pressure off creating video content.
Scroll through the latest popular video trends and replicate one that aligns with your brand and content. You'll be interacting with and reaching an audience already creating and viewing the same content as you.
Tip #5: Use Trending Audios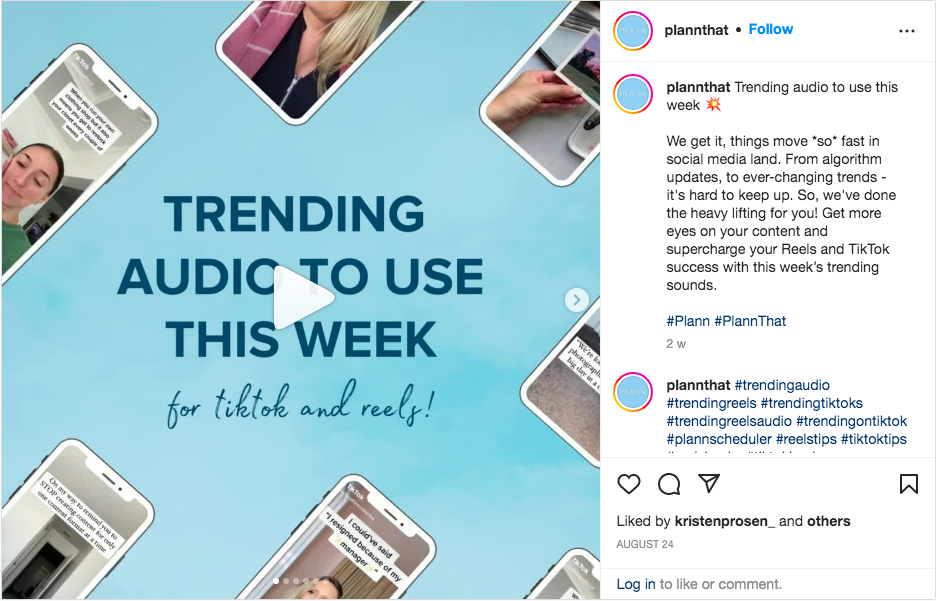 Another way you can achieve confidence on camera is by using existing audio. Trending audios are a great way to reach your target audience without coming up with video ideas.
By using trending audio, you don't have to worry about using your audio or voiceover. If you're self-conscious about your voice or aren't sure what to say on camera just yet, this is a simple way to create an engaging video. It's easier to use trending audios than to make original content and will ease your way into becoming confident on camera.
Tip #6: Get a Friend
Ask a friend to help behind the scenes with filming. Having a buddy you feel comfortable around can boost enthusiasm to film your Reel or TikTok. Pretend you're talking to your friend when filming to create a more laid-back atmosphere.
This will remove some of the pressure of being in front of the camera. Ask your friend their opinion about your video. They know you well and will be able to give the best advice on how you can look more natural in front of the camera. After practising a few times in front of your friend, you'll be at ease on camera in no time.
Tip #7: Wear What Makes You Feel Confident
When thinking about how to feel more confident on camera, think about what makes you feel comfortable in your daily life. If you're dressed in an outfit that makes you feel confident, that conviction will translate into your video.
Choose an outfit that reflects your authentic self. You'll feel true to yourself, and the more comfortable you feel, the easier it will be to perform for your fans and followers.
Tip #8: Edit Your Videos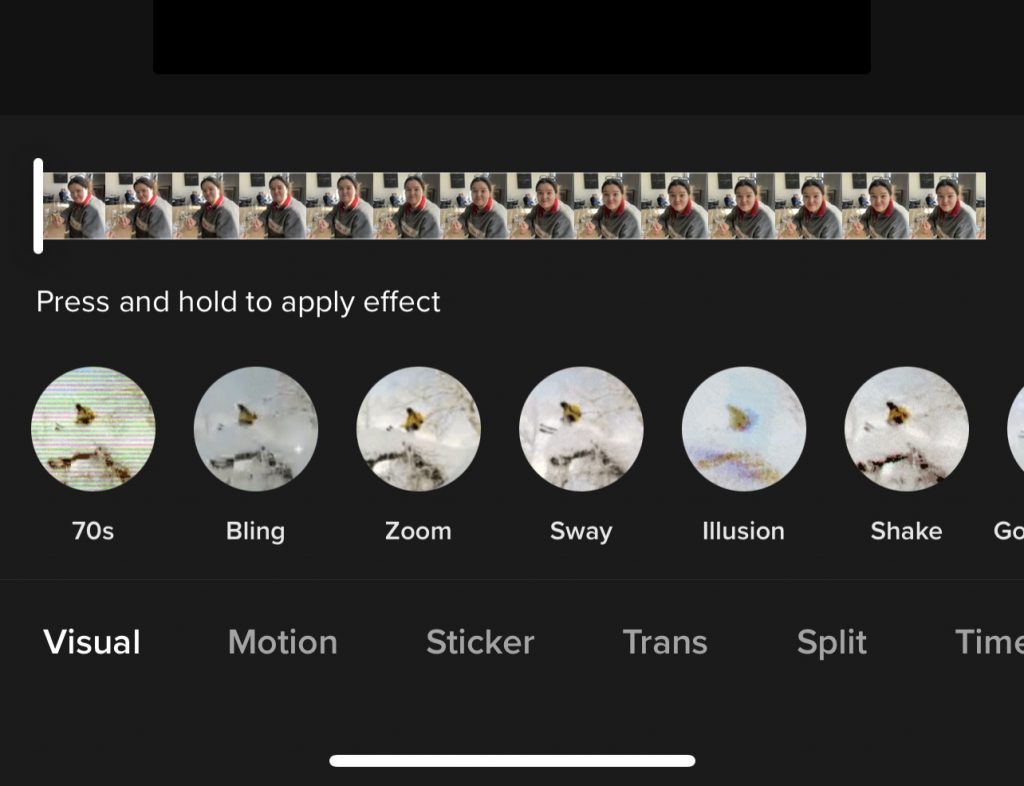 Most videos need a little bit of editing before posting on social media.
The more you edit your videos, the more you'll become used to seeing yourself on screen. Eventually, it'll become something you're accustomed to, and any awkwardness will fall away. As you get comfortable seeing yourself on social media, you'll grow to be confident on camera.
Get Your Audience to Stop Scrolling!
We know how important using videos on social media is to reach an engaged and authentic audience online. Videos are redefining how we use social media, and they're one of the best ways to grow your social media presence.
Getting comfortable in front of the camera takes time and practice. With these tips, you'll be confident on camera and posting high-quality TikToks and Reels before you know it.
Ready to put your Instagram Reels and TikTok strategy on autopilot? You can now auto post your Reels and TikTok with Plann!
Go on, sign up for a 7-day free trial of Plann Pro and level-up your social media strategy.