The industries of tech and coding are usually dominated by men. But, one developer and professor is breaking up the boy's club one Instagram post at a time.
Meet Jacqueline Corley, Founder and CEO of Tech Girls Code. As a tech and coding coach, Jacqueline is passionate about helping new female coders confidently master coding basics.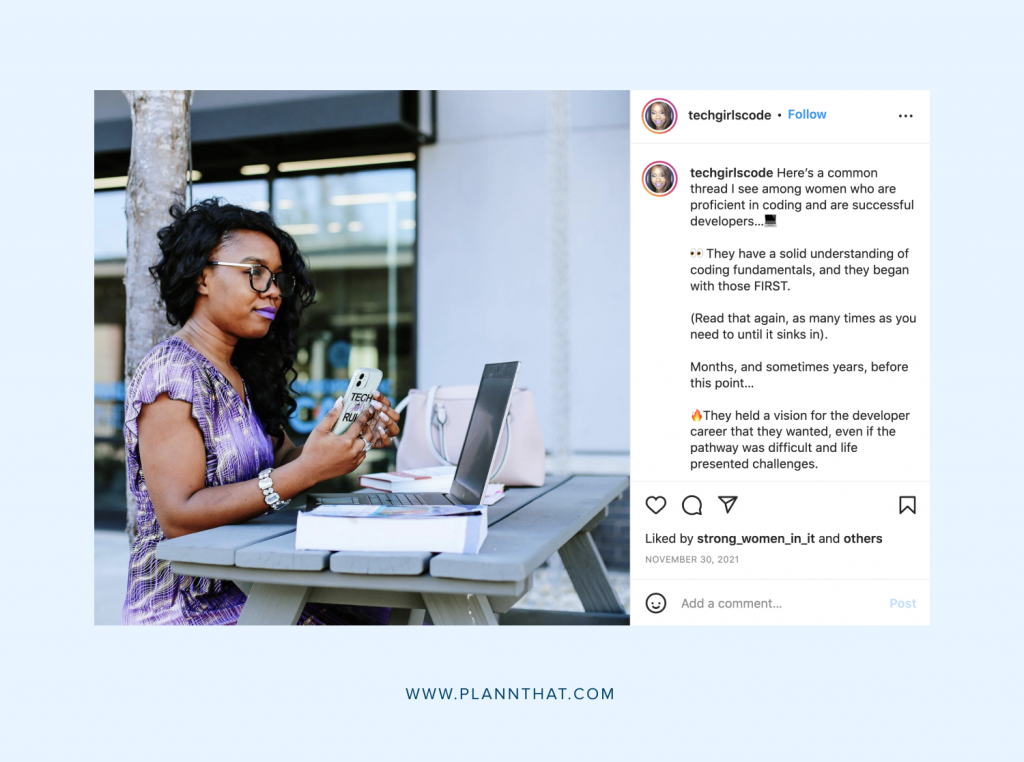 From her coding bootcamps to free training guides, Jacqueline has attracted thousands of aspiring female coders to her social media community. And she's got big plans to help women succeed in this industry.
In this conversation, we chat to Jacqueline about how she's used social media to build her business, how she's found success using social media marketing and what's next for Tech Girls Code.
Expanding your social media presence to support business growth
"I started with Instagram in 2020 and worked my way up to podcasting and Facebook in 2021, and now I am launching YouTube in 2022.
When starting on Instagram, my primary focus was driving organic traffic to my page. As a result of my consistency with Instagram, I was discovered by other brands pretty early and featured on other podcasts, Instagram lives, and speaking events.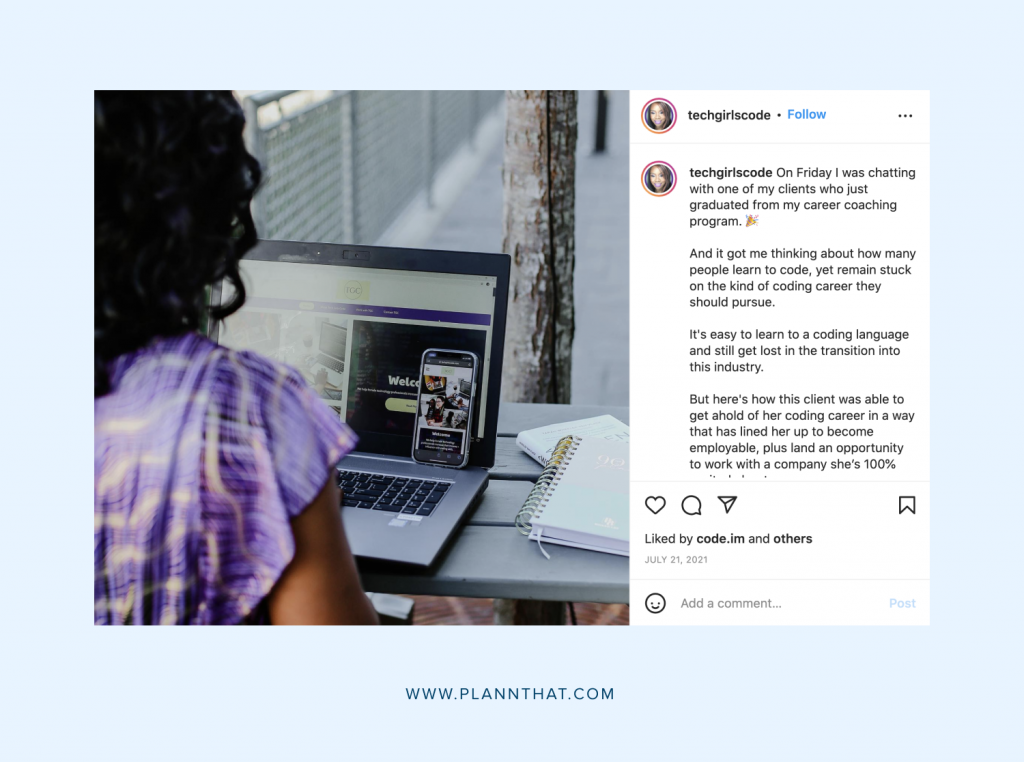 I also held three successful seasons of my own Instagram live series, where I interviewed other women in tech and got connected with their communities.
Social media has helped me connect with large influencers in the tech industry, be featured on podcasts and blogs related to my niche, land paid brand deals, score speaking engagements and so much more.
I've also been able to close clients and increase sales through my DMs, which has allowed me to serve over 30+ women with my tech and coding programs in 2021.
I absolutely love building relationships and meeting people all over the world. I also love the creativity it allows me to portray while building a strong brand."
Life before and after Plann
"Before getting started on social media, I was working as a university professor and only had time to post manually once a day. I found Plann during the Spring semester of my 5th year of collegiate teaching.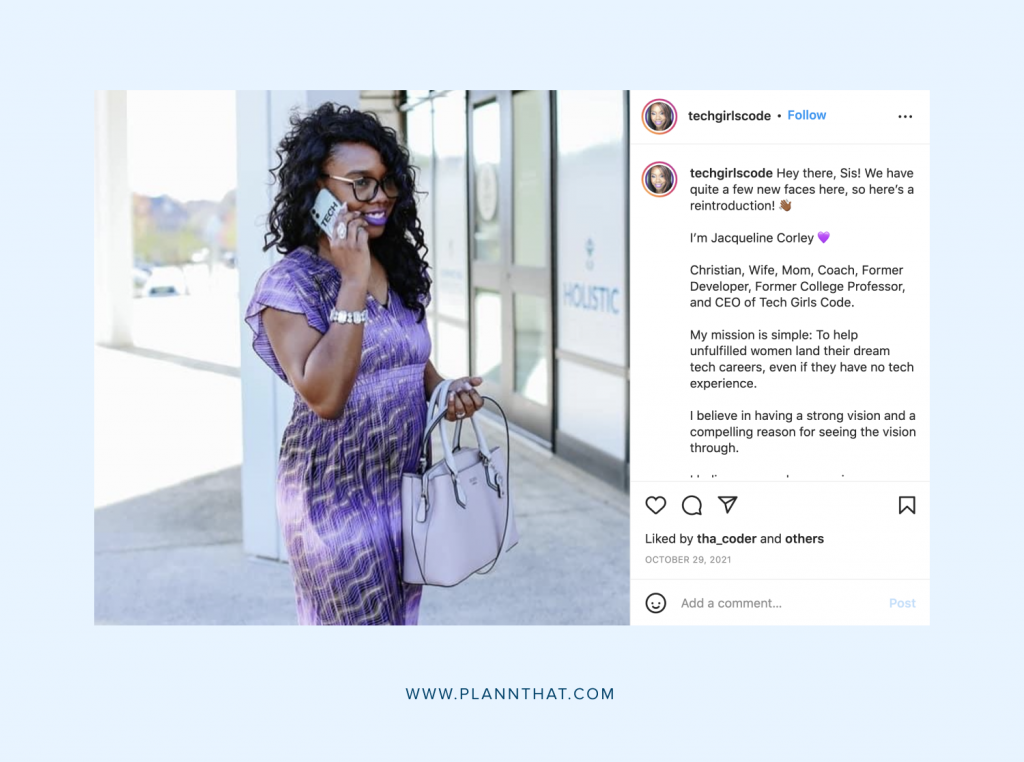 Once I started using it, I increased posting to twice a day, and that proved to be very empowering for both my brand and my audience. Some days were harder to post, so I was thankful to have scheduled something in advance and not wonder if I would remain consistent.
When I first used Plann, I noticed how easy it was to use. Everything was seamless, from the web version to the app. I have used other scheduling and auto-posting apps but didn't do so for long, because they weren't as simple as Plann is."
And Jacqueline's favorite Plann feature?
"I love the hashtag sets, scheduling tools, and auto-posting features.
Plann has given me my time back, and I can create and push out quality content to my audience.
This helped me attract more clients and brand deals in a more timely manner. It led to me being found and discovered, versus always having to search for opportunities."
Top tips for brands looking to succeed on social media in 2022
"After creating your images or videos, plan ahead! Plann makes it so easy for you to drag and drop posts in a certain order so you can see how they look ahead of time before they even begin posting on the 'gram.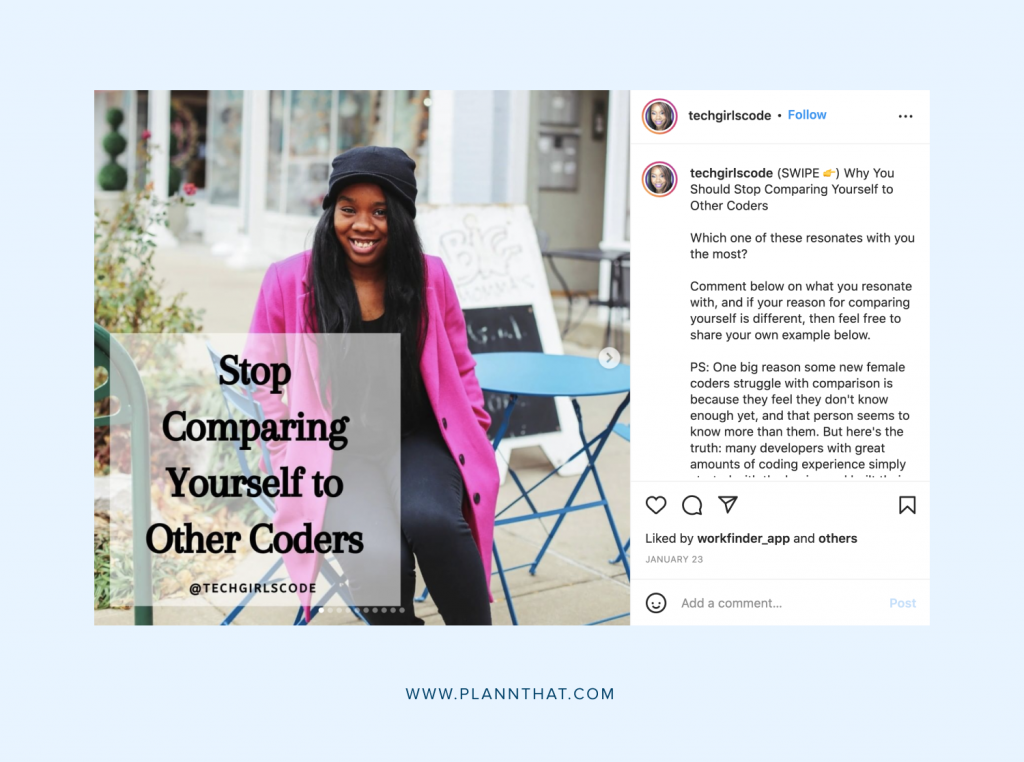 Don't forget to connect and engage! People don't just want to see your content, they want to know and interact with you. Just go for it, even if you are afraid."
What's next for Tech Girls Code?
"I have 3 visions for my business:
• To continue helping new female coders become coding masters and land jobs with strong coding skills.
• To give more jobs to women who want to work in tech, but not code, as valued staff on the Tech Girls Code team.
• I have a long term vision to be a tech company that is as large as Meta, Microsoft, Google, or Amazon, where millions have either gone through my coding programs and landed jobs in tech, or have worked for my company as women in tech.
This is my way of increasing the percentage of women in tech. We are doing well in this area, but we still have a ways to go. I want to be a part of that solution."
Ready to effortlessly build your social media presence?
Looking for an all-in-one content creation suite that allows you to effortlessly manage your social media channels? From mapping out your strategy and designing your graphics to saving plug-and-play hashtag sets, you'll find everything you need inside Plann.
Go on, redeem your 7-day free trial of Plann Plus. If you don't like it, keep using Plann for free!