Home to some of the internet's most creative people, Instagram is full of talented photographers who use the app to share everything from wedding pictures to travel photos.
As a visual platform, Instagram is the perfect place to post curated images, offering photographers an easy way to develop a portfolio and showcase it to the world, all while connecting with potential fans and clients.
Social media-savvy photographers also use other Instagram features (including Reels, Instagram Stories, Guides, and Instagram Lives) to supercharge their growth and reach on social media.
Not to toot our own horn, but a stack of talented Instagram photographers even use Plann to keep their feeds looking cohesive (#humblebrag).
If you're wondering who to follow on Instagram to find beautiful photo inspiration, we've got you covered. Here are 10 of the best photographers to follow on Instagram!
Talented Photographer 1: KT Merry
From luxury weddings to eco-conscious nature shots, KT Merry does it all! Her social media photography posts are bright, light, and airy, making for a fresh-looking Instagram feed.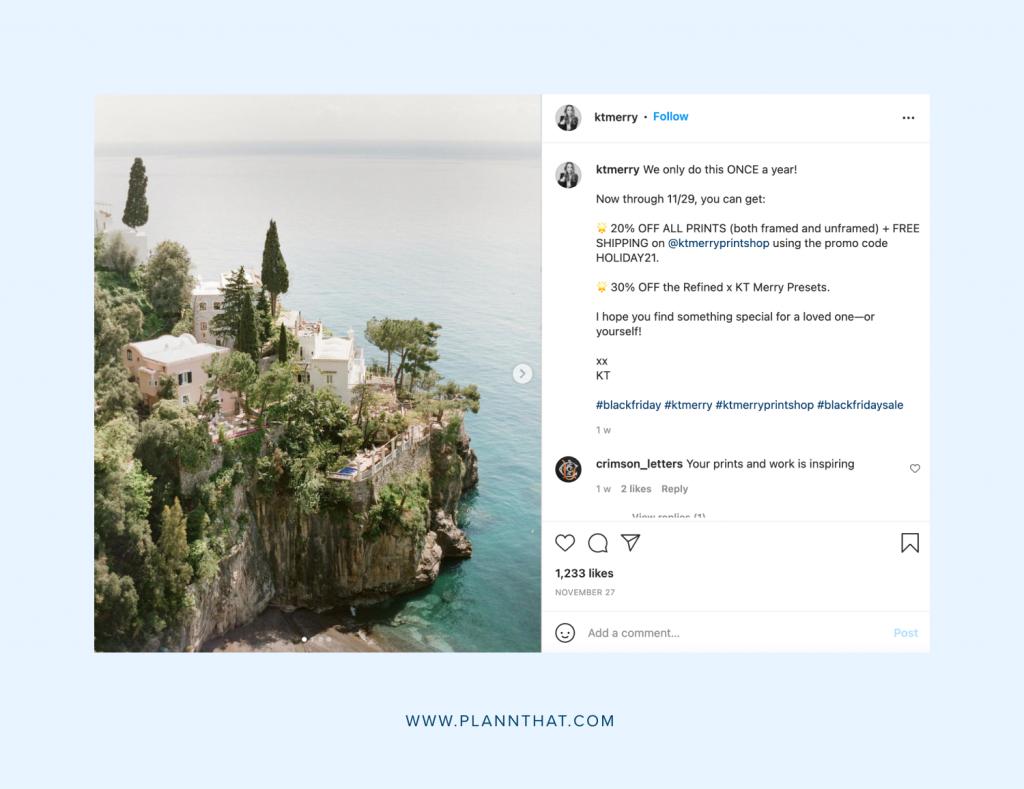 As a photographer, conservationist, and educator, KT brings a wealth of experience to her Instagram account, and her impressive knowledge of lighting, composition, and design shines through.
KT has amassed over 76k followers, making her a true queen of the Instagram photography community.
Looking for one of the best photographers on Instagram? Go and follow @ktmerry!
Connie Chan of What She Pictures is an expert in all things flatlays. Her stylized photos are light and bright, featuring all kinds of products and goodies.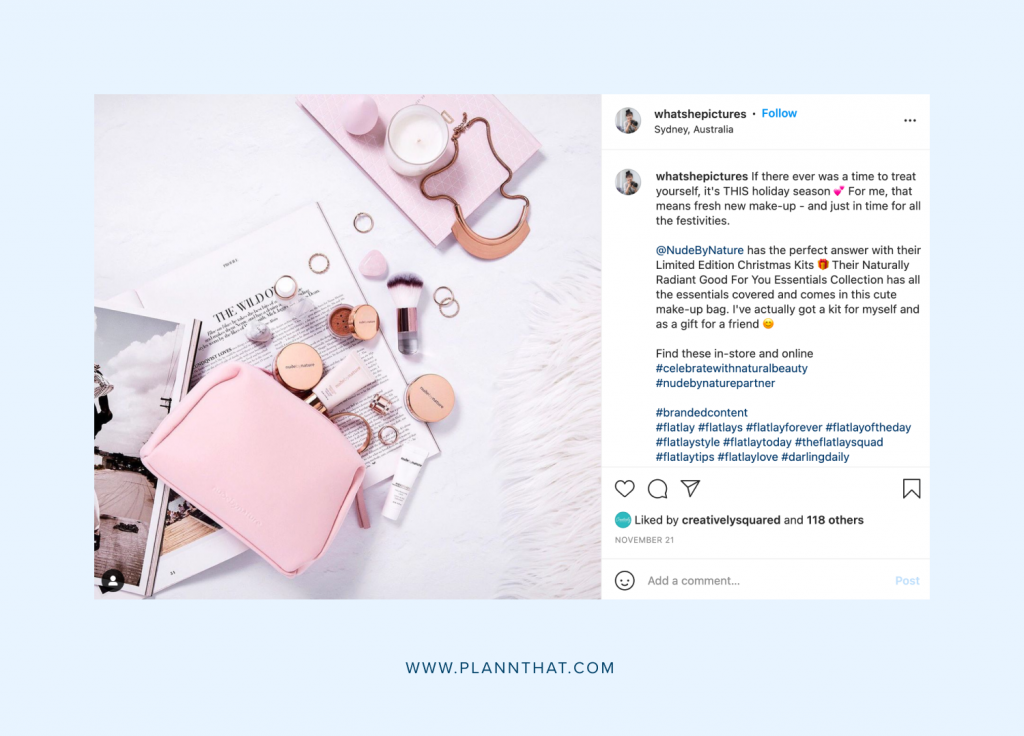 Often showing a glimpse behind the scenes of her photography work, Connie offers tips and tricks to help other photographers and content creators capture better shots. Her Instagram account is a great resource for creative types and small business owners alike.
With over 17k followers, Connie is Instagram's photo guru, leading a community of fellow photographers.
Follow this talented photographer ASAP! @whatshepictures
Capturing and sharing the fashion industry's greatest looks, Nicole Hill is well known for her clean, natural photography style.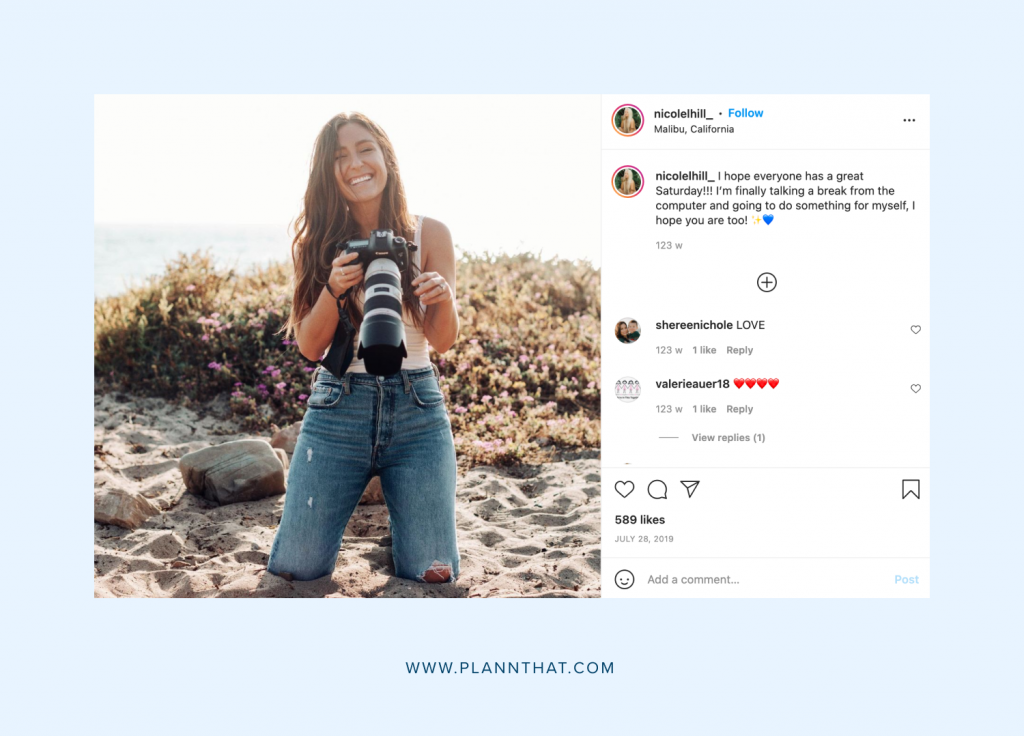 Nicole is based in Southern California, but her photography talent has taken her all around the world (working for fashion, travel, fitness, and lifestyle brands and publications). She makes clever use of light and nature in all of her work, from beachside shoots to lush forest locations.
Over 34k followers, stay up to date with Nicole's Instagram photography and tips for aspiring photographers looking to succeed on and off social media.
Follow @nicolelhill_
Did someone say wine o'clock? It's time to call Heather from Craft and Cluster for wine photography at its best!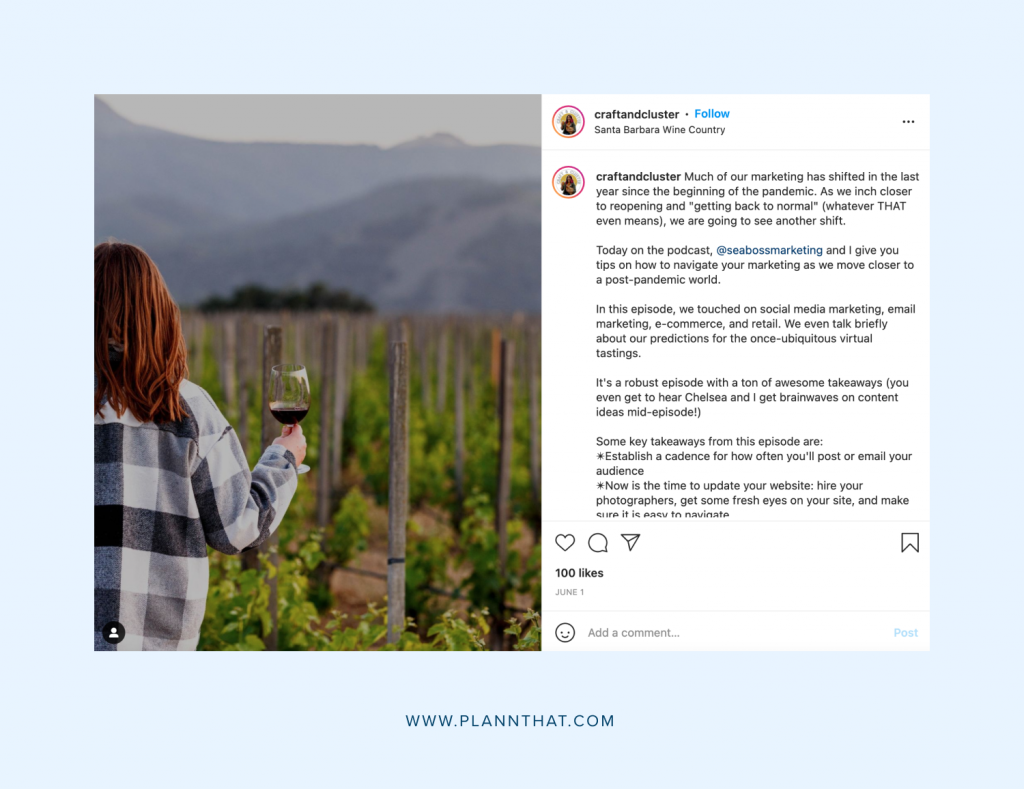 Helping wine businesses achieve curated, creative, and well-branded visual content, Heather has carved out a clear niche in the photography industry, and she's reaping the rewards.
As her bio explains, Heather is here to "help wineries tell the true stories behind their brands with beautiful photography."
Heather's vivid, emotive photos capture everything from a sprawling vineyard to a perfectly poured glass in hand.
With 2.5k Instagram followers, Heather is well on her way to becoming a wine photography leader!
Follow @craftandcluster
Capturing vibrant and awe-inspiring makeup looks, Vlada Haggerty specializes in creative lip art, featuring plenty of colours and styles.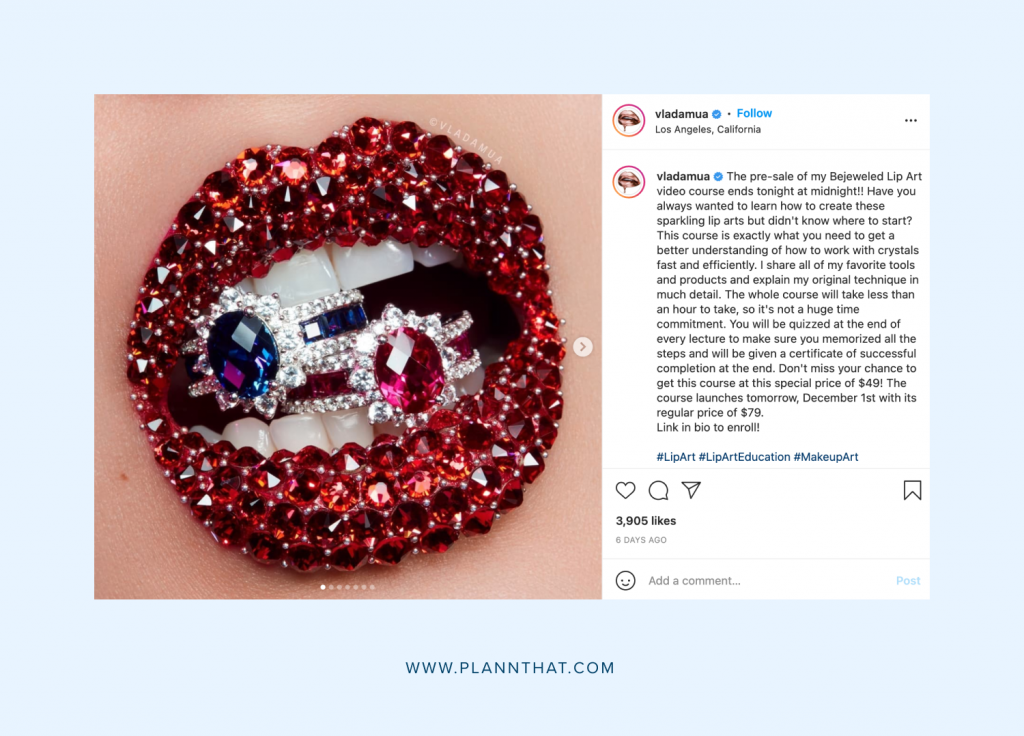 From jewel-studded lipsticks to patterns and calligraphy, Vlada's makeup photography is nothing if not unique, offering inspiration to fellow photographers and makeup fans from all around the world.
Vlada's work has earned her almost 700k followers and a coveted blue tick on Instagram. She's a true icon in the Instagram photography world!
Follow @vladamua
Nikki at Heist Creative knows that photography isn't just for weddings and events, it's also a powerful tool for business and branding!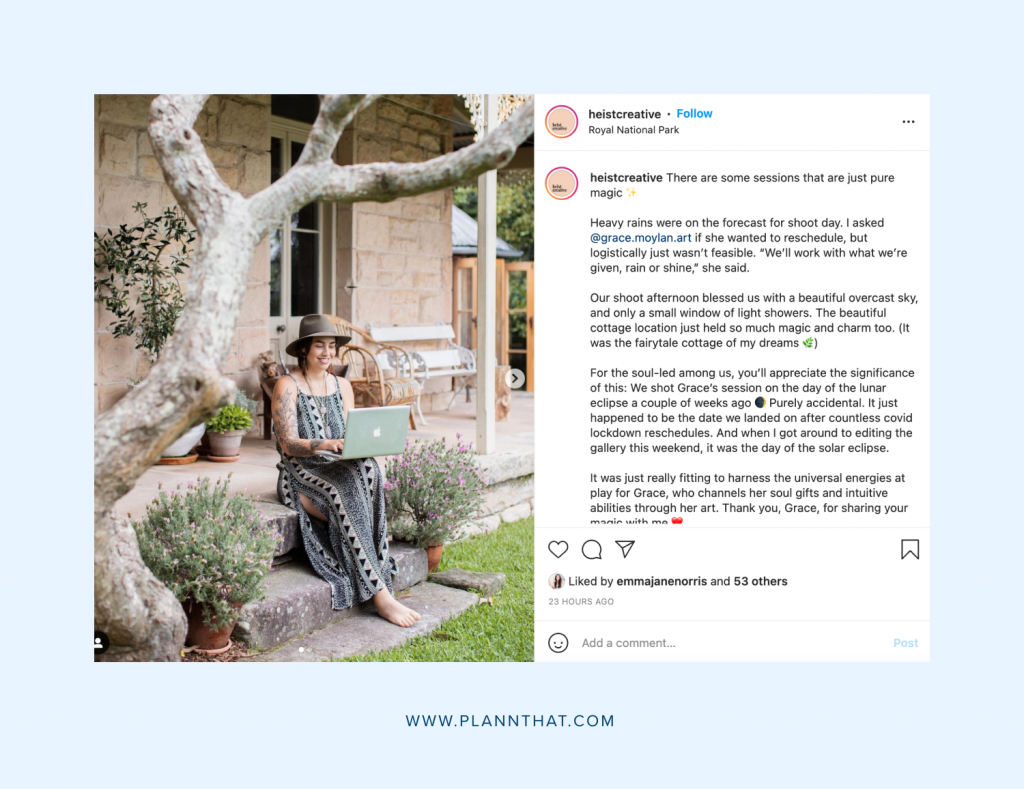 As one of Sydney's most iconic branding and commercial photographers, Heist Creative is the go-to studio for entrepreneurs and epic businesses.
Using bright lighting and natural tones, Nikki shares the latest snaps from her branding and commercial photography clients. Plus, she shares tips and tricks for nailing your next branding shoot as a business owner.
In short, Nikki's social media photography images are inspiring and informative for growing businesses.
Nikki now has over 4k Instagram followers and her reach and influence is only growing.
Follow @heistcreative
Based in New Zealand, Laura from The Culinary Letter is a talented food stylist and photographer with a stunning Instagram presence.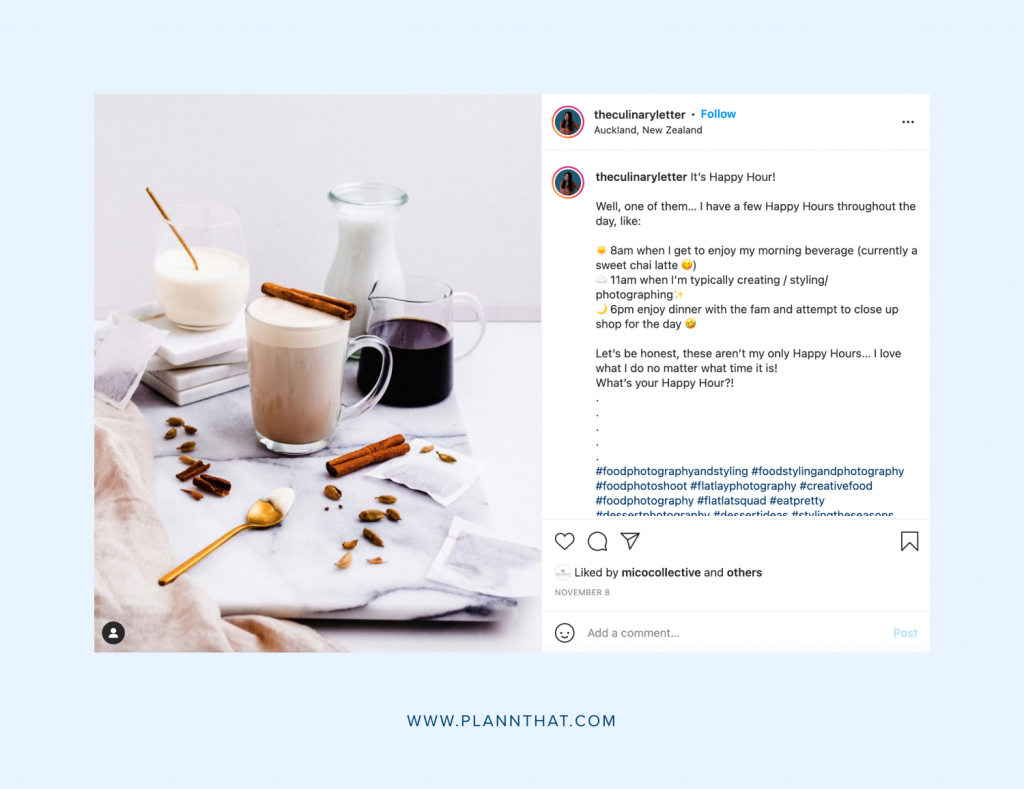 Photographing curries, cookies, and everything in between, Laura shares bright, crisp images and videos that showcase the beauty of a well-cooked meal.
Beyond maintaining her own Instagram profile, Laura works with food brands and businesses to create quality visual content.
Laura's Instagram account currently has just over 800 followers and is only set to grow!
Follow @theculinaryletter
With over 10 years of photography experience, Ulla Nordwood makes the most of Tasmania's most beautiful photography backdrops.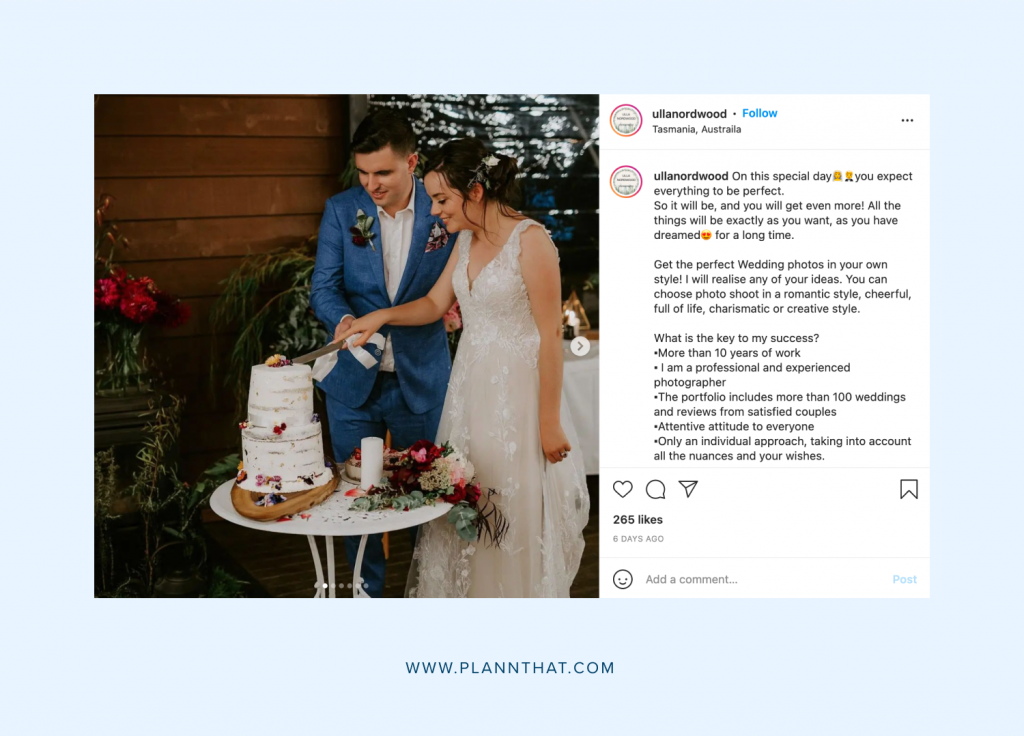 Featuring rich, warm tones, it's easy to see why Ulla's wedding photos are so popular. Each image is carefully curated to show the love and joy of a newlywed couple on the happiest day of their lives.
Ulla has 1.8k followers on Instagram, with new clients following along every day. Whether you're planning your big day or simply looking for the best Instagram photographers to follow, this stunning account is a must!
Follow @ullanordwood
Live Photography Australia has won its fair share of awards for their beautiful photography and videography.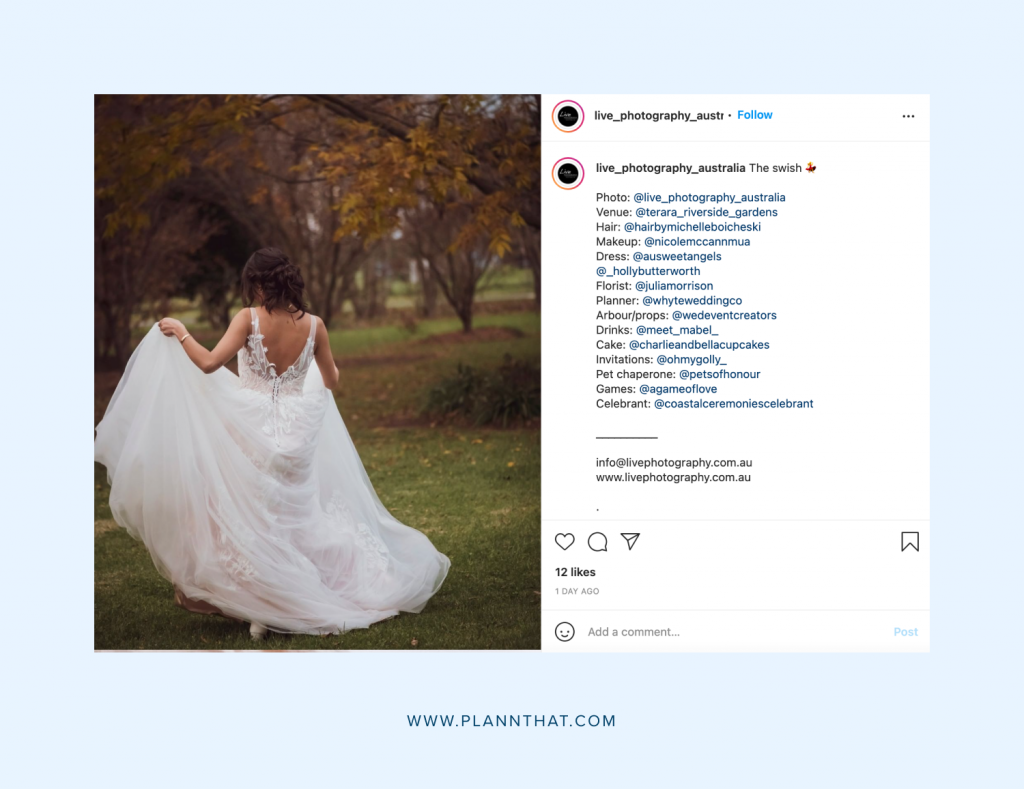 This wedding photography and film business specializes in some of life's most precious moments. From weddings and events to family and newborn photography sessions, these photographers focus on capturing natural, beautiful and authentic imagery.
Live Photography Australia has earned 1.2k Instagram followers and is always working to reach new audiences (and clients) on Instagram.
Follow @live_photography_australia
Queen of all things product photography, Jo Anderson has worked with many brands and businesses to capture beautiful images.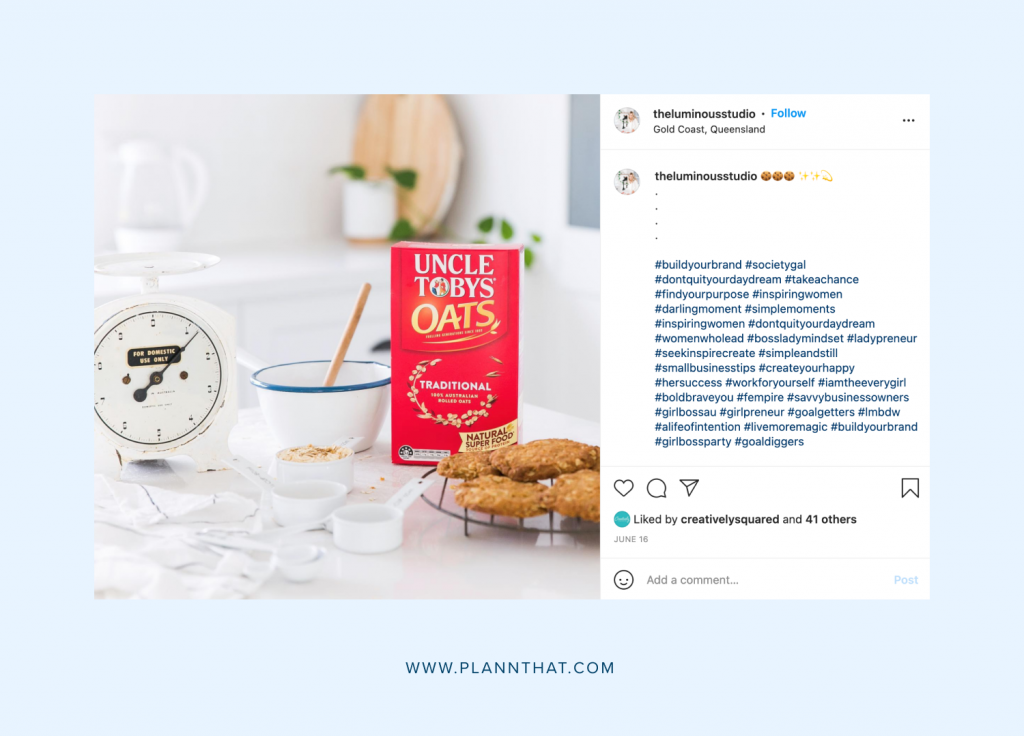 Jo's photos are bright, light, and crisp, clearly featuring products and maximizing marketing potential with vibrant and creative images. Jo has worked with all kinds of businesses, from chocolate companies to fashion brands.
Having earned 2.2k Instagram follower's Jo's business continues to thrive, with many more opportunities coming her way.
Follow @theluminousstudio
Share your photography with the world using Plann
Are you keen to build an audience for your photography on Instagram? The secret is to plan your content ahead of time and get a strategy in place to craft a curated and cohesive aesthetic.
Sign up for a free 7-day trial of Plann today and you can manage your entire social media strategy from one effortless dashboard.