Starting a business from scratch can be a rewarding, exciting and challenging experience. Business owners put on many hats, whether it's customer service, accounting, PR, production and of course, social media management. 
In our digital world, small businesses can't look past the ability to build trust and connect with their audience through social media. 
No one knows this better than designer Sharokina Golpashin, founder of the sustainable leather goods brand, SHAROKINA. The oh-so-talented Sharokina creates timeless, sustainable leather bags and accessories from her studio in Germany. 
"I develop leather goods that walk a tightrope between fashion and jewellery through special details and unconventional design constructions," shares Sharokina.
We chatted to Sharokina to find out how she's grown her brand using the power of social media and how scheduling tools (like Plann) help her to streamline many of her business processes.
Let's dive into her story below!

Navigating the changing social media landscape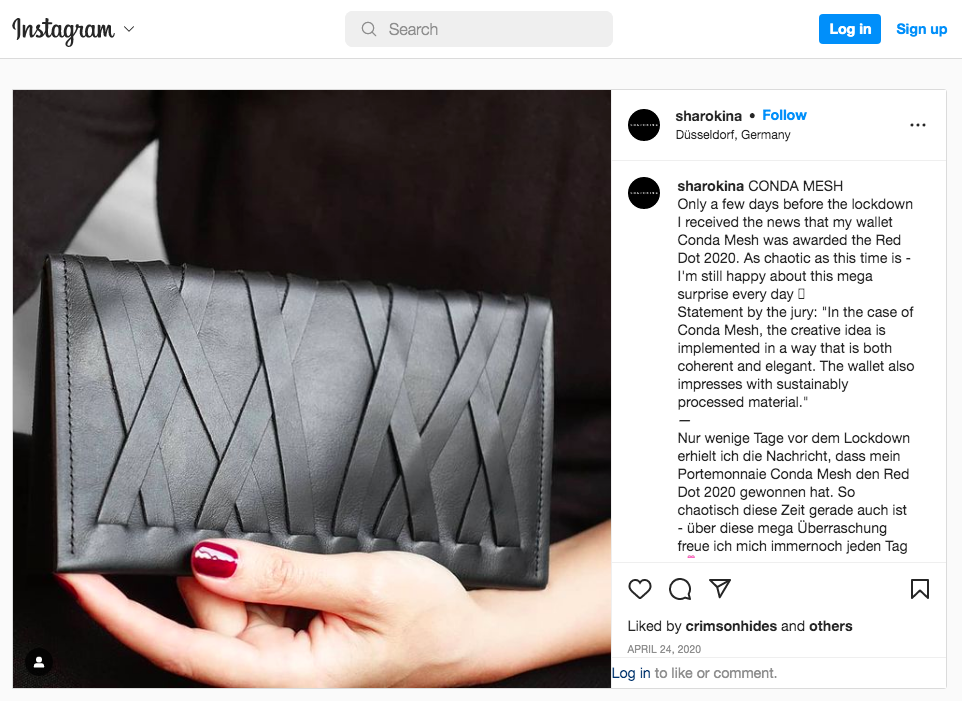 "When I founded SHAROKINA in 2013, the social media world still looked different: Facebook was my most important platform back then, and Instagram was not yet what it is today. The algorithms worked very differently from today, videos played a subordinate role, and Stories or Reels didn't even exist. 
So I mainly used Facebook to inform my followers about new products and upcoming events. It didn't matter if a new post visually matched the previous ones because there was no tile stream as we know it from Instagram today. 
It all had its advantages and disadvantages. Now it's the other way around: Instagram is my most relevant channel, and everything revolves around presenting a clear and harmonious appearance."

Connecting with people around the world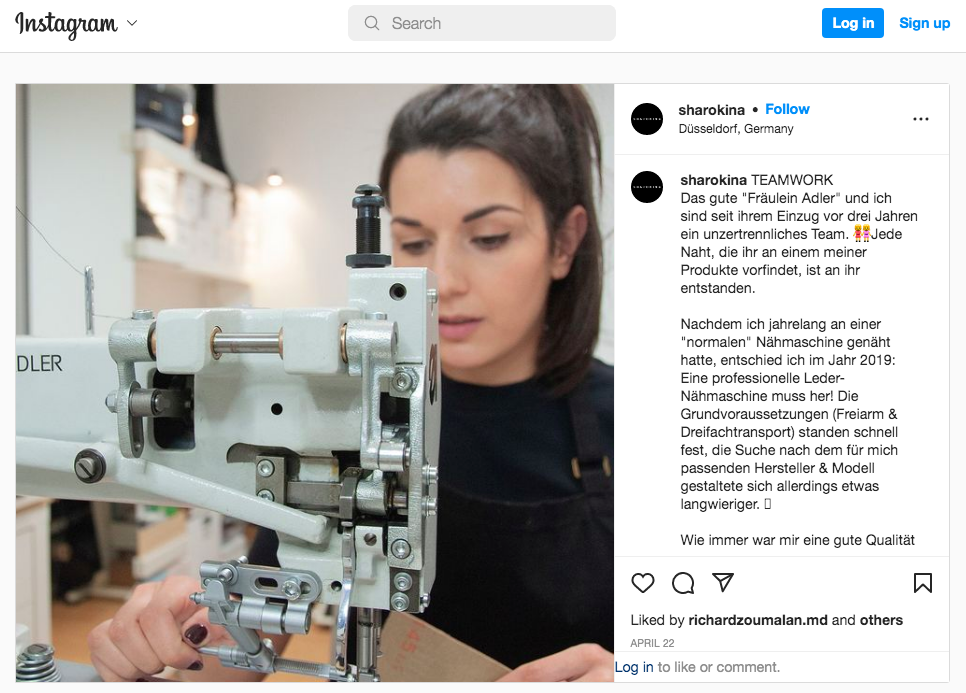 "What I love most about social media is the ability to connect with people all over the world. I can look over the shoulders of other leatherworkers in Japan or the US whenever I want, and on my profile, my customers can see how I create their bags and accessories. 
They can visit me virtually in my studio in Düsseldorf, Germany, although they sit comfortably at home on the sofa. Sometimes I ask my community for their opinion on new design details or new leather colors – so they can even become part of the development process!"

Life before and after Plann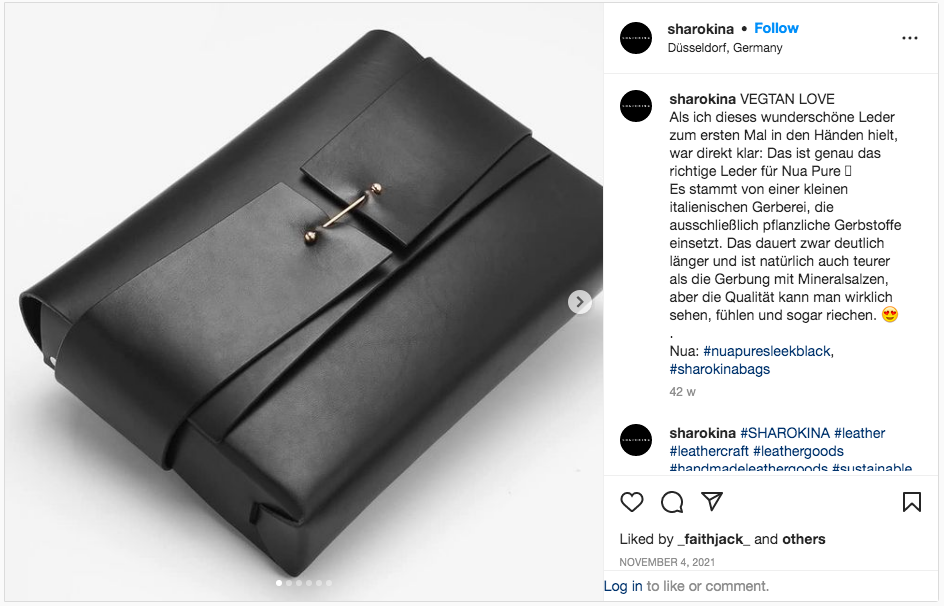 "Before Plann, my process was much more complicated and involved. I used several other apps to schedule my social content and write the caption. In my calendar app, I set reminders so I wouldn't miss the best time to publish. Then I used to copy and paste to merge all the content into Instagram. 
But in the end, it wasn't uncommon for me to delete an image right after I published it because it didn't fit as well visually into the stream as I previously thought. Very annoying – I'm so glad that's a thing of the past!"

Reaching new customers through the power of social media
"As a small, sustainable label, I sell with SHAROKINA mainly online through my eCommerce store. That means I don't have a local store to attract potential customers. 
So I have to reach people online. And thanks to social media, people can find and learn about my products from anywhere – no matter in what city or country they live. Social media turns the whole world into a village!"

How Plann simplifies content creation for business owners
"Plann is intuitive to use, offers many possibilities, and has such a nice design! It was important to me that you can use the app from both your phone and computer. When I take pictures while working in my studio, I usually do it on my phone – but if I want to show clean product images, I need to be able to access images on my computer. 
I got tired of having to send all the pictures back and forth between devices. And I prefer to write the caption in my notebook anyway. Plus, it's handy that I can also schedule my posts on Facebook and Pinterest with it – all from one app!"

Creating a streamlined social media strategy with Plann

"Plann finally makes posting fun again! Before I used Plann, I had to use three or four other apps to prepare what I can now do with just a single one. It saves so much time, and I now post more often! I can load the images into the preview stream weeks in advance, keep rearranging them, and start writing the captions. 
The whole social media process is much more organized and efficient, as I upload the relevant images directly to Plann instead of having to search for them later on my phone or – in the worst case – forgetting they even exist! 
Of course, the analytics and stats are also very helpful in understanding what content my followers want to see, when is the best time to post, and how my account is performing."

And Sharokina's favorite Plann feature?
"I love the auto-post feature! I usually post in the evening but prepare the posts in the morning. When everything is ready to post, all I have to do is to set the time, and then I can check off this item on my daily to-do list and get back to other things. 
What I also like is the ability to put together hashtag sets. This way, I always have all the relevant hashtags and can add them with one click."

How to find social media success with Plann
"The images should be high quality, well exposed, harmonious, and visually appealing. That not only sounds demanding, it even is! And it's a process that takes time – I am also still learning! But I always take great care in making sure my images match the previous ones in terms of shapes and colors, and there are highlights in between that standout. 
I like to alternate between product images, work in progress, design details, and sometimes just inspirations I discover in nature or architecture. Also, I don't care anymore if a post gets many likes. It's just important to me that I transport my brand philosophy, and people should understand what my account is about at a glance."

Top tips for brands looking to rise on social media in 2022
"Be authentic and personal. Especially as a small one-person business, this is hugely important. In the past, I always tried to make my brand look bigger than it was. Today I know that people especially appreciate the small, sustainable, and honest labels that build a brand with a lot of heart and soul and attention to detail. 
So show who you are, what you do, and what makes you different from the others. Find your niche and become a professional in that area – maybe your followers can even learn something through your account!"

What's next for Sharokina?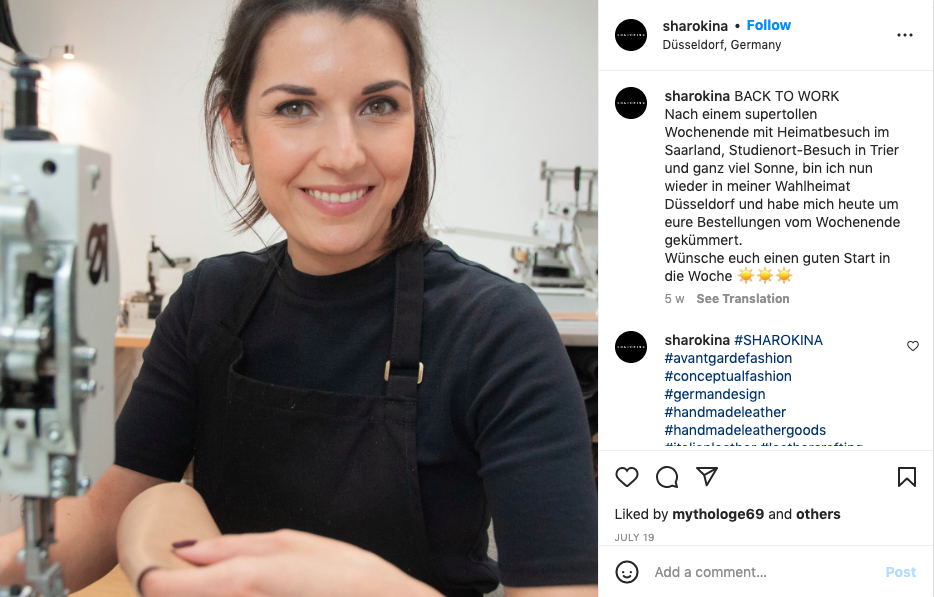 "In my stream and especially my stories, there will soon be more insights into my work as a bag designer. I do everything myself: The design, the prototypes, the making, the photos, the website, etc. – so there is so much to show! And I want to share some helpful tips like how to identify high-quality leather or what to look for when buying bags. 
I'm also working on new bags right now, and I am in the process of finding new distributors. It always remains exciting, and I look forward to everything yet to come!"

Ready to supercharge your success on social media?

Looking for an all-in-one content creation suite that allows you to manage your social media channels effortlessly? From mapping out your strategy and designing your graphics to saving plug-and-play hashtag sets, you'll find everything you need inside Plann. 
Go on, redeem your 7-day free trial of Plann Plus. If you don't like it, keep using Plann for free!