The world of social media is always changing, making it more important than ever to stay up to date with the latest news developments on the top sites.
By understanding what's new, you can optimize your strategy and take control of your marketing goals. The result? Greater power over your digital marketing story and the chance to build an active, engaged audience across a variety of sites and channels. Sounds awesome, right?
If you're wondering how you can catch up on the latest social media news, never fear! Here's how you can get the inside scoop on news as it happens.
Why bother staying up to date?
Staying aware of social media news is essential if you want to make the most of every growth opportunity and achieve digital marketing success!
By watching the news across your favorite sites, you can find out about new features and learn how to share amazing content.
As you learn about platform trends and ideas, you'll be able to expand your posting repertoire and improve the way you communicate with audiences online.
Where can you find social media news?
Wondering where to find the latest news? Try these simple solutions!
Check-in on social
View this post on Instagram
Sometimes, the best place to find social media news is on social media! Whether you're a Facebook fan, a Twitter lover, or an Instagram great, you can turn to your favorite social media platforms for updates on new features.
Most social media platforms run their own accounts. By simply following these, you can hear about trends, feature updates, and upcoming insights. The more you learn about what's in the news, the better prepared you'll be to turn knowledge into marketing action!
Remember to check in for updates regularly. Change is happening all the time, so follow along on Facebook, Twitter, Insta, TikTok, and more. See what's going on even in communities you're not yet a part of. A new opportunity to share great content could be right around the corner.
Read up on the news
View this post on Instagram
It's time to put your reading glasses on! If you're looking for updates on social media, blogs and articles are a great place to get started. Many online publications include social media news to keep you in the know.
For the best-quality information, it's a good idea to choose reputable industry sources, where you can always expect recent, accurate data. Start your research with well-known sites like Social Media Today and Forbes Magazine.
As you read, you'll learn much more than just what social media features are available. You'll discover new content ideas and marketing tools that could help you take your brand to the next level.
Never miss a newsletter
View this post on Instagram
Newsletters are a great source of information if you want to hear the news as it happens! You can subscribe to get social media news and trends delivered directly to your inbox, giving you a head start on all new ideas and features.
Many social media platforms, creators, and gurus offer informative email updates that you can rely on to prove weekly or monthly updates. This makes it easy to find what's new without wasting hours searching.
If you're looking for a good newsletter to get you started, we humbly recommend you subscribe to the Plann newsletter, where we'll provide you with all the most important news and insights, plus helpful social scheduling tips!
Switch on Google alerts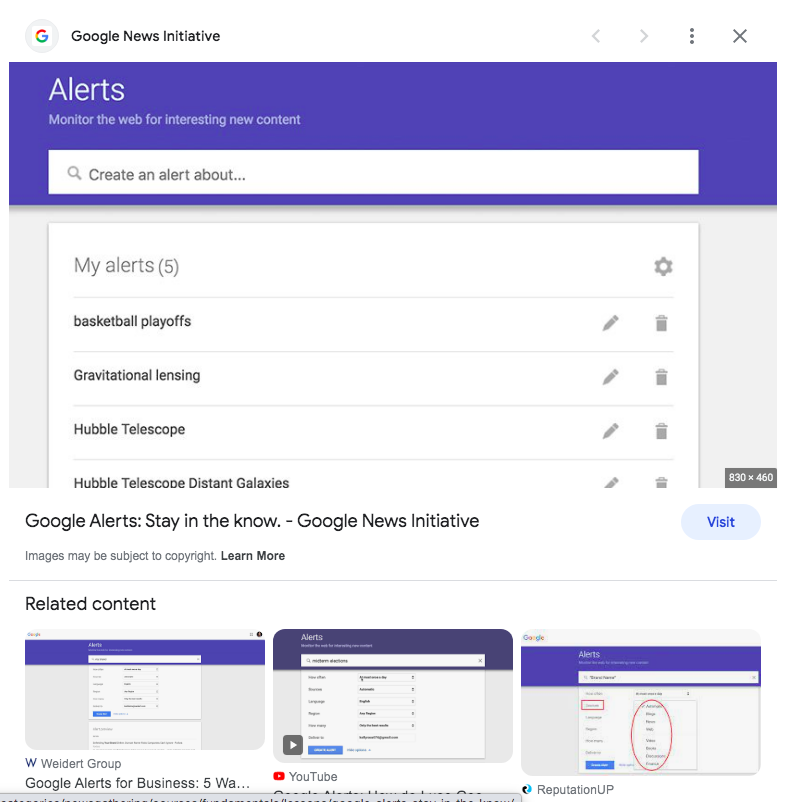 Google alerts are a lifesaver when it comes to making sure you never miss out on the news! When you switch on Google alerts for social-focused keywords, you'll receive a notification every time news is released.
With alerts, you can expect to receive updates on fresh features and news announcements, helping you stay one step ahead of the competition. Every time you hear news about your favorite platform, you can set to work adapting your social media strategy!
Try setting up Google alerts for terms like "Facebook news," "Twitter news," "Instagram news," "TikTok news," and "social media news." Every day, you'll have a new opportunity to learn the latest and put what you know to good use.
Talk to the greats
Often, you can find great features and trend updates without ever leaving social media! By turning to your favorite influencers, you can learn what's going on in the news from the people it affects most.
On most social media sites, there are plenty of chances to connect with the greats and ask questions, so you can make the most of the virtual community. When you share knowledge ideas, you can build your audience while hearing the news.
Next time you log in to social media, be ready to find out the most recent social media news. Be willing to share your point of view, and even look for the chance to debate the value of news updates and features on the market.
Tune in to podcasts
Audio entertainment is on the rise, with many social media influencers now producing popular podcasts. What's more is that some podcasts focus on social media news and how new features and inclusions could influence your social experience.
By tuning in to podcasts, you can be a part of the conversation and hear real-time social media news, as well as learn how it could affect your brand presence. The great thing about podcasts is that you can listen on the go, staying up to date wherever life takes you.
If you want to truly understand social media news stories, it's best to diversify your news intake as much as possible. Listen to a range of different podcasts that represent unique opinions before deciding what you think about the news.
Hear it from Plann
Last but certainly not least, get your social media news directly from Plann! The Plann team is focused on providing you with all the info you need to achieve incredible things. We provide regular updates whenever we discover a social media news story we think you should know.
Additionally, Plann offers weekly updates on trend TikTok and Instagram Reels sounds! This way, you can get involved and make the most of a traffic boost as you set out to grow your following. We'll add in Twitter, Facebook, and Pinterest updates too!
Here at Plann, we'll always offer real talk about social media news and what it means for you. Plus, if you like what you learn, you'll have plenty of reasons to stick around and become a part of our Plann'r crew.
Want more guidance from the Plann team? Download our user-friendly app, and sign up for a free 7-day trial now!