Focusing on your side hustle whilst working full-time can feel like an endless loop of hopping from one project to the next with very little downtime. And as a social media content creator and manager, being on top of the latest updates and trends whilst also providing value to clients means that you're spinning more plates than often humanly possible.
Many business owners who are trying to turn their side hustle into their full-time focus (not get overwhelmed by the pressure of "keeping up") are likely to face the challenge of balancing life between work and multiple side projects. 
No one knows this better than Social Media Manager and Creative Founder, Jessica Chan. Jess started her business, November Rain Creative, in 2021 when she realised that businesses needed more help than ever before to stay afloat during the global pandemic. 
Jess helps female entrepreneurs build a social media presence through intentional strategy and elegant design. And has built her Instagram from the ground up, which now has a following of over 2000 loyal fans and followers. 
We sat down with Jess to chat about the power of social media, the secrets to developing a social media presence and her top tips for crafting an unforgettable Instagram feed. 
Becoming an established brand through social media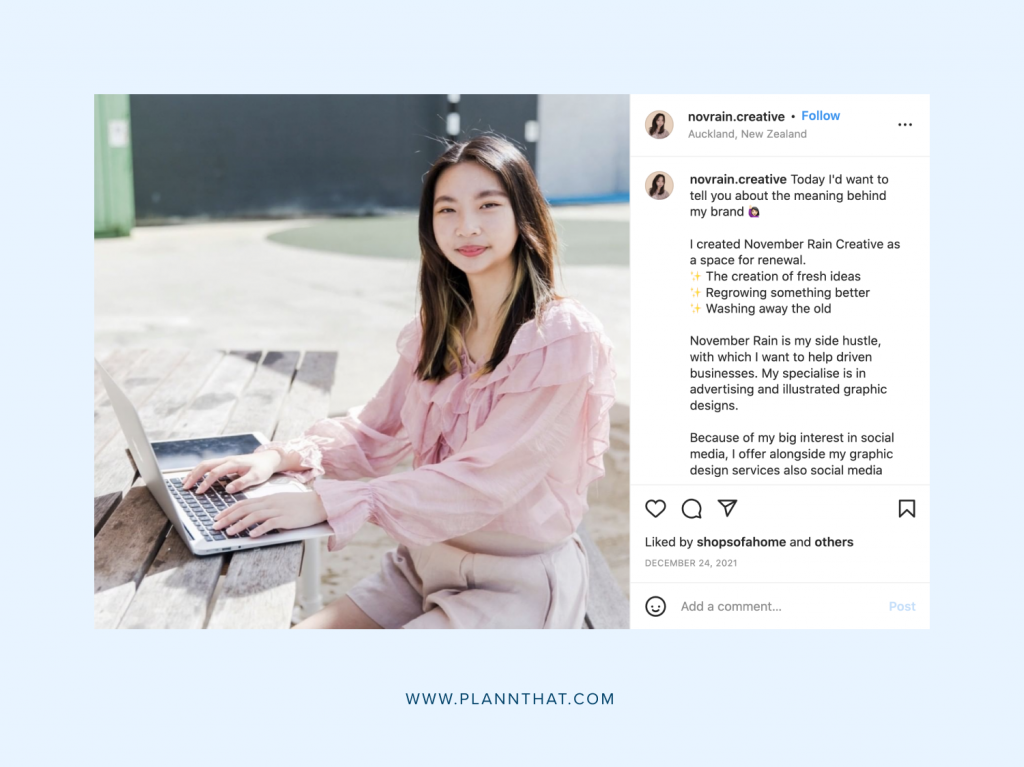 "In order to build my business, I shared passion projects, client transformations, and engaged with local businesses. Starting your social media from scratch can be challenging. 
I would spend hours engaging with businesses that are aligned with my target audience and gather market research for the development of best-fit services for them. Eventually, my brand becomes more recognizable on social media."
Growing a supportive community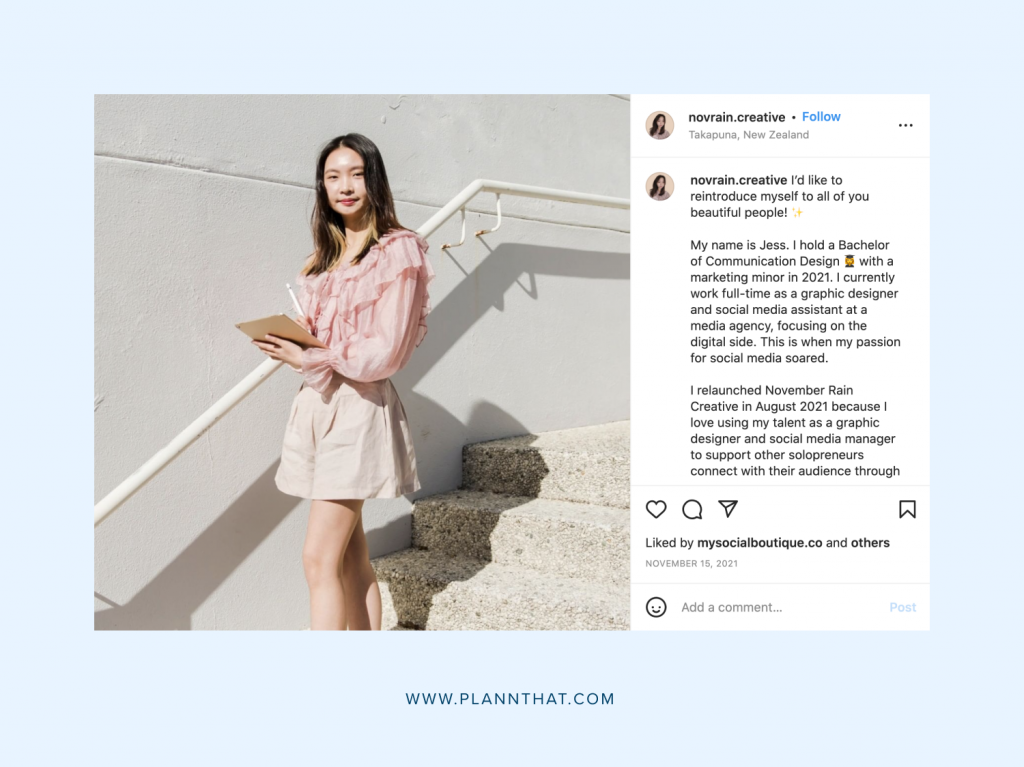 "As an online business, the most effective way to grow my community is through social media and engaging with other businesses. 
The first thing when I started my business is to open an Instagram account to start building my brand, share my knowledge, showcase my projects, and connect with local businesses. 
Social media has helped me attract more potential customers, increase brand visibility, foster trust with my community, and bring users closer to my brand."
Life before and after Plann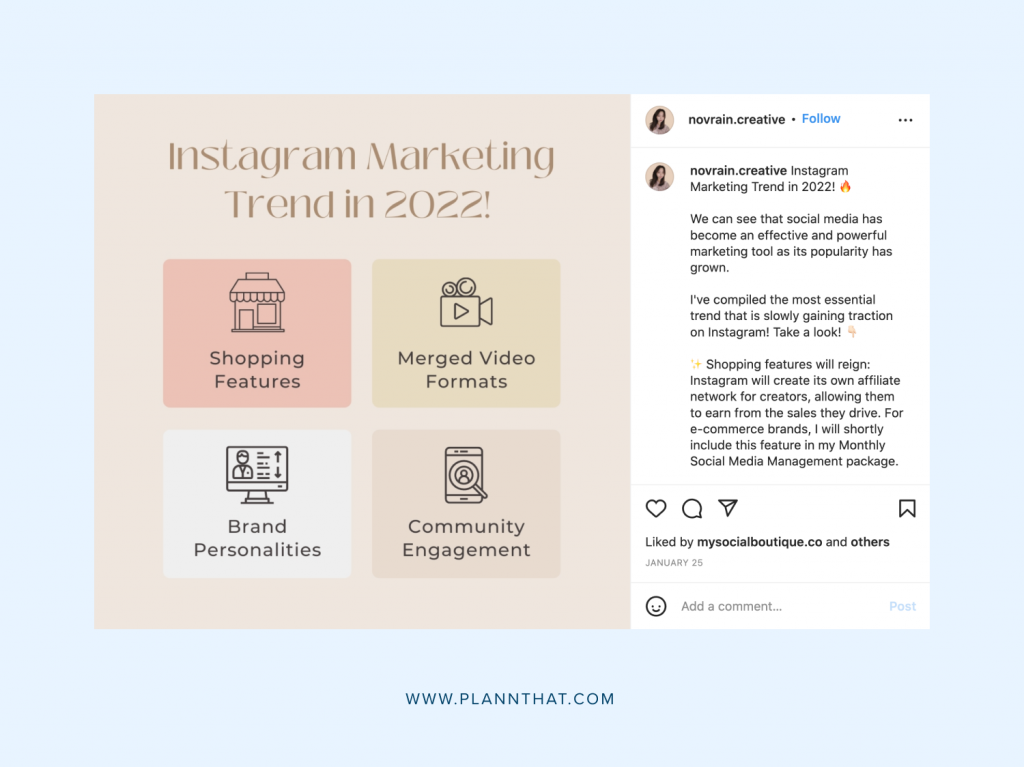 "The process of posting everything manually and receiving phone alerts every time I needed to post was stressful. In the past, I would be disappointed if I forgot to set the reminder which led to posting the next day, and posting on the phone was impossible on a small screen.
With Plann, it has been so much easier to create content, collect hashtags, view feeds, schedule auto-posts, and report analytics on all devices on one platform. 
Since the system does all the work for me, I don't have to set notifications to post on social media manually and spend less time worrying about forgetting to post on that day. 
I have found Plann to be very helpful as a social media manager to schedule and auto-post social media posts easily and quickly."
And Jess' favorite Plann feature?

"Among my favorite features is the strategy section, as I can plan out the content to align with the goal for the month and keep track of the best-performing content. 
The best update to Plann in 2022 has been the automatic posting of carousel posts where I can share educational posts with images and videos scheduled ahead of time. 
As a social media manager, this app is easy to use and offers everything you need in one place."
Top tips for brands looking to succeed on social media in 2022
"One of my top tips is to brand your social media graphics to increase brand awareness and showcase you are an expert in your field. Whatever social media you are using for your business, you'll want people to recognize your brand across all platforms.
I would recommend creating your vision board, writing your mission statement, and finding the style that aligns with your brand message if you are struggling to build out your aesthetic. Finally, create your posts and test them on the Plann feed preview."
What's next for November Rain Creative?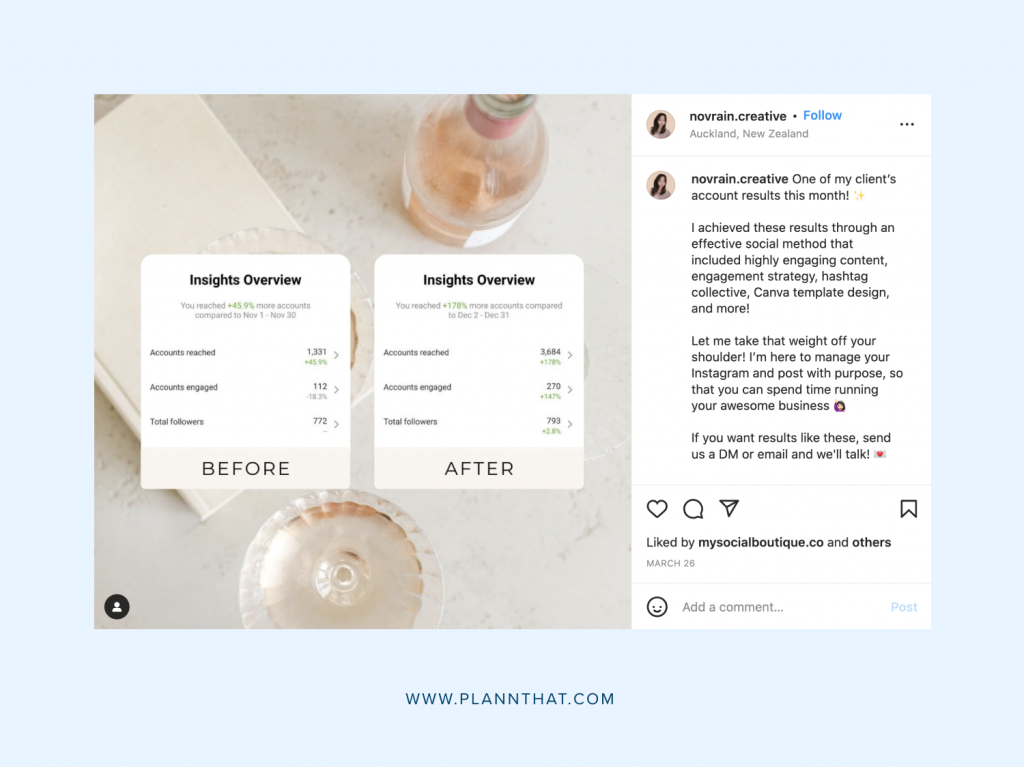 "My goal is to launch my first social media course by this year so businesses can easily implement social media strategies. 
While I'm still working in a media agency full-time and running my own business, I think the best way to increase passive income is to teach my method to businesses in need, and I've always wanted to do this."
Ready to supercharge your success on social media?
Looking for an all-in-one content creation suite that allows you to effortlessly manage your social media channels? From mapping out your strategy and designing your graphics to saving plug-and-play hashtag sets, you'll find everything you need inside Plann. 
Go on, redeem your 7-day free trial of Plann Plus. If you don't like it, keep using Plann for free!