On a visual platform like Instagram, there are plenty of opportunities for artists to build their following and share their creativity with the world. Many artists find great growth opportunities online, with some even rising to social media stardom.
Combining photo posts with Reels, IGTV videos, stories, and more, artists are using a combination of content formats to take social media by storm. There's a lot to learn from social media artists!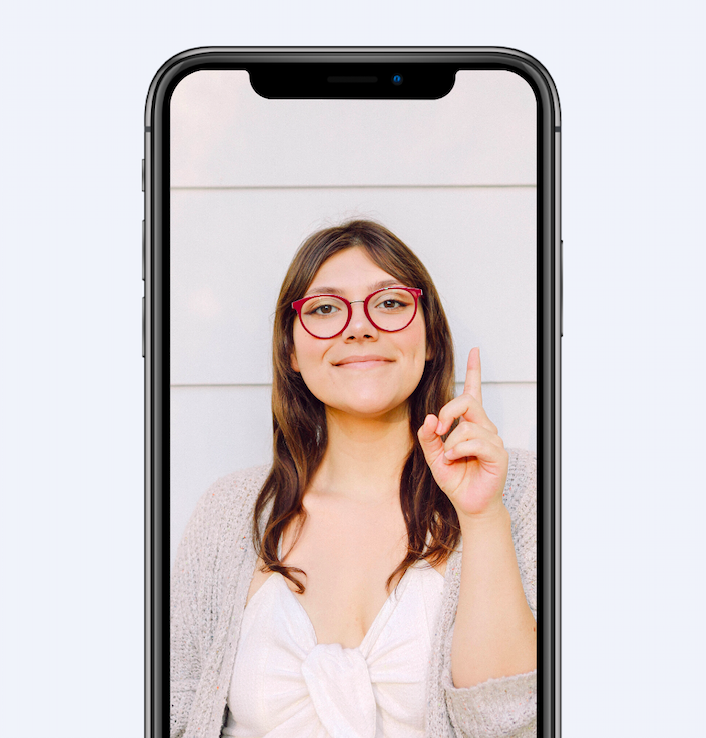 For example, Plann's resident Reels whiz Jenn Evans — who also happens to be an incredibly talented artist. With a visual style that could be described as 'Tim Burton meets anime', Instagram is a key part of sharing her unique art with the world and even generating art commissions.
On her Instagram @jennsusdraws, Jenn shares her incredible sketches and animations — often giving us a glimpse into her artistic process . She even offers tips and tricks to help other artists improve their craft. Community over competition!
Jenn has also identified short-form video as another valuable tool in her social media strategy — and often uses TikTok and Reels to share her art with a younger demographic.
Here, we chat to Jenn about how she uses social media (and Plann!) to grow her visual portfolio and budding art business.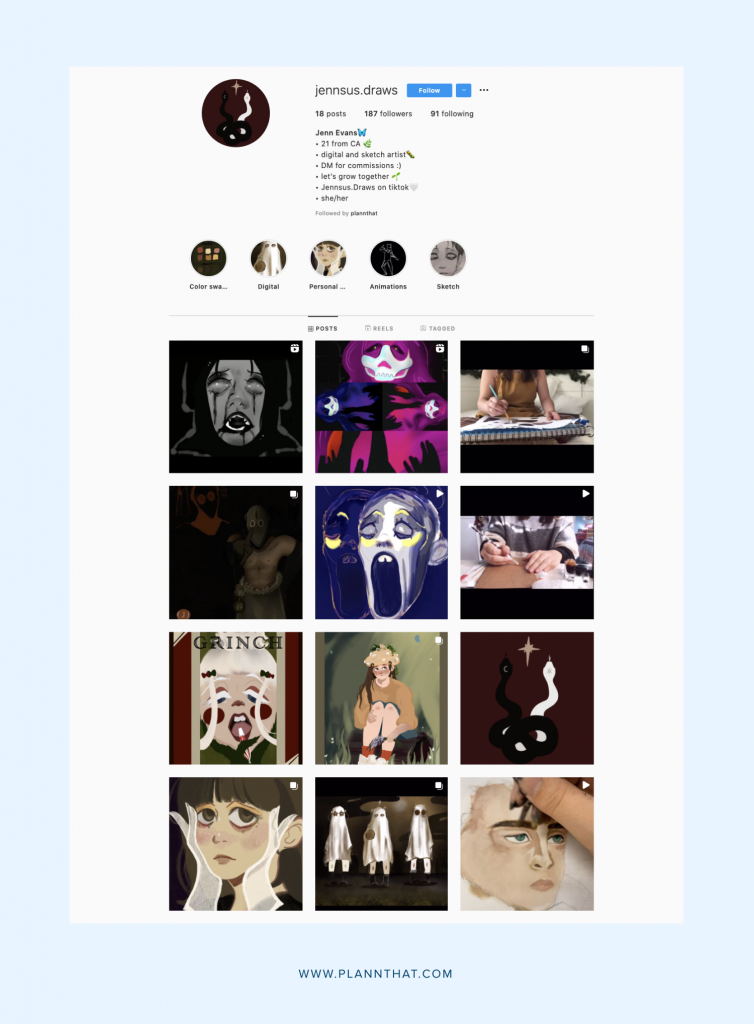 The account purpose
"My main goal was to have people see the art I was doing and have a platform where I can get opportunities to hear feedback on my art and potentially open commissions."
Her art in a nutshell
"I would describe my art as fun but also a bit dark. I love trying out new styles and often get inspiration from TV shows, movies, music, and other artists I like."
Favorite thing about social media?
"I love being able to gain a fresh perspective on art through different cultures and inspiration through creators I would not have found outside of social media. I think it's also been super helpful for finding other people my age building their own art accounts, offering support."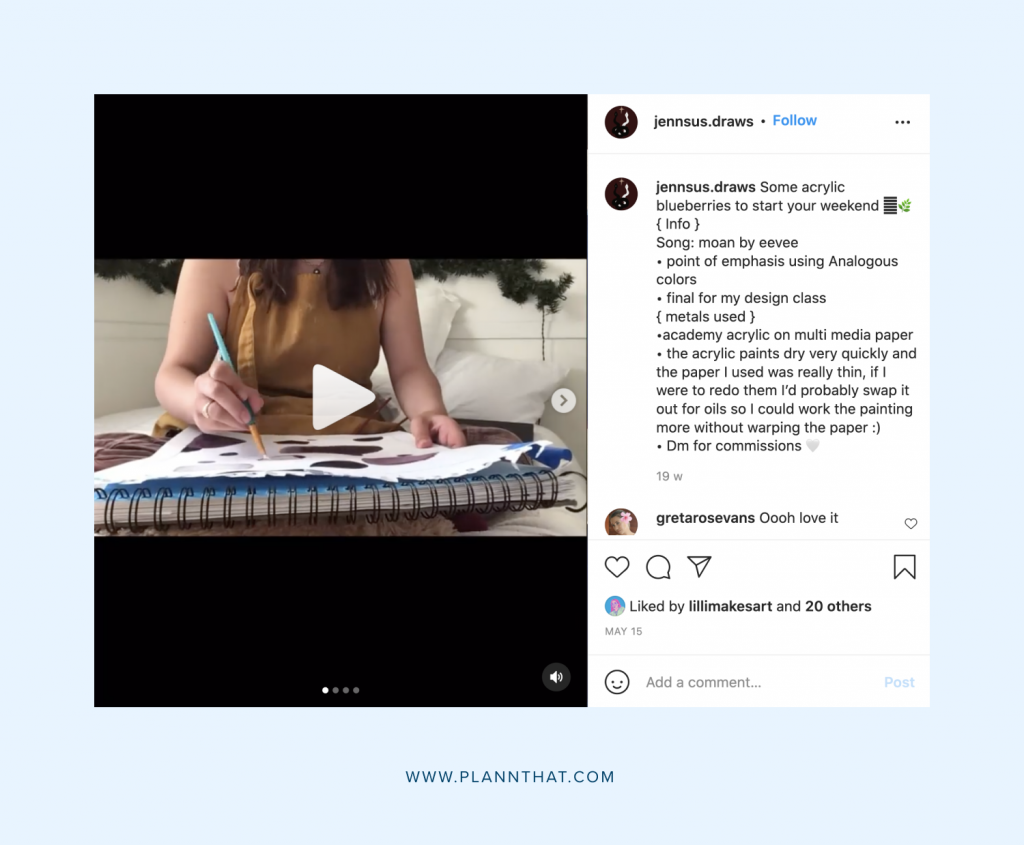 Life before Plann
"I was honestly less motivated to post my art on Instagram before using Plann. My biggest issue before Plann was my grid looking funky. I would spend hours on my artwork, half an hour working on a caption, and a few minutes working on the cover and order of the photos just to have to delete it because it didn't go with the grid."
Life after Plann
"Less anxiety. I feel I like I post more content and enjoy doing it more. And LOTS of auto-post!"
First impression of Plann?
"The first thing noticed on Plann was the strategy tool. It took me a bit to get comfortable with the feature, but once I did, I found it really helpful."
Favorite Plann tool?
"I love the auto-post feature for Instagram and the ability to automatically post hashtags in the first comment. The new Reels planning feature is super helpful for me as well because I've been using Reels for my art account for the last few months."
TikTok tips for new artists
"I would say for artists going on TikTok, the best thing to do is look for trending sounds that fit the aesthetic of your content. Using hashtags can also be helpful for finding your audience. And tutorials on how to use particular techniques are always a good idea.
Following successful artists on the app to get inspiration doesn't hurt either! Some I like are @emilyriboflavin, @heethbeeth, and @artizblue."
What's next?
"I would love to gain more inspiration and knowledge through traveling to better my art. I've also focused mostly on digital art for the last year. I would like to start posting more of my paintings and drawings!"
You can stay up to date with Jenn's art by following her on Instagram and TikTok. Expect plenty of great process videos and dark, atmospheric drawings.
Ready to grow your art social media account?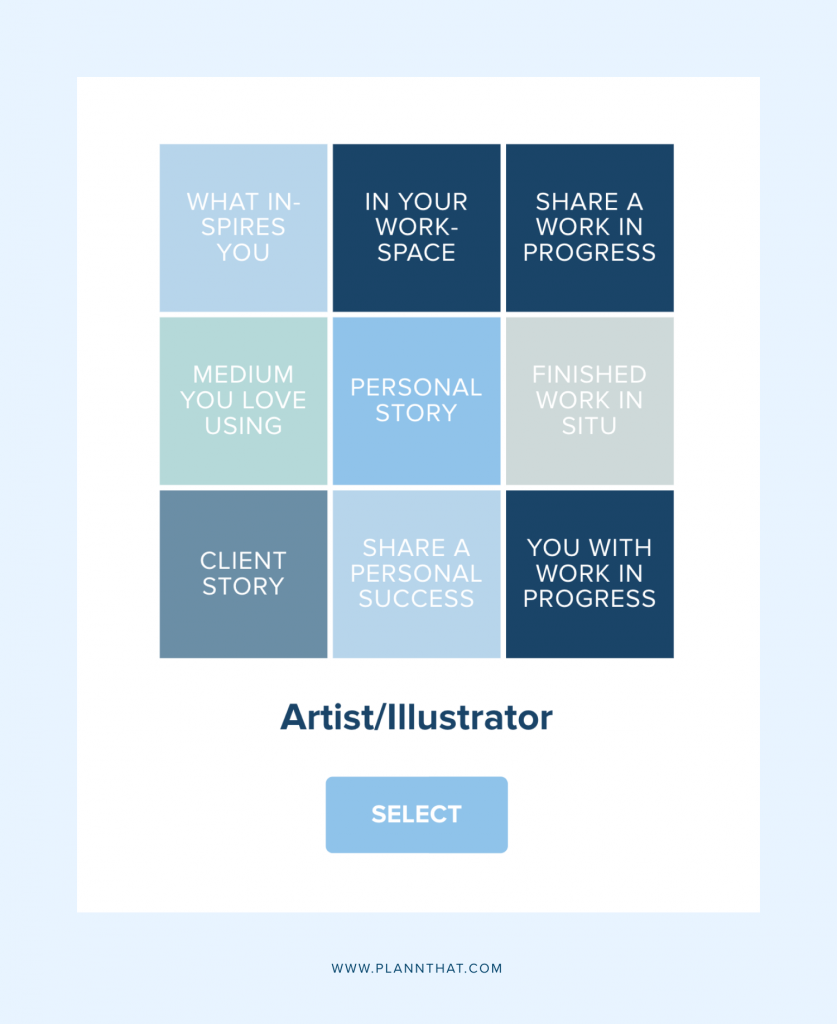 From content prompts specifically for artists to dedicated planning space for your Reels and TikTok, Plann has the tools you need to share your creations with the world. Sign up today, and start Plann'ing your social media content!