How to Repost on Instagram (Using Our Free Stock Images!)
There are so many AMAZING photos on Instagram and we all know that content creation can be a pain sometimes! Read: *my creative brain is head cheese, I need to repost more images, help!!*
We are here to make your life a little more easy breezy.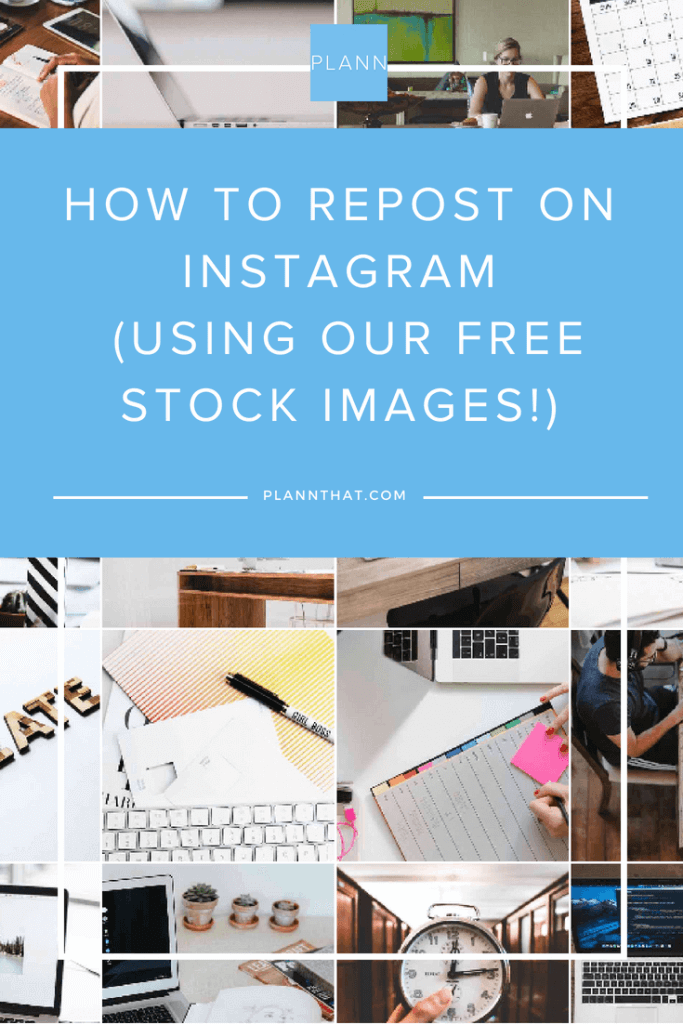 Have you seen our Instagram pages with free stock-images yet? There are SO many gorgeous and high-quality pictures collected and easy for you to repost – completely with our permission. Stock images can be great to use when you build your Instagram and run out of content, you do not want to go missing when that happens!
@Plannyourbusiness: This Instagram has around 600 stock images. We have collected pictures of everything you need to make your business look professional, quirky and fun! There are pictures of offices, watches, computers, coffee cups and all the essentials. Check it out and have a scroll through, you'll be reposting within seconds!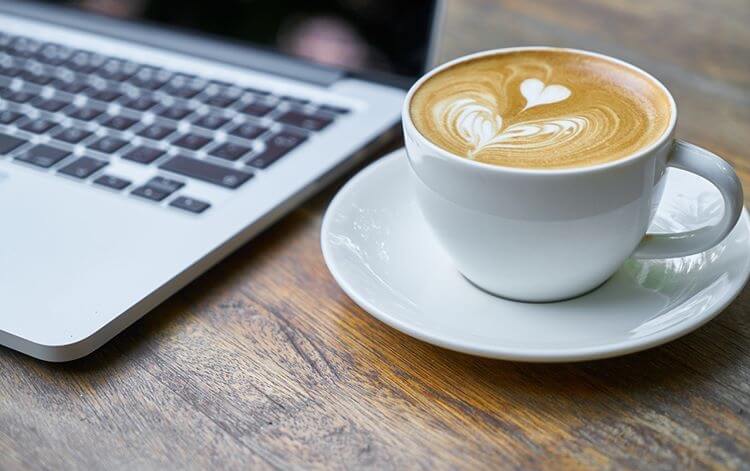 @Plannyourlifestyle: This Instagram is all about the lifestyle! Scroll through pictures with amazing sunsets, palm trees, city lights, breakfasts or even room inspo. YAY. We have collected around 600 photos (!) for you to choose from.

Open up Your Plann App
Go into your Plann app. On your home feed, tap the + in the top right corner.
You'll be able to add photos from your camera roll, drive, dropbox – you name it.
Go ahead and tap "repost", this will bring you into the section we might as well call: content heaven! YAY.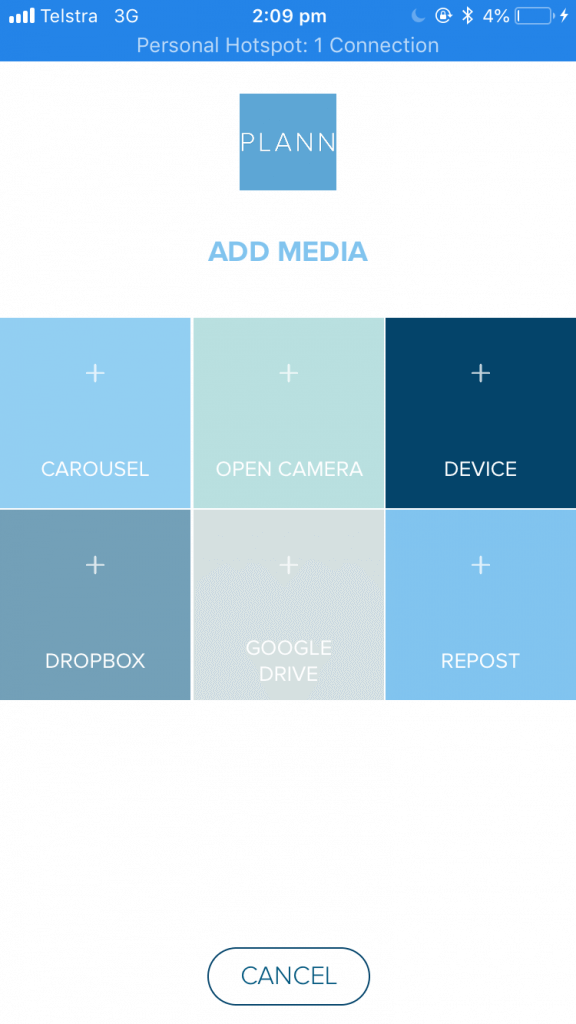 In this section, you can repost content from anyone on Instagram (with a public account) right within the Plann app – huzzah! You'll be able to choose as many pictures as you like and simply repost to your Instagram feed.
We'll even pull the caption and source of the content into your Plann caption so that you don't have to remember where you reposted from – super cool!
Our repost button makes it easy peasy to repost photos and videos from other Instagram user's feeds.
When reposting we will grab the user's content including the photo/video, caption, and we'll make sure you are crediting the creator correctly too!
Do you want to use our free stock images? Simply search on @Plannyourbusiness or @Plannyourlifestyle.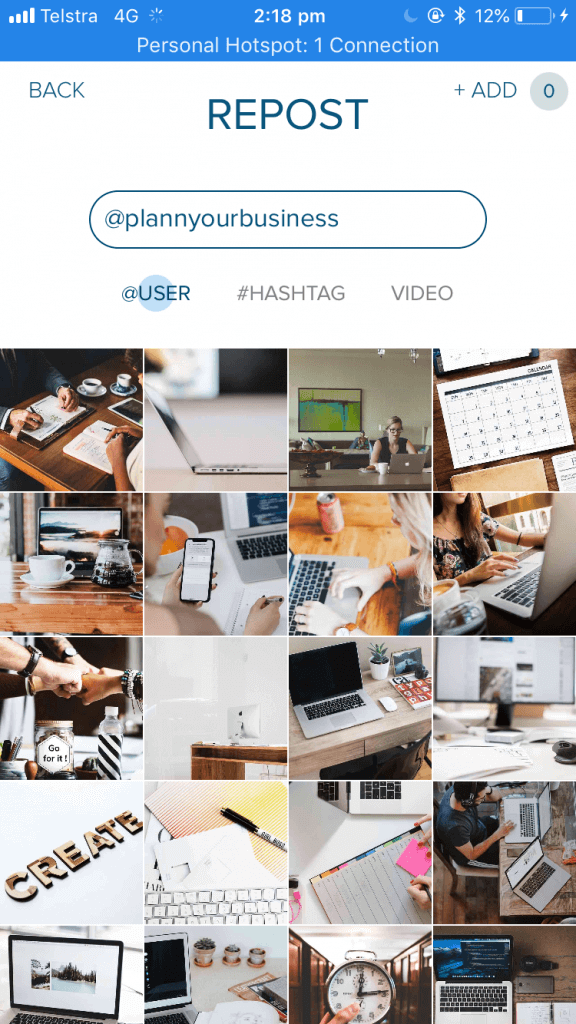 PSST, we will copy all the hashtags used in the caption as well. Less work and more hashtags Wohoo! If you want to add your own hashtags we have color-coded them for you inside Plann app, which will help you pick the best-performing ones (and also the hashtags you might as well stay away from!)
Select the Photos You Want to Repost
Select the photos you want to repost and tap the "add button" in the top right corner. The pictures (or videos) are now added to your Plann grid!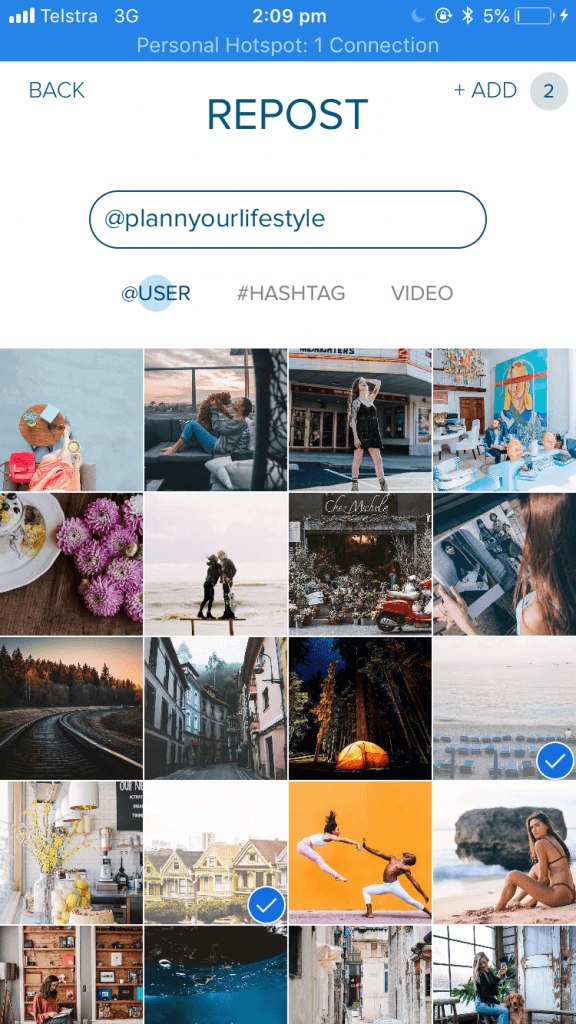 From here you can choose to post them straight away, schedule them for later or simply keep them there to drag and drop and post later.
Psst, you can also see when your best personal time to post is. Schedule your post to repost at that specific time, your engagement rate will squeeze itself upwards!
Instagram Etiquette is Important
I love the word Instagram etiquette and it is so important! One step to achieve good etiquette is to always give credit to the owner of the photo and the tool you reposted with. If you do not credit the owners, you are basically stealing their content. The best etiquette is to ask for permission before you repost anyone's photos. Slide in to their DM's and kindly ask. The Dm could, for example, look like: "Hi xxx, I absolutely love your feed! Would it be okay if I repost one of your photos to my feed?" Most people love this and will come back with a positive response within 24 hours.
Go Ahead and Repost!
Do we all feel like re-posting queens now? Do you just love to make your Instagram visually appealing? We can not wait to see you guys simply repost and get that content-game on top! Psst, In Plann app you can also drag and drop your Instagram feed, choose outstanding filters and schedule your posts! Everything is there to make your Instagram stand out from the rest!
Download Plann for iOS and Android now!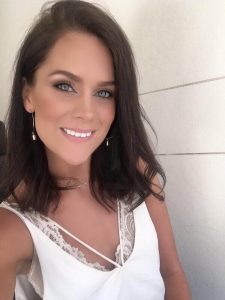 AUTHOR
Asa Liedman
Based at Plann HQ in Bondi Beach, Australia, Asa (pronounced Awe-Sa, like AWESOME!) is part of the Plann Marketing team.
Originally from Sweden, Asa left to spark up her career and lifestyle, plus further her love of Marketing with a special interest in Social Media, Branding and ROI.
She's also the superstar behind Plann's YouTube channel and those incredibly helpful Instagram Stories always teaching you new Instagram tricks!
Follow @plannthat on Instagram to see more of Asa's work!