Visualize and Replicate Your Exact Instagram + TikTok Grids to Now Include Your Pinned Posts!
Recreate exactly what your social grids look like on Instagram and TikTok! You can now pin up to three posts to the top of your social grids to reflect your Instagram and TikTok profiles for the most complete view of your social media profile.
If you'd like to give it a go, your next step is to log-in to your Plann account and navigate to the grid on the create or media page.
Alternatively, if you're looking for more information on what the feature is all about and how it adds value to your workflow, keep reading!
Have you Tried Pinning Posts to the Top of Your Instagram or TikTok Grids?
Inside the Instagram and TikTok Apps themselves, you can choose up to 3 posts to 'Pin', or, 'stick' to the top of your grid view. This means every time you post, these top posts don't change position and those visiting your profile always see these first.

You might choose to highlight something important, like a product feature, an award you've won, or a special moment you want everyone to know about!

You'll be able to spot what Pinned Posts look like on profiles that you've visited as they'll have a giant pin icon on them letting you know they're 'Pinned'.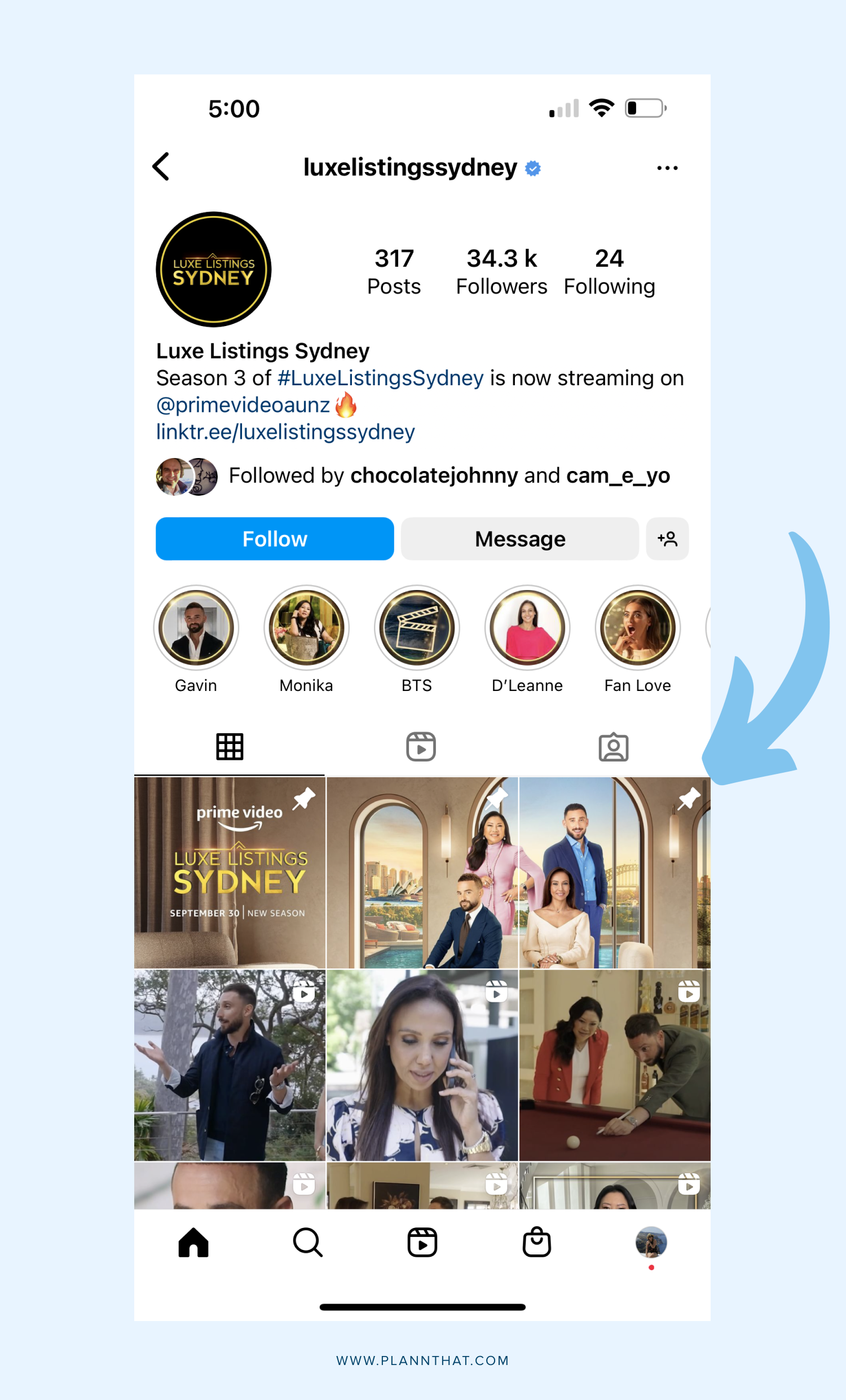 View, Plan and Visualize Your Pinned Content
We know how important being able to visualize what your social media looks like, so we're excited to share that we have launched the ability to visualize your pinned posts in your Plann social grid!
This means you'll be able to view and recreate what your top 3 pinned posts look like on Instagram and TikTok, or preview what you'd like to pin, directly in Plann!
Why is this important? Two great reasons!

Firstly, you can visualize and plan your pinned posts and how it looks across your whole social grid, before you actually do it. This means you can use this handy tool while you're brainstorming, planning and scheduling your content – seeing what it looks like to pin or unpin a specific post and how it impacts the overall look and feel of your social grid.
Secondly, if you've already pinned your posts on Instagram and want to see that reflected in Plann, you can do so by replicating it within your social grid.
You might find this helpful when planning content ahead of time or if you want to visualize what it might look like when you move things around or add new posts.

If you're running a specific campaign or sale, it also helps to stay on brand across specific colors, vibes, language and more. You can also use your pinned posts at the top to create a one image banner – this is especially useful as a teaser or to feature some beautiful imagery.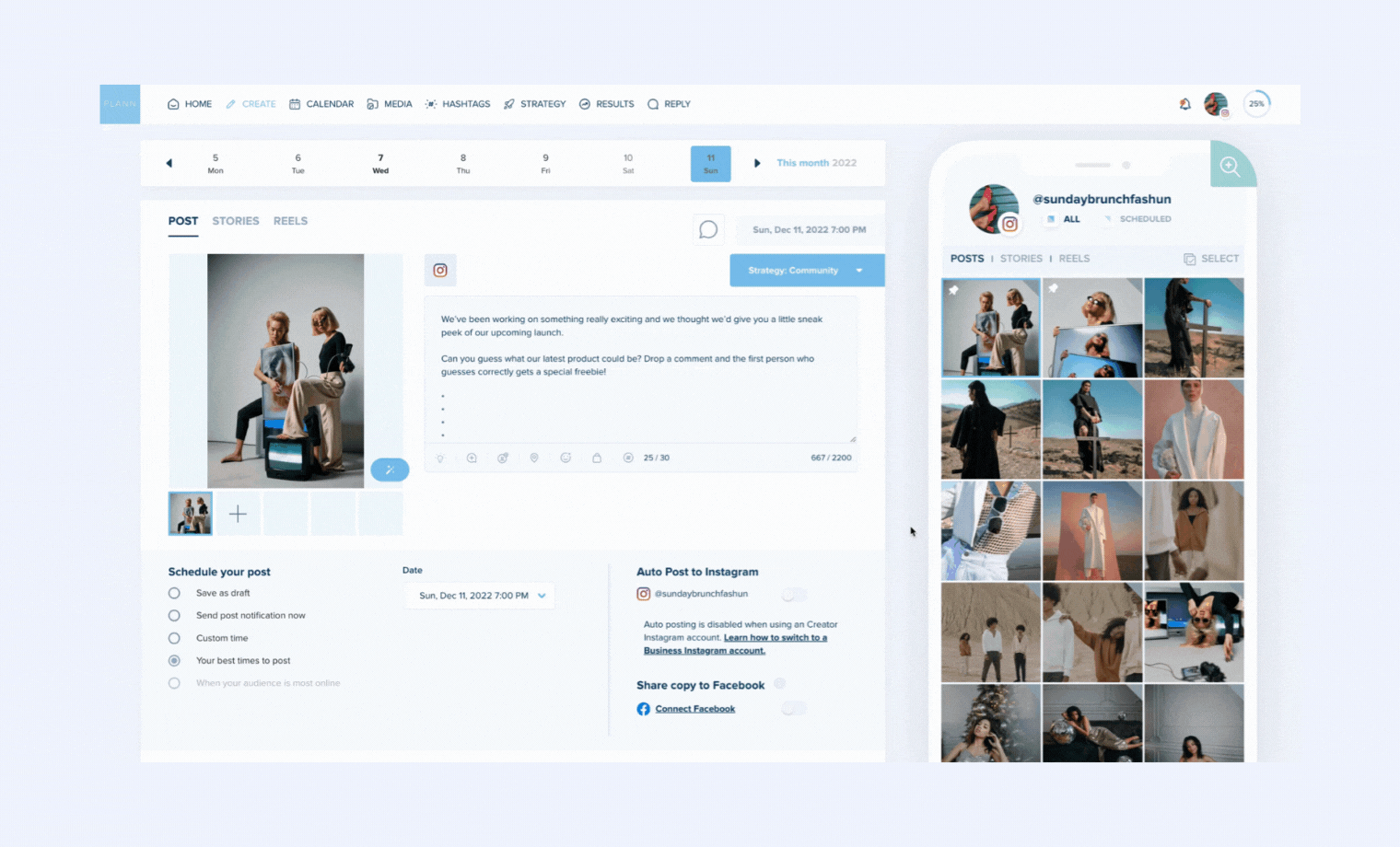 How Does Pinning Posts Work?
If you're logged-into Plann's desktop product you'll now see a new option to 'pin to top' in your Instagram and TikTok workspaces

If you've already pinned posts inside Instagram or TikTok, you won't see these reflected inside Plann (not currently available via the Instagram or TikTok API's) so we've built this especially for you) to mimic and design your exact Instagram and TikTok grids in advance!

Simply tap the 3 dot menu and find a new option to PIN POST and it will 'stick' to the top of your grid.

Pinned posts can be easily dragged and dropped for quick positioning along the top row of your social profile. It can also be unpinned, by selecting 'un-pin post' where the post will remain in place and you can drag/drop it somewhere else.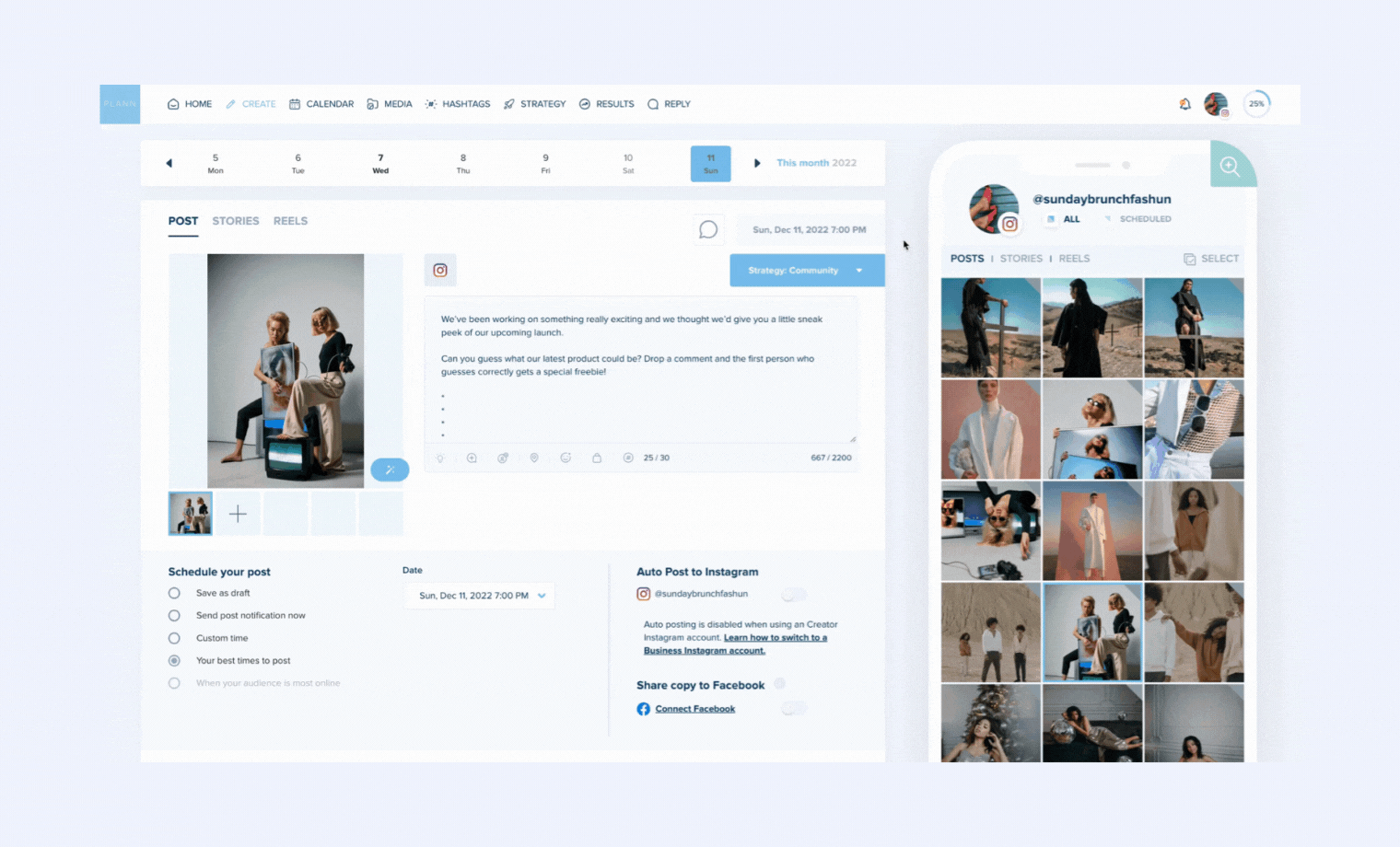 Can I Un-Pin a Post?
Absolutely!

Click the same 3 dot menu and choose to 'un-pin' your post and we'll pop it back where it was previously. Don't forget – as Plann can't do this action for you inside TikTok or Instagram, any changes you make inside Plann that you want permanently, you'll need to perform inside TikTok and Instagram too.
If I Pin it in Plann, Does it Replicate on Instagram or TikTok too?

Up to 3 posts can be pinned at a time, just like on your Instagram and TikTok profiles.

You can choose any posts on your grid including those that are published, scheduled and drafted, perfect for you to see what your grid could look like

Since these changes are only reflected inside your Plann social grid, any posts that are pinned or unpinned will be instant, giving you immediate feedback on whether the post works or what to plan and schedule next!

Love what you see? Jump into Instagram or TikTok and make the changes permanent!
To Pin or Not to Pin (& When to Refresh)
"It's especially useful for brands who want to make a good first impression to their audience. Having pinned posts that showcase "About Me" or "About the Brand" – gives their audience the opportunity to see those first and the creator can make sure their profile is communicating what they want at that very first meeting." – Rawan Saloum, Product Manager at Plann.
Pinned posts help to attract more attention and highlight your most important content first, which is handy when presented with a huge Instagram or Tiktok feed. It's a simple, yet effective marketing tool that helps curate the experience for your audience, makes it more personal and gives you more control in how visitors might browse your store, the order of priority and what they should see and click on first.
Generally, it's good practice to update your pins on a regular basis – same as you would with your social posts. It's particularly effective when running time-based campaigns, offers or sales – so you can draw attention to it when it's live and un-pin it when it's finished.
So, what makes content pinnable? There's lots of reasons to pin content but it mainly comes down to whether it provides value to you (the business/brand) and your audience (the visitor or customer). A good way of checking is to ask yourself if you think that specific post will sell your product, grow your following or just make your audience happy? If it hits one of those markers or all and it has a clear and effective CTA to take action, then pin it!
—
Gift Plann to your friends, family or followers <3
Gift your friends, family, or followers $10 off Plann with your unique referral link!
By using your unique link, you'll gift them a month of Plann free, PLUS, you'll get $10 Plann credit just for sharing a favorite tool. Find your unique link in your Plann settings to gift the sunshine in someone's day.
HOW TO FIND YOUR UNIQUE REFERRAL LINK: