New! Schedule your Pins to Pinterest with Plann!


Introducing Plann x Pinterest!

Organize, pre-plan and schedule your Pinterest content and let Plann automatically publish your Pins for you.
Plann now supports 5 of the world's largest social media platforms in one beautifully simple place to manage all of your social media marketing!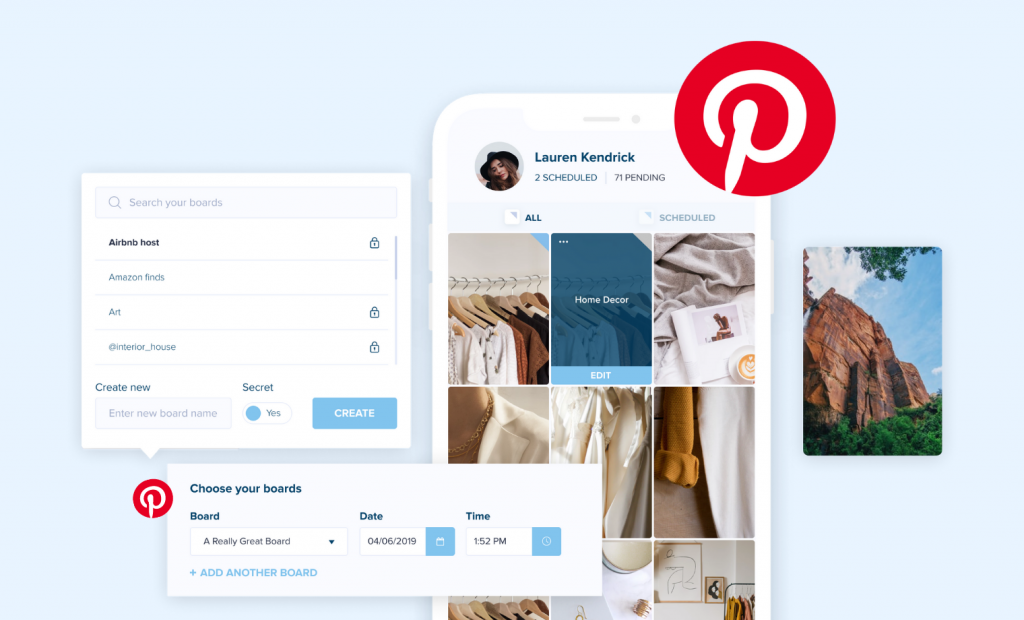 Why Pinterest?


With 444 million people using Pinterest every month, it's one of the largest social platforms but we think of it as a visual search engine. Giving your 'Pins' (which are the images you share to Pinterest) the right names and descriptions mean you've got a greater chance of being discovered, just like you would on Google.

The more times people view, engage with or save your pins, the more likely they'll reach others as Pinterest will share it with them if they have similar interests.

As Pinterest's algorithm learns more, you'll often see 'more like this' or 'other people also liked', along with your main gallery. This gives everyone huge opportunities to be discovered in multiple areas of Pinterest while people are scrolling.


Why do you want to be discovered on Pinterest?

The opportunity to be discovered on Pinterest is endless, but the biggest advantage is traffic!

Attaching links to all of your unique Pins encourages viewers to click through to your website, shop, or wherever you want them to visit after being inspired by what you do.

Here are 4 powerful ways you can utilize website traffic coming from Pinterest:
– Building your email list
– Sales from your store
– Increase your blog readership
– Offering your services

Plus! If someone discovers your Pins and starts to recognize your brand over time, the higher the chances are that they'll recall you when they're ready to invest.
Every Pin is a possibility. People on Pinterest are looking to take action – they're wanting to spice up their everyday lives (dinner recipes, homework, or social media tips), celebrate special moments (birthday parties, bucket list trips), and plan for what's next (home renovations, college, a new baby).



How do I find Plann's new Pinterest Scheduling?

Simply navigate to your profile icon and inside your dropdown menu you'll now find an option to connect your Pinterest profile to your Plann scheduling tool.

Pinterest becomes Plann's 5th social media platform, giving you access to design and auto publish your marketing content to a massive existing, growing and engaged audience!



Watch customer success superstar Ashley walk you through how to find + use Pinterest!
New to Pinterest, or want to learn Pinterest strategy?
The three main reasons people are on Pinterest are:
Browsing for inspiration

Shopping for products

Learning new skills

Create artwork for your pins that are compelling, have a call to action, or inspire someone to click through to your website to learn more!

Pinterest prefers creators who share high-quality pins, rather than flooding the site with a large number of low-quality pins.
We recommend that you publish roughly 15-25 pins a day for best results (that includes brand new pins and re-pins!).

Use Plann's dedicated Pinterest Strategy area to design themes based on what you're trying to achieve and diversify your content!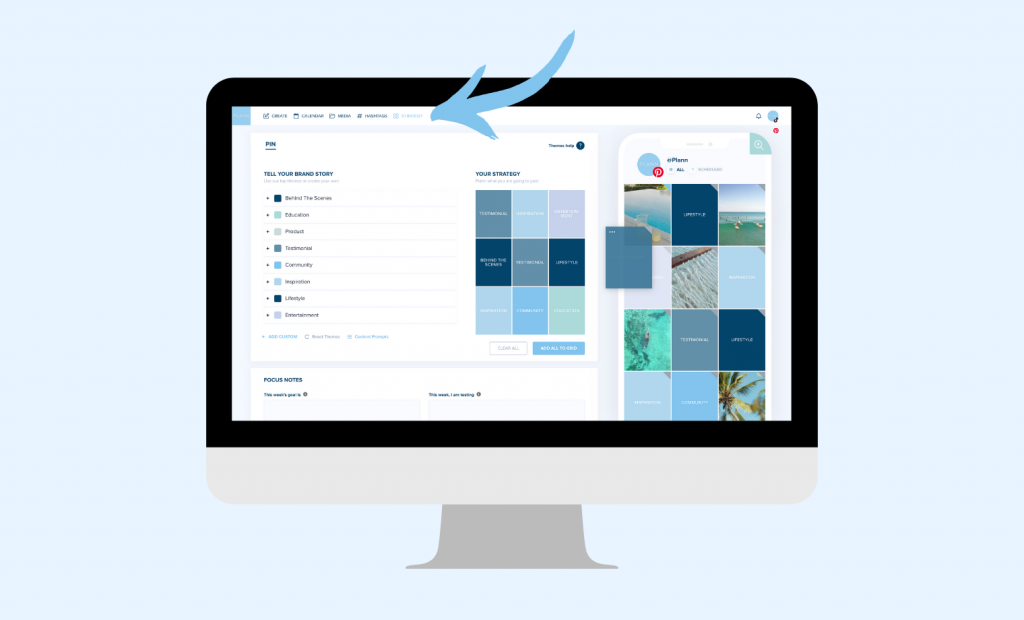 Will my Pinterest posts auto post for me?

Yes!
Simply create or upload your Pins and choose to schedule immediately, or at any later date and Plann will automatically publish them for you on your behalf.


What type of content can I schedule to Pinterest with Plann?
Pinterest supports single image Pins (a 2:3 aspect ratio or 1000×1500 is recommended with an image size limit of 20MB). Video Pins are also supported for scheduling on Plann.

Can I repurpose my Instagram posts for Pinterest?

Yes! If you'd like to add this as part of your strategy, simply click the 3 dots on any published Instagram post on your Plann grid and you'll see the option to 'Recreate for Pinterest Page'.

Add a description and links that make the most sense for you, and hit schedule! Easy peasy!

Can I Pin the same content to multiple boards?

Yes, absolutely!
While you're scheduling your next Pin, you'll find an option to add another board, you can choose to add to 10 individual boards, or 10x to the same board!

Pinning to multiple boards allows you to reach an audience that might not otherwise see your content due to the way people search and how you've been ranked on Pinterest for keywords.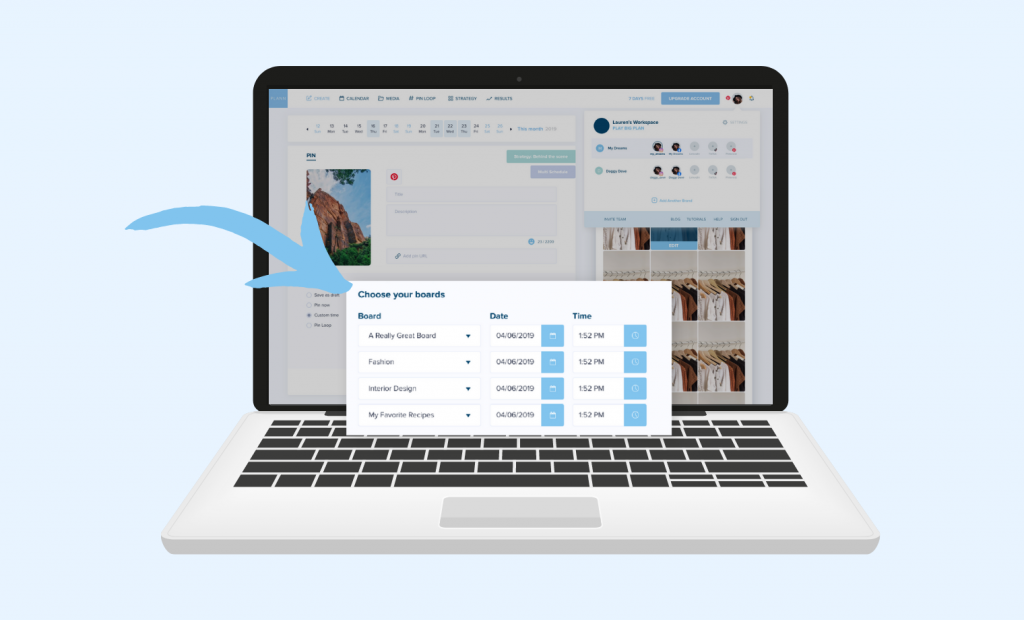 Can I Pin to a brand new board, or a secret board?

Yes! Create a brand new Pinterest board in real-time, right in the moment of scheduling with Plann.
Any changes you make will be reflected in real-time inside Pinterest.
You'll also see the padlock icon in the board menu next to your secret boards so that you know these are only visible to you, or those you've invited.

What type of Pinterest accounts does Plann support?


Plann supports both Personal and Business accounts.
Can I use Plann with a team to help?

Absolutely! 
You can assign each team member in Plann to Admin, Editor or View Only rights.

Visit your Plann settings anytime to change your plan, or invite individual team members.


Who has access to Pinterest Scheduling?
Pinterest is already available to Plann Plus subscribers, our premium membership.
If you're already a Plann Plus subscriber, Pinterest Scheduling has already been added for you, we'd love for you to jump in and schedule your first Pin!
We're so excited for you to start using it!

This is just one of many Plann Plus features that help you make social media manageable, easy, and fun.


Plann Plus
In your Plann Plus membership, you'll also get:
– Unlimited Instagram, Facebook, Linkedin and TikTok Scheduling
– The ability to repurpose and reschedule across platforms, including Pinterest to Instagram
– Unlimited hashtag sets (with the option to auto post into first comment)
– Advanced Instagram analytics
– Unlimited media uploads and scheduling tools
– Custom strategy tools to plan with intention
– Comments and mentions management to quickly respond and keep conversations flowing
– Free professional stock photos and videos for when you're short of content
– Custom events on your calendar to design your own content or brand schedule


Thank you <3 
Your support makes this possible!
Gift Plann to Your Friends, Family or Followers <3
Gift your friends, family, or followers $10 off Plann with your unique referral link!
By using your unique link, you'll gift them a month of Plann free, PLUS, you'll get $10 Plann credit just for sharing a favorite tool.
Find your unique link in your Plann settings to gift a little bit of sunshine in someone's day.
How to find your referral link in your Plann settings: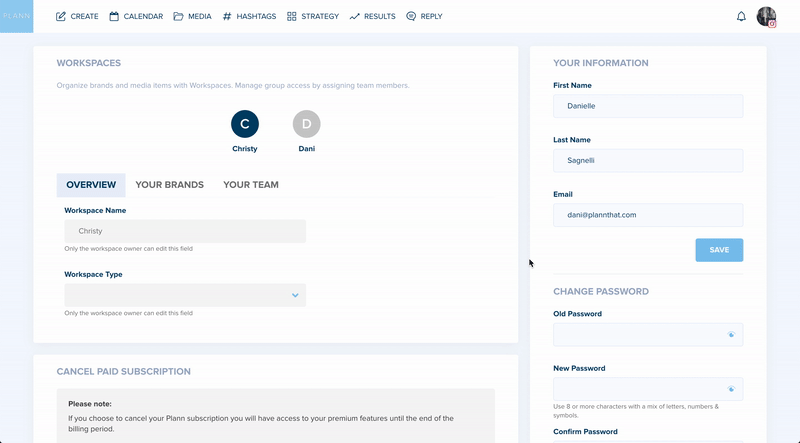 Any thoughts, feature requests, compliments and/or questions?
We genuinely love hearing from you!
Reach out to the product team directly at feedback@plannthat.com


Christy Laurence
Plann Founder
@plannthat