Plann now supports personal Instagram accounts!
We realized how passionate you are about making your personal accounts as hot-to-trot as your business accounts, so we've made it possible to connect your personal Instagram accounts to Plann too.

If you're someone who doesn't have (or doesn't want) to convert your personal account over to a business profile but would still like more control of your personal brand, (yet love the idea of a creative Instagram feed), this new feature is perfect for you!


I've run out of spaces to connect my Personal Instagram account?
That's OK, this is exactly why we designed Plann to grow with you.

We've built an al-la-carte option to add individual social media accounts as you need them. We had you in mind to save you from having to upgrade to a higher team pricing tier that is way over budget when you just one that one or two more.

Adding an extra social media account is as little as US$7 a month (when billed annually) and you can easily update your account at any time!

How do I connect my personal Instagram account to Plann?

It's just a couple of clicks to add your personal account. Simply head online to register an account with your email, then simply select the drop-down menu from the top of your workspace and choose to ADD ACCOUNT.
We'll prompt you by asking what type of account you'd like (personal vs. business), all you have to do is select Personal and follow the prompts to login!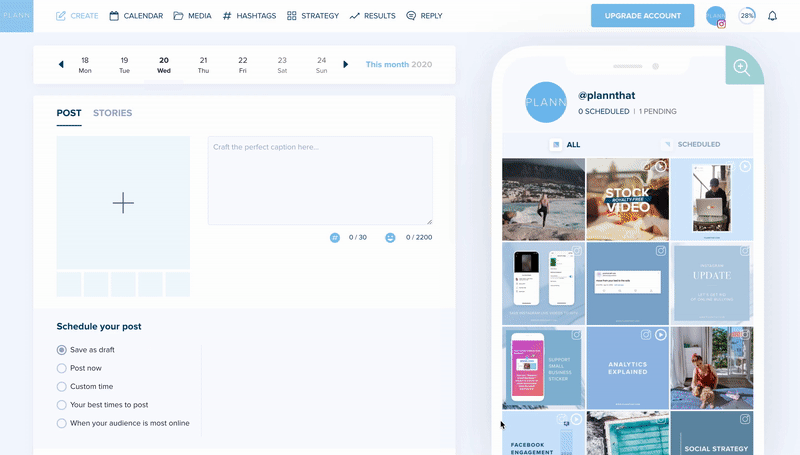 Or next time when you login to Plann on your phone, you'll be prompted to add an email address. Once you've done this, there is no need to register a new account on Desktop just hop, skip and a jump your sweet self over to Plannthat.com and login You'll see all of your content and account data has synced across!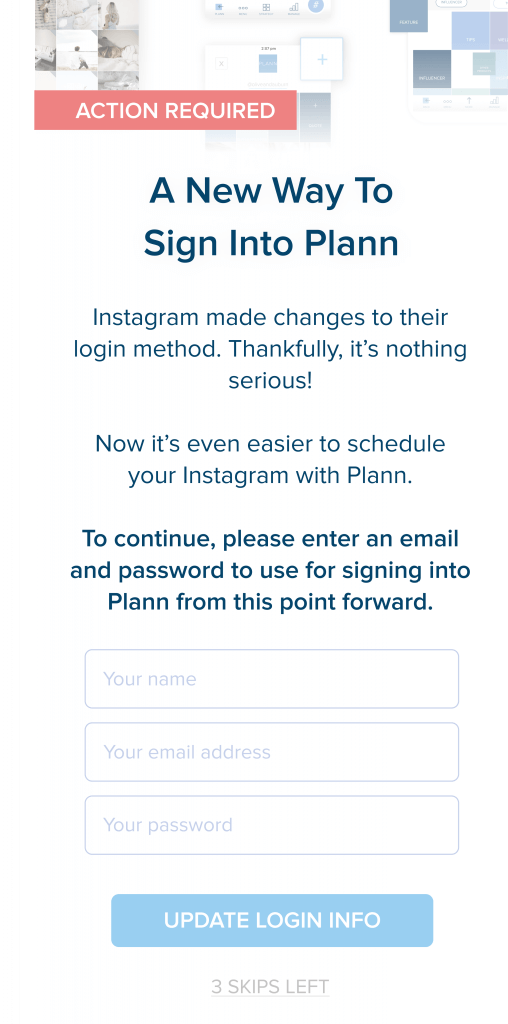 Do I get the same features if I connect my personal Instagram account?
Almost!

The information delivered from Instagram for personal accounts is slightly reduced but there's still an incredibly rich amount of tools to grow your Instagram.

As a Plann Plus (paid member), additional to be able to drag and drop to design your new grid, you'll also be able to:
Upload an UNLIMITED amount of media to publish to Instagram.

Schedule and publish an UNLIMITED amount of Instagram posts and stories.

View your entire month of content with Plann's calendar view planning.

Create a unique posting strategy for your personal brand

Create and store unlimited hashtag sets to post whenever you need

Free content! Easily repost and share images, or even grab content from our huge royalty-free stock libraries for both images, and videos!
What's not included?
If you're comparing the Plann Instagram Business business offering, Facebook (Instagram), does share more data with us that we can share with you, for example:

You'll be unable to respond to your posts comments and mentions from the Plann dashboard.

Analytics are not available for personal Instagram accounts.

Previously posted stories are unable to be displayed.
What do you guys at Plann recommend?

Personally? We think a business account is the way forward…

If you're running a personal account with the aim to build influence, sell products or promote your work, we'd highly recommend converting your personal profile to a business account.

The analytics that are offered are so much richer, and features that 3rd party products (like us at Plann) can provide to you can give such helpful information to grow your business, and help you make better decisions about your marketing strategy.

Here's how to convert your Instagram Personal Account to a Business Profile.
What's coming up next?

We're always working away on something, we're a small but crazy passionate team who really care about helping brands put their best foot forward in front of millions of people who are online.

To share your thoughts about our product roadmap, to give us a nudge us towards something you'd love to see built inside Plann, or put your hand up to be involved in BETA testing – send your thoughts through directly to our product team at feedback@plannthat.com
Happy Planning!
Christy Laurence
Plann Founder